IS it just me or do you feel like we might just have slightly cheated ourselves out of a proper Champions League night out?
Doing Porto 5-0 in the first leg was the best and all that but we could have kept it to two or three. We'd still have been supremely confident of progress, but have left the opposition with just enough hope to make this impending second leg a real event.
Yes OK, I fully understand the realities and ramifications of that total eclipse of the Porto from two weeks back. It bought us enormous confidence. No price on that. It also buys us a free week in a campaign that will be be screaming out for free weeks come April. It allows us to prepare more fully for that Old Trafford showdown this weekend. All boxes get ticked.
The scope of Porto's ambition will be interesting. They remain top of their league with 67 points from 25 games. Twenty-one wins, no defeats. That's some going and a reminder that these are no slouches. They've warmed up for their trip to Anfield by beating third-placed Sporting Lisbon 2-1.
Porto are very much in control of their domestic competition but their lead over champions Benfica is just five points. They aren't over the hill and far away just yet. Mid-table Boavista await after their game against us. It's not the biggest in their modern history but just right now it's more important to them than what happens at Anfield.
If I'm their boss (I'm not, he's called Sergio Conceicao) I don't expect to overturn a 5-0 deficit, but I'd be pleased — given what has past — with any kind of a win. It wouldn't count for shit but it might help the manager retrospectively present the drubbing in Portugal as more an aberration than a true reflection of Porto's standing in the wider European game.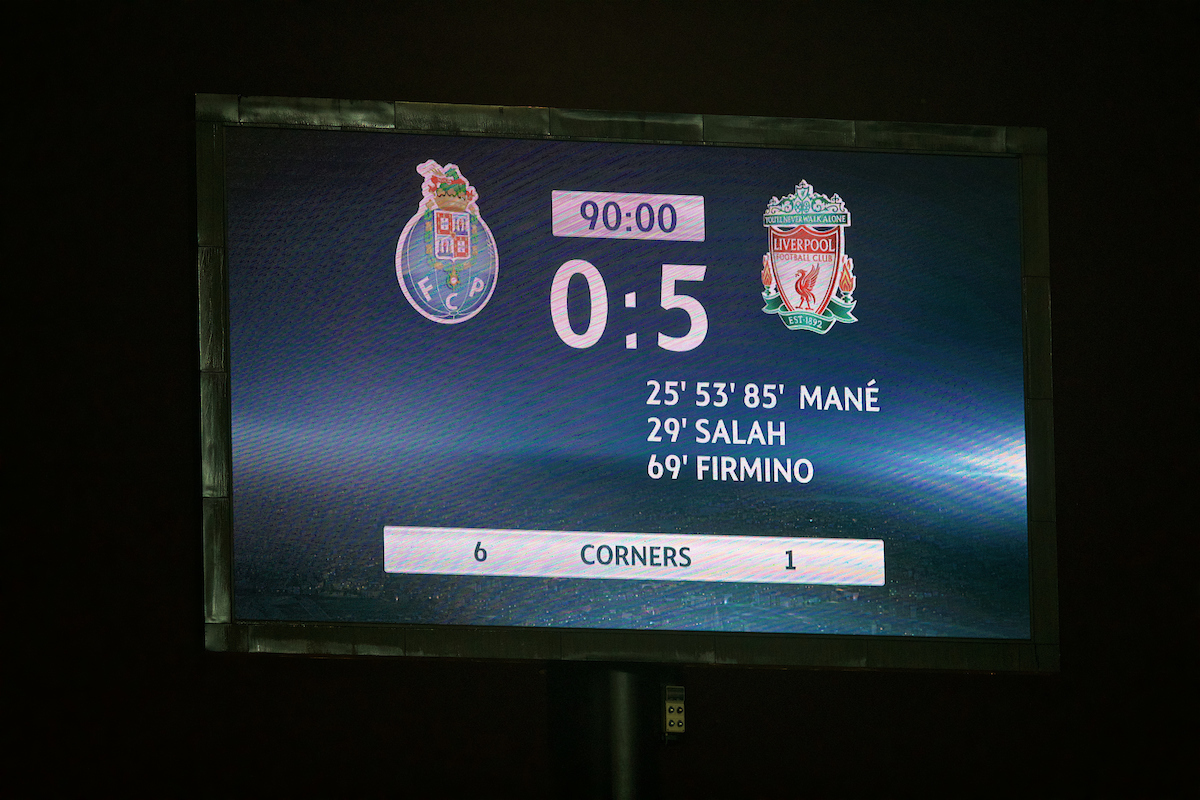 Quietly — well noisily, actually — The Reds have ruined Sergio's season. Yeah, they'll win the league and get one over on Benfica. And they may even do it unbeaten, but when the party chucks out and the last of champagne has been downed after they lift their title in May, you'll find Sergio over in a corner, brooding.
He'll be thinking: "I know we've achieved much in our country but supposedly lesser Porto teams have represented the nation better in the Champions Cup than us. Liverpool — curse those rampant scousers — have made us look like European tadpoles…"
Sergio wants to win at Anfield. At the very least he doesn't want to get beaten, and beaten badly, again. To these ends, I expect him to bring his strongest possible lineup. I think he will instruct them to proceed with determination but caution. His preparations will be governed by how he imagines Jürgen Klopp will line Liverpool up.
For Liverpool, it's the original no-win game, because it is already won. Porto would be burning the record books to get through to the quarter finals now. They are a 125-1 to progress. The Reds a not tempting 1-1000 to do likewise. Because I believe in the one true god — the god of making things unnecessarily bad for my football team — I will cover all eventualities by sticking a cheeky score on Porto. They won't go through, but if they do, I'll pick myself off the floor with the knowledge that I've banked compensatory blood money. You won't. You'll just be out the Champions League.
So, what do we expect Jürgen to make of all this then? His first instinct will have been to change everything and everyone. The obvious bonus of winning the first leg so emphatically was that it bought and paid for this potentially "free" week.
Many of the changes Klopp can make are not really changes. Gini Wijnaldum plays most games but didn't play against Newcastle on Saturday. Returning him to the first 11 is not really an act of rotation. Similarly, Joe Gomez, Albie Moreno and Joel Matip consider themselves first-team mainstays anyway.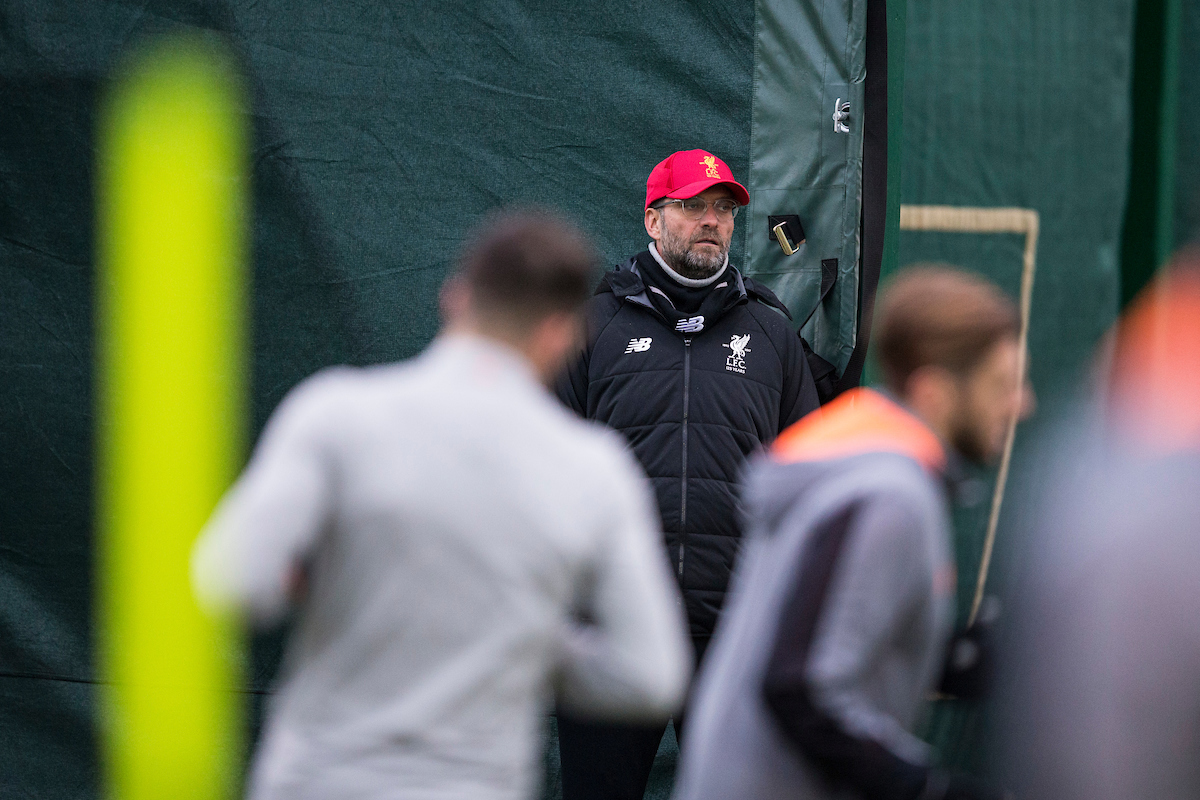 In midfield, Adam Lallana and James Milner warmed the bench at the weekend and sense they are near-guaranteed starts against Porto. The back eight, then, virtually pick themselves. The only remaining mystery being over who gets the nod out of Ragnar Klavan or Dejan Lovren.
To the front three then. Those guys. They are our everything. That they require handling with extreme care goes without saying and the obvious move is to take no risk. Give Sadio Mane, Roberto Firmino and Mo Salah the night off. Send them to town for a Nando's and to maybe take in a film at the Odeon.
But Mo may say no. Mo just cannot stop scoring goals. He positively refuses to do so. Sadio is in a rich vein too. Firmino has 22 already and wants 30. These are greedy guys and Porto are simply prey to them.
Klopp also knows the value of momentum. Liverpool are winning every week. It's an awesome habit. He may sense his lads are in a groove, in a rhythm that doesn't need breaking.
The Manchester United game is four days after Tuesday night's Porto fixture. There's reasonable recovery time there. Jürgen could just go "fuck it, you're all playing" and send these goal mongers out there to fill their goal-den boots.
Predicted 11: Karius; Gomez, Matip, Lovren, Moreno; Can, Wijnaldum, Lallana; Mane, Solanke, Salah.
Kick off: Tuesday, 7.45pm
Referee: Felix Zwayer (Germany)
Odds: Liverpool 11-20, Draw 10-3, Porto 61-10
"Liverpool FC right now are a match for anyone." 🎥

With one foot in the quarter finals of the Champions League and a fight for second place to look forward to, there is no better time to subscribe to TAW Player… 👊

Subscribe now for just £5 Per Month: https://t.co/LEQrmm7L4w pic.twitter.com/BZ03yqMeVb

— The Anfield Wrap (@TheAnfieldWrap) 1 March 2018
Recent Posts:
[rpfc_recent_posts_from_category meta="true"]
Pics: David Rawcliffe-Propaganda Photo
Like The Anfield Wrap on Facebook