PIECE by piece, Jürgen Klopp is building a Liverpool side in his own image and one which appears to be morphing into something very special indeed.
The front three of Mo Salah, Sadio Mane and Roberto Firmino are right up there among the most devastating attacking units in Europe, while the £75million addition of Virgil van Dijk has already brought a new assurance and solidity to the back line — an expensive but wholly necessary piece of the jigsaw.
Shorn of the brilliance of Philippe Coutinho in January, Liverpool have not let the Brazilian's departure derail their season in the manner many worried it might. In losing Coutinho's individual guile and spark in midfield, Liverpool look like a more balanced outfit these days with the right combination of defensive qualities needed to provide the platform for the forward players to play with freedom.
Crucial to this improved defensive cohesion has been the installation of Loris Karius as Klopp's number one between the sticks, having made it public after the 4-3 victory against Manchester City that Karius would occupy the jersey, replacing Simon Mignolet for the forseable future. At that point, it felt like a final throw of the dice regarding the goalkeeper situation, with Klopp finally having run out of patience with Mignolet and therefore deciding to give Karius an extended run for the remainder of the season.
This was, in all probability, last chance saloon for Karius at Liverpool, having failed to convince when given the opportunity before. With reports suggesting Liverpool would be looking to bring in a top-class goalkeeper in the summer — most notably the links to Roma's Alisson — the pressure on Karius to step up and perform this time around was considerable.
When he first arrived at the club from Mainz in the summer of 2016, his wrist injury suffered during pre season curtailed his adaptation period at Liverpool and when thrown into the side midway through the 2016-17 season, Karius was visibly shorn of confidence, struggling to do even the basics, which eventually resulted in Klopp having to take him out of the firing line, bringing Mignolet back into the fold for the remainder of the season.
Although his injury no doubt played a part, and he was hardly given a lengthy run of games to establish himself, Karius displayed none of the qualities he was so revered for in Germany, while Mignolet made several important contributions to help see Liverpool over the finish line for a top-four finish, with his miraculous save away against Stoke being one of the defining moments in the run in.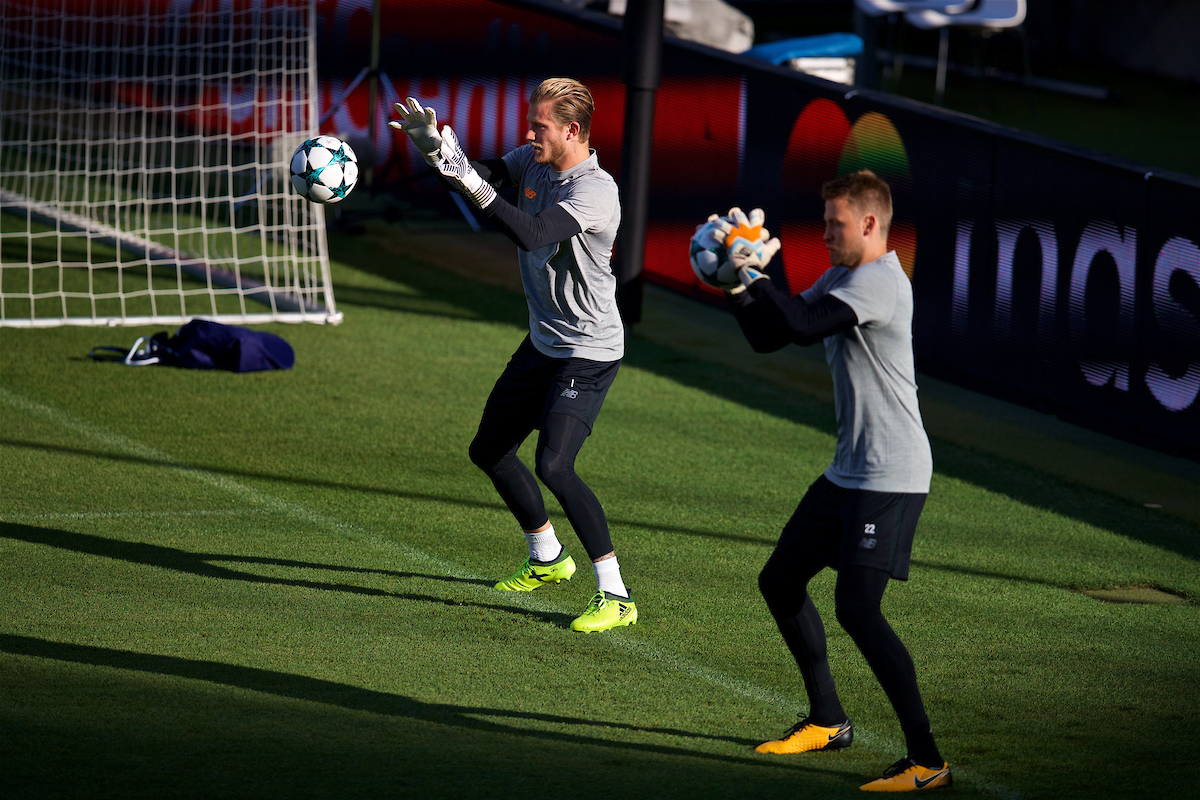 Fast forward to this season and Karius found himself designated as Klopp's Champions League 'keeper, performing reasonably well but often with very little to do such was Liverpool's dominance throughout much of the group stage. However, since being officially named as the new number one 'keeper, Karius has raised his performance level immeasurably, increasingly winning over his critics and demonstrating his desire to secure his long-term future at the club.
Since starting in the win against Man City at Anfield, Karius has played in all but one of Liverpool's games, sitting out the FA Cup defeat against West Brom in which Mignolet only further consigned himself to second choice with an unconvincing display. It's his longest sustained run in a Liverpool shirt and it's clear to see how he has settled into a rhythm he had previously struggled to find with his lack of consistent game time.
Karius currently has five clean sheets in his past seven appearances, conceding just three goals in that time — none of which could be attributed to a goalkeeping error. He has 10 clean sheets in his last 16 appearances, while Liverpool have lost just once in Karius's 19 appearances in all competitions this season.
In his latest run of games, Karius has stepped up with several excellent saves in crucial moments of games, contributing significantly to Liverpool's excellent form. Away against Southampton, he made two superb stops in the first half while Liverpool were performing nowhere near their best level. That game ended up as a comfortable 2-0 win, but it was only possible because Karius had prevented Liverpool being punished for a couple of moments of poor defending.
In the 4-1 win against West Ham, with the score still 0-0 in the first half, Karius made a vital fingertip save to push Marko Arnautovic's chipped effort onto the crossbar and it could well have turned out to be an entirely different kind of game had the ball nestled in the top corner.
Again, as Liverpool strolled to a 2-0 win against Newcastle, Karius was there to make a stunning acrobatic save to deny Mo Diame's curling strike from the edge of the box which looked destined for the top corner. Liverpool were already 1-0 up on that occasion and were fully in control of the game, but had Newcastle equalised just before half time it would have shifted the momentum of the contest dramatically and given the visitors something to cling on to.
So often in recent years, it has felt as though Liverpool's goalkeepers have been costing the team points through errors much more than helping to win points by making important saves. On multiple occasions of late, Karius has certainly made his fair share of significant contributions to the team's victories.
Big Loris Karius – save % now at 68% the same as Courtois, and 1% better than Hugo Lloris at 67%

Performance is now at top 4 keeper minimum for saves to shots ratio.

Remember when the Sky narrative was he was the worst shot stopper in the league. pic.twitter.com/VZxSbKZsoD

— LFC Daytrippers 🎙 (@LFCDaytrippers) 5 March 2018
His saves per goal ratio in the league this season is 1.88 — a significant improvement from his ratio of 1.07 last season, while he has made zero errors leading to a goal so far, compared to three errors leading directly to a goal last season. He's also currently the leading goalkeeper for clean sheets in the Champions League this season, with his five shutouts so far better than any other 'keeper in the competition.
Karius's improvement has been about far more than just his shot stopping, though. Stylistically, he appears a much more natural fit for a Klopp team than Mignolet ever has been. He holds a much higher starting position and is much quicker and more alert off his line to sweep up any loose balls, preventing one-on-one opportunities for the opponent.
Having the backing of his manager appears to have enhanced his confidence greatly, as Karius has been much more aggressive and assured when coming off his line to claim crosses and corners with authority, in keeping with Liverpool's general improvement when dealing with set pieces — something which has been dramatically helped by the addition of van Dijk, whose ability to command the defence and win the vast majority of his aerial duels spreads an aura of calm across the backline which has been lacking for some time.
The other obvious bonus of having Karius in this Liverpool side is his quick distribution from the back, setting Liverpool on the front foot far better than Mignolet is capable of. Rather than holding on to the ball and allowing opponents to get into their shape, Karius will release it straight away to set up a counter attack.
Indeed, Liverpool's opening goal against Southampton came from Karius rolling the ball out to Alex Oxlade-Chamberlain immediately, who was then able to spread panic by launching the ball up towards Salah before Southampton had enough bodies back to deal with the danger.
For the first time in what feels like ages, Liverpool's defence looks like a well-oiled, cohesive unit which fits well together, as opposed to a goalkeeper and four individual defenders who aren't quite on the same wavelength as one another.
The left-hand axis between van Dijk and Andy Robertson has transformed arguably the biggest vulnerability in the Liverpool side into an area of great strength, while Dejan Lovren has also benefited from being part of a more settled system, alongside van Dijk and in front of a more proactive goalkeeper in Karius.
With Mignolet almost certain to depart in the summer and Danny Ward well outside the first-team picture, Liverpool will need a new goalkeeper regardless. In order to show he deserves to continue as Klopp's first choice, Karius will need to sustain his current form for the remainder of the season — but it is simply a fact of the game that goalkeepers do make the occasional mistake and it's important that Karius isn't immediately lambasted and written off again should he make an error between now and the end of the season.
Whether Karius is the long-term answer to Liverpool's goalkeeper situation still remains to be seen, but there is a large enough body of evidence now to suggest he is capable of recapturing the kind of form which earned him such a positive reputation in the Bundesliga. Still only 24, his prime years as a goalkeeper are still to come and there remains plenty of scope for further development.
His improvement over the past couple of months has been stark and it is demonstrative of his courage and character that he has seized the opportunity in the face of such scepticism and shown a fierce determination to become a key part of what Klopp is building at Liverpool.
"Some fans may say Liverpool are good going forward but they're suspect at the back." 📽

"But hang on a sec, we were never as bad as anyone said we were but he's now gone and signed a six foot five inch fucking gladiator to play at the back."

Subscribe: https://t.co/oFCRQeLGZi pic.twitter.com/gPCJmSv8it

— The Anfield Wrap (@TheAnfieldWrap) 7 March 2018
Recent Posts:
[rpfc_recent_posts_from_category meta="true"]
Pics: David Rawcliffe-Propaganda Photo
Like The Anfield Wrap on Facebook