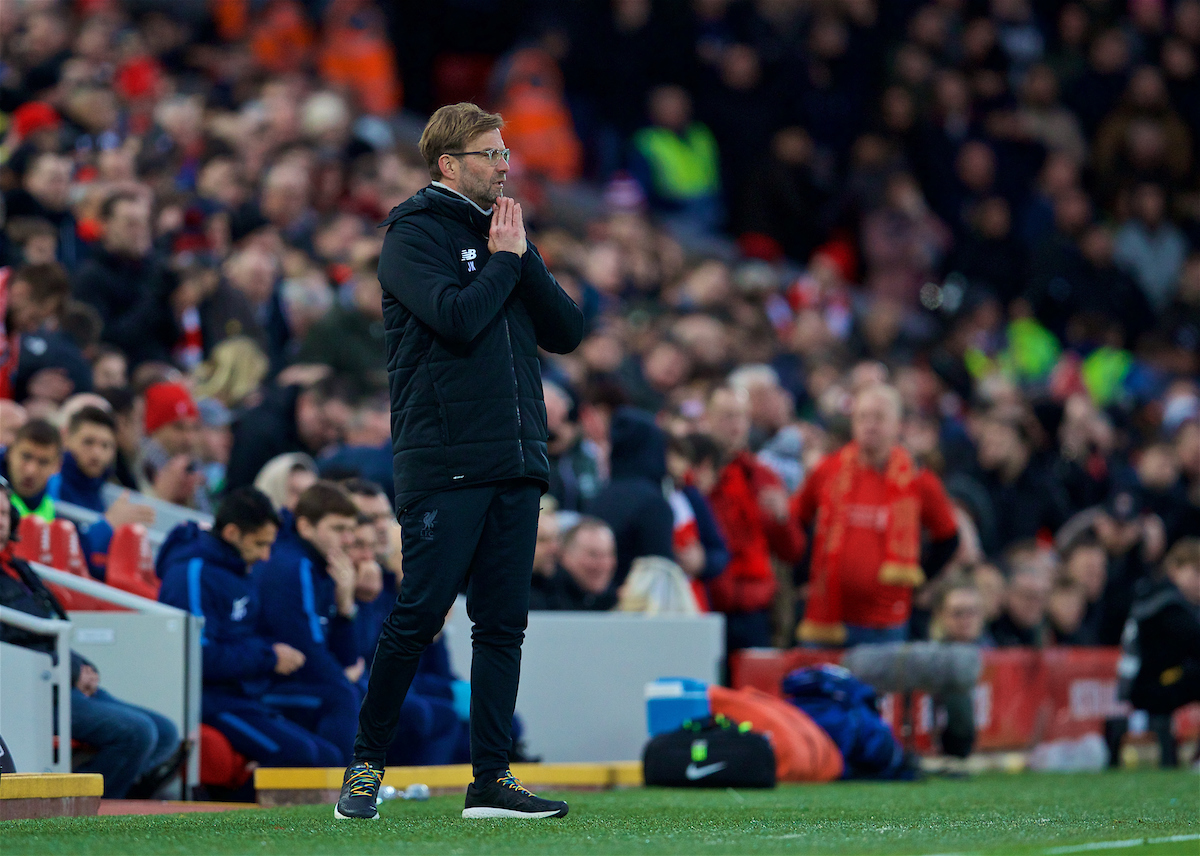 BEFORE taking a break from social media in 2017, I wrote a fair bit on the subject of how Liverpool's footballing structure seemed to be quietly changing behind the scenes.
I started out pissed off, talking about how the club seemed headed for a kind of half-assed directorate of football in all but name, headed up by a hapless Ian Ayre, and how, if the club didn't clearly state who had the true authority, it would perpetually undermine the club's manager, whoever that manager was.
Time passed, though, and as events unfolded, it seemed that the quiet men behind the scenes had begun to assert a positive influence on the way the team played on the park. Players like Roberto Firmino had started to come in, to the pleasant surprise of the home-spun stats boffins. The club's approach, it seemed, had started to evolve. I started to develop a little faith.
In April 2015, when it became clear that Brendan Rodgers was in the death throes of his stint, I wrote this.
"There's only one free lunch in town, and the menu is simple: A starter of intelligent leadership behind the scenes — a man who signs cheques, and big ones if the circumstances dictate it. The main? A structure behind the scenes that delivers genuine continuity, served in a jus of strategic alignment. The dessert? A culture of best practice analysis and continuous refinement. Serve that up and maybe, just maybe, we can drink our own milkshake to wash it all down.
"Or to put it another, less laboured way: if conditions dictate that managerial bloodletting is inevitable, and if those conditions will only dissipate when we've narrowed the financial gap, we have no alternative but to commit to the directorate of football structure, and to steel ourselves for more managerial sacrifice along the way."
The "conditions" persist — a media thirsty for sensation and crisis. A club that hasn't won a league title for a little too long. A support who, while maybe disproportionately patient, will still eventually demand success, or else… And we're almost three years on from the time of that article already. Life moves pretty fast…
Since that time, of course, Michael Edwards has been confirmed in his formal role of sporting director, and the analysis-driven recruitment trend has only deepened. The club has recruited a number of intriguing players who arguably fit a pattern, and align to a certain strategic profile… And then Jürgen Klopp arrived, a manager who seemed a good fit for a squad of players then branded sub par. He improved their performance immediately. It was almost as if there had been a breakout of joined-up thinking.
On his arrival, Klopp immediately found himself sat at the head of Edwards' directorate structure (he was asked at the time whether he was comfortable with this, if you recall). He was given (as was only right) the final say on all footballing matters. But it was clear that in this role, he was not only open to consultation; he actively followed the advice of Edwards and his team.
Indeed, since that time, he has repeatedly praised the backroom team for the quality of their work, and the players they bring to his attention. Klopp trusts and appreciates this support team… And here's a thing — if he needs money, he knows that money is available.
So why, at times, the hesitation to splurge money to fill a perceived gap? Was it solely down to Klopp's natural parsimonious character? A man used to picking up players on the cheap and turning them into superstars baulking at market prices in a steadily inflating bubble?
As I sat down to write this article a week or two ago, Dan Kennett set about illustrating a key part of the point I'm getting to as succinctly as was possible, so instead of paraphrasing — Dan — take the floor.
My twopenneth on this.
1) I believe our strategy since Rodgers left is steady growth through accumulation of good deals. We can't win an arms race so the #1 priority becomes avoiding bad deals, the #2 priority is making good deals. https://t.co/M7CHemINR3

— Dan Kennett (@DanKennett) 1 February 2018
2) If we take the fudge Summer of 2015 as the nadir (when Edwards was "allowed" to sign Firmino so long as Rodgers could sign Benteke) then I think we have seen a clear shift since that point and a lot of lessons were learned.

— Dan Kennett (@DanKennett) 1 February 2018
3) The dysfunction between Rodgers & Committee, the fact that there was a process in place but Gordon allowed Rodgers to bypass it. A lot of very expensive players were seemingly bought on little more than a whim. All now a thing of the past.

— Dan Kennett (@DanKennett) 1 February 2018
4) Now I believe there is a clear strategy guiding the recruitment process from start to finish and, rightly or wrongly, there is absolutely no deviation from the process under any circumstances.

— Dan Kennett (@DanKennett) 1 February 2018
5) If you look at the players signed since there are 2 teenage "projects" (Grujic/Solanke), 1 loan, and 1 3rd choice GK (Manninger).
Of the other 9 only Karius could possibly be labelled as a failure (and even that might be presumptuous), 1 is too soon to judge (VVD).

— Dan Kennett (@DanKennett) 1 February 2018
6) The other 7 all range from decent to outstanding (Mane, Matip, Klavan, Gini, Salah, Robbo and Ox) and there has been a genuine 10/10 signing in each of the last 3 summers (Firmino, Mane, Salah).

— Dan Kennett (@DanKennett) 1 February 2018
7) If my reading of the situation is right, I don't think it's a popular strategy, in fact only a small minority probably fans support it. Personally, I'm quite excited to see what another 2 years of Klopp/Edwards looks like if they keep up this hit rate and approach.

— Dan Kennett (@DanKennett) 1 February 2018
Now. I agree entirely with Dan. And it's an entirely rational approach.
Interestingly, the emerging strategy seems to increasingly fit what I prayed for in that article in 2015. The club signs cheques — big cheques if needed. The structure behind the scenes is clear, and ostensibly exists to serve the manager and his team — the manager (whoever he is) has the final say.
The strategy seems increasingly aligned (if not yet altogether perfect or seamless). Whether we look to continuously improve and learn from our lessons is a little less clear… But as Dan says above, there's a trend that suggests: a) we don't do whims, and b) we won't do bad deals if we can avoid them.
So that begs a question given the last few transfer windows: if we don't do "bad" deals… Do we sometimes find ourselves with a shortage of seemingly "good" deals? Because you get the feeling that the only remaining lesson they need to learn is that sometimes, when there's an opportunity to win a trophy right in front of their nose, they need to grab it. And if that means going an extra mile to get an extra "good" deal over the line a little early, then so be it.
Which brings me to Klopp. He's the guv'nor here. He's the ultimate arbiter of what's good and what's bad. So is he simply parsimonious? Or does he simply prefer to have a leaner squad in the interest of preventing even the slightest erosion of progress in the team's mentality? And if so… Is that misplaced?
Or is it simply that he wants to squeeze every drop of value out of every drop of available penny in the transfer budget, and he'll wait until he gets the price and terms he wants? If so, how do we square the £75million delayed purchase of Virgil van Dijk? Are the rules different if the player in question is the very player he wants?
Whatever the explanation, we know what to expect now. Given the choice between compromising now and getting exactly the player he wants, he'll wait. And in the meantime, he'll happily see the supporters grow anxious in the process (even if arguably the club's most influential player's just been sold for £142m).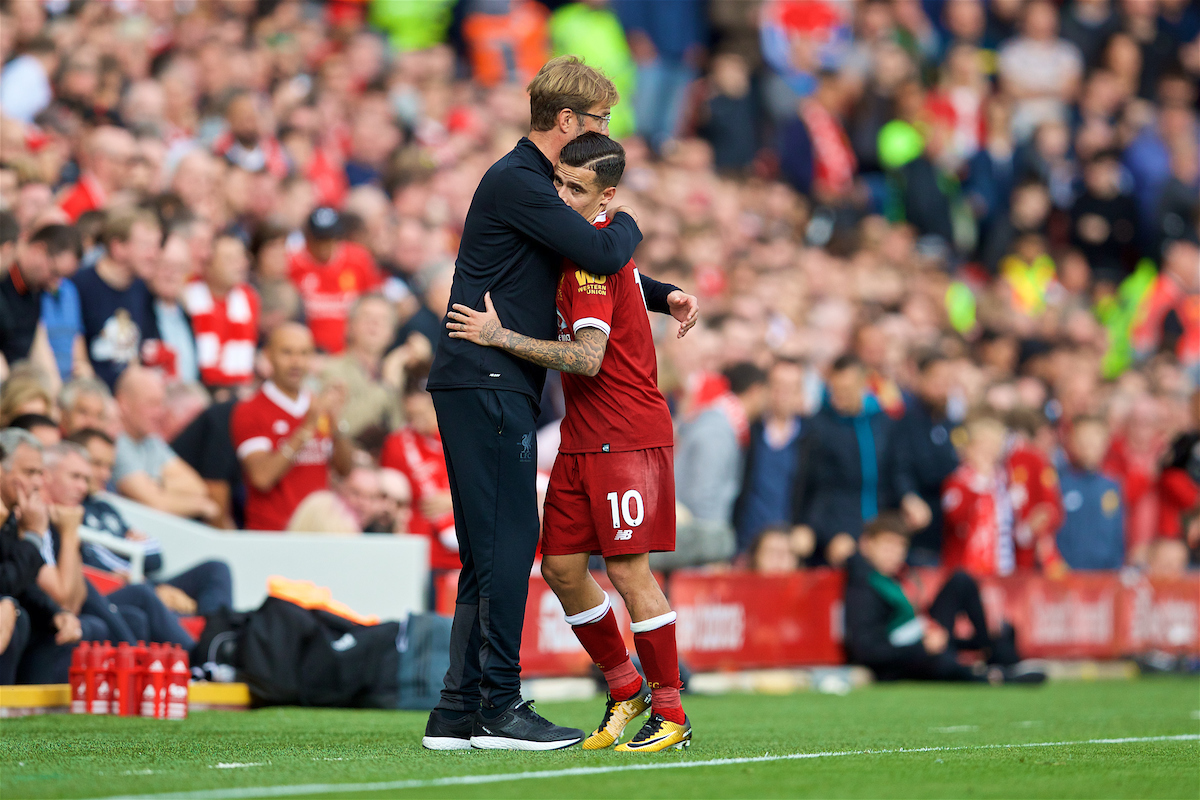 Here's a snippet from his interview with Oliver Holt a few days ago.
"You have to learn a winning mentality. The good thing is not to read any newspapers and stop watching on social media. Stick together, stay by yourself and start believing as a group. That's how it starts. All successful history starts with a dream. So let's go for it. And if there are any doubters out there, tell them where to go."
Then there's the quote from the interview with the Echo on the subject of Bill Shankly's "First is first; second is nowhere" quote.
"Did Bill Shankly say what he did after one day? Did he say it after one year? Or did he say it when he was in the middle of his fantastic success?
"I am sure he didn't say it after one day or one year. The team he had and the fantastic success was when you had a team that stayed together and got better together. There were seasons when you only needed 12 players in your squad. That's a good situation, a fantastic manager, outstanding club, football crazy city… We cannot compare those times with these times.
"If you could bring Bill Shankly back into the club now and ask him 'are you happy with fourth?' because he was a fantastic football manager he would have seen that this is the only way we can go. You need to do what we are doing to be in a position to win something one day. To just want it more desperately than other clubs doesn't make it more likely to happen. That's how it is."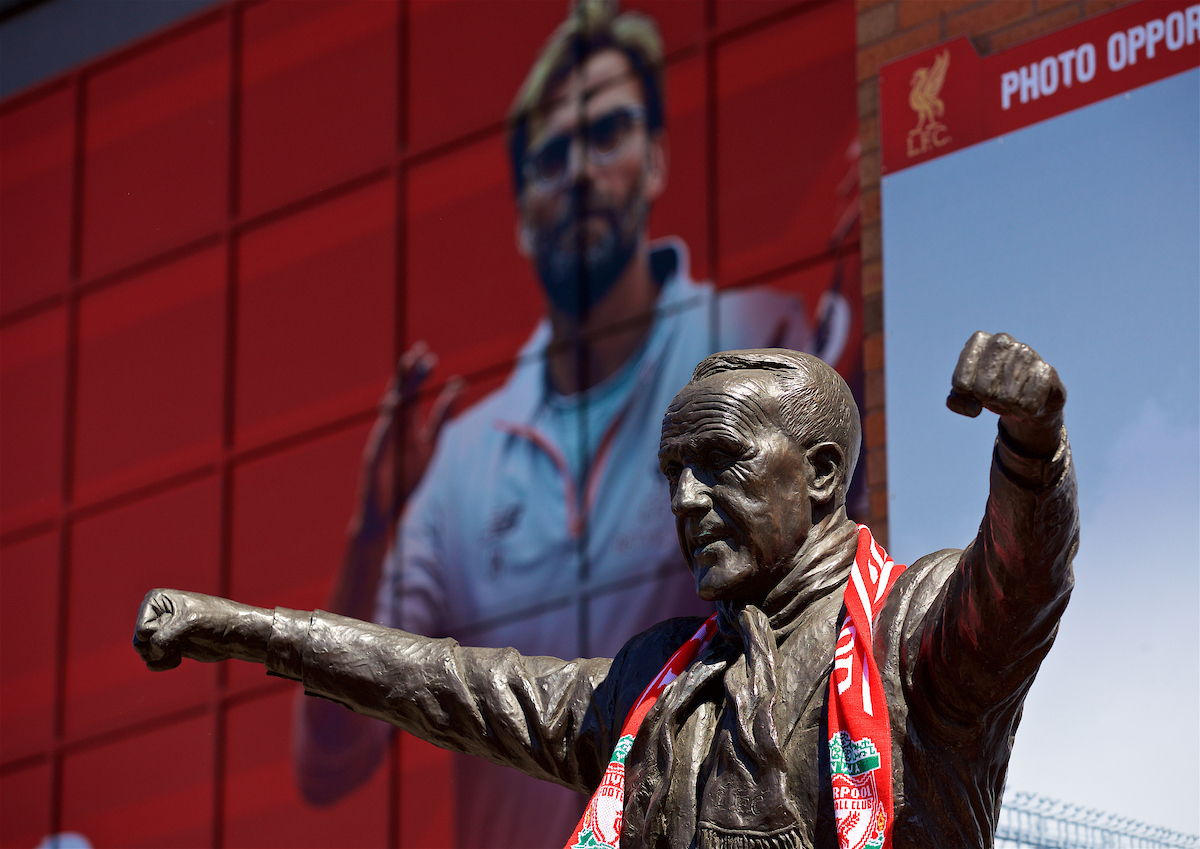 That's all fair enough, from Klopp's perspective. He was hired to set a long-term foundation, after all. But it neglects the need to take the pulse of the fans from time to time. Klopp may think he has a long-term mandate, and that the love will continue unconditionally no matter what happens in the interim before the trophies reappear… but we've heard all that before, haven't we?
Klopp himself is the issue here. We know at the very least that Edwards and co spent January trying to wrestle Naby Keita out of Leipzig, and Thomas Lemar out of Monaco. Was there impatience on the part of Klopp to secure their signings in pursuit of the trophies available this season? Not a bit of it.
And there's the rub. Harking back to the original "prayer" made in April 2015, I was happy to forgo managerial security in favour of steady progress and joined-up thinking over the long term. But now, I find I have that, and I want the balance tipped a little the other way towards the present day.
Klopp concluded his Echo interview with the quote, "You need to do all your homework and when the time comes, you have to catch it." Well, if you're facing Porto in a two-legged tie to get to the quarters of the European Cup, and you've just blitzed Manchester City off the park, then hasn't the time come? If that's not the time, then when is?
A decent-sized chunk of the Liverpool support knows only too well what it takes to win, and they know that right now — right at this minute, a little more aggression and urgency could be enough to do something memorable. Even now — having done nothing in January.
They've seen the good work that's gone in, and how well Klopp seems to work with Edwards and his team. And crucially, they've seen the club offer him the chance to indulge a little and bolster the squad, only for him to say no again. So it's no surprise to see people asking questions at the moment.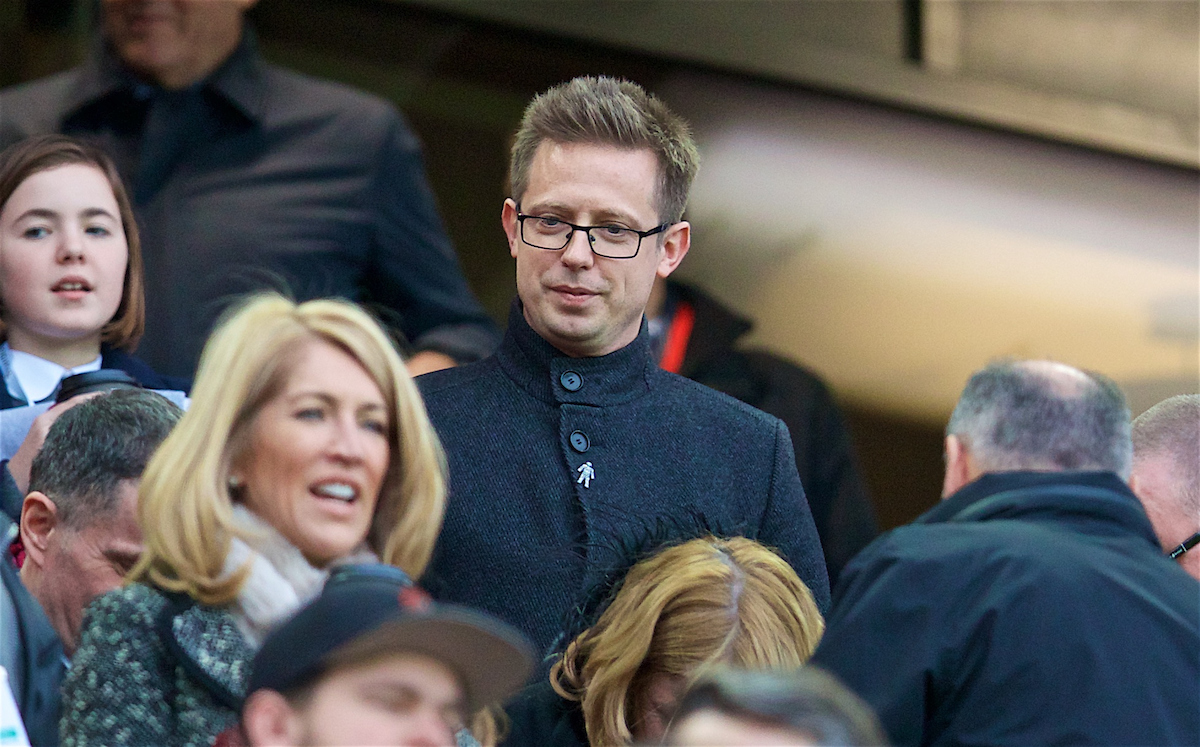 I'm doing it myself — I hear myself thinking, "if we're intent on winning, why not sign the cheques being put in front of you a little more often? Why not fight harder to retain the players you really ought to keep?" And there's a case to answer, whether he sees people as doubters or not.
No manager, no manager's project, and no group of players and staff exist in a vacuum. The broader "Holy Trinity" is key, the ownership is key, and the state of the club's competitors and their own hunger for success is key.
I'll say it again, if we can't be more urgent and to reach out and grab the prizes when they're right in front of our noses, I'll pretty soon reach a point where I could barely care less who's at the helm. Fair enough, work together and work on your winning mentality. Watch Band Of Brothers on infinite repeat if you like. But just fucking win. And fucking wake up when the chance to win is right there in front of your nose.
The club brought Klopp in because he seemed the best fit for its long-term strategy. But he's two and a half seasons in, and his squad is already strong. There are trophies there for the taking. I'd rather we won them now and worried about the winning mentality later.
If we lose another manager while we wait a little longer, then so be it. But we should demand that we learn our lessons in the process. If you want to win, then just go and win. Don't overcomplicate it.
Strategies are all well and good, and ours may provide a foundation for a return to greatness over time. But sometimes life and its glories are right there in front of your nose — you just need to reach out and grab them.
"There is a living, breathing season happening right now."

"At the minute we seem to be okay with depleting ourselves. It's hard to get on board with that."

Subscribe: https://t.co/eTmRQkhp95 pic.twitter.com/lwIqxRHbWP

— The Anfield Wrap (@TheAnfieldWrap) 30 January 2018
Recent Posts:
[rpfc_recent_posts_from_category meta="true"]
Pics: David Rawcliffe-Propaganda Photo
Like The Anfield Wrap on Facebook