OCTOBER 1, 1995. Manchester United 1 Liverpool 1.
Michael Thomas picks up the ball inside his own half. He plays a weighted through ball on the outside of Gary Neville. Neville chases but Robbie Fowler comes on the inside and shrugs him off. Fowler looks up at the advancing Peter Schmeichel and lobs the ball over his head. In front of the Stretford End, to ruin Eric Cantona's big comeback from an eight-month ban, and put Liverpool 2-1 up.
Replace Thomas with Alex Oxlade-Chamberlain. Neville with John Stones. Fowler with Roberto Firmino. Schmeichel with Ederson. The Stretford End with an away end full of Manchester City fans, Cantona's big comeback with Man City's 30-game unbeaten run, The Reds 2-1 up again.
Liverpool's second goal in their 4-3 win over Man City, was an almost carbon copy of Fowler's goal over 22 years ago and sparked a nine-minute spell in which The Reds ran riot.
Pep Guardiola's side were akin to a boxer on the ropes, trying desperately to fend off a barrage of punches to stay in the fight, legs and head wobbling in unison — a look of complete desperation. Calls for calm and hand signals all over the gaff.
In those nine minutes, Liverpool's front three wreaked havoc and completely swept Man City away. And Firmino's goal was the spark that lit the fuse. The Brazilian's 10th league goal of the season saw his total hit double figures in the Premier League for the third season in a row since he joined.
It was a statement in so many ways. This Liverpool team are a serious proposition, who can beat anybody on their day. Also, Firmino is a serious player who the club are right to be looking to tie down to a new long-term deal — if reports are to be believed — and recent departures won't affect his mentality on the pitch.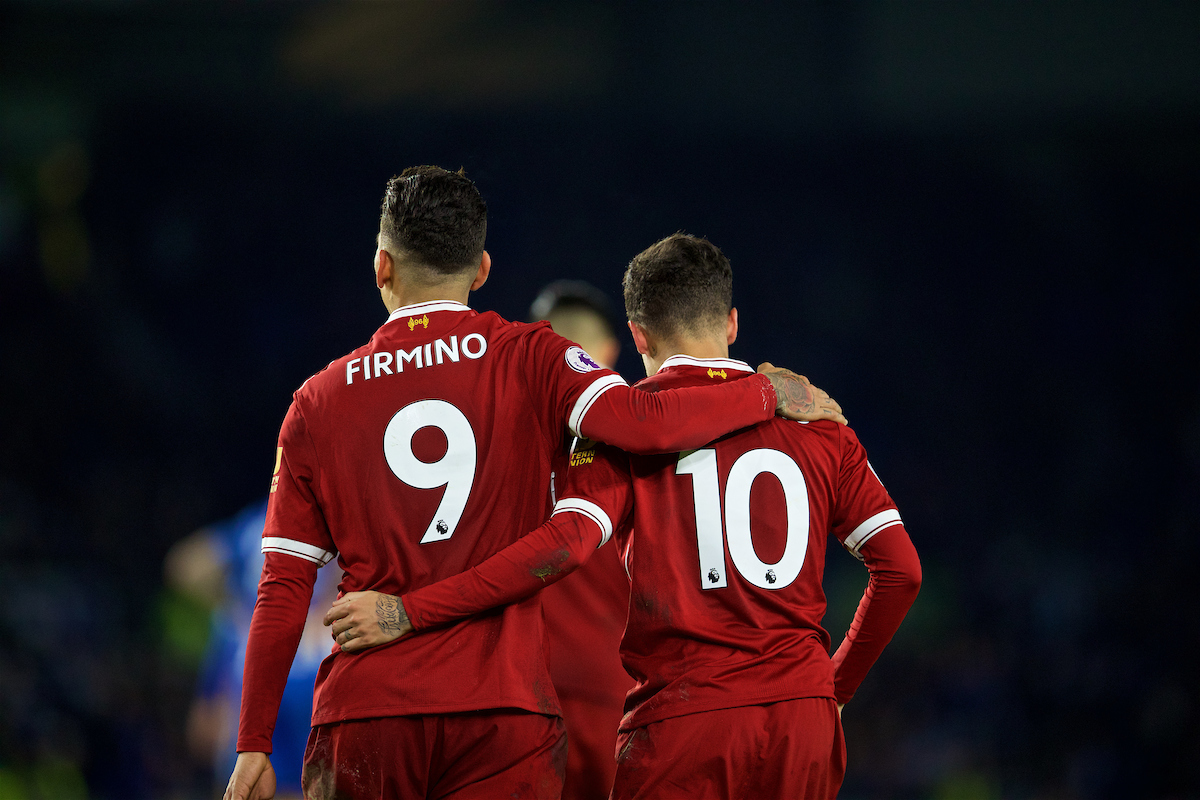 Like seemingly so many of the game's brightest talents, Firmino has a colourful backstory. As a young lad from the modest area of Maceio, Brazil, nobody wanted to take a chance on him making it.
The man attributed with spotting Firmino's qualities was the club dentist at local side Clube de Regatas Brasil. At that stage, Marcellus Portella made the prediction that the youngster would play international football one day, though nobody believed like he did.
Firmino then attended a trial game with Figueirense, in which he scored two overhead kicks within half an hour, and the rest was pretty much history. Portella's predictions came true, his charge now has 17 caps for Brazil, and has scored five goals at international level.
Having helped Figueirense get back to the top tier of Brazilian football, Firmino moved to Hoffenheim. In 153 appearances, he grabbed 49 goals and 36 assists, his best season — 2013-14 — reaping a return of 16 goals and 12 assists.
That form earned him the Bundesliga's Breakthrough Player award and Jürgen Klopp has since put on record his surprise at Liverpool's ability to sign a player he believed to be "one of the best in the Bundesliga".
But sign him they did. Firmino joined The Reds for a fee of around £29million and after a relatively slow start under Brendan Rodgers — which saw him playing almost anywhere and everywhere, including as a right wing back away at Man United — the Brazilian started to excel under Klopp.
Firmino has improved every season as a Liverpool player, striking up great partnerships with Philippe Coutinho, Sadio Mane and Mohamed Salah in each respective year. Despite that though, there had been a belief among supporters that The Reds would benefit from a more natural goalscoring option in the number nine role that the 26-year-old has nailed down under Klopp.
"Bobby Firmino… it's the sending people for the Echo, the flinging his shirt around, the white teeth, the karate kicks" 🔥

🎥 Watch today's Talking Reds in full here – https://t.co/tDicuD32vN
🗣 Subscribe to #TAWPlayer here – https://t.co/MHYiwAPEny pic.twitter.com/iIK6vfKK1R

— The Anfield Wrap (@TheAnfieldWrap) 17 January 2018
Those concerns have all but vanished now. Firmino has 17 goals in all competitions, just five behind his 2013-14 total for Hoffenheim with just under half of the season remaining. His creative qualities have also seen him pick up nine assists in 2017-18, taking his total to 31 in a red shirt — five behind his total throughout his time at Hoffenheim.
One of the main arguments in favour that seemed to come up when questions were asked about Firmino's role as a number nine was that he leads the press. That never-ending workrate and ability to lead the press possibly spans from his days as a defensive midfielder. One of his former coaches told how he "wins the ball just as well as he uses it". That is indisputable, but it does slightly neglect how much he brings to the side in a technical sense — both on and off the ball.
Liverpool have been blessed with a few — Fernando Torres and Luis Suarez spring to mind in recent years — but it's usually rare to find a player who can complement sublime technique with a tireless work ethic. Firmino's sense of positioning on the field, perhaps best displayed by his goal away at Swansea City last season, is second to none in Klopp's squad. He does so much more than work hard, and it's good to see his technical qualities being more widely recognised now.
Firmino's performance in the win over Man City put to bed any fears that the Brazilian's head would drop in the absence of his compatriot and friend Coutinho.
Comparisons with Fowler, in any sense, are not something to be sniffed at. Fowler was an incredible player and one of Liverpool's own. There's a reason supporters refer to him as "God".
Firmino may not be at that level yet but he's making all the right strides to becoming a huge player for The Reds — and his cult status continues to grow.
Bobby's not a typical number nine, because he offers so much more. Keep your Harry Kanes and Sergio Agueros.
[wonderplugin_audio id="59″]
Recent Posts:
[rpfc_recent_posts_from_category meta="true"]
Pics: David Rawcliffe-Propaganda Photo
Like The Anfield Wrap on Facebook