"[LIVERPOOL] are a team that are intense, they keep going forward and have quality upfront.
"They are so direct and they make the runs in behind. They create chances playing that way and they can score goals.
"Those three guys upfront now are in a really good moment. They are difficult to play against. They don't give a point of reference, they are so mobile. They are good players."
Not my words. The words of Pablo Zabaleta, adding himself to the list of opponents who have faced up against this Liverpool side and then spoke effusively about them afterwards. Danny Rose, Pierre-Emile Hojbjerg and Curtis Davies all have done likewise.
The words matter but the image remains; West Ham United's mini inquisition at 3-0 on Saturday as they trudged back for their kick off. "Who exactly is meant to be marking who here? And how do we get out? How are we playing nine at the back and there is so little room to breathe, and how many of them are there on the pitch?"
The key line in what Zabaleta says is the lack of a point of reference. This is what sides are truly struggling with against this Liverpool side and why there are endless inquisitions. You can't go with your man but the simple act of passing him on verges on the impossible. The exhaustion this Liverpool side is able to provoke isn't just physical but it is mental and it takes its toll.
Freeze framing the second, third and fourth goals at almost any time finds Liverpool's footballers where they sort of shouldn't be. Pressing play again finds them where they sort of shouldn't be but there so very quickly. Take the second. Alex Oxlade-Chamberlain ends up on the wrong side, Mohamed Salah starts centrally but ends up furthest left, Sadio Mane ends through the middle, possibly picking up bits, should bits happen, and Roberto Firmino spends the whole move on the right-hand side, dragging men and creating space.
This is a Liverpool side which just pose endless questions for an opposition when they are playing well and they are a Liverpool side able to go through the gears when required. They make the opposition make constant decisions and the thing about having to make decisions is that no one always gets them right.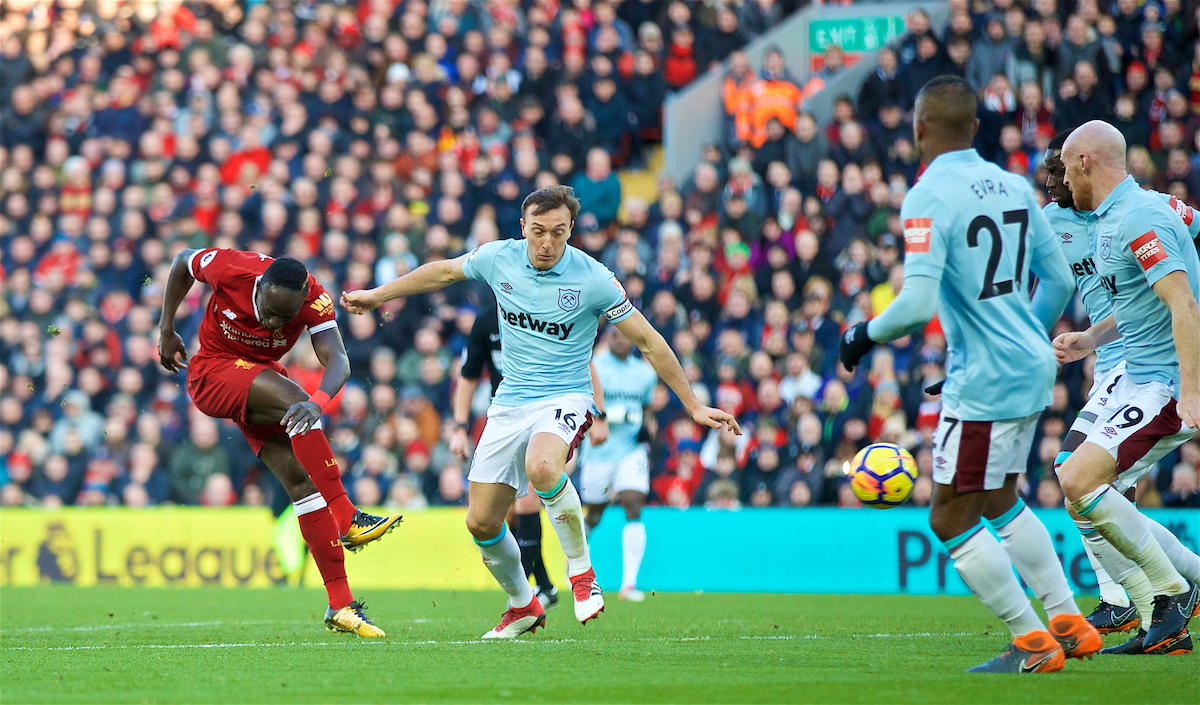 The fourth tells us something else. West Ham are 3-1 down. They know they need the next goal and Liverpool take a couple of chances at the back. Suddenly, West Ham's one man leading the line becomes three. But those three are against Liverpool's six, including Loris Karius and Emre Can.
Because they are chasing, West Ham commit a fourth from midfield. As soon as that fourth man is committed and Liverpool get out, they are suddenly running at a five-man defence and a one-man midfield rather than a five and a four. It stems from Liverpool dangling a little bit of a carrot for West Ham. Come and win it back, come and get in. Make it 3-2. You can do it. The crowd's mild frustration at Karius and Joel Matip even played into it.
The camera angles around the goal are so revealing. There is one from behind the action where you can see Cheikhou Kouyate jogging back. He's out the game from centre mid, a spectator. Mark Noble is stuck being Mark Noble and he has too much ground to cover and no one wants to step out of the back five and press the ball because no one wants to vacate a space which a red shirt will fill.
When Mane finishes, West Ham have six lads back but they are all in the wrong place, all behind the action, unable to set the shape. They've been ripped asunder and the timing and weight of Liverpool's passing is perfect.
Next week there is Newcastle. I doubt they will play 5-4-1 against The Reds. If they do, I doubt they will move any of that back nine out of their own half at best. It will be another challenge for The Reds but what's notable is that Newcastle will treat Liverpool as they would treat Manchester City.
They'll come to Anfield expecting their second longest afternoon of the season and they'll commit wholeheartedly to their task in that context.
Anfield has become something to endure. Facing Liverpool something players are talking about. But it is one thing to talk about this side, about it working you to the bone, and another thing to experience it.
Let's hope Paul Dummett takes the role of post-match Zabaleta come next Saturday at 8pm.
[wonderplugin_audio id="68″]
Recent Posts:
[rpfc_recent_posts_from_category meta="true"]
Pics: David Rawcliffe-Propaganda Photo
Like The Anfield Wrap on Facebook