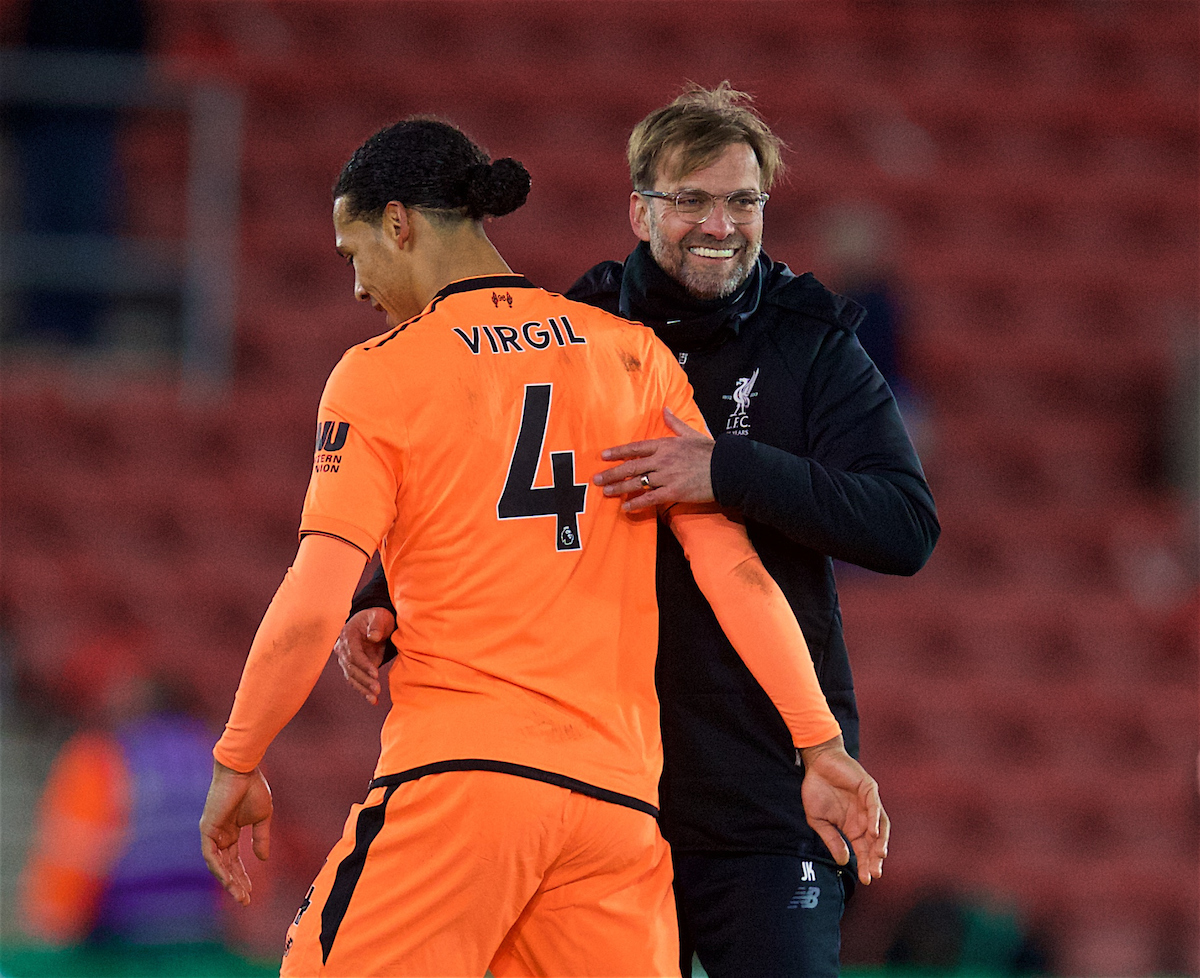 ALL eyes were on the world's most expensive defender on Sunday.
The return of Virgil van Dijk just over a month after his record £75million move from Southampton to Liverpool was always going to be the headline, but an assured and measured performance from the Dutchman ensured that there would be no satisfactory schadenfreude moments for Saints fans, who were forced to see their former flame and his new colleagues comfortably dispatch their current team.
The home fans had arrived with their voices prepared in anticipation. They were ready to let van Dijk know just what they thought of him. Six minutes in, he calmly headed the ball back to Loris Karius and boos rang out. They had barely muted by the time Karius, Alex Oxlade-Chamberlain, Mo Salah and Roberto Firmino combined to make it 1-0 seconds later.
The interesting thing about the Southampton booing circus whenever they play Liverpool is that they've assigned levels to each player. They don't seem to mind Nathaniel Clyne or Sadio Mane, they're not overly keen on Adam Lallana, and they absolutely despise Dejan Lovren.
Possibly my favourite part of Sunday's game was Jürgen Klopp trolling to the extreme when he brought Lovren on with only a couple of minutes to go when he didn't need to in the slightest. The only thing that would have topped it would have been if he'd brought van Dijk off at the same time for his "ovation". It would have been the sort of move that would have made Vince McMahon proud.
I was sat in the upper Anfield Road for the reverse fixture earlier this season, just above the away support. It was remarkable just how dedicated they were to the Lovren hate, far more so than in showing support to their current players. The gaps between booing were filled with a crude and not overly creative song (which in fairness, made it funnier). The Croat had the last laugh though as The Reds comfortably won 3-0 that day.
It was a game that van Dijk didn't enjoy much, getting pulled this way and that by Salah and Firmino. It would have been to his immense relief that this time, he was watching them do it to someone else.
It was to his credit that by the end of the game, the Saints fans used up the remainder of their boo quota to turn on their own team and manager.
I actually thought that was quite harsh. Between 1-0 and 2-0, Southampton were probably the better team. They played with aggression, commitment and regularly worked the ball into Liverpool's box, only to be thwarted time and again by van Dijk and Karius. They did well until Firmino and Salah pulled their pants down (in a metaphorical way, not in a Huddersfield Town being so pleased with their day's work that they get their willies out way).
Mauricio Pellegrino is all of a sudden under pressure, with a lot of Southampton fans apparently wanting Marco Silva to replace him. I'm not sure they're a set of fans that should really be urging the appointment of someone with a history of disloyalty, to be honest.
As for van Dijk, it was interesting to see how mixed the reviews were of his start to life at Liverpool heading into the game. The media were clinging onto the fact that he was yet to keep a clean sheet in four appearances, despite a clean sheet seldom being down to one man.
In my humble opinion, he had been excellent on his debut against Everton, largely good at Swansea despite his role in the only goal of that game, admittedly poor against West Brom when everyone around him was too, and then excellent against Tottenham Hotspur, even if he was the one who Erik Lamela tricked into kicking him in the dying seconds.
As silly as it might sound, I haven't been concerned with the goals going in (in terms of analysing van Dijk's performances, obviously I've been kicking seven shades of shit out of nearby furniture generally). What I have been encouraged by in particular has been the calmness he brings to it all.
For several years, it has all felt a bit chaotic at the back for Liverpool when hopeful balls have been lobbed in, or loose balls have been bouncing around (again, not a Huddersfield reference). There has been visible panic from Reds defenders that has spread through the team and to the fans. What van Dijk seems to specialise in is cutting out all that bullshit and just constantly winning headers and knocking the ball to a teammate. His natural confidence in those situations is such a breath of fresh air, which itself breeds confidence in his teammates, and hopefully, fans too.
There is also the undeniable fact that he looks simply glorious in that bright orange kit. We've seen him play for Holland of course but there's something about our orange kit that makes lads look imperious. I'd be well up for keeping that kit for future seasons. Our record in it has been excellent. Four wins and one draw, scoring 19 goals in the process. It must be so disconcerting to see anyone running at you looking like a Calippo, let alone a whole team of the luminous mavericks.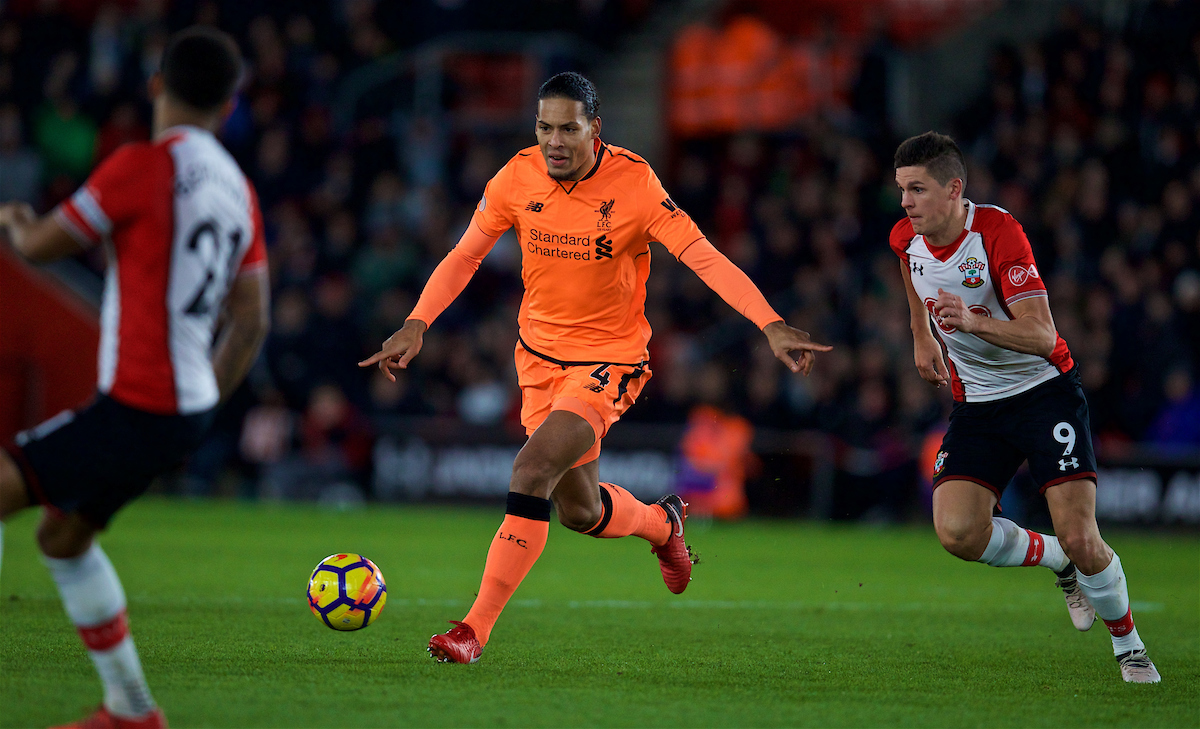 It remains to be seen who will be van Dijk's long-term partner at centre back. So far he has played four games with Joel Matip and one with Lovren. I like the Cameroonian, which doesn't seem to be a popular opinion these days, but admittedly his form has dipped of late so it will be interesting to see how many opportunities Lovren gets with the Champions League returning. It almost feels like an audition for both between now and the end of the season.
The price tag will inevitably hang over everything van Dijk does, but as long as the things he does involve excellent defending, then it won't matter one bit.
It wasn't just the ease with which he managed the game on Sunday, but the fun he had with it as time went on. Hitting a 50-yard free kick at goal was bananas, and when he decided that he was going to go on the left wing for a bit, I think even the Southampton fans realised that it was all turning into what it had been all along. One big pantomime. Virgil's smirk as he ran back to his normal position said it all.
The way he dealt with yesterday's hostilities was a measure of the man and it bodes well for him and Liverpool for the future. This Wednesday sees him play in the Champions League for the first time since his Celtic days, and he'll fancy himself up against the firing pair of Moussa Marega and Vincent Aboubakar.
The world was waiting for van Dijk to mess up yesterday, and he disappointed them all with the sort of performance that saw him earn his move to Merseyside.
The 26-year old then endeared himself further to the fans with his 'Unlucky' comment in an interview with LFCTV after finding out about Manchester United's defeat at Newcastle.
It's still early days, but the signs are that it's all of Liverpool's rivals who are "unlucky" that van Dijk will be playing his football at Anfield for the next few years.
[wonderplugin_audio id="66″]
Recent Posts:
[rpfc_recent_posts_from_category meta="true"]
Pics: David Rawcliffe-Propaganda Photo
Like The Anfield Wrap on Facebook