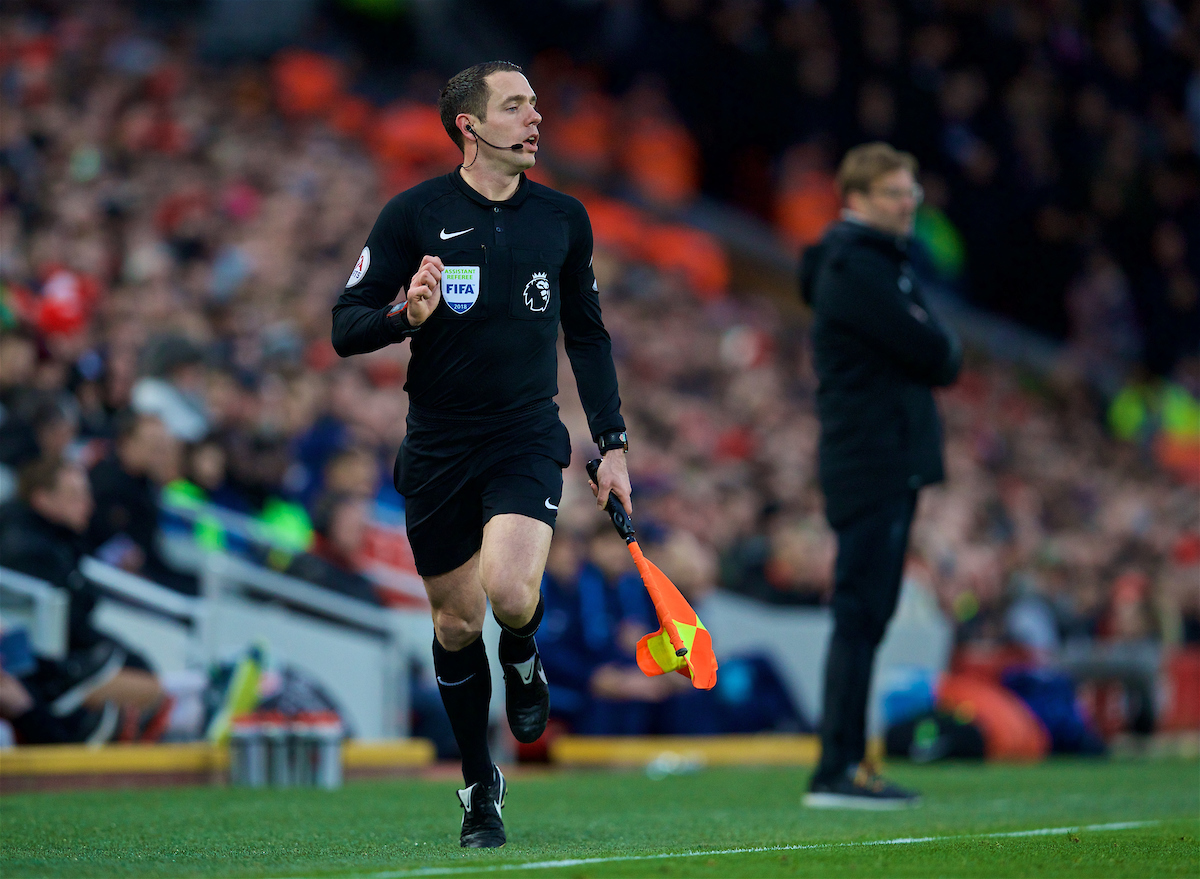 THERE'S a lot to discuss after Liverpool's 2-2 draw with Tottenham. Not all of it very cheery.
From questioning why Jon Moss decided to give a penalty, despite admitting he had no idea what had just happened, to why The Reds decided to allow Spurs to dominate the entire second half having been comfortably the better side in the first 45, to why Emre Can put as much effort into clearing the ball before Victor Wanyama's stunning equaliser as I put into doing the dishes on Christmas Day.
It was an interesting game that left many of us exhausted and frustrated.
On the balance of play, Spurs deserved the point, but since when has deserving points on the balance of play stopped people from criticising Liverpool for not winning games where they had the majority of the ball? For all their possession, Mauricio Pochettino's side created practically nothing in the second half, and were reliant on a wonder strike and a generous decision from a fist-pumping linesman to avoid defeat.
Anyway, after recent blood vessel-busting around defeats to Swansea and West Brom, and then the refusal to do anything in the latter days of the transfer window, we're probably all a bit fed up with the general focusing on the negatives, so today I've decided to kick the week off on a positive note.
How out of this world, top of the pile, want to sire as many sons as possible just in case one of them turns out like him, smack me round the face and vomit on my shoes fantastic is Mohamed Salah at football?
His two goals yesterday took his total for the season to 28, which is phenomenal when you consider he's not even an orthodox striker.
When the scouting department convinced Jürgen Klopp to sign Salah from Roma last summer, it was expected that he would produce good numbers. Having bagged 15 and 19 goals in his last two seasons in the Italian capital, you hoped that in an expansive attacking side like Liverpool he would thrive and hit similar numbers in England.
Less than one week into February and he's only six goals shy of beating his past two seasons put together.
The most gutting thing about Sunday was not just the two points dropped in the last seconds, but that such a contentious moment denied Salah the chance to bask in the glow of what deserved to be a winner. Red backs were against the wall, and so the Egyptian took it upon himself to charge at the entire Spurs team, and beat them, then finish superbly.
It deserved to go down in the annals as one of the great Anfield moments, but will sadly now just be remembered as one spectacular component of a rollercoaster game.
There will be more though. You better believe there will be more.
25 – Mohamed Salah has netted 20 goals in just 25 games in the Premier League; the fewest appearances of any Liverpool player to reach 20 goals in the competition. Lightning. pic.twitter.com/zwMvDfhrdA

— OptaJoe (@OptaJoe) February 4, 2018
Salah is surpassing every recent Liverpool star in terms of an electric start to his Reds career, becoming the fastest player to reach 20 Premier League goals, is only four shy of scoring more than Luis Suarez ever scored in a single season, and is just six short of scoring more than any other Liverpool player in a single season in the last 20 years (credit to @BassTunedToRed).
He is a whirlwind of a player to watch. When he picks the ball up it's almost like Sonic the Hedgehog (ask your parents), where all you see is a moving top half and a blur of whirring feet and legs beneath him. But then he slows down, and still beats his man with skill and technique. Just when you think you have him pegged down, he dribbles it past you, metaphorically pulls your pants down and takes a picture, then gets it uploaded to Instagram before you've had a chance to pull them back up.
He showed early promise in pre-season. His goal against Leicester City in the Premier League Asia Trophy showed his knack for getting in behind defences, and he followed that up with a sumptuous lob against Hertha Berlin, and another strike against Bayern Munich. He then carried that on into the season with a debut goal in the 3-3 draw at Watford.
It's been a steady flow of goals since then. Only twice this season has Salah gone more than one game without scoring.
https://www.youtube.com/watch?v=5kcMqiu8yJk
And yet, there are still moments that have you thinking he could have done more. Even recently, the chance to square a pass to Sadio Mane at Swansea, the miss at Huddersfield where he rounded the goalkeeper only to poke the ball into the side netting and even a couple of occasions on Sunday when a better ball could have punished Spurs more in the first half.
Then again when he does what he does for both goals, you can't help but forgive everything else.
All great goalscorers have moments of profligacy. That's why they're great goalscorers — they consistently get into positions to score, and due to scoring a goal being the hardest thing to do in football, it doesn't always work. Even the likes of Harry Kane and Robert Lewandowski miss their fair share of clangers.
I remember seeing Salah at Basel in a couple of Champions League games around five years ago and thinking he looked the absolute business. In fact it was performances against Tottenham and Chelsea funnily enough that brought him to the attention of many. The latter then bought him from under Liverpool's noses.
I thought he'd be a great signing at Stamford Bridge, but it didn't work out. Some say it was too early for him, which it probably was, but I did feel at the time that he was made a bit of a scapegoat by Jose Mourinho (imagine that) after being part of the Chelsea team that got knocked out of the FA Cup by Bradford.
He was soon loaned out to Fiorentina and then Roma, before being sold to the Giallorossi.
That of course worked out brilliantly for Liverpool down the line as the club purchased a much more confident and developed Salah from Roma for the now bargain price of £35m.
Another fascinating aspect of Salah's progression is how differently he worked with Edin Dzeko in Italy compared to how he works with Roberto Firmino on Merseyside.
Frequently in Serie A his job would be to get on the end of Dzeko's flicks or go on the outside to provide cutbacks for the Bosnian. However, at Liverpool he is mostly working off Firmino by running into the space the Brazilian has created, or taking advantage of the high pressing and chaos around defenders. It's a new way of playing, but Salah has thrived being a part of it, and the scary bit is he could get even better.
It always feels a bit lazy to compare an in-form player to Lionel Messi, but with Salah, it does feel like the comparison is somewhat justified beyond the obvious 'he's also bloody good at football'. His dribbling, his low-centre of gravity, the balls he has to take people on in tight situations, and the wide range of different goals he scores are all akin to the great Argentine. His second goal against Tottenham was absolute classic Messi. He also does it all with a smile on his face and a modesty that makes you want him to succeed even more.
Despite the late disappointment at Anfield yesterday, he went over to the far side of the pitch after the game and gave his shirt to a little boy who had been holding up a Salah sign all through the match.
https://twitter.com/EParena/status/960237051194028032
He also sent a shirt to a young Egyptian fan in Luxor last week after the child was pictured with Salah's name scrawled on the back of an old jumper in pen. Mo saw footage of this on Arabic television and got in touch with the presenter, asking her to pass on a brand new Liverpool shirt with 'SALAH 11' on the back to the lad. What a guy.
Despite his successes so far, there is no doubt that Salah needs to be winning trophies quite soon at Anfield. With help from his teammates, it's not beyond the realms of possibility, but will have to happen sharpish if The Reds are to keep the inevitable sharks at bay. We would all love to think that Salah would be loyal to the club and give them time to grow with him, but then he did leave Roma after only two seasons once a better offer came along.
Real Madrid are already being linked, though this doesn't seem like the best time to be joining Los Blancos, who look set for quite a transition period over the next couple of years. Hopefully that won't include a move for Salah, though if it does then you can bet that Liverpool will be seeking a fee that dwarfs the one paid by Barcelona for Philippe Coutinho last month. It wouldn't surprise me to see a new contract on the table for the Egyptian by the season's end.
Klopp has a world-class attacker on his hands here, and with the squad he already has at his disposal, with further additions in the summer (including Naby Keita, of course), the club must take the chance to surround Salah with more talent to allow his to shine even further.
There's also still this season, in which the 25-year old is on course to score close to 40 goals, and will have the opportunity to be a difference maker in the latter stages of the Champions League. He already has five goals in six games in the competition, and seems tailor made for such occasions, especially for nicking crucial away goals.
It's also nice to hear that Salah's new song is catching on. I get the impression there will be plenty of need to sing it over the last few months of the season.
Given what he's already achieved, you have to wonder what else he could do to possibly make us love him even more.
Maybe he can wee in Jon Moss's water bottle the next time the Premier League inexplicably give him a Liverpool game to officiate?
Or, you know, just score even more goals. Either, or.
Recent Posts:
[rpfc_recent_posts_from_category meta="true"]
Pics: David Rawcliffe-Propaganda Photo
Like The Anfield Wrap on Facebook