IT must be a strange lot being a professional footballer.
Particularly at the high end. I'm always intrigued to know what they really mean and think when they sign for new teams and ubiquitously proclaim that they want "to win trophies and titles" in their new billet.
Firstly, do they really expect to win anything? There are simply too many teams and too few prizes to be shared around. As we've moved into eras that devalue domestic cup competitions and only rate you if you win either the Champions League or a title in a big European league, there really are only two pots up for grabs. The Champions League can only realistically be won by one of 10 teams. The league, in England, Spain, Italy and Germany is a contest between three teams, at best, per nation.
Liverpool are about the 10th richest/biggest club in world football. Manchester City are just about the richest. Man City know they will win trophies. Liverpool *hope* they will. One day. In England, Liverpool face the annual Premier League campaign knowing they will need to outperform five sides who all feel they have a puncher's chance of finishing top. Three of those five are much better resourced than Liverpool in terms of their recruitment and payroll budgets. Each campaign, Liverpool are pushing an elephant up a hill. Looking for answers from the great beyond.
Phil Coutinho left Liverpool this week, after five years of sterling service, in search of a higher plane. Phil loved playing for Liverpool, but Phil associates Barcelona with actual trophy winning. Not respectable second or fourth-place finishes , or getting to the odd cup final. He can visualise himself on TV, his face filling the screen, his eyes bright and wide, his teeth barred, his arms bent over double, fists clenched in triumph. In his mind's eye he can just about make out his profile reflected in the silver of a gleaming over-sized vase.
Phil has taken something of a pay cut to pursue this vision. At the very least, he hasn't left Liverpool to get richer. At least, not yet.
Some players see lineage between them playing for the elite of the elite, to them lifting trophies, to their images being used on the front cover of best-selling computer games, to untold monetary wealth. I think these guys are easier to work with. They work to get remunerated. Their work is not their life's work. Their work is a means to an end.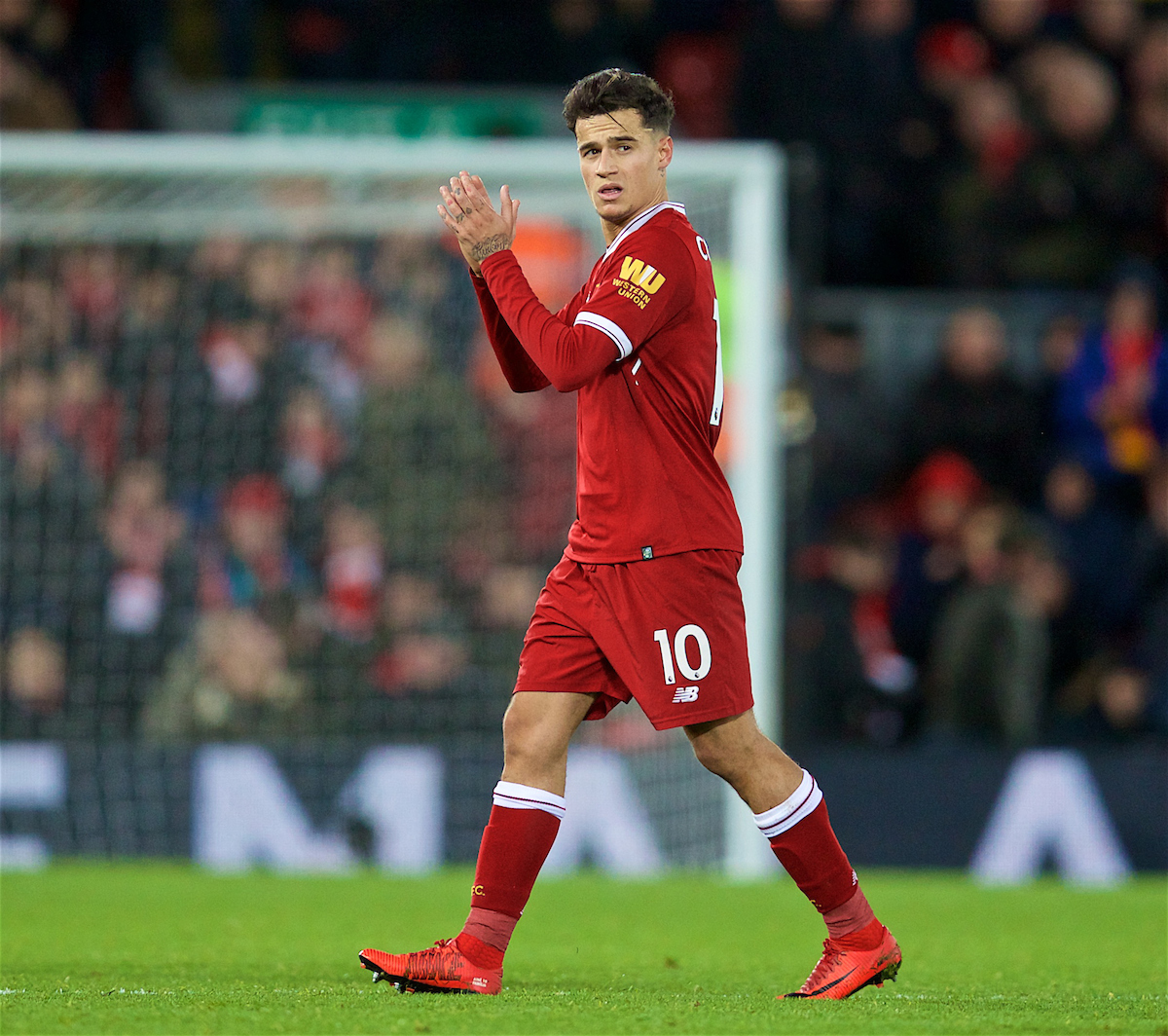 If you're a club that wants to keep one of these lads out of the clutches of Barcelona, then you just pay them more. Man City have successfully worked on the basis of this model for the past decade. It has set in motion a virtuous cycle for them. Now they win trophies. Every year. Players signing for Man City do not need to differentiate between their motives. They can tell themselves they are in it for the cups as much as the money.
I wonder though if many players stop to think about the currency of trophy winning. In football we talk about glory as if it's almost an absolute thing. But it can't be. The glory Coutinho will feel he is a party to when Barcelona lift their zillionth league title this May will be a thing to savour, but to only a degree. The glory that Phil's erstwhile colleague Steven Gerrard enjoyed in the journey to the final and the ultimate capture of the European Cup in 2005, is such a very different entity.
Virgil van Dijk joined Liverpool two weeks ago in the face of offers for his services from Man City and Chelsea. Virgil, like Coutinho, could expect to collect a league title winners' medal in May had he chosen Man City. Virgil chose Liverpool though. Upon arriving he spoke the usual platitudes about the club's history, Anfield's atmosphere, his excitement at the opportunity to work with talented people, and of course his hope that he might "win trophies".
He doesn't really expect to win trophies. It is hard to win trophies unless your club is the very richest. Liverpool have more in common with van Dijk's old club Southampton than they do Man City, in one key sense — Liverpool and Southampton both expect to end seasons trophyless.
So what does van Dijk do it for? What is Phil doing it for? What do we do it for?
I think Coutinho thinks he's doing it for the same reasons as van Dijk. Luis Suarez before him felt the same. Raheem Sterling too. They are wrong though. They have signed up for a guaranteed return on their emotional and physical investment. But any investment that has a guaranteed return is immediately devalued. The price has been adjusted by the market. There is no marginal gain to be had if the reward is assured/capped.
Van Dijk hasn't got a clue what will happen to him. And he's loving it. Virgil will make his home league debut for Liverpool against Man City on Sunday. He's counting the minutes till he pulls on that red again, till he walks out into Anfield's electric air, till he runs across the line onto its greenest green grass. After that he'll go to war for a cause he absolutely believes in.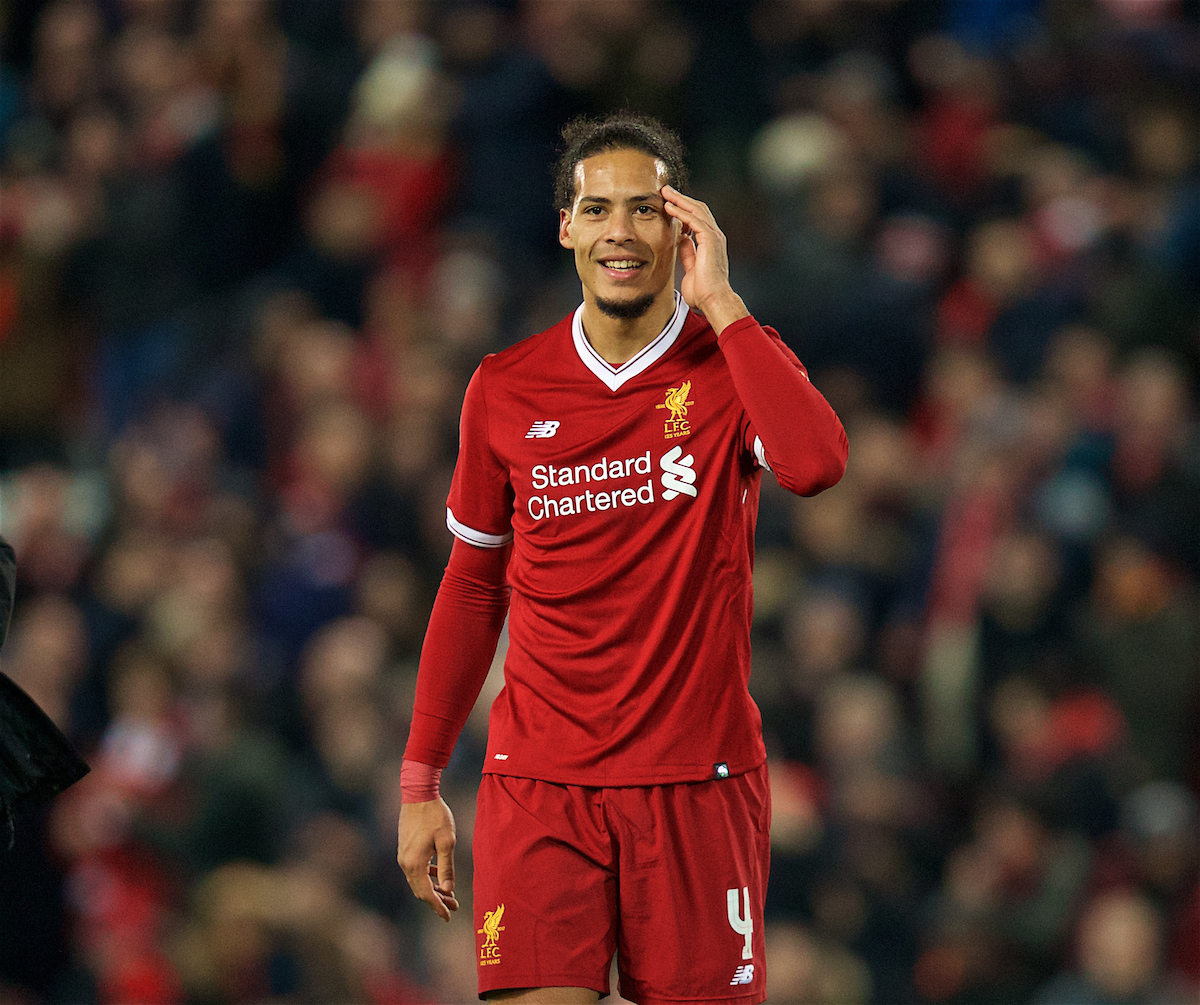 His defensive partner may again be the improving Joel Matip. He wants to become a better player alongside big Virgil. Joe Gomez and Andy Robertson will flank Joel and Virgil in a Liverpool defensive unit that will want to redefine itself now that it has been reinforced.
In midfield there is still no return for the injured captain Jordan Henderson, so Emre Can and Gini Wijnaldum all but pick themselves as the screen in front of the back four.
Expect Liverpool to set up compact and notionally narrow. Perhaps in a 4-2-2-2 style of formation that was so effectively previewed at West Ham in November. I think Sadio Mane left and Alex Oxlade-Chamberlain right will be asked to spring from a square central block to torture Man City's flanks. They will be up against decent full backs but they will hope to be assisted in their forays by Liverpool's own wide defenders.
Mo Salah is fit and ready to finish what he started against Man City in August. He was just bedding into his new environment back then. For 20 minutes before Mane's sending off changed the course of the game, Salah was in behind Man City's back four at will. Only nervy finishing by the new signing saved them. On Sunday he may stay within 10-15 yards of Bobby Firmino for much of the game. No one talks about striker partnerships these days, but quietly Salah/Firmino is becoming a truly potent example of one.
Man City? They'll pick all those brilliant lads who made their moves and signed their contracts to get what Coutinho did. Their guarantees will still be fully valid whatever Anfield's result. Good luck to them, we all have our lives to live. We may well win "fuck all again". I'm with Virgil though. The hope doesn't kill. It keeps you truly alive.
Predicted 11: Mignolet; Gomez, Matip, van Dijk, Robertson; Can, Wijnaldum; Oxlade-Chamberlain, Mane; Salah, Firmino.
Kick off: 4pm
Referee: Andre Marriner
Odds: Liverpool 11-5, Draw 14-5, Man City 13-10
[wonderplugin_audio id="57″]
Recent Posts:
[rpfc_recent_posts_from_category meta="true"]
Pics: David Rawcliffe-Propaganda Photo
Like The Anfield Wrap on Facebook