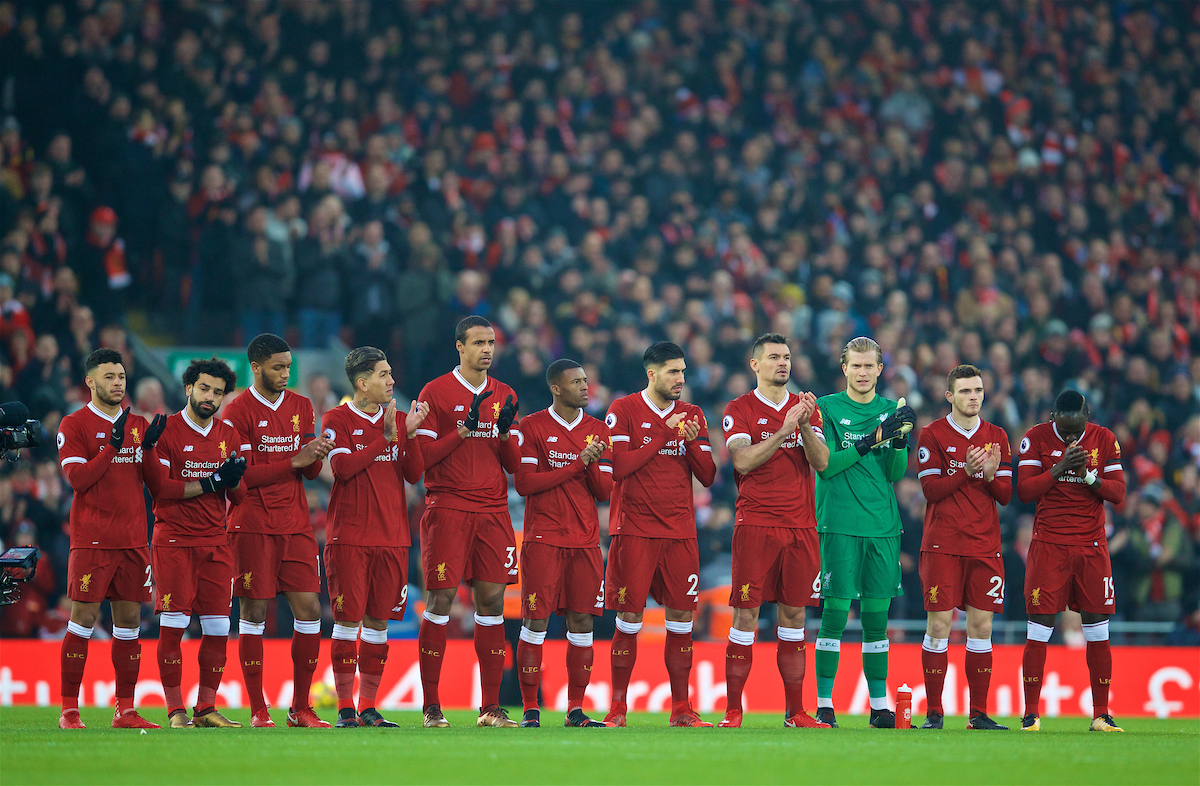 I'VE been trying to listen to every song there ever was to flush The Archies out of my head over the last couple of days.
The ever-reliable Andy Williams and his version of "The Impossible Dream" popped up on Spotify last night, and not only did it succeed in drowning out the viral version of the "Mane, Mane" song with a hat glued on top, but it also somewhat aptly told the story of what Liverpool achieved on Sunday.
The Reds turned up at Anfield and fought the unbeatable foe, they ran (and ran, and ran) where the brave dare not go, to right the unrightable wrong — of the 5-0 at the Etihad (goal difference you say?) — and reached a star unreachable by every other team in the Premier League this season. They beat the unbeatable team. Now stick that rice shaker where the sun can't get at it.
I was speaking to a friend before the game and said: "If we're 4-0 up with 10 to go, I'm still going to be very nervous. It'll be that sort of game and we're that sort of team." There's a good chance many of you did the same thing.
As it turned out the score was 4-1 with only six minutes to go. The collective amount of kittens being had by Liverpool fans all over following Sergio Aguero's late header at 4-3 will have been enough to form some sort of all-conquering tiny feline army.
However, the game was won and the unbeatable run was broken to ensure that Manchester City fell one short of matching Liverpool's record set in the late '80s of 31 games undefeated.
It was an outstanding performance from Jürgen Klopp's men from front to back. Well, nearly from front to back. I have no idea what is going on with the goalkeeper situation but it needs to be sorted as soon as possible. Not just to give the team more security, but to halt all the tiresome goalie chat that has been going round in circles since Pepe Reina was still saving things back in 2009.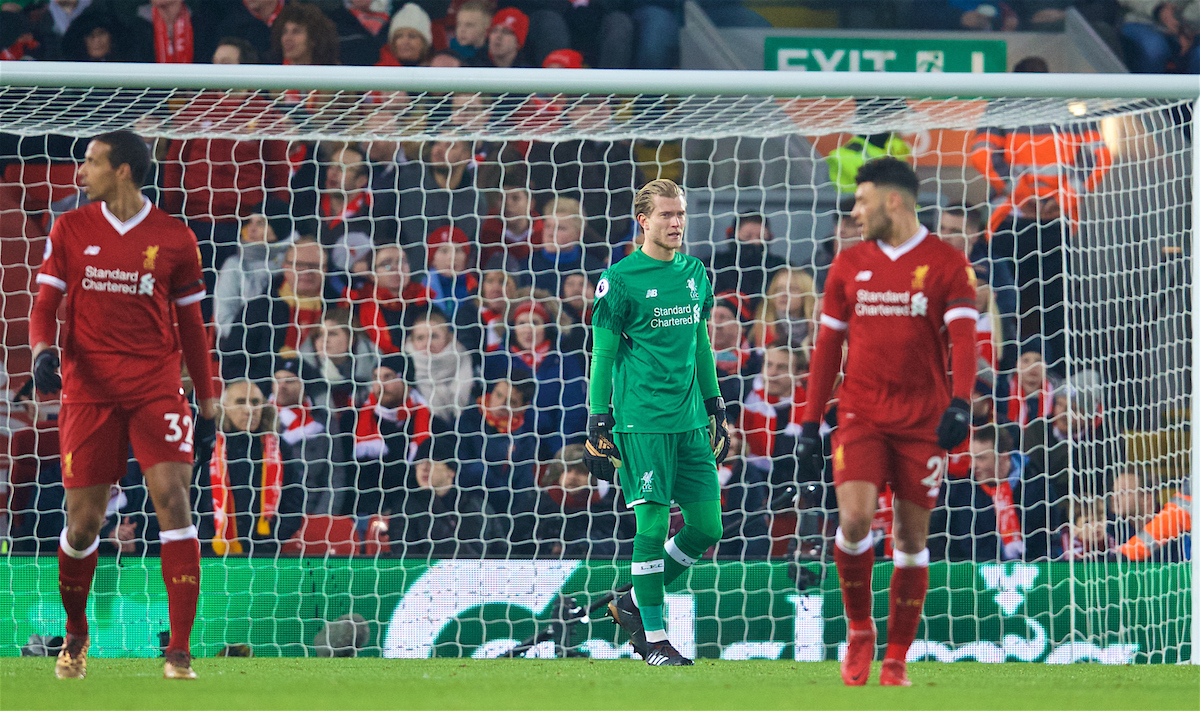 Joe Gomez, Joel Matip and Dejan Lovren all had a brainfart that led to a goal being conceded, but all were magnificent in more or less everything else they did.
Andy Robertson marked Raheem Sterling out of the game in a way that no other left back has been able to do all season, then decided to chase down everyone else once he'd completed Sterling. I hope his postie doesn't put one of those "we tried to deliver" cards through his door this morning or he'll get chased down the street.
It was Emre Can's best performance of the season bar none. The cynic in you might say that he was putting in that little bit extra during a big game in January to force a hand either in Liverpool's boardroom or in Turin. The fact he was ill heading into the game makes his tireless running and tackling of everything that wore blue all the more impressive.
Gini Wijnaldum showed up, which is a rare occurrence this season. He's either there or he isn't, and boy was he there. He was here too, and often everywhere. There were occasions where his performance actually reminded me of peak Momo Sissoko, winning the ball and then deliberately giving it away, just so he could win it back again.
Alex Oxlade-Chamberlain picked a great time to be immense. An hour or so after the team he left behind last summer had been meekly beaten at Bournemouth, Oxlade-Chamberlain ran through the Man City defence and smashed the opener in at the Kop end. He has now already scored more league goals for his new club then he ever did in a single season at his old one, but it is his all-round game that has been noticeably better than it was in London. He is taking charge of things, happily and efficiently, and all of a sudden the naysayers of his £35million move in August have gone awfully quiet.
The front three were what they are. Absolute quality when it mattered. All three of them bagged goals with world-class finishes, and made what had been a significantly improved and imperious Man City defence this campaign look woefully inept on several occasions. John Stones in particular regressed to the night he was schooled on the same ground in an Everton shirt back in 2013-14.
Roberto Firmino was at his effervescent best, beautifully bullying Stones and copying Robbie Fowler's goal against Manchester United in 1995-96. Mo Salah, who some said couldn't finish not that long ago, knocked in his 24th goal of the season from 40 yards, while an apparently out-of-form Sadio Mane blammed in his ninth of the campaign, and a second in a month from the edge of the box with his weaker foot.
BOBBY FOWLER. pic.twitter.com/IytAbRjGM8

— (@StudgeIsMyMate) 14 January 2018
Individually, Liverpool were superb, but it was playing so well as a collective that ensured they toppled Pep Guardiola's rampant champions elect. Nobody shirked their responsibility. They all knew it would take maximum effort, and after the encounter Klopp summed it up perfectly when he said: "People watched this game all over the world and this is why — take your heart, throw it on the pitch and play like this, both teams."
I really like Guardiola. I think he's the absolute business. Some were suspicious that he was overrated and that his success at Barcelona only came down to having such a good squad. They also argued that he essentially failed at Bayern Munich as he didn't win a Champions League. Most in Munich will heavily disagree, and everyone in Barcelona will shout you down in an instant, before then talking to Mundo Deportivo about how interested they are in buying your dog.
Pep arrived in England and initially struggled. However, after one year of acclimatising, he's dominating the place. Some have put it down to luxuries like being able to spend £130m on three full backs, but if anything it's getting the best out of the players he already had that has seen Man City be such a colossus this season, while also fixing what needed to be fixed. He has built a team that seems to be able to come through any circumstance, winning six games this season 2-1 with winners in the last 15 minutes.
There is every chance Man City don't lose again this season in the league, and get a record number of points. Yesterday Klopp beat Guardiola for the sixth time in his career, twice more than anyone else.
Understandably there has been a little bit of panic that Liverpool are set to head into a crucial second half of the season weaker, on paper, than they entered it having lost Philippe Coutinho and so far struggled to replace him with anyone. It appears that Naby Keita will remain locked in at RB Leipzig until the summer, while reports suggest that Monaco are pricing Thomas Lemar out of an immediate move. Hopefully something can still be done in the remaining two and a bit weeks of the window, but yesterday was at least a big reassurance that if it should come to it, the current squad has what it takes to perform in the biggest games.
Klopp has been dropping hints in the last week that he is more than confident that his team can rise as a collective and make up for Coutinho's loss. "If we do something then it needs to be the right decision, we don't have to replace him – what we have to do is step up. We will have 11 players and we've played fantastic football without Phil…
"[In terms of] a replacement, first of all we have to replace him internally, then we will go with open eyes through this transfer window, but we will not make crazy things."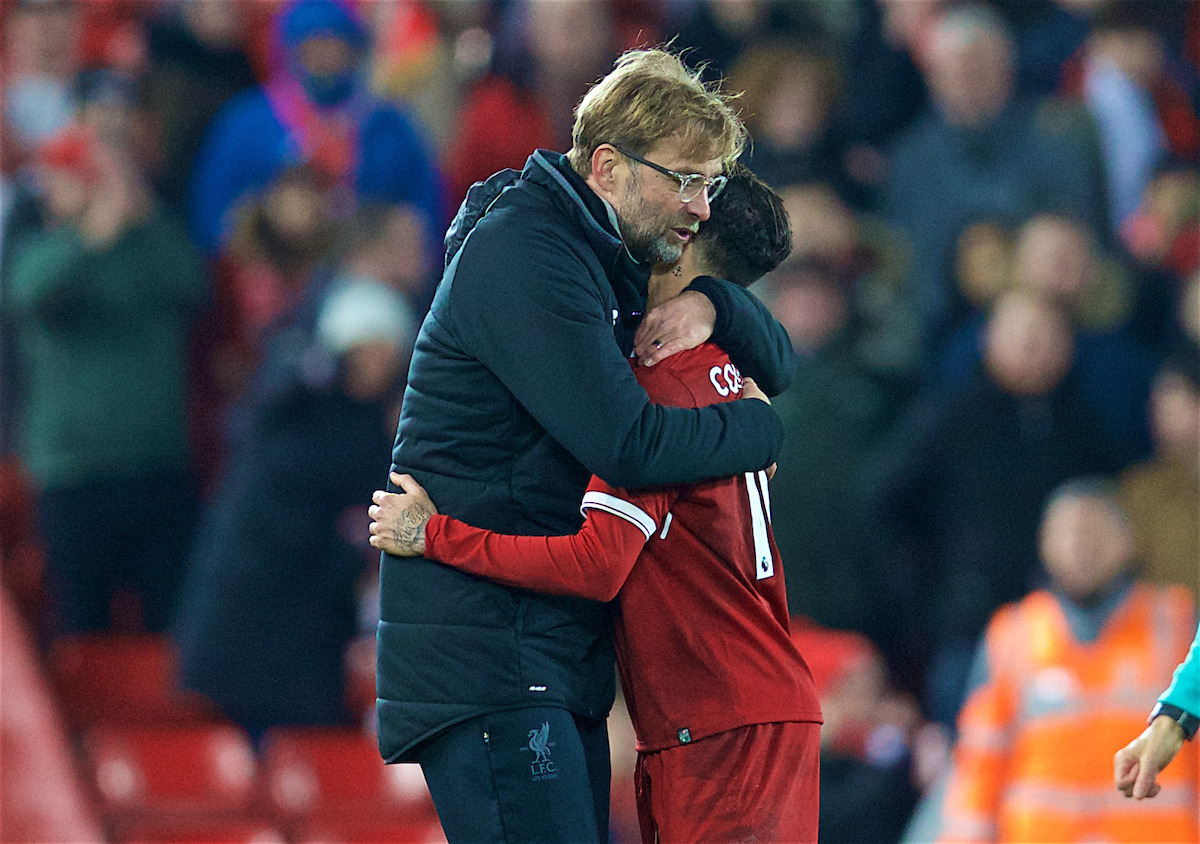 Heading into the game yesterday people sneered at Liverpool's chances. No Coutinho, no Virgil van Dijk, no chance according to some. Don't those players just love being written off and proving people wrong?
It's been said elsewhere but is eminently true. Looking at that team yesterday, adding van Dijk, Keita and a top-class goalkeeper, the mouth waters at what it could be capable of. Guardiola had a very capable team but saw weaknesses, so he addressed them and now has this machine marching to a routine Premier League title. It's not beyond the realms to think a few similar tweaks at Liverpool could have similar results.
There has been doubt in and out of the stands at times this season, but performances like the one on Sunday from both players and supporters show just how far this team has come and what Klopp is capable of getting out of it. Anyone doubting whether progression was even occurring need doubt no more.
The excellent Andrew Beasley (@BassTunedToRed) pointed out after the game that with The Reds now on 47 points from 23 games, it is Liverpool's second best ever Premier League performance at this stage of a season, behind only 2008-9.
Balls to Blue Monday. Yesterday was Red Sunday, and it was a great day to be following Klopp's boys into battle. Here's to many more between now and May.
Up the collective Reds.
To celebrate yesterday's famous victory, I am giving away two signed copies of my book, Kloppite: One Man's Quest to turn Doubters into Believers. To enter simply follow me on Twitter and RT this tweet. The winners will be picked at random on Friday January 19. Unless Andy Robertson enters, in which case he'll win both of them, lest he chase me as well.
"I think this team is deadly but also deadly serious. It's an announcement to the rest of the country and also to the whole of Europe." 👊

"We're not going anywhere this season. We are the real deal."

Subscribe now: https://t.co/CkGRoY9m3k pic.twitter.com/OjMEihu21n

— The Anfield Wrap (@TheAnfieldWrap) 15 January 2018
Recent Posts:
[rpfc_recent_posts_from_category meta="true"]
Pics: David Rawcliffe-Propaganda Photo
Like The Anfield Wrap on Facebook