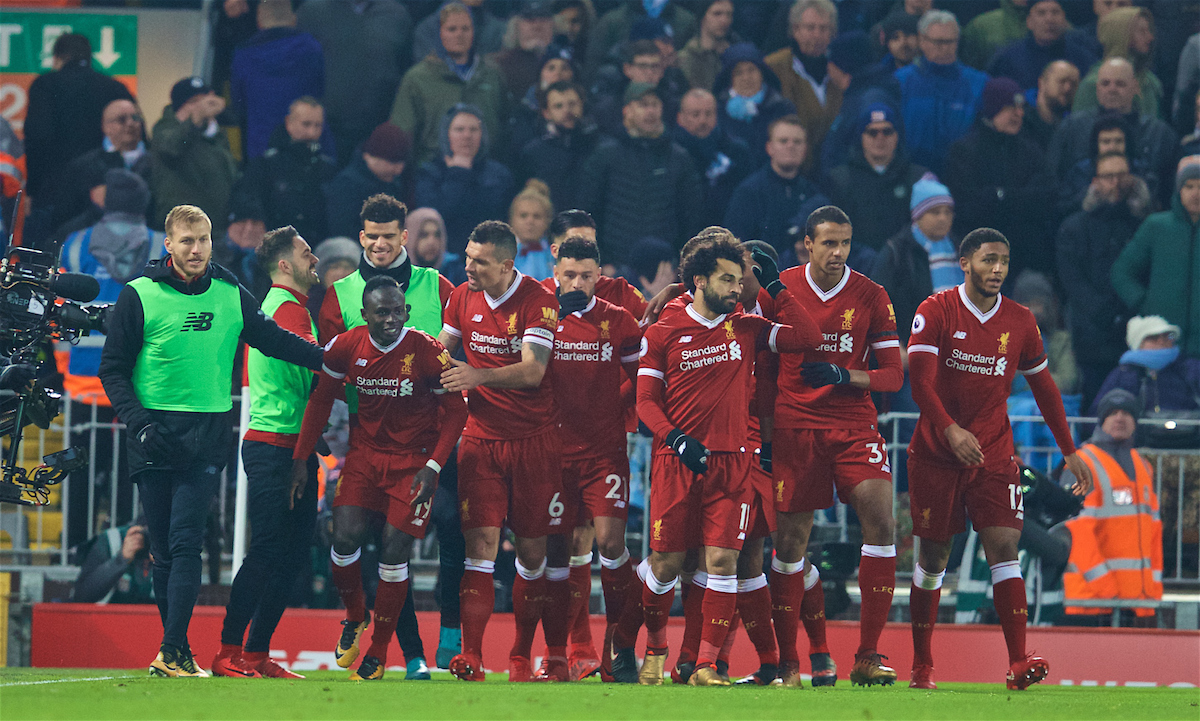 THE Reds are mustard again.
There was a purity to the occasion, a purity to the two performances. A reminder what this thing is. Two sets of lads mostly in their 20s being bold and brave, and playing, and playing, and playing. Two teams running themselves into the ground. And what should always happen, happened: Liverpool came out on top. Resplendent and proud.
The Reds are mustard again, and you saw them become mustard before your very eyes. It is when it becomes 2-1 through Roberto Firmino doing his best Roberto Fowler impression.
In the time it takes from it leaving Firmino's foot and it nestling in the corner of the net (about six minutes for those counting) you realise it is our time. You know, you feel suddenly, that everything is Liverpool, Liverpool are everything and out of the mists of celebration and jubilation after the ball has finally landed home, Jürgen Klopp is signalling push, push, push on, push up. Get in their faces, push home the advantage. These lads, my lads are mustard again, these lads are the better side and these lads can win this game now. The game is there for them. The game is afoot.
He was proven right. Liverpool were rampant and Manchester City were in ribbons; Sadio Mane hits the post, Mane scores and the champions elect left shredded by the mighty boys in red. They took the game away from their opponents and built the buffer they eventually needed. They should never have needed that because Man City were done. By 75 they were exhausted, walking wounded, tired and they wanted to go bed.
Their lads were only half a football team; their lads had fallen off the highwire. They'd gone.
Watching Manchester City's heads fall off as events unfolded reminded me of something:
The Reds.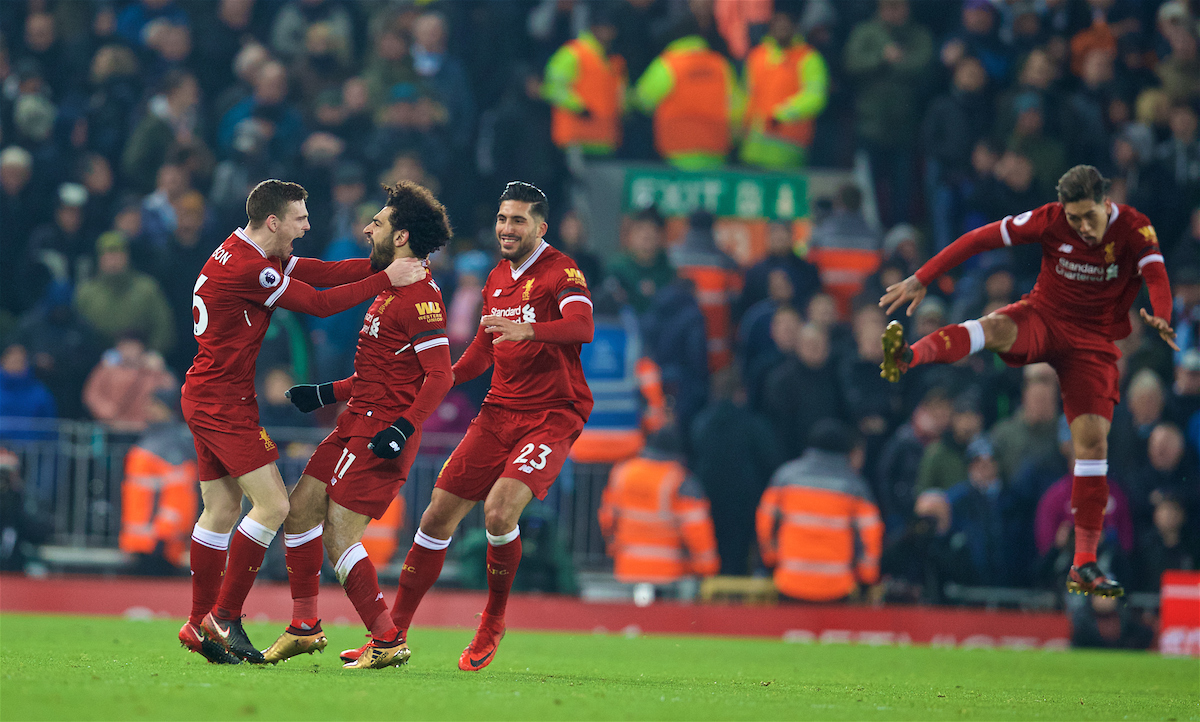 We have seen that happen to this Liverpool side this season. We've seen them lose their way when a game goes against them. It's worth remembering this is something that happens to really good teams. Every side in this division can lose its way and lose it quickly but it is different again when the way you are set up is based around such fine margins, such specific instructions.
Today's opposition are the champions elect and the wheels fell off in spectacular fashion. It is noticeable it didn't in the first half when they went one down. In the first half they shrugged it all off, kept playing and showing their class and quality. But the second, compounded by the strike against the post and then the third ruined them.
They walk the same highwire as us. Highwire football which they are normally able to play, normally able to execute but the thing about highwires is when you fall off them there is splatter everywhere.
It was a performance from Liverpool like a relay race. At any given moment a different Liverpool player was the best Liverpool player on the pitch up until the 80th minute. First half, Emre Can was brilliant out of possession and while he was too ponderous in it, it didn't matter. He was shepherding the side through their lead and through City's best patch.
In the second half Firmino is irresistible, Mane has 10 magnificent minutes and Gini Wijnaldum has his best game of the season. There's Andy Robertson, shutting down and winding up Raheem Sterling before charging across the turf. Dejan Lovren was brave, clearly under instruction to get out of his comfort zone at times and follow an opposition player right into midfield. Joe Gomez recovered from his mistake and kept Leroy Sane reasonably quiet and Joel Matip looked and actually was magnificent.
Each of these lads came to the fore while for Man City it was all Kevin De Bruyne and, while he was magnificent, while he may have been the best player on the pitch in a defeat and with a scoreline that flattered his side, he showed he couldn't do it on his own — though Bernardo Silva was an obvious bright spot for them.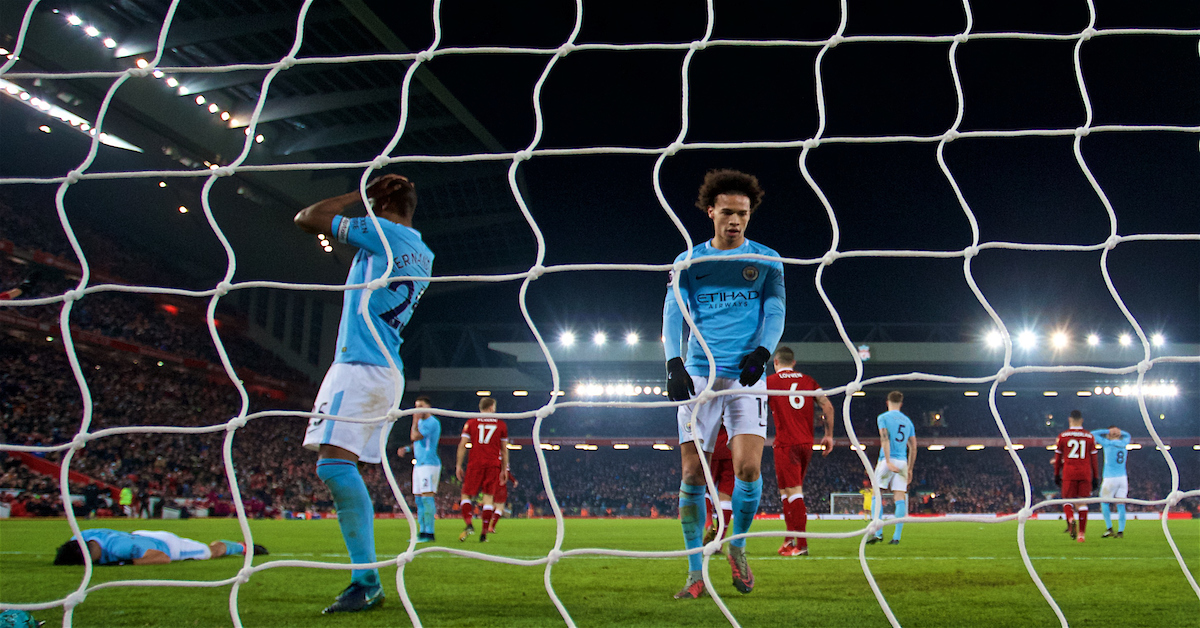 Liverpool's players didn't have to do it alone. They showed today the spirit within that camp and even though they gave two late goals away, they and Anfield didn't complain, didn't slaughter one another, instead sleeves were rolled up and resolve redoubled. It became a game Liverpool couldn't fail to win and strangely Man City's goals just made that clearer. We weren't standing for an equaliser, we were standing together.
The collective has rebound itself in some strange way since Leicester. There is something that one-goal victories give you while being the better side, something that galvanises. This is a season now soaked in quality, hewn with iron. A season where Liverpool look superior most of the time they are on the pitch and today they showed that against a side which has taken to the pitch in league football 23 times and won 20 of them.
Today Liverpool announced to the wider world, to potential targets and most importantly to each other and to us that they are the real deal. The Reds are mustard again. They are also the team, squad and club mostly likely to take the fight to today's opponents.
There is much still to do. It means nothing without a win at Swansea and a win at Huddersfield, nothing without going deep into the two remaining cup competitions, nothing without doing the business again, and again, and again. But this is a side which is unbeaten in 18, a side which looks capable of being deadly serious as well as being deadly.
Liverpool are on the march and Anfield strides in unison with them.
"What a football team. What a gang of lads." 🙌

🗣 Subscribe to #TAWPlayer to listen to our immediate post-match reaction show – https://t.co/moOlrh7fXX pic.twitter.com/uWu7fgMDDA

— The Anfield Wrap (@TheAnfieldWrap) 14 January 2018
Recent Posts:
[rpfc_recent_posts_from_category meta="true"]
Pics: David Rawcliffe-Propaganda Photo
Like The Anfield Wrap on Facebook