JUST prior to the beginning of the 1987-88 season an old Victorian sewer collapsed below The Kop, meaning the club had to postpone their first three home games.
Some people have been drawing comparisons between that and the Main Stand's redevelopment, which has meant the Reds' upcoming fixture against Burnley is set to be played at Turf Moor, with Liverpool not gracing the Anfield turf until September 10 when Leicester City come to town for a late kick-off.
The comparisons with that campaign continue with a season opening away win over Arsenal, and fans will be hoping the rest of the season pans out the way it did back in 1987-8.
It all started for Kenny Dalglish's side at Highbury, with new signings John Barnes and Peter Beardsley getting their first starts for the club, and they made the best possible start. After nine minutes Beardsley played through Barnes who crossed first time and John Aldridge rose highest to head the ball into the top right corner.
It was sign of things to come from an irresistible strike force — one which would finish the season with 56 league goals combined.
Arsenal equalised after 17 minutes through a Paul Davis header, as he latched onto a knock down from Alan Smith, but this wouldn't be enough to stop the boys in Red (or silver and red as it was that day).
Barnes swung in a free-kick from the left-hand side that was half cleared by Arsenal only for Steve Nicol to power a header from the edge of the penalty area straight into the top corner and send the Reds home with all three points.
https://www.youtube.com/watch?v=HVfZDfcPsl4
This was just the start of an outstanding season for Dalgish's side as they eased towards a 17th league title, winning it at a canter with four games remaining.
They finished the season with 90 points, losing just twice in 40 games. The Barnes-Beardsley-Aldo strike force helped the Reds score 87 goals, finishing with a 63+ goal difference — 30 goals better off than rivals Manchester United in second place.
The pace at which Kenny had his side playing draws further comparison with the heavy metal football Jürgen Klopp has been implementing at the club, while the talent on the pitch simply blew other teams out of the water — as the current side did to Arsenal in a devastating second-half on Sunday.
Coincidence and early-season optimism maybe, but if Klopp can get his side playing anything close to the kind of football the 1987-8 Liverpool did he's onto a real winner, and Kopites could be in for one hell of a season. Here's hoping.
If the combination of Philippe Coutinho, Roberto Firmino and Sadio Mane can repeat the exploits of Beardsley, Barnes and Aldo that season we will be right up there. No pressure, lads.
Also This Week…
Liverpool signed Dirk Kuyt, Ian Rush, Xabi Alonso and Luis Garcia. Kuyt was an unsung hero, fondly remembered as the Duracell Bunny for his workmanlike performances whenever he pulled on the red shirt.
Ian Rush remains the club's all-time top goalscorer with 346 goals and an impressive medal haul to match. The Welshman won everything there is to win, boasting five league titles, three FA Cups, five League Cups and one European Cup.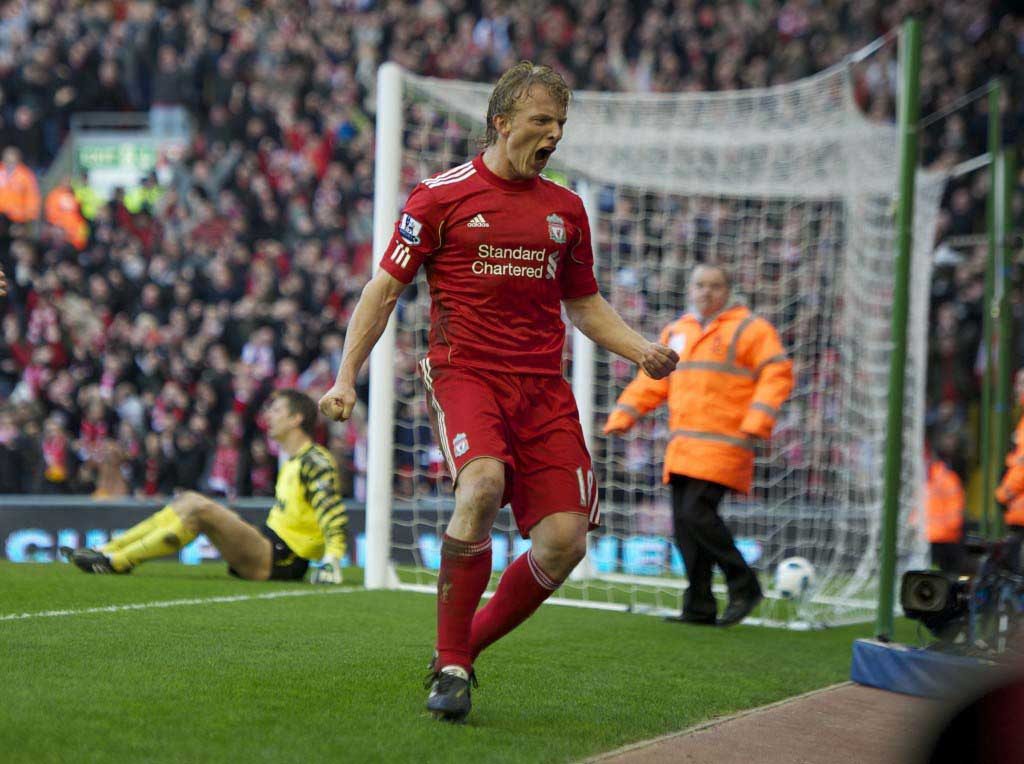 Xabi Alonso is still a fan favourite, and remains one of the best players I've seen pull on the famous red. His effortless range of passing, his technique and his ability to score from range, made him a crucial part of the way we played under Rafa Benitez.
Luis Garcia was the man for the big occasion. A magician on his day, who could always pop up with an important goal for the Reds. His Leverkusen hat trick, his Juventus screamer and his goal versus Chelsea (soz) helped Liverpool lift their fifth European Cup in Istanbul.
Meanwhile, Ray Clemence, Tommy Smith and Jimmy Case all left the club. Though I never saw them play for the club first hand, their medal collection is impressive.
Clemence: League Title: 1972/3, 1975/6, 1976/7, 1978/9, 1979/80; FA Cup: 1974; League Cup: 1981; European Cup: 1977, 1978, 1981; UEFA Cup: 1973, 1976.
Smith: League Title: 1965/6, 1972/3, 1975/6, 1976/7; FA Cup: 1965, 1974; European Cup: 1977; UEFA Cup: 1973, 1976.
Case: League Title: 1975/6, 1976/7, 1978/9, 1979/80; League Cup: 1981; European Cup: 1977, 1978, 1981; UEFA Cup: 1976.
For podcasts on every Liverpool game this season, transfer gossip, the lowdown on new signings and more, subscribe to TAW Player for just £5 per month. Minimum sign-up is just one month. If it's not for you, all you've shelled out is a fiver! More information here.
Our latest free show post-Arsenal is here – just press play!
https://audioboom.com/boos/4934670-show-me-the-mane