IF you've ever read an article I've written for the Anfield Wrap, you'll know they are rare and tend only to appear when I have something to say that I have to get out of my head in order to get some sleep, writes PAUL COPE.
Well, it's 2.30am the morning after the ticket protest and I have something to say which anyone who opposed the protest should read for one main reason: on Saturday at midday I was one of you. I have close mates and family who disagreed with the protest as well.
This may take some time, but stick with me for a minute. I think it's necessary to give you some background before going on.
I'm 35 and have been going to Anfield since before I can remember. My dad used to carry me with him to his seat in the Paddock and I'd sit on his knee for free.
The man on the turnstile said hello to me every week and my dad used to tell everyone I was his lucky mascot. In fairness, I must have been pretty lucky because I'm talking about 1982 to 1989 and I believe we did OK for trophies in that period even though I don't remember much of it.  (Those of you who are good at maths will realise my dad was still bunking me into games when I was nine, which admittedly was pushing it even for the 80s.)
I do remember, though, the feeling of walking out into a massive stadium full of colour and noise, and I remember being in love with it.
I remember my heart beating with the excitement of going to the match with my dad and, on the days when I couldn't go, I remember standing at the end of my nan's path on Pinehurst Avenue, just down the road from the stadium, asking fellas as they walked past after the game who scored and what the goals were like after hearing the roars from the ground carrying on the wind in the 90 minutes that had gone before.
I remember graduating from the Paddock to the standing Kop with my mates for a couple of seasons, then doing everything I could once the Kop had gone to get into as many matches as possible.
I remember bunking off sixth form in 1997 to get tickets for a match, getting bollocked when the head of the year (a bluenose) caught me and my mate, but getting away with it when he asked with a wink "Did you get the tickets though, lads?".
I was in Istanbul when I was 25. Still the pinnacle of my love affair with The Reds. I made a banner, it was boss.
But, like I say, I'm 35 now. I'm jaded. I've worked my bollocks off for years in the adult world.
Going to the match has lost a lot of its appeal and I'd stop going if I wasn't sitting with two of my mates and laughing our way through years of shit games.
I'm a lawyer by trade, although I've recently packed that in during the first of what I hope will be many mid-life crises. Being a lawyer has its advantages, like being able to talk me and my mates out of situations that most people would consider impossible.
I've pulled off some good tricks in the last 10 years that I'll tell you about over a pint at some point if I see you. The best one involves a cup final, a load of ale, five lads bunking into one room, a mate sleeping in the corridor thinking it was another bedroom in the middle of the night, a report of a potential criminal offence and, ultimately, the hotel manager apologising to me the next morning for any offence he caused to us by daring to question our sleeping arrangements the next morning
Anyway, the point is that being a lawyer has its upsides, but the massive downside is that it makes you analyse everything to the nth degree from the most cynical view point imaginable.
I basically don't believe a word anyone says.
The problem with that is that it makes it extremely difficult to get behind any cause, because you can always pick it apart and show why it's completely futile and/or why it has no basis whatsoever (I used the "and/or" just to prove that I was a lawyer…).
So when I heard about the planned ticket protest I thought "here we go again, another protest that will do nothing other than cause divisions in the fan base and get us nowhere".
I think in modern times many people have become apathetic to everything because of so many public unveilings of people in places of responsibility abusing their positions through self interest or because they've been corrupted.
That, in turn, leads to people not believing anyone or getting behind anything because "you know, what's the point, they're all as bad as each other".
I think an element of that now follows Spirit of Shankly and other supporter groups.
There are only so many times you can argue publicly against the status quo without at least a portion of the public labelling you as militants or trouble causers, and I have to admit that when I hear of unrest from these groups I don't immediately get out my suit of armour and jump on my horse ready to go into battle.
Often, the problem is that most of us don't get to hear the intricate details of what has gone on behind the scenes that has led to any particular issue, and that usually means that whoever has the best PR machine tends to win the public perception of what happened.
That perception can also be divided depending on what sources people derive their information from.
Most disputes I've ever advised clients on originate, ultimately, from miscommunication or misinformation somewhere down the line, and perception beats truth hands down most of the time in the real world.
So, back to the protest. I go to the match with two good mates. One had already decided he wasn't going for other reasons before the protest was announced, but I don't think he would have participated if he was going. I sent a message to my other mate on Saturday morning asking what his plan was.
He said he was probably going to the game and probably walking out on 77.
At midday on Saturday I'd decided that I didn't know enough about the facts behind the dispute between the club and fan groups and as a matter of principle I wasn't going to either join in with a protest I couldn't be sure was right or refuse to join in for fear that it was.
I'm sure I wasn't alone in my ignorance or in my desire not to blindly follow a crowd, so the decision I'd made was that I wouldn't go to the match at all, leaving the seats empty and not having to decide either way.
Then I stopped for a few minutes and thought about Tom Hicks and George Gillett.
I'm embarrassed now to say that in the middle of the Hicks and Gillett era I was completely apathetic to the whole thing. I was busy running a business and didn't get involved enough to realise how much damage these two loud Americans were doing to our club, so I did nothing.
I stood back and watched others protest and shout from the rooftops, without supporting their actions until the very end.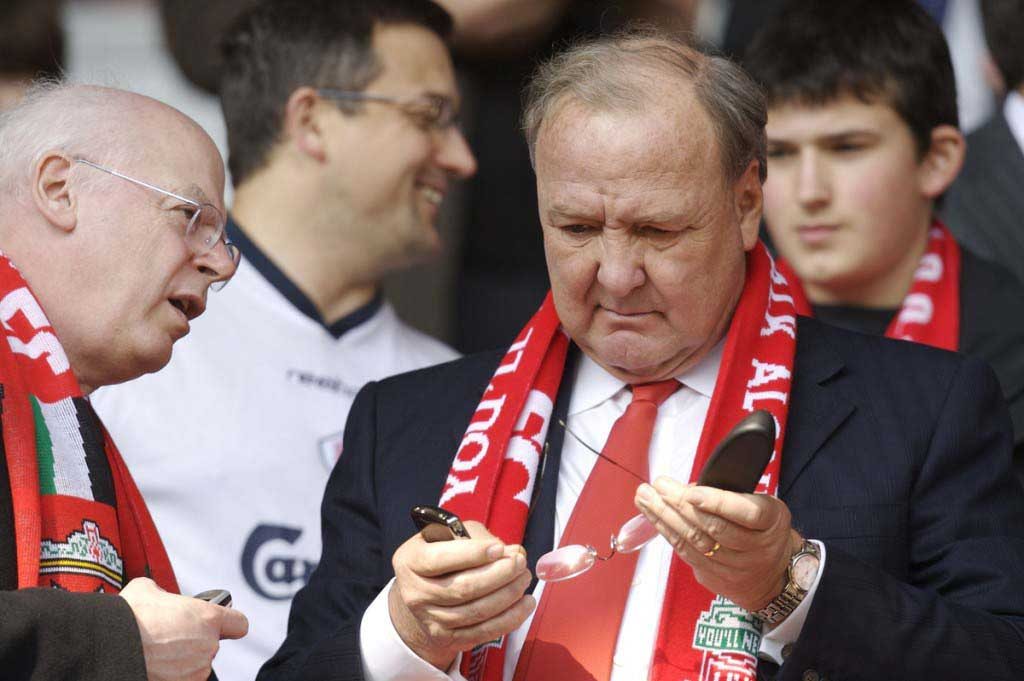 At the end of those dark days, I remember questioning how much spending my days as a busy, cynical lawyer was impacting on how I deal with these things in life, and telling myself that I would never allow that to happen again.
I think what Spirit of Shankly and other supporter groups did for this club during those days is too easily forgotten.
I visited Vietnam at the end of last year and it reminded me how little we actually learn from history, given that western nations still take to bombing the hell out of smaller countries in an attempt to bring them round to our way of thinking without so much as a thought to past lessons.
Unfortunately it seems our last run in with owners has done little to keep people on their toes.
So, I decided to start reading. I visited this website and read Adam Smith's article.
I was surprised to hear that he'd done something similar to me during the Hicks and Gillett years.
I wonder how many people reading this now would be brave enough to admit the same thing? Not many I'd guess.
It always surprises me how I can never find anyone who will admit to booing Lucas Leiva all those years ago, or booing Rafa's Mighty Reds when a home draw took them top of the league.
I then read Jay McKenna's article and listened to him, Robbo and Rob on a podcast discussing it.
And here's the kicker. Having read and listened to it all, I understood the protest but I disagreed with the headline point that was being used to try to bring us together in support of it.
For what it's worth this is my take on it.
Liverpool Football Club is in a unique position in football. It has a supply far too small to meet the demand of its "customers" and is a £300m business run by people who continue to make massive PR blunders.
How anyone within the walls of Chapel Street could think that they could price any seat inside Anfield at £77 and not create huge negative headlines and unrest is naive at best and idiotic at worst but (and this is where I think the headline argument against the price change has gone wrong) the biggest issue is that the £77 ticket price is a complete red herring.
It seems like an easy target but the problem it brings is that having that as your headline point means it's easy for the club to come out with the riposte that there are only a limited number of those tickets and they're needed to offset all of the reduced tickets they're so 'generously' giving away.
Ultimately, most tickets are already too expensive anyway, so having a few prices at £77 instead of £56 is neither here nor there for most supporters who would never buy them and don't care if someone is daft enough to do so.
The other red fish filling the box are the £9 tickets, the free tickets to local school kids and the "majority of tickets have been frozen or reduced" line.
They're just the headlines that the club wanted its PR machine to create to distract everyone from the main event.
From what I've read from the ticket groups and the statements from Ian Ayre, the key point we should all be focussing on is this: according to the figures from the supporter group that spent 13 months in meetings with the club, if the pricing structure had stayed the same as it is now, the new stand would mean total revenue from Anfield would be £37million.
The new pricing structure actually means that the revenue will be £39m. A figure that was arbitrarily set by our owners as the amount they wanted to make from ticket sales.
So, when the headline-grabbing low and high numbers for individual tickets are all put into the wash, what comes out the other end is a net increase in ticket prices to watch Liverpool at Anfield. A net increase to a pricing structure that is already pricing out a large portion of supporters.
I don't know about anyone else, but I can't see any rational argument as to why squeezing an extra £2m out of fans going to the game makes a blind bit of difference to how well we operate as a business or as a football club.
Signing new players some will say? So that £2m from us would have brought Alexis Sanchez in, or Alex Teixeira? Really?
The club might say that it's ok though, because the extra money will come from people who can afford to pay it. That simply misses the point of what I understand the ticketing group was trying to achieve, and what we should all be supporting.
The biggest issue I have with the £2m overall increase though, is that if I was to develop a product that I could pitch to the commercial heads of our club that gave them a vastly increased chance of Anfield's atmosphere going back to the way it used to be, which would result in an extra 10 points a season through the direct impact it has on the team as well as a direct impact on revenue through more commercial deals and more TV appearances because of everyone wanting to be associated with the famous Anfield atmosphere, what do you think they would say?
What if I said to them that this product would cost £2m a year? Or even £4m?
Would it be worth that investment considering the returns it could bring?
I'd say they'd bite my hands off for a product like that, and yet they won't buy it when it's presented as substantial reduced ticket prices for supporters. Twenty thousand reduced price tickets and 1,000 free tickets for local kids over the entire season represents a tiny percentage of the total available tickets. Hardly atmosphere saving or ground-breaking is it?
I know what many of you will say, and the sad fact is I partly agree with you. This protest and others like it are likely to have no impact in reality. We hear there have been meetings and there may be a change. But they already have our money this season and if we stop going someone else will take our places.
It's true. The economic reality of football these days is that we're all fucked and this battle is stacked against us from the start.
That's what I thought at midday on Saturday as well, but then I remembered that I'm not one for believing in "reality" and this club wasn't built on people accepting reality as an unchangeable fact, neither was this city.
How many great changes throughout history have come about by one person making a stand against the reality of the day and others following?
The truth is we're all late to the party on this. I heard Robbo say that his kids are about seven now and they're already interested in other things.
We've already lost a generation of die-hard supporters. We've already lost thousands of boys and girls who didn't fall in love with Anfield before they can remember and who won't now carry on buying tickets 35, 40, 50 years later because they can't bear to stop going.
We've already priced out a load of young lads and girls who should be leading the atmosphere on match day.
This is an addiction, not a product. If it was a product we'd have all stopped buying it last season when we were all depressed and had burned out after nearly winning the league.
If it was a product we'd all start supporting another team, but those saying the people "moaning" about ticket prices should just shut up and start supporting someone else with cheaper tickets unfortunately don't understand the complexities of real football supporting.
If it is a product it's dying anyway. The atmosphere has been dying for the past 10 years and we've all been too busy growing old to notice until it's nearly too late. If it's allowed to go unchecked any further we'll become Chelsea within 10 years and there'll be no special 'product' left to sell.
We should have done something sooner but that doesn't mean it's too late to start now.
The main thing I said to everyone to explain why I decided to walk out on 77 minutes, though, was that this isn't about me or you.
This isn't about FSG or Ian Ayre.
This is about us fighting to preserve the thing that we all fell in love with all those years ago, and making sure that the same thing is still available for little boys and girls to fall in love with in 100 years' time. This is our opportunity to be part of something special, to preserve the house that Bill built.
When I hear Robbo saying his kids aren't that arsed about the match it makes me sad. I haven't got kids yet but the thought of them not being able to go to the game or, worse, the thought of me getting them into a game only for there to be nothing left for them to fall in love with, breaks my heart.
The fact that 17-year-old lads can't bunk off school to go and get a ticket for a match and enjoy that thrill of doing everything they can to support their team is what's slowly but surely killing the atmosphere.
We need more young people in the ground, and by "more" I don't mean 1,000 each match, I mean thousands of them like it used to be, all sitting together and singing songs that get all of the old farts' hearts beating again.
I was taken to a Melbourne Victory game in December by a friend of TAW, Andy Gargett.
Their Kop equivalent was no reserved seating, $20 ticket prices and an average age of mid-twenties.
Mates all sitting and standing together, having a great time at the match. From the second we walked in to the second we left, the atmosphere was bouncing, to the extent that by the end I was singing along to songs I'd just learned.  The match was absolutely rubbish and it had no bearing whatsoever on the atmosphere.
I'd forgotten what that was like.
https://www.youtube.com/watch?v=Ab_eoaF-JSM
How about making all of the new tickets available to a younger generation at reduced prices and sitting them in The Kop together?
I know what some of you will say, and what Ayre and FSG would say. "Yeah, but that's different, we've got all these issues with supply and demand and blah, blah, blah".
Ultimately, we've got a problem that needs to be fixed and as Spirit of Shankly and the ticketing group have said, this is the perfect opportunity to start fixing it with the new capacity and the ridiculous amount of TV money coming into the club. So why not lead the way and be the catalyst for the whole league to sort itself out?
I should make it clear that I think in the grand scheme of things that Fenway Sports Group has been generally good for the club.
It has managed to finally build a new stand (we'll leave the argument about whether it's big enough for another day), get the club generating vast commercial revenue streams to help us to compete with our rivals, and it's brought in a top-level manager.
I don't actually expect them to understand entirely what is going on here, but that's why I was disappointed to hear that John Henry didn't attend any of the meetings with the ticketing group.
I'm a business owner as well, and I understand the short-term economic arguments around ticket prices, structure and finding a balance, I really do.
I just think that if Mr Henry or any of his partners could understand fully what it is we're talking about they might just come around to our way of thinking.
They've talked about wanting to win since taking over the club, but this arguably could be the biggest win they could get.
Break from the pack, lead all of the other club owners to a place that in the long term safeguards the whole football league, and go down in the history of the club as the owners who saved The Kop.
The problem is that FSG won't make a decision like that without our help.
They are businessmen in this to make a profit. I agreed with Adam when he said it should be a decision for each of us as to whether we join in with protests but what I would say is don't let the headlines make your decision for you.
Read Jay's article in full. Read what Adam had to say. Read what the ticketing group said. Read the club's statement and think about what it is we're talking about here.
Football is already pricing out the supporters who made it what it is today, and it's doing so by design. Even without an overall price increase we're already pricing out the new lifeblood of the club that we desperately need.
Make up your mind based on all of the information available and stop to think about it before dismissing it.
If you agree with the overall principle of the protest but don't agree with walking out of matches early, I can empathise.
It wasn't an easy decision for anyone, especially when it potentially led to our team dropping points.
The thing to bear in mind is that with something like this we're unlikely to find a solution on which we all agree, and my view is that we need to do whatever we can, together, to make this point as forcibly as possible until people listen.
Ultimately, all of us missing a few minutes of a few games is worth the sacrifice in the long term. If you don't want to join protests like the one held on Saturday but you agree with the general principle of it, just make sure you do something.
Write to John Henry at FSG's offices. Make a banner. Do whatever you can do to help.
This is a fight for the heart and soul of our great club. If we don't fight it on behalf of future generations we'll have to live with the knowledge that we stood idly by while Rome burned.
I just hope one day our kids and grandkids aren't watching videos of the great old empire and asking whether we could have done anything to save it.
What will you tell yours?