I'M a cynic by nature. People ask if I am really an old man. But it's just a natural curiosity about things — wondering why someone might be doing something, asking questions why.
I have been like this about going the match and about Liverpool FC in the past. My twenties were against a backdrop of Tom Hicks and George Gillett, Christian Purslow and Martin Broughton. I've seen the soap opera up close as I have been involved in Spirit Of Shankly throughout.
I continue to be involved as the Chair of SOS but in recent years, I made a conscious effort to push all those bad memories away, to forget it, to concentrate on the match. Instead, I've tried to think about whether Joe Allen is good enough, whether I can try to see in Adam Lallana what others clearly can. Being Emre Can's number one fan.
Here I am though, now, feeling a bit stupid.
I've spent the last 13 months of my life talking to Liverpool about ticket prices. I was actually hopeful. I felt positive at first. I should have known better. I feel a fool.
Today's prices announcement by Liverpool FC will be picked over. Debated and discussed online and in newspapers. By fans on the way to Leicester tonight and to the game against Sunderland at Anfield on Saturday.
There will be, and should be, discussion about the prices. It will raise many questions: How much it will cost to go to the match? What is being done to get more youngsters into the ground? Can you or your mate or your dad or your sister or your son or your daughter afford to still go the games on a regular basis? Are you going to be an 'I'm alright, Jack' or are you angry at paying more?
I will go into those questions. But, firstly, some clarification to the club's announcement:
The club didn't have the decency to send us a copy of their planned release until 10 minutes before the announcement. This despite an agreement throughout that we would all share planned releases on this. They were asked. They said they "hoped" they could share it with us. They eventually did. With 10 minutes to go.
Yes, 64 per cent of season ticket holders will see prices decrease or freeze. The rest go up. At greater increments than the decreases
45 per cent of match-day tickets see a decrease. The other 55 per cent? Same as above.
Yes, there is a £9 ticket. But it is available for just three matches a season, and just 527 of them a game. That's 1,581 seats priced at £9 out of a possible 878,693 seats a season.
These local supporter tickets were introduced right at the end of the process, after we had asked for reductions to prices overall. This was their only "offer" with no consultation.
There are additional tickets for young supporters, a move we pushed for throughout and one we now welcome. We have fears on the long-term sustainability but this move should be applauded.
"13 months of consultation" is not a true reflection of what happened. We spent 13 months on it, but we haven't been "consulted" — just presented with final plans and proposals.
The Ticket Working Group is not a sub-group of the Official Supporters' Committee. The Ticket Working Group is made up of reps from SOS, Spion Kop 1906 and the Supporters' Committee and came about following protests and a request to meet with the club, one acknowledged by John Henry. It has been independent of the Supporters Committee throughout. The club can't even bring itself to acknowledge the other supporter groups involved.
The club have announced the highest match-day price to be £77. True, in their published prices. However the "Tier 1" proposals shown to us, have prices at: £175 for Category A matches, £100 for Category B and £85 for Category C. There are 834 of these tickets. The revenue for these seats was included in the £39million target for tickets set by the owners.
The club now say that these higher-price tickets are "low-level hospitality". For those prices, they should be. But they have been included in discussions on "general admission" prices in all proposals presented. This only changed very recently, when they changed the name.
The club haven't revealed yet what this "new" low-level hospitality will include. But in the same tier of prices where a season ticket costs £1,029, these prices are a 124 per cent mark up on average per match.
If people accept that these seats are now "hospitality", the much talked about redevelopment and seat increase associated with the new Main Stand shifts. We were told half the new seats would be general admission (approximately 4,000) and the other half hospitality seats. This changes that to nearer 3,000 and 5,000 respectively.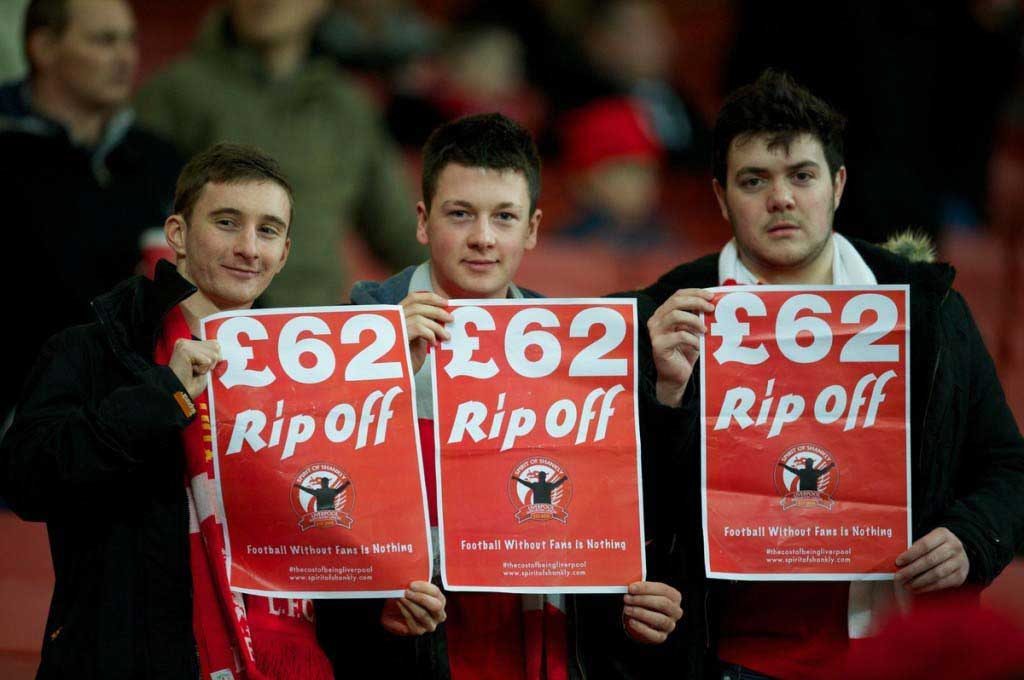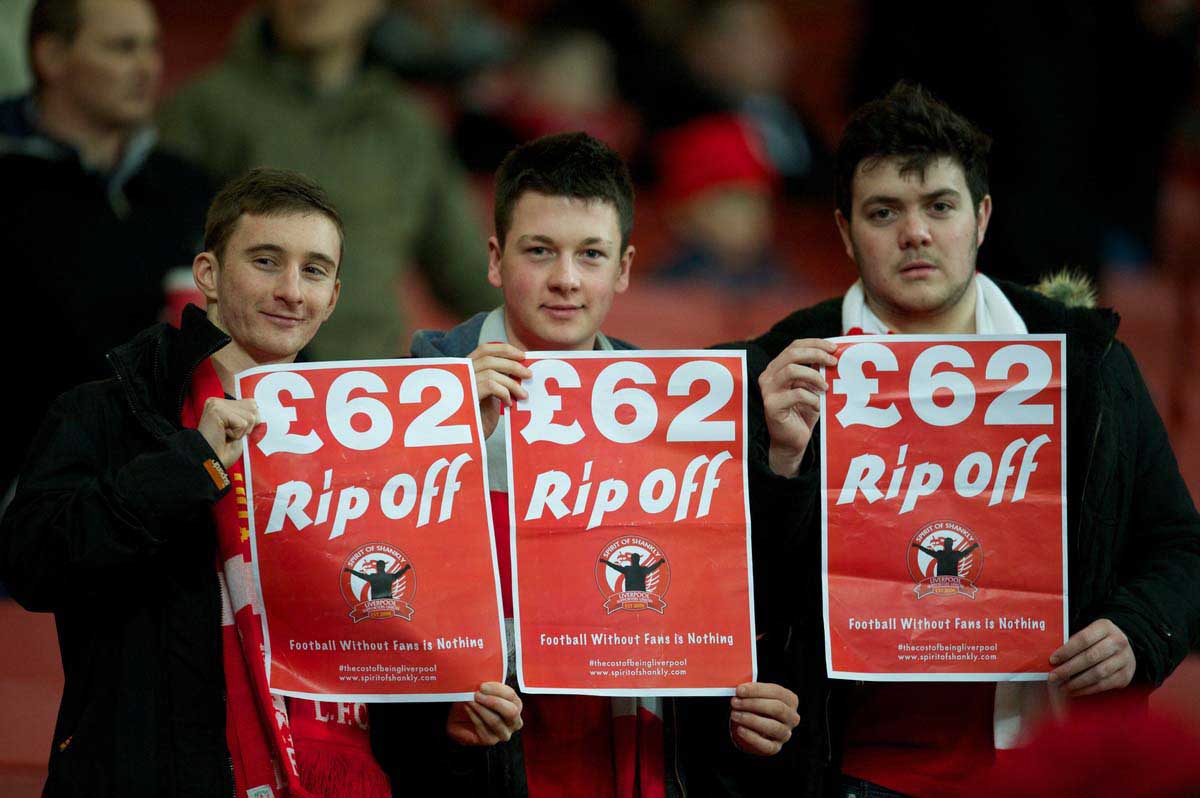 Those numbers aside, this represents something much bigger — bigger than me, SOS, or any individual. Liverpool FC, namely the owners of the club, agreed to set up a Ticket Working Group to tackle the issue of ticket prices and address affordability. This is what they have given us.
They have wilfully ignored their own supporters. SOS, the club's Supporters Committee, Spion Kop 1906 — all supporter groups that they have been happy to work with or use to sell their atmosphere in the past. One group they even set up themselves.
And they've paid no attention to it, save for the idea that if we hadn't made our representations, it might have been worse and we might not have as many youngsters being offered a chance.
I don't know if I feel angry or sad about how this has all unfolded.
I should be angry. I should be telling everyone we can change it. That's out of my hands though.
Supporters themselves need to be angry. They need to see the numbers and find it unacceptable.
I think I am more likely to be sad and let down by it all. Let's be clear, LFC will never have another opportunity like this. Never again will they have all the additional seats from the new Main Stand, all the hospitality increases, arriving at exactly the same time as a train full of cash from Sky and BT.
Instead, we have more of the same. More squeezing of supporters. Is that fair? Is it necessary? Is it justifiable?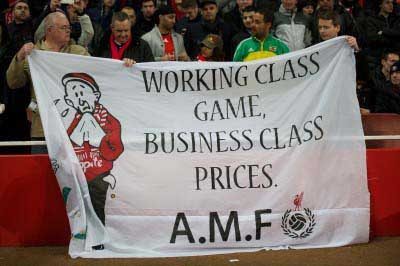 Ignore supply and demand for a minute here. We don't call ourselves consumers. The club can, but we don't. We don't get a say on the supply. They build a stadium that has a limited capacity and that's not our fault.
This was an opportunity. More seats. More money from the stadium, on top of tv deals, partnerships and increasing commercial revenues. We set out in all discussions with the club that supporters had been asked to pay more and more for so long. Above inflation rises. A chance now then to reward the loyalty. Make a bit less from supporters. Certainly don't make more.
But then… the prices.
It all went out the window. Overall, the clubs owners have decided to make more money than ever before from ticket prices. They currently make £35m from ticket sales. If they implemented a price freeze, the extra seats would mean this rises to £37m automatically.
Instead, they wanted more. £39m. An extra £2m on top.
Some might say we need this to repay the loan on the Main Stand. Get that paid off and we can give Jürgen Klopp all that extra cash. Only we don't need a penny of it for this. The club have confirmed that the hospitality revenues from the newly-developed Main Stand will take care of this, and make a bit extra on top.
So there's at least £2m extra, probably a bit more when the loan is repaid each year.
Maybe we need it to be competitive, I hear you say. Maybe we need it to sign players or pay the going rate in wages.
I won't make an obvious comment here, save to say that in the last published accounts the wage bill, as a percentage of our overall revenue, had dropped from 54 per cent to 52 per cent.
In that time, revenues to last season grew by just over £40m. Competing against other clubs is one thing. But the extra £2m won't help us catch Chelsea in the Deloitte Football Money League.
Without it, we don't fall a place either. In fact, the proposal by supporters to reduce ticket revenue over time would mean we still stay ninth in the world if every ticket in the ground cost £30.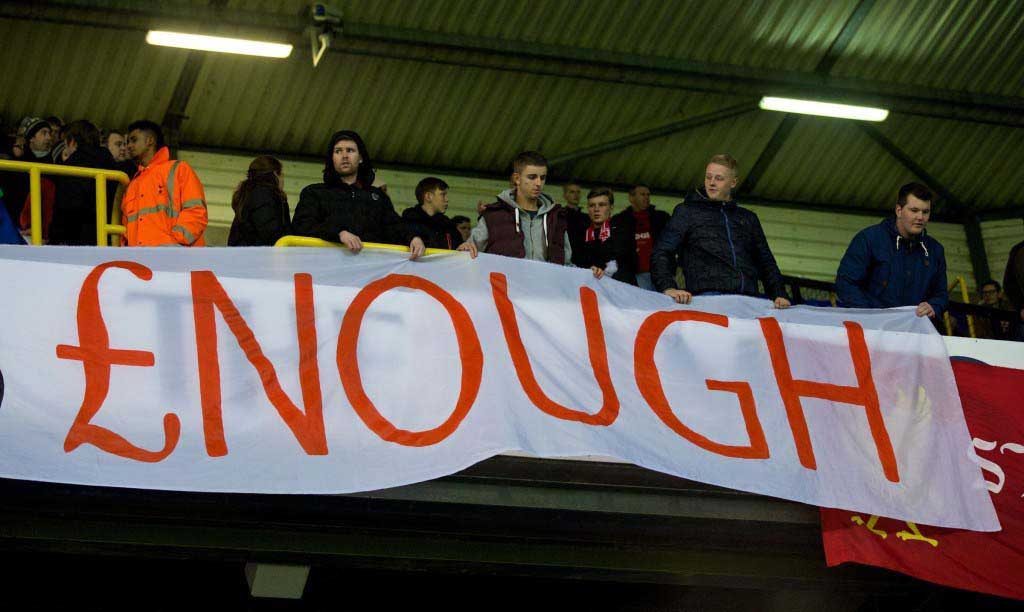 Match-day revenue, from tickets anyway, matters less and less. In Liverpool FC's last published accounts, it was 20 per cent of our overall revenue.
Hospitality is where the big money is. As Liverpool have admitted in how they plan to pay for the new stand, this is how it stacks up financially. So why squeeze the last bit out of everyone else? Why miss the opportunity to be fair? Why miss the opportunity to lead the way, to be innovative? Why miss the opportunity to be Liverpool FC and not be like everyone else?
Instead, the owners have gone for more of the same. They've robbed Peter, give a bit to Paul and kept the rest.
Some say they would accept price rises if others around the ground fell.
What we see is supporter versus supporter here. Season ticket holders are not hit as hard as members who buy match-day tickets.
More season ticket holders see their price fall, slightly. The rest see theirs go up significantly. For match-day tickets, more prices go up than down. Again, big rise, slight fall. All to reach a bottom line figure set in Boston.
Yet ticket prices shouldn't just be seen in terms of revenue, or fairness.
All of that is important. For us though, throughout the process, we've made the point that the prices you charge, how accessible Anfield is, affects the support and atmosphere in the ground.
The club have listened — there will be 500 local supporters with access to tickets and 1,000 young adults. But it's a sticking plaster.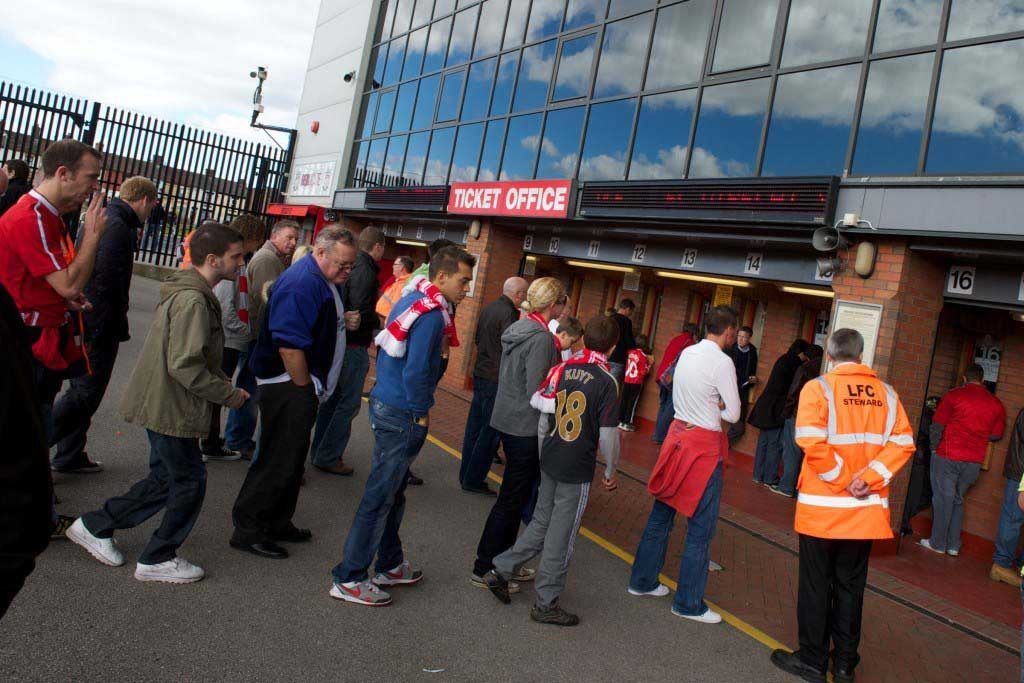 Liverpool are saying to the youngsters, "Come to Anfield, we missed you, we're fixing our mistake. Come and help us generate an atmosphere. Just make sure that by time you are 22 you can pay whatever we charge by then."
Maybe that's the cynic in me. What's the plan then? Price them out? It's what is happening now. At 22, have a good job and no responsibility or you might struggle. But thanks for your support over the last three, four or five seasons.
The atmosphere at Anfield is dying. We know it. It's changed. It is worsening. The manager has said it. The opportunity to give something back to loyal supporters has been missed. That opportunity to be innovative has gone. All for the bottom line.
If you treat supporters as consumers, don't be surprised if they act like consumers. Having to pick and choose. Being priced out. Seeing it as entertainment, being spectators and not supporters.
This was the opportunity to ensure the sustainability of our current and future support. The opportunity for the club to tell supporters they were on our side. The opportunity to say that for all the club markets itself on the back of our support, it values it.
This was the best opportunity we had – for supporters to get a little and the club to get a lot.
Boston blew it.
– Response from the supporter representatives of the Ticket Working Group
---
THE CLUB'S STATEMENT:
Young and local fans are the focus as LFC announces new ticketing structure — including £9 match ticket and free tickets for schools
64% of season ticket prices will decrease or freeze
45% of match day tickets will see a price decrease
Local fans given priority access to over 20,000 tickets across the Premier League season, with prices starting from as little as £9.
Over 20,000 extra tickets allocated across the Premier League season, in a new pricing category, for fans aged between 17 and 21
Over 1,000 free tickets across the Premier League season to local kids through a new Young Fan Initiative scheme
13 months consultation with the ticket working group listening to what are priorities for match-going fans
Ahead of Anfield's new Main Stand opening for the start of the 2016/17 season, the Reds have released their pricing and ticket structure, with the Club maintaining its focus on bringing more local supporters and young people into the Stadium.
Local fans will now be able to attend a category C game for as little as £9 following the introduction of over 20,000 tickets across the season with priority access given to local supporters.
Young fans also remain a focus and the Club will introduce a new concession category for 17-21 year-olds which will provide over 1,000 extra tickets for each Premier League match for young supporters during next season.
The Club will launch a new initiative working in partnership with local schools based in and around Merseyside to offer over 1,000 free incentive-based tickets.
The Club has continued the practice of stretching prices across the ground to reflect seat location, resulting in 64% of season tickets freezing or going down in price. Season ticket prices will range from £685 (£36 per game) to £1029 (£54 per game). Match day tickets have also stretched making the cheapest match day ticket just £9 and the most expensive £77 depending on seat location. The under 17s junior season ticket remains at £180 (£9.47 per game). The Clubs new
Young Adult price band will see 17 – 21 year old Season Ticket holders enjoy a 50% discount whilst our Disabled season ticket holders and other concessions will continue to receive a 25% discount on their seats.
Today's announcement follows a 13 month consultation with the Ticket Working Group, a sub group of the official LFC Supporters Committee, which has met regularly with the Club over the last year to discuss affordability and accessibility of tickets.
Ian Ayre, Chief Executive Officer, Liverpool FC, said: "With the opening of our expanded Main Stand, the Club is heading into a new chapter and we want as many of our fans right there with us to support the team at Anfield.
"We always carefully consider ticket pricing to ensure the long term sustainability and competitiveness of the Club while listening to the views of our match-going fans to understand the priorities around accessibility and affordability.
"The feedback has been clear that having more local and young people at Anfield is a priority and we are delighted to be launching these new ticketing initiatives. The redevelopment of our Main Stand and increased capacity has given us flexibility to freeze or reduce more than half of all tickets across the stadium which is reflected in our longer term plan to give fans more choice on what price they pay to attend a game.
"We would like to thank our fans in the ticket working group for their commitment, engagement, cooperation and time throughout this process. There was agreement from the start that compromise was essential in working together to find solutions to increase accessibility and affordability of tickets. We recognise the incredible importance of ticket pricing to our match-going fans and we take the responsibility very seriously in determining pricing at Anfield.
"We are excited about our new Main Stand opening and look forward to welcoming 8,500 additional fans to Anfield next season to support the team."
Over the coming days and weeks, the Club will be writing to all Main Stand season ticket holders to provide them with detailed information about their seating options for next season.