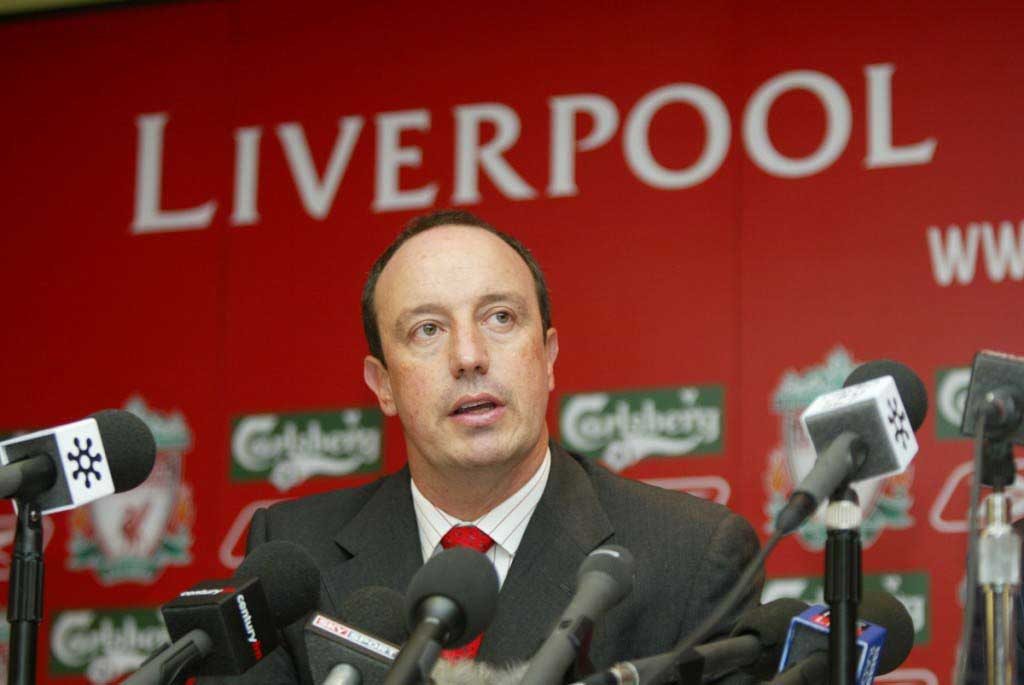 I'M not a fan who obsesses over what ex-Liverpool players and managers are up to. The Liverpool manager in the dug out is the most important person for me and, to quote the gentleman Steve Graves, "my favourites are the 11 lads playing for Liverpool".
I'm not too concerned when the videos go round of Pepe Reina making a great save, or making a mistake a week later. I couldn't tell you for sure where Real Madrid are in the Spanish League. The last time I saw Gerrard Houllier we were drinking champagne at the World Cup. Did I tell you I went to Brazil for the World Cup?
I haven't got a clue what he has been up to since, only that he's probably drank more champagne since then than I have.
It's not that I don't care. Or that I am ungrateful for what they did here. I wish most of them well. I just don't have time to be worrying about them. There is always a Liverpool game in a day or two. I obsess about those.
Besides, if I started worrying too much about what Rafa Benitez was up to in Madrid, Neil Atkinson would tell me off for not concentrating enough on winning the league. And he tells me off for that quite enough.
I'm sure Rafa is fine with that. He is a man who knows all about your current goal being all consuming. What will confuse him more will be the seemingly endless supply of UK journalists and "rival" managers who won't leave him alone.
He must wonder sometimes how long he has to work away from the country before they find someone else to pick on.
One of the most frequent to put the boot in is Brian Glanville. He took November's heavy Real Madrid defeat to Barcelona as an opportunity to wheel out an old classic to anyone that might listen: that Rafa was "lucky" in Istanbul and isn't the tactical genius everyone says he is.
In an article for the latest edition of World Soccer out this week entitled "Allardyce vindicated on Rafa's mess", Glanville decided that Barcelona's 4-0 win was also some sort of victory for Sam Allardyce as well. Well, I suppose it's the closest to a victory against Real Madrid he'll ever get. Buy why? Let's read on.
Glanville reported that a newspaper columnist had recently taken Allardyce to task "at inordinate and sardonic length for stating in his autobiography that when Liverpool had beaten Milan…in Istanbul it had been despite Rafa Benitez, rather than because of him".
I presume at some point in that column the question was asked why on earth Sam Allardyce was writing about Istanbul in his autobiography at all?
Allardyce wrote: "Of course he [Benitez] can say he won the Champions League with Liverpool, which is something I never did. But it was nowt to do with him.
"Steven Gerrard took that final by the scruff of the neck and dragged Liverpool back from 3-0 down against AC Milan to eventually win on penalties."
Was he writing this because he didn't have any of his own achievements to analyse, so he had to rip apart other people's? Was he jealous that he couldn't even win a Champions League trophy on Football Manager so was lashing out at those who have?
Was the chapter after about how Manchester United got absolutely battered in Barcelona in 1999, and how Alex Ferguson presumably got his team selection completely wrong?
Never mind anyway, because Brian agrees with "Big Sam". He goes on to tell the apparently undisputed story of Istanbul. That Liverpool didn't pick a defensive midfielder because the manager is an idiot.
That by "ALL" accounts (ALL!), the players, and especially the captain, screamed at the manager to bring Didi Hamann on at half time. Because Steven Gerrard was always telling the manager to move him out of central midfield. Rafa then went, "I never thought of that", stuck Didi on, and the rest was history.
Forget the accounts you may have heard of half time in Istanbul. The manager frantically working to come up with a new system. Having to grab Djimi Traore out of the shower when they realised Steve Finnan was injured.
That the players sat in silent disbelief, only to hear You'll Never Walk Alone being sung by the fans outside. Forget those accounts. Because Brian Glanville has ALL of them.
There are two main issues I have with this idea that Rafa Benitez had nothing to do with Istanbul (and loads of smaller ones to do with coaching throughout the season and that).
The first is, the AC Milan team that night was: Dida, Cafu, Maldini, Stam, Nesta, Pirlo, Gattuso, Seedorf, Kaka, Shevchenko, Crespo. Honestly, get on it. It's loads of the best players of the last 30 years.
Now, have a look at the Liverpool squad of 2005. And think about how ridiculous the idea is that Liverpool just needed to pick Didi Hamann and everything would be fine. That we just needed to match them up for shape and win our battles.
If Rafa Benitez had picked Didi Hamann (which I certainly would have done by the way, but then just like Glanville and Big Sam, I haven't won any European Cups either) we almost certainly wouldn't have been 3-0 down at half-time. However, we probably wouldn't have been level after 90 minutes either.
It would have been a sensible game that AC Milan probably would have found a way to win, with their much better players and that. After the game everyone would have congratulated Liverpool on simply getting there and we'd all still have got stuck in that bloody airport for hours, but been in less of a good mood.
Benitez decided he couldn't be arsed with that. He studied the AC Milan team and tried to find a way to beat them. He watched their 3-1 semi-final second leg defeat against a similarly average PSV Eindhoven side playing with nothing to lose. He watched how they attacked the gaps in the Milan defence and thought he could do something similar.
He picked an attacking midfielder instead of a defensive one, in the hope it would surprise the opposition and not let them settle. He looked at his options, with Djibril Cisse only recently returning from injury, Fernando Morientes cup-tied and Vladimir Smicer about to leave, and gambled on the talented but frustrating Harry Kewell.
It didn't work. Although there is an interesting sliding doors argument over the penalty we should have had. That can wait for another day.
So he gambled again. He changed to three at the back even though the team hadn't played that way all season. He put players in unfamiliar positions and, when they tired, he shifted them round. This time it worked, and he won. With the dice loaded he continued to roll them until he found a way. He beat the house. He probably thought they'd build statues of him. Instead he gets no credit.
"Despite Benitez."
The other main issue I have with the idea that Benitez had nothing to do with Istanbul is it gives absolutely no credit to the manager for getting the team there in the first place. Like it was an invitational game we'd won entry to in a raffle. In actual fact the real "Miracle of Istanbul" was that Liverpool got to the final to play there.
The run was incredible.
The famous win against Olympiacos is known for a Gerrard thunderbolt, but was as equally down to some inspired substitutions to get us back into the game. We then beat Bayer Levekusen home and away without Xabi Alonso. We then beat Juventus, that season's Serie A Champions by a mile, with Scott Carson in goal and Anthony Le Tallec up front.
They finished the job away from home in a hostile environment without Steven Gerrard and with Antonio Nunez playing right wing.
And then it was Chelsea in the semis. Who finished 37 (THIRTY SEVEN) points above Liverpool that season. Who won the title 12 points ahead of second-placed Arsenal, and 18 ahead of Manchester United. Whose manager was reigning champion of the competition.
We drew 0-0 away with Igor Biscan in centre mid. We then beat them at home 1-0 with Igor Biscan in centre mid. Didi Hamann, who apparently it's impossible to win a Champions League game without, was unable to play in the first leg and only played 72 minutes of the second.
Rafa Benitez. He probably thought they'd build statues of him. And then he beat AC Milan in Istanbul.
That team. The Good, The Bad and the Traore. They beat them all. And then, if any proof was needed it wasn't a fluke, Benitez got them to another final two years later. And then to the number one ranked team in Europe.
Maybe it doesn't matter what snide useless football managers write about him in their memoirs.  Maybe it doesn't matter that some journalists rank football managers by who is nicest to them at press conferences and awards nights rather than trophies.
Those who were there in Taksim Square, or on The Kop at Chelsea, at St George's Hall for the parade, or just screaming each goal in from their living rooms. They know. They might not have built a statue of him. But sorry to the hacks and no-marks, Rafa Benitez will always have Istanbul.
[rpfc_recent_posts_from_category meta="true"]
Pics: David Rawcliffe-Propaganda Photo/PA Images
Like The Anfield Wrap on Facebook