OH what it is to be a Red at the moment. The birds are singing, the sun is shining… well actually no that's a lie, the birds are getting blown away in the wind and it's regularly pissing down with rain, but the footie's been pretty good.
The Reds are mustard again, at least away from home. There is a manager in charge who has already made us believe that anything is possible, one who will once again make us dream, and he's doing it all with a smile on his face as he and his band of merry Redmen are 'Givin' it bifters'.
Elsewhere in life, we've recently had to put up with the shopping extravaganza that is 'Black Friday', where people go barmy about purchases they don't really need, obsessing over when and where to go to buy stuff, lots of stuff, as much stuff as will fit in their arms/trolleys/cars/lives. Soon Christmas will have come and gone and the madness will be over for another year.
That is until football's version of Black Friday kicks off on January 1st, and lasts for an entire month.
Yes the January transfer window will soon be upon us, and as ever, tongues are already wagging about what Jürgen Klopp will do when he has the chance to bring in some players of his own.
The German gave an indication of the sort of players he will be looking to bring to Liverpool on his first day in the job, telling reporters: "You have to look at which players are reachable and not dream of this player or that player and then say: 'But they don't want to come to Liverpool.'
"If a player doesn't want to come to Liverpool then stay away. Really. If you think about the weather, stay away. If you think about other things, stay away. If you want to come here, you are welcome. That is the first and most important issue."
https://www.youtube.com/watch?v=pl7j0p2e9qo
Inevitably, there have been links to a large number of players since Klopp's appointment in early October, and it will be interesting to see how many incomings he wants in January, especially given how much he is getting out of the current squad.
What has made things particularly intriguing is how the so-called 'fringe' players who would likely have been the ones to make way for new arrivals, are the ones who have stepped up and made themselves crucial parts of Klopp's Liverpool.
That won't stop the transfer tongues wagging though, and the German comes across as being somewhat of a perfectionist, so he will no doubt at least take a look at where he can strengthen his squad in the January window.
The winter window has always been notoriously difficult to buy in, with many deals not coming until the last few days of the month.
However, when you look back on it, Liverpool have signed the likes of Jari Litmanen, Nicolas Anelka, Daniel Agger, Maxi Rodriguez, Luis Suarez, Philippe Coutinho and Daniel Sturridge in January windows, so it's not all bad.
The conversations are already happening. In spite of the Reds playing some outrageously good stuff, what positions do they still need to improve? Where should FSG's cash go next month? They've just spent £144m on bringing David Price to the Boston Red Sox (which I thought was a little strange seeing as he's a heavyweight boxer), so surely will have plenty to hand to Jürgen as well (places tongue firmly into cheek).
So position by position, what do Liverpool need?
Goalkeeper:
Simon Mignolet seems to divide opinion. Some think he's bad with his feet, the rest think he's bad at everything.
Only kidding, but the general consensus from Reds fans recently has been that a change is needed between the sticks. However, Klopp sees it differently, recently praising the Belgian and reportedly putting the wheels in motion for a new contract to be offered.
Adam Bogdan hasn't really put a foot wrong either in his few appearances, so maybe the certainty with which people have said Klopp will look for a new keeper isn't so certain?
However, should this all be one big bluff from the German, then these are the possible contenders.
Jack Butland has been linked recently, with Stoke apparently putting a price tag of £20m on the young England keeper. A great talent no doubt, but it would feel a bit like a ship that has previously sailed. He was there for the taking before Stoke bought him for £3.5m in January 2013.
There are also numerous exciting young keepers playing in Klopp's home country that he's sure to be aware of. Timo Horn of FC Köln, Bernd Leno of Bayer Leverkusen and Loris Karius of Klopp's former club Mainz 05 have all been making solid names for themselves in the Bundesliga.
Barcelona's own German youngster, Marc Andre ter Stegen, has also been linked, though it is unlikely he would trade his place at the Camp Nou for Anfield. He may not be first choice now, but he is being groomed for that role once Claudio Bravo retires/leaves.
Personally, I would look to make a signing. I don't think Mignolet is as bad as some say, but you can see the uncertainty in his defenders, who genuinely do seem to become calmer and more assured when Bogdan is there. Klopp though is making all the noises at the moment that the Belgian will remain.
Right back:
This position is probably sorted for now. Nathaniel Clyne has been impressive since arriving from Southampton, while Conor Randall has mostly been fine in his appearances.
There's also Jon Flanagan to come back, Andre Wisdom is impressing on loan at Norwich, and there's also Ryan McLaughlin, currently on loan at Aberdeen, who Klopp has taken a look at.
https://www.youtube.com/watch?v=xEMhvLptH3Y
Left back:
It keeps coming up. Liverpool have needed a new left back since, well, the Premier League era began pretty much. Albie Moreno has been showing signs of improvement since Klopp's arrival, but many still feel uncertain about the young Spaniard, whose agent might be trying to get him a move to Real Madrid anyway.
The biggest issue with the left-back position is the lack of depth. It would be somewhat optimistic to include Jose Enrique as an option, while Joe Gomez is long-term injured and Brad Smith, while impressive on Wednesday, would need to show a lot more to be considered a viable alternative.
The obvious target would be Wolfsburg's Ricardo Rodriguez, previously linked with Liverpool and someone the manager will be very aware of. However, he would cost well into the tens of millions, with the Bundesliga club wealthy enough to have no need to sell.
Scouser and apparent childhood Red Aaron Cresswell (above) has been making a name for himself at West Ham, but again the London club would likely charge the earth for such an important player.
It will be interesting to see Smith's progress, as well as Moreno's, and the returning Flanagan can also play there, so unless a bargain is found from somewhere, that kind of money would probably be better spent further upfield.
Centre back:
Like the goalkeeper situation, it has been long assumed that Klopp would want to bring in at least one new centre back to build his defence around. However, the improved form of his current lot may just alter that thinking.
Mamadou Sakho has been in full beast mode since October, and once he returns from injury will surely be a mainstay on that left side of the back two.
Martin Skrtel has also upped his game, to a point where those who assumed he would be replaced by a better 'ball-player' may have to think again. Even Dejan Lovren has managed to show some good form, ditto Kolo Toure.
With Gomez to come back at the end of the season, I'm not sure it's as certain as expected that we sign one, but obvious links have already been made with former Dortmund lads Neven Subotic and Mats Hummels (above).
The former would be much likelier given he plays on the right of the back two, followed Klopp from Mainz to Dortmund and has recently fallen out of favour at the Signal Iduna Park.
Schalke's Benedikt Höwedes has also been linked, which makes sense as he's very much a leader of the backline. I would expect Klopp and his staff to also be aware of some of the impressive defensive talent coming through in Germany, such as Jonathan Tah (Hamburg) and Antonio Rüdiger (Stuttgart, on loan at Roma).
Defensive midfield:
Klopp loves Lucas. Lucas loves Klopp. It is a position where we only really have one specialist, and it is a position that Klopp appreciates. The likes of Allen and Can have been tried there, but aren't really 'specialists' and are better suited in more advanced roles. Jordan Rossiter likewise. We probably need another one then.
Portuguese wonderkid Ruben Neves has been strongly linked, but would reportedly cost in the region of £30m. Another from the Liga Sagres to look at could be William Carvalho, but he would cost around the same.
Back into the Bundesliga and Klopp might look at either of the Bender brothers, Lars and Sven (above left), the latter of which he's worked with before.
In France there's Lyon's Mr Consistency Maxime Gonalons and the talented Adrien Rabiot from PSG, who is apparently becoming frustrated at being overlooked for expensive superstars (as was Mamadou Sakho pre-Liverpool).
Centre midfield:
Higher up the midfield, the Reds are being linked with numerous 'playmakers', such as former hero Xabi Alonso. No-one would love to see Xabi back at Anfield more than me. He is still, at the age of 34, one of the best players in Europe, and if he is willing to come back, then we should take him with open arms.
That would be unlikely to happen until the summer though when his deal at Bayern runs out.
There have also been several predictable links to İlkay Gündoğan. The German international played for Klopp at Dortmund, has 18 months left on his deal and when asked about potential interest from Merseyside recently said: "They have a good team and a great coach."
There remain tenuous links to Roma's Miralem Pjanic, while Juventus's Claudio Marchisio had to deny speculation linking him to Anfield a couple of months ago. Leverkusen's Hakan Çalhanoğlu looks to be a certain star of the future, and would likely be well known to Klopp.
The list of players in this area linked with Liverpool is full of talent, but with Joe Allen and Emre Can playing better and Jordan Henderson returning, it may not necessarily be such a priority in January.
Wingers:
What he does in this area will be interesting as Klopp often used two at Dortmund in a 4-2-3-1. The fact that he clearly loves Jordon Ibe as much as a man can love another man suggests that he likes pacy players who can stretch the game and provide a threat from wide.
It could be that he simply waits for Lazar Markovic to return and unleashes him on the wing, but then the Serbian seems to prefer playing in a central role, which could be a problem for him.
It's times like this where the club's failure to sign Mohamed Salah and Yevhen Konoplyanka seems more of a kick in the pants. Both players are thriving at Roma and Sevilla respectively, and would be ideal for a Klopp system, but there are other options.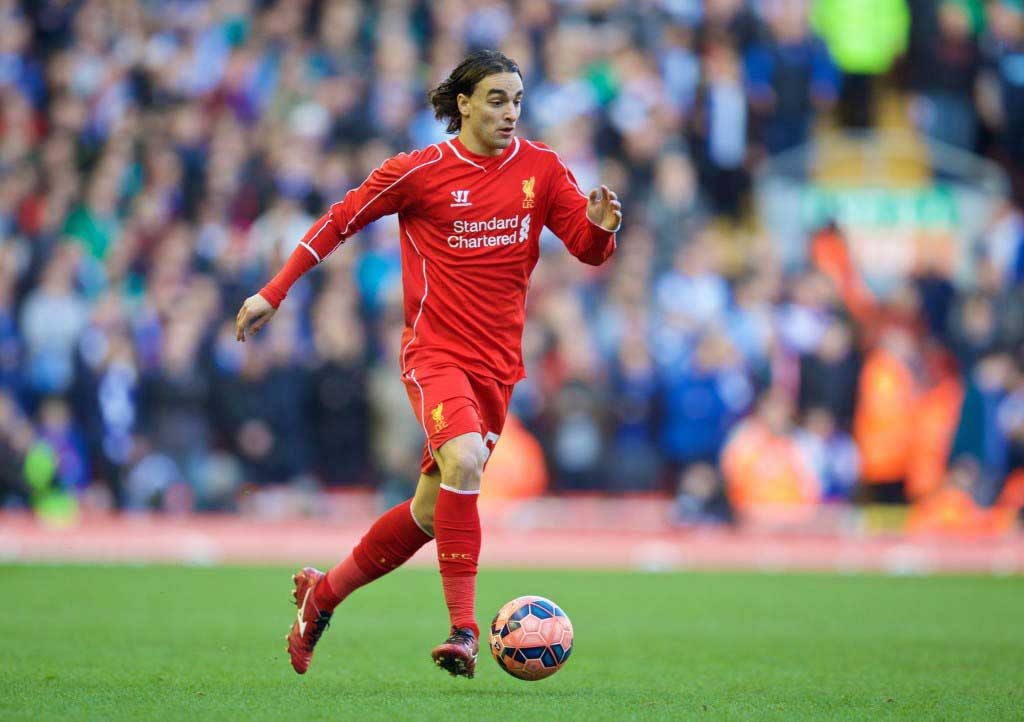 Leroy Sané at Schalke has been heavily linked, and the youngster looks to be ideal with his pace, skill and ability to score key goals.
There's also PSG's Lucas Moura, who like Rabiot, is struggling for games in France, and even Leicester's Riyad Mahrez, who is continuing to be the best player in England.
His trickery, invention and ability to score or assist practically every week could be attractive to Liverpool.
Strikers:
The sexy position last. Them what score the goals.
I was lucky enough to be a part of an interesting discussion on the Back Page show on TAW Player last week with Gareth Roberts, Rob Gutmann and Ian Salmon when we talked about Daniel Sturridge and how Liverpool can manage his persistent absences.
With Danny Ings being out for the best part of the rest of the season, Sturridge's uncertain availability, and even Christian Benteke not having a flawless injury record, surely Klopp needs to buy in this department?
There again, since that chat, Divock Origi has thrown his name in the conversation. His hat-trick at Southampton almost masked the fact that his overall performance was outstanding, and he finally showed the ability that led to the club investing £10m in him.
As I mentioned on the show, my ideal would be a short-term loan of striker who is good to go now, as we did with Nicolas Anelka in 2002, or Manchester United did with Henrik Larsson in 2007.
The trouble is of course finding someone of that ilk available for that kind of deal.
Now this could be optimistic, it could be unrealistic, it could be nonsensical, but I've already mentioned a couple of PSG players we might want to look at. There is another. One who is out of contract at the end of the season, and whose manager has said that he's not sure he'll stay beyond this campaign. Do we dare? Do we dare to Zlatan?
He does love Klopp after all, in fact he once offered to play for him for free.
Elsewhere, we may look to the likes of Saido Berahino who isn't getting regular starts at West Brom, and perhaps even Alexandre Lacazette would be considered for a January move, especially now with Lyon out of the Europe altogether.
Now I see what I've done there. I've said that it's a difficult window to buy in, not much gets done, Klopp will be happy with what he's seen from his squad so far, then suggested about seven signings.
Under previous managers I've been as obsessive as anyone regarding who the club sign, thinking that signing boss players will lead to boss results.
Now with Klopp in charge, we could sign Marlon Harewood and Steve Sidwell and I'd think, 'Well in lads, Kloppo will get you on the Ballon d'Or shortlist for next season.'
Football's Black Friday month is coming. Brace yourself for rumours, false hope, lots of Germans being linked, and Klopp laughing his head off at the ludicrous rumours being thrown at him during press conferences.
All of a sudden though, with him in charge, it just doesn't seem quite as important as before.
PS: Sign Reus.
[rpfc_recent_posts_from_category meta="true"]
Pics: David Rawcliffe-Propaganda Photo
Like The Anfield Wrap on Facebook