IT is an exciting time to be a Liverpool supporter. Jürgen Klopp's buoyant Reds are gathering momentum with each passing match; the latest 6-1 drubbing of Southampton in the Capital One Cup the most emphatic of victories. Naturally, Reds' fans are hanging on Klopp's every last word, lapping up his eccentricity; his rapidly improving English — laced with the occasional comic obscenity — communicating an uncomplicated yet inspirational approach to management.
Earlier this week, Klopp volunteered a surprising and categorical defence of an under-fire Simon Mignolet. Without prompting, the German went on record to say he was entirely happy with the man who remains the prime scapegoat of an intolerant Anfield crowd.
For the first time, Klopp's backing of one of his players has been questioned, albeit with many observers suggesting he has no choice but to publicly support a player under pressure.
However, if we're to take Klopp at his word — and talk of a new contract upping his reported £60,000-a-week salary suggests we have to take him seriously — Mignolet will remain Liverpool's goalkeeper beyond the January transfer window; something which fills the majority of fans with utter dread.
The criticism the Belgian has received is reflected beyond social media circles and extends to an anxious Anfield crowd. The jitters and catcalls that accompany his every move bring to mind the mid 1990s travails of David James when opposition fans' "Dodgy Keeper" chants accompanied cruel, ironic cheers from the Kop.
However, Klopp insisted this week: "We are not looking for another goalkeeper. I've had a lot of goalkeepers over the last few years and Simon Mignolet is one of the smartest I have ever had."
In isolation, these words are the ultimate vote of confidence, but if they had been uttered by Klopp's predecessor would be met with ridicule by all but a few.
If we are to assume his comments are not disingenuous, then Klopp's opinion is at odds with the match-going support. Most would argue that Mignolet is a disaster waiting to happen, a destabilising presence to the back four and prone to indecision that undermines the whole team.
The recent debacle against Bordeaux when he was penalised for holding onto the ball for 22 seconds seemed like the final straw for fans whose patience has long run thin.
https://www.youtube.com/watch?v=aysEkyAgv-w
Klopp seemed to concur when he made a joke in the aftermath comparing Mignolet's error to a journalist's prolonged delay in asking a question. Three days later against Swansea, there were more hysterics from the crowd when the goalkeeper again dallied before releasing — as all keepers are prone to do — when protecting a narrow lead as the Reds ticked down the clock.
Is it possible to mount a worthwhile defence of a goalkeeper who has rarely convinced of his worth over two-and-a-half seasons? Is it feasible to find any sympathy with Klopp's assertion that "since I have been here, there has been nothing to criticise, absolutely nothing"?
Let's get the obvious criticisms out of the way. It might take a while, for those who lament "Simple Simon" have a strong case.
13 – Simon Mignolet has kept more clean sheets than any other goalkeeper in the Premier League in 2015. Rock.

— OptaJoe (@OptaJoe) October 17, 2015
Mignolet can't kick for toffee; his lofted clearances, particularly off the ground, regularly struggle to reach half-way. Despite, Klopp adding "he's a good footballer", Mignolet seldom looks comfortable with the ball at his feet, especially when forced on to his left foot.
The manager perhaps alludes to this when he says "we just have to learn as a team to give the ball to the keeper in the right situation".
Interestingly, Liverpool, have recently adopted a more pragmatic approach to retaining possession when under pressure deep in the final third of the pitch, which may or not be a symptom of an obvious Mignolet flaw. With the ball in his hands, he lacks the conviction to throw or kick quickly, allowing the opposition to regroup before being faced with a swift counter attack.
Mignolet's army of critics will also point to a perceived weakness on crosses; his inability to claim decisively on a consistent basis rooted in indecision and a lack of physicality.
When he does venture off his line, his sorties are met with the collywobbles from supporters harking back to a burlier Pepe Reina, the surety of a Ray Clemence, even the daring of the more erratic Bruce Grobbelaar.
If we're being as sarcastic as Mignolet's detractors, it could be argued that Klopp has seen little to criticise because Liverpool are more defensively sound, and concede fewer chances under the new regime.
However, the manager might also have in mind Mignolet's display — and in particular a world-class stop from Clinton Njie — during the first half of Klopp's opening game at Spurs which won the Reds a point and made a good initial impression.
6 – Simon Mignolet made a league-high six errors leading to goals last season in the Premier League. Fumble. @Tosulli #AskOpta

— OptaJoe (@OptaJoe) July 30, 2014
Even some of Mignolet's critics will accept that he is a "good shot stopper", admitting this is to further damn him with the faintest of praise. For all the apparent defects described above, making saves and good ones shouldn't be dismissed altogether, as keeping the ball out of the net remains the fundamental purpose of goalkeeping.
The White Hart Lane clean sheet was preceded by two fantastic stops in the first half of the Goodison Derby; the first showing remarkable reflexes, an under-merited Mignolet virtue, to deny a point-blank Steven Naismith header.
Later, another instant reaction, unsighted from a James McCarthy shot, was an effort beyond the ordinary, even at the highest level.
I was close to the action at both Everton and Tottenham and the saves from Naismith and Njie took the breath away when viewed live. At the Emirates back in August, Arsenal fans were similarly disbelieving of diving stop to deny Olivier Giroud a certain winner in another stalemate.
Of course, over 14 league games this season these weren't the only occasions the goalkeeper has come to the rescue in more routine fashion, but it is worth pointing it out because for those whom Mignolet has become a pariah, nothing seems to wash.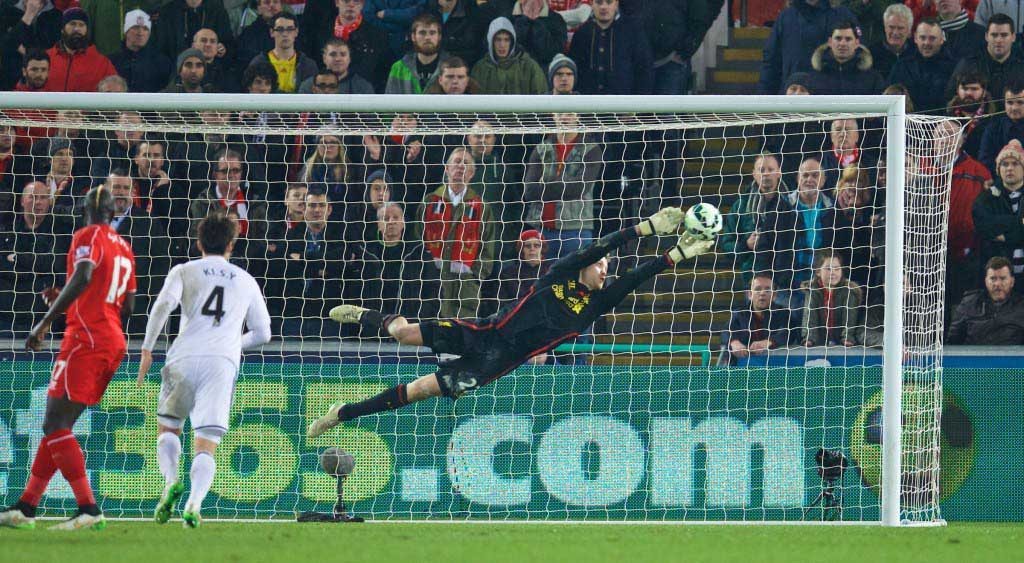 Minds have been made up, stretching back to the Belgian's debut season when concession of over 50 league goals cost a league title and last year's autumn meltdown, which resulted in a brief sabbatical at the expense of Brad Jones.
Mignolet was able to recover and reappeared for a while as a more decisive presence in the Spring and the manager's comments this week could be an attempt to instil some renewed self-belief.
Despite Klopp's public backing, it still wouldn't surprise to see the Reds enter the market, either in January or next summer for an alternative in such a key position.
However, it could be that priorities in the shorter term lie elsewhere with Liverpool short of defensive cover for their overworked full backs. Klopp's enhancement of several players in the squad has provided additional options up front and in midfield but in a squad looking bereft of quality under Brendan Rodgers, budget priority might still lie with adding star quality to an improving outfield cast.
In the meantime the intuitive Klopp, doubtless recognising the low opinion held by the supporters of their goalkeeper, has intervened in the debate over Mignolet's form and suitability.
His intention might go no further than buying his goalkeeper some sympathy from the home fans but even allowing for Klopp's standing among the regulars, it is very unlikely that doubters will become believers in the Red's current custodian.
[rpfc_recent_posts_from_category meta="true"]
Pics: David Rawcliffe-Propaganda Photo
Like The Anfield Wrap on Facebook