"NOW I know what everybody is talking about." You can interpret Jürgen Klopp's quip post six goals at Southampton in two ways.
The first is the realisation that statistically the finest goals-to-game finisher in Liverpool Football Club's history of competing in the Premier League is exactly as talented as his record suggests.
The second is the acceptance of an inevitable theme throughout Daniel Sturridge's career, that his struggle with injuries and inability to stay fit equates his name with unreliability as much as brilliance.
But that should not mean he is deserving of the continual denunciation from a section of our support.
3 – Daniel Sturridge has completed 90 minutes in three of Liverpool's last 47 Premier League games. Fleeting.

— OptaJoe (@OptaJoe) November 17, 2015
Each return is greeted with an outpouring of scepticism and rightly so, but with every relapse comes unwarranted ridicule from throughout the club's all-knowing Twitterati.
Yes, building a team around Sturridge is nigh on impossible when injury restricts him to cameos. But, when fit, the striker elevates the potential of others, his presence often dictating the form of those behind him.
He illuminates a game with his undoubted natural ability and alleviates our goal-scoring deficiency with the kind of prolificacy that's hard bought throughout Europe. That cannot be argued.
https://www.youtube.com/watch?v=jLDiODdTfaA
The finest goals-to-game finisher in the Premier League era comes with its caveats. It writes off huge chunks of club history for a start. But to race to 33 goals in 50 league games, the equal of Fernando Torres, and only topped by George Allan (40, 1898), Jack Parkinson (35, 1906), Tony Rowley (34, 1957) and Jimmy Ross (34, 1896) shows the quality of the man.
Sturridge's stats of 2013-14 read 33 appearances, 25 goals. That's what he can do. Back in September, two goals from Sturridge versus Aston Villa took his numbers to 37 goals in 57 appearances. The Mirror reported that took his goals-per-game ratio to 0.65 — better than Torres, better than Suarez. Comprehend that.
Think of the goals. The shots, the shuffle. That dance. Think of how you felt when he scored against Manchester United, against Everton, against Arsenal and that stunning chip versus West Brom. How you felt when his showcase at Southampton sent a reminder to anyone who had doubted him.
So why do some treat him with such disdain? Why tweet him your view that more rehabilitation is "a waste of time" or that "the pain is in his head"?
Why spam his Instagram with abuse or tweet another joke about children visiting him in Alder Hey or mock his God? Do you think he's laughing through all this? It's embarrassing and illustrates the impatience and increasingly fickle, impulsive nature of the modern fan behind a keyboard.
 "Sell him, he's on high wages! Recoup the money to sign someone with the right mentality, someone who cares!"
Not helped by the Danny Ings injury, the inexperience of Divock Origi and the unpredictability of the performances of Roberto Firmino and Christian Benteke, constantly pinning our dreams on a Sturridge return sees anger amplified when his respite from the sidelines is short lived.
That's not the striker's fault, rather a reflection of the difficulties the club have faced in signing a forward that could be deemed a success, with none of note arriving at Anfield since Sturridge signed in January 2013.
Knowing what he can produce, why are we so quick to write off talent that we'd pay tens of millions attempting to replicate, with the replacement unlikely to produce the return Sturridge has in red? Why are we so quick to place blame on him when his injuries have included ankle ligament damage, hamstring injuries and time out after a hip operation?
Whatever questions have been raised around his attitude, they are not injuries any player is shrugging off.
Daniel Sturridge wants to play football for Liverpool. Footballers relish playing, they enjoy training with their team-mates rather than rehabilitating on their own. Internationals like Sturridge will also aim to ensure they're fit and firing to guarantee a place at the European Championships while closer to home he must be desperate to impress a new manager who is world renowned for his success.
"You can't rely on him. The clubs needs to make a decision now about whether you can have a player who is one of your top earners, who only plays half the games. He is a luxury Liverpool can't afford."
That was Didi Hamann on TalkSport. Yet where is the sense in selling a player that we signed for £12million and is now contracted to the club until 2019 after signing a new deal last October? We'd be lucky to recoup that money while he is injured and who is buying? Which club is interested and which club interests Sturridge?
https://www.youtube.com/watch?v=AcUt44tYz8w
Outrage over his wage is also ludicrous, unless you're paying him yourself. He was offered a contract, he signed it, and he's not going to agree to a "pay as you play" deal retrospectively.
Fit and firing, he remains Liverpool's most valuable asset and his contract reflects that, despite earning less than each of the highest paid players at the clubs the Reds are aspiring to better.
So colour my optimism blind, but at £8m a year, I'd rather roll the dice in the hope that we might see 20 starts a season — because 20 starts yields 15 goals, and Liverpool are still struggling to score them.
"It is heartbreakingly painful to have this taste of honey taken away from you, time and time again. This glimpse of an incredible footballer and you can't have him."
That was Rob Guttman summing up the situation perfectly on the TAW Unwrapped podcast. He's ours, he's perfect but we can't have him. And we want him all of the time. As a player that adds consummate elegance while guaranteeing goals — if not games — why give up on him now?
Look at the stats again, you know what he can do.
The reliance placed upon the shoulders of Sturridge is unhealthy and that is up to Klopp to dispel, but so are the outside insinuations questioning his commitment and character. Quit the snide remarks and rally behind a player who when fit can be used to sprinkle magic on an 11 rather than be relied upon as a talisman.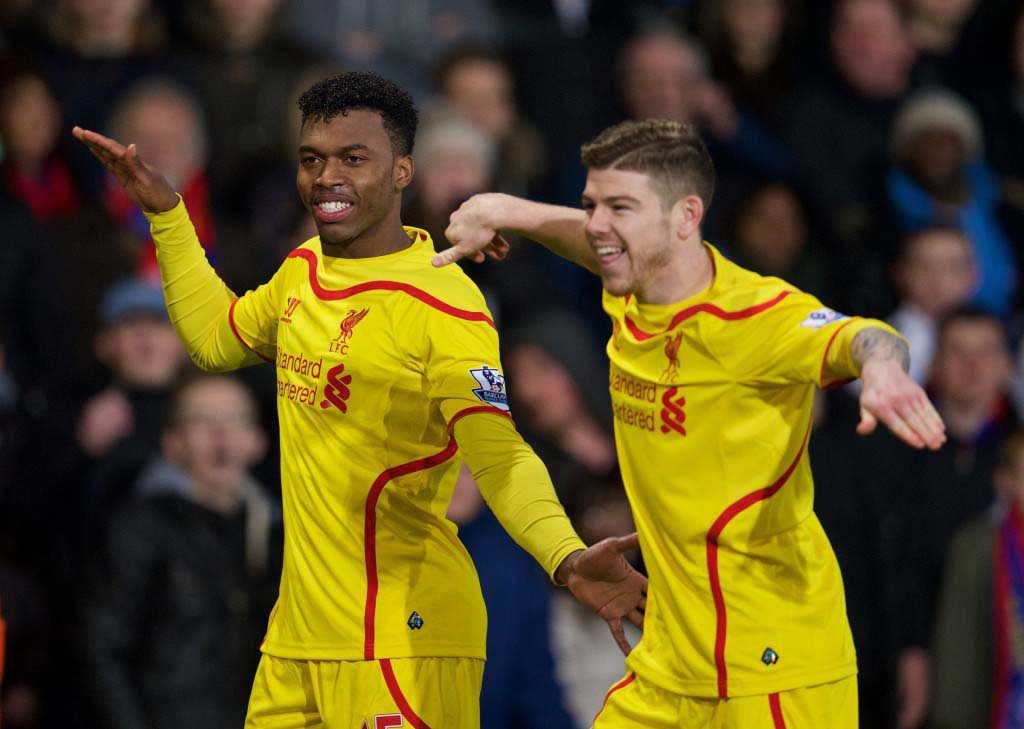 The influence of Sturridge is more than metrical. If firing as part of Liverpool's 11, expectancy rises and our optimism soars while opponents fear the worst. And that's priceless. Pain is subjective. Fans are speculative. We don't know what Daniel is feeling, physically and mentally, and shouldn't pretend to, no matter the frustrations.
What a shame it would be if Sturridge continued to be cursed with perennial niggles and prohibited from realising the kind of potential that should see him placed as one of the elite of European football and for Liverpool.
What a shame it would be if my optimism was proved wrong by the unforgiving impatience of our all-knowing Twitterati.
So go 'ed, Daniel, get better, score the goal, do the dance and we'll all go to town.
[rpfc_recent_posts_from_category meta="true"]
Pics: Propaganda-Photo–David Rawcliffe
Like The Anfield Wrap on Facebook