WANT to know what I don't get?
Okay, first, preamble as per always. I haven't written anything for a few weeks. Here, that is. Tons of other stuff but nothing footbally, nothing here. Nothing since Jürgen Klopp got the job. Two reasons for that:
1.) All the other stuff. Takes time, you know. All that staring at a blank screen trying to come up with some kind of clever?  Time consuming.
2.) All the Jürgen stuff. I mean, seriously? Have you read it? Like, all of it? It's incredible. There's been some amazing stuff written prior to his arrival, on what his potential arrival would mean in terms of the pulling power that the club still has, and post his arrival on what he can actually do with those lads on the pitch. Tons of stuff, brilliantly written, brilliant to read.
On here, that is.  Sure there were other people writing stuff, but here's the stuff that matters. Genuinely nothing that I could add, no new angle, no fresh insight. Everybody had it nailed down perfectly. And they all felt the same way I did or, given their words were out there, I felt the same way they did. Basically we all – all of us, every one of us, total unanimity among the fan-base on this one – had fallen in love with Jürgen Klopp.
I love his attitude to just about everything, love the laugh he throws out there when something genuinely amuses him, love the fact he threw out that 'normal one' line with a shrug that said: "I'm taking the piss out of you here lads, I'm giving you a line because I know you want a line, if you use it you're basically a bunch of knobheads" and then watched them use it.
I love the fact he bollocked every photographer in the room for being rude when a journalist was asking her question. I love the fact I was slightly shocked when he moved from speaking pretty damn fluent English into answering a question in German. The German shouldn't really have surprised me, what with it being his actual language, but it did.
I love the fact the madness of the first press conference gave way to absolute common sense very quickly. Impressed with the fact that he wanted people to stop asking for photos with him in restaurants and bars because he didn't want the whole world thinking he was spending all his time in restaurants and bars. I love every single appearance he's made, hang on his every word. I'm willing to watch him sit and listen in the post Rubin Kazan presser as somebody translates his answers into Russian. I might be obsessed but we all are; that's why I'd nothing new to add. We all know all this stuff.
I'm happy with the Spurs game. 0-0 away after what they did to City when he's only had three days with the team and suddenly we're pressing higher and faster and with more energy. We look goosed after 25 minutes, look like we desperately need these double sessions at Melwood to get as fit as he wants us, but can see that it will come. I'm happy with the Spurs game.
And this is where we come to the crux of things, the "want to know what I don't get?" bit.
I'm happy with the Rubin Kazan game. Genuinely happy. No problem with it at all. Only managed a draw against a ten-man team who are sitting 12th in their (not overly stunning) league? Yeah, fair enough, that ten man thing can be more issue than assist most of the time, we know that. A million shots but very few on target? Fair enough. Not ideal, obviously, but I'll take it at the moment. Would I have taken it under Brendan? No, but Brendan wasn't in the middle of changing things after a week's worth of training. Not changing things in the right way anyway – tons of changing but nothing changed, if you get my drift.
I sat in the main stand last Thursday night and I saw lots of good things. I saw an organised defence that stood its ground pretty damn well. I saw Mamadou Sakho carve his name into legend letter by letter with every take, with every pass. I saw Martin Skrtel do good things. I saw Alberto Moreno and Nathaniel Clyne pick up the ball and run. I saw Emre Can basically be Emre Can all over the place.
Emre. There's something to talk about. I bumped into Mr Roberts of this parish at the Ride gig last week (he's quite fond of them apparently) and we had a chat afterwards about Emre. One of us (and I'm not saying who) said this would be Emre's chance in midfield, the other thought he wouldn't be up to the task as his speed of recovery isn't up to it, that he can't turn quickly enough for a Klopp team. The first conceded this was the case, but that the lad was clearly well thought of in Germany.  The second took this point, but couldn't see it translating into the Premier League. Emre seems aware of this doubt. Emre's doing everything to counter these doubts. Emre's doing everything and looking smart.
James Milner, I'm not sure about. He's going to work hard, he's going to redefine 'workhorse' but I'm not entirely sure what he actually does. Not sure what he gives to the team. Certainly not corners. Think he needs to be looking at Jordan Henderson. I know there's loads that disagree on this one but not as many as disagree on the next one.
Joe Allen was good against Kazan. He was. He genuinely bloody was. Worked well as the pivot, burst through men on a couple of occasions, won aerial duels. Joe Allen WON AERIAL DUELS. You see that coming? No, me neither. Joe Allen was good in the first half. Lucas was better in the second, but that still doesn't alter the whole 'Joe Allen Was Good' argument. Adam Lallana was excellent. Again. He's basically being Adam Lallana but at speed, with some bollocks and he's turning into a proper little nark as well. I like that.
Philippe Coutinho's struggling but that's okay, Roberto Firmino's being reintroduced and he showed well in his European 20 minutes. Wanted the ball, popped it round, talked to midfielders.  Favourite moment was the one where he clearly told Milner: "Give it to me and I'll give it to him", while pointing at Can and then did it perfectly, all in less time than it takes to describe. And that turn? That turn? Jesus. The lad's got something, it'll happen.
Divock Origi toiled, worked hard, threw some nice turns in.  If we can find him a killer instinct then we're laughing.  Christian Benteke's being reintroduced and no, it didn't quite happen for him against the Russian lads but there's that movement for the chest down about 30 seconds after he comes on, there's the space he makes on the left to pop that shot in that hits the post. On another night….
And Big Si Mignolet makes another cracking save.
Yeah, we get caught with Clyne being on the wrong side of the Rubin lad for the goal (and I'm still not convinced the free kick that starts the passage of play WAS a free kick) but that can be remedied, he's not doing that again. And yeah, there were too many hopeful crosses low into the box and high into the box, but next week there'll be a lad there who meets those things and he'll have been back from six weeks out for more than 30 seconds.
So, there was no cutting edge but there was movement and zip and one-touch passing and an intent to move forward at all times. And that's what I thought as I left Anfield. Pretty much okay about the whole thing on the whole. The result may have felt like a Rodgers result but the performance was far from it. The performance kept going all the way to the end. Never stopped, never gave up, looked to create all the time. I'm having that.
And then I turned Twitter on and realised we were actually shite. Clearly deluded in my belief I'd watched a pretty okay game of football where all that was needed was a cutting edge that would come with time with the new boss, it appeared what I'd actually witnessed was evidence that the malaise was far deeper than we had thought. It was evidence this was a very poor squad and that Jürgen was in for a much rougher time than any of us had thought, that the rebuilding job was immense.
I'd like to apologise to all of Twitter now for quite enjoying the game – if not the result, which I was merely OKAY with – last night. I'd also like to thank them for putting me right and for their sterling efforts in tempering everybody's optimism. Equally, I'd like to thank all those in the ground who started screaming at Coutinho the second he misplaced his first pass to Can. It's a good job those guys are there to point out the ball was shit, as he wouldn't have realised otherwise. He might have laboured under the misapprehension that he and Emre have only played in that particular combination a couple of times and that perhaps they don't know each other's preferred runs yet. He may have thought: "Next game, I'll know he wants it three yards that way and then we're laughing". Possibly in Portuguese that last bit. Thank God people were willing to put him right and let him know he'd fucked up, that'll help the lad sort it out.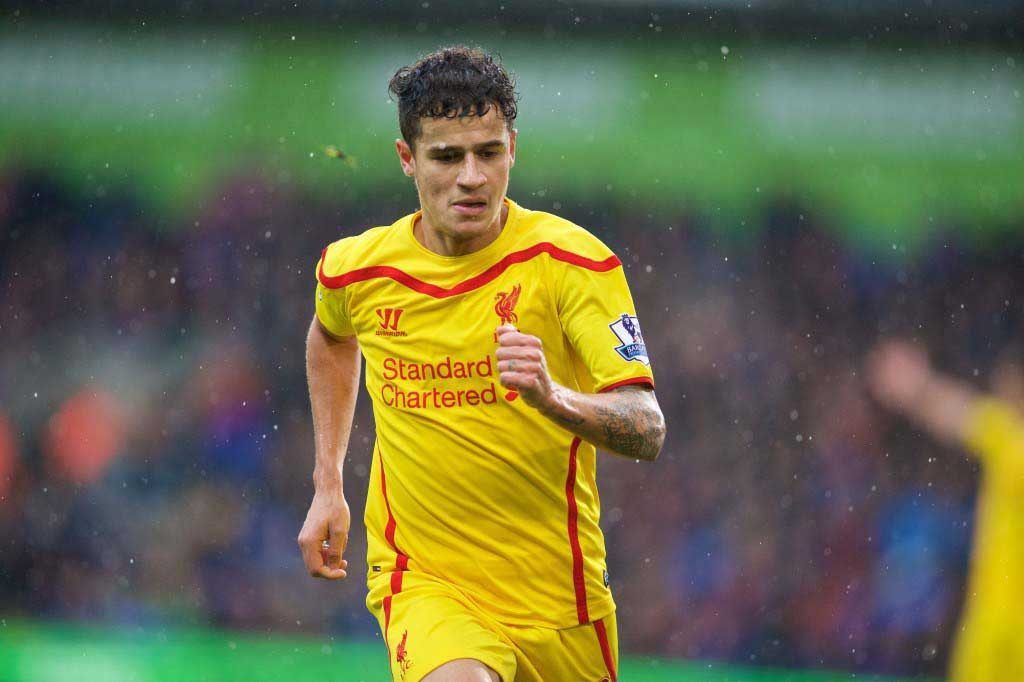 You'd hope we'd develop a bit of patience on this one, wouldn't you? We realise Brendan Rodgers was sacked because it was going wrong and we needed someone to put it right. We know we appointed the single best candidate for the whole 'putting it right' job in ALL OF WORLD FOOTBALL. And it hasn't all become the 1988 team in the first three hours of football, so we're throwing the doom and gloom all over social media, we're criticising loose passes from the stands.
It may not have been a masterclass but it wasn't the worst day of my life. A bloke that knows more about football than I do said that.
Southampton. Three days later. The Thursday to the Sunday? I never get the Thursday to Sunday argument. Between Thursday and Sunday there's a Friday and a Saturday, between Wednesday and Saturday there's a Thursday and a Friday. The names change, the maths doesn't. Maybe it's years spent in retail going: "There are seven days in a week, the only difference is the names", but I'm not having the: "Oooh, playing Thursday then Sunday is harder than Wednesday then Sunday" bollocks. Simply not having it. The game though, the game. The first half's dreadful. The first half's dreadful to an: "If Brendan was in charge we'd be booing these lads off at half time again" level. You know how dreadful the first half is, you've seen it, you may have commented on it. We'll get to comments in a minute.
Second half though? Benteke comes on and does more in the first two minutes than Origi does in the entire first half. Fades for quite a while after that but does more in those first two minutes than Origi does in his 45. Might be something to with the fact the lads behind him are more willing to hit him with a ball he can do something with. Might be something to do with the fact his movement is so much better than Origi's, that he actually gives those lads a target to aim for. Might be a combination of the two. Might be something to do with the fact Origi is 19 and learning his trade while Benteke isn't, and isn't. We'll come back to Origi in a second, for the moment let's just say big Chris (I feel i can call him that)'s header is bloody gorgeous and deserves to win games.
So, we're playing well, pretty much, and we're pushing and we're trying and then we score and then our heads fall off again. It's not the moment when Southampton equalise that knocks our heads off, it's the moment when we score ourselves. We score, we lose our heads, the pattern's self-fulfilling at the moment.  The players become anxious, the stands become anxious, the players feel the anxiety in the stands and become more anxious. Anxiety is all, equaliser's inevitable.
The boss has said it, we're not calm, we don't defend the free kick calmly. The free kick. I'm blaming the free kick. We had this conversation last night; I'm blaming the free kick – the act of conceding it – others will blame the defending. The free kick is, it can be rightly argued, 40 yards from goal; there's a lot of defending that can be done between point A and point B. It feels ungracious criticising Milner for conceding a free kick there when he's put in that cross for the goal, feels equally ungracious criticising Benteke for not clearing the first ball into the box when he's put us in the lead with that bloody header.
I'm going with the Milner option. We all know we're not going to defend that free kick particularly well, so don't give it away; you're a senior pro, you're the captain, you're the calm experienced head. Be calm, be experience, be senior, be pro, stand your man up, close him off. All we had to do was take the sting out of the game for five minutes. All we had to do was KNOW we could take the sting out. We couldn't. What we KNEW was we couldn't, so that's what we did; it's a learnt behaviour. That's why our heads fell off as soon as we scored, because we KNOW for an absolute, stone cold, certain FACT that when we score, we concede. So we did. THAT's what we do at the moment, THAT's what Jürgen's seeing in the players' eyes. That's what he needs to deal with.
Which still isn't the "Know what I don't get" bit. That bit's the bit he can't deal with. Not immediately. It's the bit he's dealing with bit by bit by bit by bit, it's the long term. It's the tempering of us, the dealing with our reactions.
It's this: It's the comments from the stands. It's the criticism of Daniel Sturridge for being injured again. As though it's the lad's fault. Pretty damn sure what he wants to do is play football. Pretty damn sure he doesn't want to go from private hospital to private hospital getting scan after bloody scan after bloody scan and have blokes in white coats stick sharp things into various bits of his body that aren't doing what he wants them to. Bit of sympathy for the lad might be nice. Bloody Sturridge. We should get rid. Waste of space, waste of time. Origi. Waste of a shirt. Should be changing it now. He's shit, why haven't we started Benteke? Err…because he's been out for weeks and had half an hour of football so far and might break down and then we'd be buggered? Just a thought like, just throwing it out there. Origi doesn't look very good at the moment but he's our fourth choice striker and our only choice. I have vague memories of a young Thierry Henry not being very good in his first season in England, a young Ian Rush being unremarkable at nineteen in his first Anfield season. Thank Christ they didn't have Twitter to pass judgement.
It's this as well: It's the reactions. It's the online shite where we all tell each other stories and they become truths, where we all look at people who portray themselves as experts and so we believe them and we pass it on. I'll hold my hands up on this one – I'm NOT an expert. I'm a bloke who goes the game and has a keyboard. Feel free to agree, feel free to tell me I'm talking shite, all opinions are valid on that one.
What's not valid though? This: Clickbait sites with teaser taglines like 'Liverpool Fans Destroy Player After Southampton Performance' to drag you in. (Shall I name them? Shall I? Nah, they'll know who they are). They get you, they snare you, they pass on the tweets you've already seen – or not seen but know are out there – and they reinforce the idea that Divock Origi is the Antichrist instead of a lad who's just had a really poor 45 minutes of football. And the opinions go round and round and we take them as fact because the website has nice graphics and looks like it knows what it's doing, but all it's really doing is telling us what we've already said. It's not giving an opinion, it's not presenting argument, it's just telling us what all of our 140 character outbursts have said. It's opinion, nothing more. And this is opinion, nothing more: Divock Origi had a really poor 45 minutes on Sunday afternoon. It happens – deal with it, get some perspective, move on.
And it's mainly this: It's the exodus. 85 minutes gone, the other lads equalise and thousands stand up and head for the exit. Some of that I get. The bloke next to me, I get. He's 80, he walks with a stick, getting out before the bulk of the 40,000 is pretty advantageous. And there are many in that position. Sound, I get that, fully understand. Everybody else though? "They've equalised, there's no way back, I'm off" – don't get that. 85 minutes, that's nine minutes to go, we've been pushing all through the second half, Benteke and Firmino look good, there's a chance.  You can't see it coming but you couldn't see that bloody header coming either, could you?
This is the bit where we can do things, this is the bit where the miracles happen and the legends grow, this is the bit where you sing, where you scream, where you support. We've been doing it all through the second half; silent in the first but pretty much 'us' in the second, showing belief, showing desire, showing passion. Less of the getting onto the lads and more of the getting behind the lads going on, much more us. And they equalise and thousands go: "Nah". Seriously, stick around, see what happens, it could be amazing. It wasn't like but you didn't KNOW that did you? Not KNOW it.
That's the problem, we think we KNOW. Nobody KNOWS; they think, they expect, they assume, they don't know, not KNOW know. The sooner we all, players and fans alike, stop thinking that we know it's going to go wrong, the sooner it'll stop going wrong. Law of attraction and all that, I could do a couple of thousand words on the law of attraction, take this as a taster: Expect the best and it'll happen. Believe in the best, it starts heading toward you. Jürgen needs to have the lads in the red shirts believing that and we need to start showing the patience and understanding that gives him the time to alter their mindset. We need to alter OUR mindset, big style.
We want the world and we want it now. Jim Morrison said that.
We want everything immediately and when we don't get it, we can't figure out why it hasn't happened.  We might accept that we're in this for the long haul, but we're all convinced it's far worse than it is and can't see the good because we expect – because we condition ourselves to look for – the bad.
We've got a new dawn and we're still playing with pessimism; the players and the supporters.
That's what I don't get.
[rpfc_recent_posts_from_category meta="true"]
Pics: David Rawcliffe-Propaganda-Photo
Like The Anfield Wrap on Facebook