JÜRGEN Klopp is Liverpool manager then. He can't buy any players for the best part of three months so, as a consequence, he's going to have to make do with what he's got. And I think he should be encouraged by what he's got.
He's got a pool of strikers that any manager would surely be very happy with, international footballers all over the place and a squad that really is better than it has been performing recently.
It's undeniable that since the 2013-2014 season ended this is a squad that should be doing better. You'll read valid mitigating circumstances elsewhere, but that's not really my point so I'll leave you to go elsewhere for that.
Ultimately, Liverpool are better than the last 46 league games. A change of manager, if it's the right manager, should instantly make this side better. In the same way that it's not inconceivable that appointing a manager inferior to Rodgers could see us get worse.
There's a fair few players Rodgers signed who aren't popular, people think they're rubbish, that they shouldn't have been signed, that they will just automatically get binned off and replaced at the first possible moment. I think this train of thought could be a little premature. If a different manager is going to bring a different approach, it's only fair to think that players will play differently. Everyone gets a clean slate.
So what is Klopp going to do differently? As I've already said, he can't buy anyone, so we're going to have to use the players we have. There are two approaches here — he goes pragmatic and spends the next three months, and maybe the rest of the season, playing a system that is going to be derived from of the players he's left with or, alternatively, he says, 'I'm doing this' and he plays the system that was seen to such good effect at Borussia Dortmund.
I think he'll try to put his stamp on it. I'd rather see that. I don't want him to be pragmatic in the short term to the potential detriment of his long-term approach. Put your plan in place and you will see if the players will do exactly what you want in the long-term environment you want. So, you would think we will see what he did at Dortmund: pressing the opposition and being aggressive. "Heavy Metal Football." Loud, in your face, full on. If that's his brand, how are we setting up?
He played a 4-2-3-1 with Dortmund. A front four full of energy, two good footballers sat in front of the back four protecting the defence and using the ball intelligently, full backs who were solid but could also support the attack when needed, and two strong centre backs who loved defending and weren't bad on the ball either, without quite being Alan Hansen.
They counter-attacked a great speed and when they lost the ball they tried to get it back as quickly as possible. Sounds familiar. One thing that this Liverpool side is blessed with is legs, and all over the park.
Working back to front then, and starting with the goalkeeper. I don't think I'm breaking new ground in saying that Simon Mignolet is something that needs sorting. Despite some great saves against Everton at Goodison Park on Sunday, he isn't the top-class goalkeeper that we require. You would be surprised if he is still the No.1 when we rock up at Leicester City the day after the January transfer window ends. Germany is awash with great goalkeepers — it wouldn't be a shock to see one of them in goal by the season's end.
Alberto Moreno and Nathaniel Clyne can do exactly what is required of full backs in Klopp's favoured system — get up and down, assist counter attacks — so we're fine there. And then you get to a really interesting portion of the pitch for me. Two deep lying midfielders in front of two centre backs.
We effectively have three-and-a-half centre backs. I'm not including Kolo Toure and I'm counting Joe Gomez as the half. One of the biggest failings of Rodgers was that we conceded too many goals — something that we were probably willing to do in 13-14 but since then it's been a clear issue.
For me the biggest problem was that we asked our centre halves to do too much defending. They got practically zero protection in front of them. Trying to score goals is great fun and I'm fully down with it as an approach but if you aren't scoring the goals, as we weren't last season, then you have to stop them.
The only spell of clean sheets and good solid defending in the last year or so was when Lucas, a player who Brendan Rodgers repeatedly tried to sell, lined up in the team, protecting the defence, winning balls back and stopping attacks before they reached the defence. It's a knock-on effect across the park. The strikers help the midfielders who help the defenders who help the goalkeeper. If you defend from the front it makes everyone's life easier. We've basically been defending from 30 yards in front of our goalkeeper for the last year or so — is it any surprise it's come to this?
There has been lots that Martin Skrtel has got wrong in recent times, almost everyone hates Dejan Lovren and plenty of people (I'm not one) have doubts about Mamadou Sakho as a defender. But all we have seen of two of these three Liverpool players is them playing in a team set out to offer them no help.
People will tell you these players are rubbish at defending and champion Daniel Agger, who didn't look any more comfortable in the set up, but the four positions here are all linked.
Skrtel has been involved as a defender in Rafa Benitez sides — he isn't a bad player. The difference then was he had Xabi Alonso and Javier Mascherano protecting him. He looked good when he was protected, he didn't look good when he wasn't. Maybe he should be defending better when asked to defend, but that's a completely different argument.
Lovren is a similar case. We spent £20million on him and bought him from a team who used two players ahead of him — players who were good at marshalling the space and limited the amount of defending he had to do. Now, while I would rather holiday in Syria than watch Victor Wanyama play for Liverpool, Lovren was protected by him. The Croat came here and he was exposed. The more you ask defenders to do, the more they will get wrong, so let's ask them to do less. They should be the last line of defence, not the first.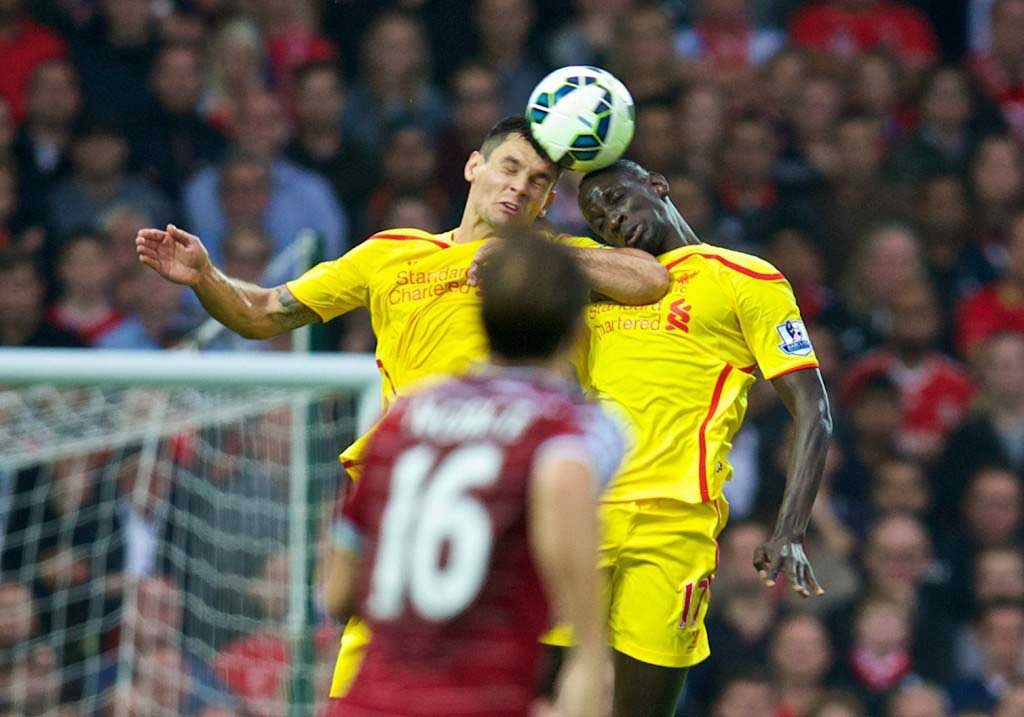 If we set up as discussed I'd quite like to see Lovren partner Sakho. I don't think all is lost with Lovren. Every player should be given a fresh start and I refuse to believe he's as bad as we've seen in the last 14 months.
Set up a two in front of the centre backs and get them to win the ball back. If Lovren doesn't look any better then, out he goes. But to not even have a look would be negligent.
You would expect Henderson to be in there with a partner and you would hope Emre Can would be capable. If he isn't, there's Lucas as a stop gap. Use the ball well, win the ball, dominate.
Would Henderson and Milner work? I suspect not — Milner's days as a central midfielder could be over before they have even started, which from his point of view is pretty unfortunate. There's a place for him though, I'm sure. Maybe further forward.
That leaves you with a front four. Goals, aggression, pace, quality, creativity. Philippe Coutinho, Roberto Firmino, Christian Benteke, Daniel Sturridge, Danny Ings, Jordon Ibe, Divock Origi, Adam Lallana — it's pretty deep. Bring Lazar Markovic back from loan (makes the decision to loan him even madder than it already was) and we've got real options up front.
We've got a good squad for him to start off with. High energy, clever footballers, goals, aggression. It doesn't need overhauling to be what Klopp wants it to be. It's not perfect but it's a start.
It wouldn't surprise me if he really liked Joe Allen, too. But I won't expand that one because I frankly can't be arsed with people filling my mentions column on Twitter with anger. Same with Lallana.
They're energetic and intelligent. No, they aren't perfect but I'm convinced Klopp will find a use for them. We need a squad and they've both got assets that are useful. Contrary to what many people seem to think, they aren't bad footballers.
TAW Player: Raphael Honigstein on Jurgen Klopp
The biggest key for me though is that Klopp's blueprint is understood and appreciated by the much talked about Transfer Committee. So when it comes to signing players it should be relatively simple: see what type of player he wants, sign that type of player. Don't waste money on spare pegs when you need round ones.
They should all be on the same page and if they aren't then the appointment is already doomed to fail — they shouldn't be signing players they want, they should be signing players he wants. Find out what he wants and get it. No messing.
So, Jurgen, welcome to Liverpool, you've got some good players here. Make us smile again. I'll be honest, I'm excited.
[rpfc_recent_posts_from_category meta="true"]
Pics: PA Images/Propaganda Photo
Like The Anfield Wrap on Facebook