THIS one. The one I stopped going to from 2002 til 2014. A decade and a bit in which we stormed the citadel four times (two Danny Murphys, the 4-1 one, and the 3-0 one). I went back for the first time for a league game there last December and we were flukily thrashed 3-0. It seems like a lifetime ago. I still loved Mario back then. And Raheem, too.
I don't like Manchester United, but I don't hate them any more. I'm a bit too jaded for that. I boycotted Old Trafford for that decade and a bit because I just got tired of the spite and the nastiness. There was a time when that was a buzz, and I might get that back when I go there tomorrow, but there are occasions where football does make you question your own sanity.
To be honest, I feel a similar way about the Derby. I dread the one at Goodison Park. It's strictly a get in and get out job. Any good fortune is truly to be savoured after the event when you're safely tucked away in some boozer with friends and colleagues, rather than surrounded on four sides by frothing lunatics.
I could waste time rubbishing their crowd and the appallingly worst of modern football faux heritage banners inside Old Trafford. But better to talk about the day at least being a chance to visit the fantastic city of Manchester. It isn't Liverpool, but it's still a formidable northern town.
I can't wait to get to the Briton's Protection pub, where legend has it you might get to stand next to the likes of Mark E Smith while pissing in those brilliantly austere bogs. That hasn't happened to me yet (mainly because I'm a cubicle connossieur) but I live and piss in hope.
This weekend I'm going to the game with Steve Graves sometimes of this parish and I'm very excited about that. Steve will love the Briton's Protection pub. It'll take his mind off the Labour leadership election which has ruined his summer.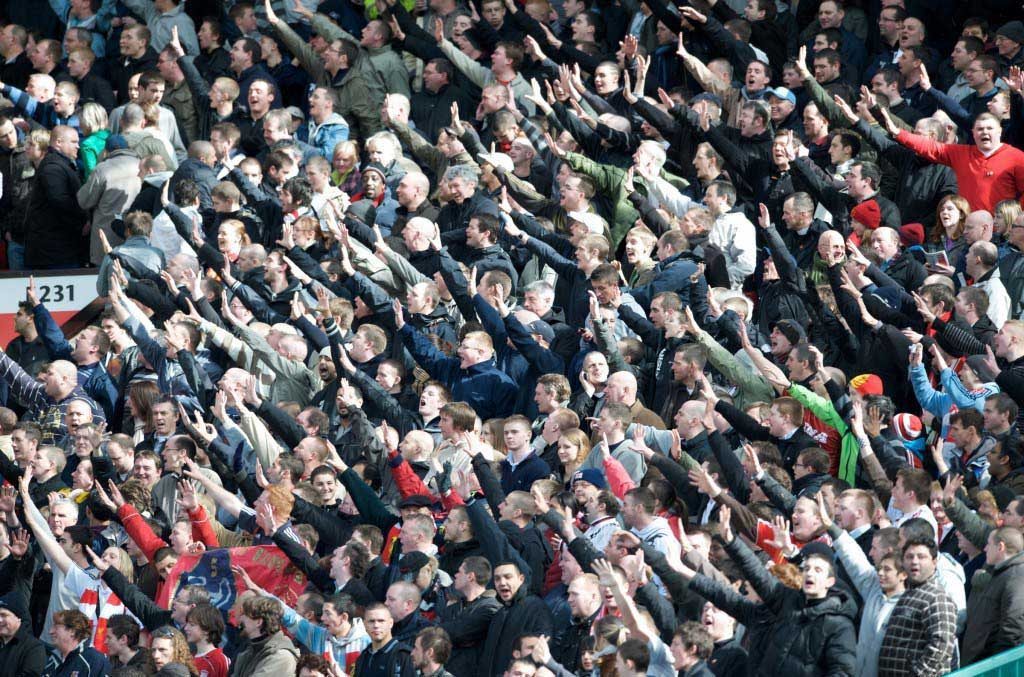 The boozer alone will be like a holiday in itself for him. Then we're going to Frankie and Benny's at the retail park by the ground. It's main attraction being its 'for patrons only' car park. Once again, I'll have taken on the system and won. Top that, Jeremy Corbyn.
We'll get in the ground feeling a bit hazy but with tits buzzing, loaded with adrenalin for the war to come. It'll be about 4.45pm by then and news will be filtering through to those that can still get 3 or 4G that we've picked a team to cause brows to be raised, heckles to be risen and mouths to get foamy.
"What?! He's still picking that fucking yard dog Lovren!"
"Gomez! Gomez! At this gaff! Is he fucking mental?! Kid will get torn apart here. You watch."
"Emre bloody Can ! No way?! he's shite him. Should've been sticking that Rossiter in. Proper player."
"Firmino?!! Fucking hell (eyes rolled). How can he not see that that Danny Ings had to be starting this one?"
The fairly grim reality is that the Liverpool team that goes to Manchester United picks much of itself.
We're shorn of the suspended Philippe Coutinho, and most likely the injured Jordan Henderson and Adam Lallana. Despite the electric shock of a 3-0 mugging by West Ham last week, I'd expect Brendan to keep faith with a back four with three clean sheets to one dirty one.
The kid (Gomez) stays in the picture. Dejan Lovren gets perhaps one last chance to redeem himself. This really could be his Waterloo. He simply cannot afford another day with his kecks around his ankles.
No Henderson compels Rodgers to again trust James Milner, Lucas Leiva and Emre Can as his midfield, and to pray that they can reprise their dominant showing against Arsenal from a couple of weeks back. Coutinho and Lallana's absences necessitates that for the front three roles he must pick two from Danny Ings, Roberto Firmino and Jordon Ibe to assist Christian Benteke.
There is a growining murmur that could become a clamour to let Ings be a direct foil for Benteke in an orthodox front two. Given that Daniel Sturridge is edging ever closer to a full return it may be tempting to go with the attacking set up that will surely become the default once Sturridge is ready to join big Chris full time.
A nice twist in the build-up plot this week has seen credible stories emerge of training ground bust-ups at Carrington. The Manchester United lads, it seems, are now all getting the hump with Louis van Gaal. The mutiny that seemed contained and then crushed by the flogging of Angel di Maria to PSG has now broken out again in full public effect.
These things can go either way. United either stomp on us and van Gaal then gets to have his way with the press boys and tells them what a shower they are for trying to unsettle his team, or United's mess gets smeared all over their own Old Trafford pitch by a resurgent Liverpool FC.
The shaky foundations both Liverpool and United have established thus far this season makes this a contest too abstract to call. I'm not looking forward to the match itself, and I'd take any result, that wasn't going to require an inquest, now.
It's a day for keeping your head down and gob largely shut until the job is done. Manchester, we're coming at you. Frankie and Benny's, make mine a black 'n' burger and a side of onion rings.
[rpfc_recent_posts_from_category meta="true"]
Pics: David Rawcliffe-Propaganda Photo
Like The Anfield Wrap on Facebook