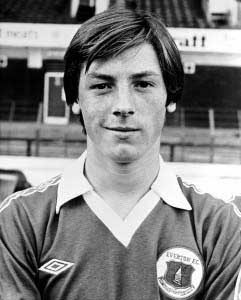 THIS takes me back to February 1986. I'm walking to the ground with my mate Chee on our way to watch Liverpool and Manchester United play out a 1-1 draw. It was the day of the gas attack thing, and it was all about to kick off in the Main Stand car park, but at the time we were discussing just how were going to turn back the tide and finally beat them in a league game.
As was usual for the time we scoffed at the media love-in with the permanently injured Bryan Robson, who seemingly only had to walk on to the pitch to receive a man-of-the-match award, and wondered just how so many exaggerated plaudits could be festooned upon such a crocked man. Captain Fantastic and all that.
I cited my own adoration for Steve McMahon, as he could do pretty much everything that the England captain could — but with a quarter of the hype.
As I grew into my diatribe, I suggested that when the two were compared, Robson wasn't anywhere as good as McMahon. In fact, he wasn't actually that good at all. Chee (a school nickname and a long, uninteresting story) shook his head quietly and said: "Coppack, Bryan Robson is a very, very good footballer."
This surprised me. Not the use of my surname as we were only a handful of months out of school and calling your mates by their first names had yet to be invented, but by the apparent praise of a Manchester United player, and not just any United player. That one.
Such was the shock of this statement that to this day I could direct you to the very paving stone where I stood when that shattering piece of intelligence fell upon my unbelieving ears. He rated Bryan Robson.
As it turned out neither McMahon nor Robson played that day so this was all avoidable.
Such is the tribalism between us, Everton and United that it's hard to accept that other footballers have any talent at all, never mind that they are somehow worthy of silent applause.
It was different then because we were winning everything while United were just a cup side and Everton had to fade out sooner or later while we just carried on like a remorseless trophy-collecting machine.
That Robson retort completely disarmed me, but at the back of my mind came the nagging feeling that I'd always quite liked Steve Coppell. And I bloody hated Steve Coppell.
That season was dominated by the extra percentage riding on the derby games as, for once, it was genuinely between us and them for the big stuff. Everton were good and, whisper it, maybe even better than we were.
This was unchartered territory for many of my age and it didn't feel good, so, of course, we did what everyone does in that situation — we combatted our fear by mocking them.
So Andy Gray was a busted flush, Derek Mountfield looked like a tided up version of Derek Smalls from Spinal Tap and Peter Reid dyed his hair — a no no for anyone of that age with a Huyton passport. You can't fear the laughable.
And yet…
And yet …
I really liked Peter Reid.
Really liked him. It wasn't just the tackling either. At the end of the 1987 Charity Shield versus Coventry he told a reporter to sod off when questioned about his access to Grecian 2000 products.
Slagging off TV journalists was very Scouse. Then there was Reid the footballer. A few years ago he described his tussles with Steve McMahon (equally balding but with each follicle of its natural golden hue unmolested by outside agents) as not being about the ferocity of the tackles, but about who could get up from them first. That was certainly true.
The greatest compliment I can pay Reid is that he was a worthy adversary of Macca. True, I wanted his career to be marked with failure and despair but I did rate him. I chose not to mention this to anyone. The blueshite.
We all rated Neville Southall back then, too. We just chose not to bring it up at the time.
Admiration becomes a little easier the further you go away from those clubs. The Kop always had a soft spot for Ipswich's goalie Paul Cooper (and the exact opposite for Peter Shilton) and Gianfranco Zola is one of the few opposing players who was applauded on to the Anfield pitch as well as off it, but liking players from 'those two' is viewed with a wrinkle of the nose.
Of course, it goes the other way. When we signed Paul Ince many of us, despite acknowledging that it made sense to have someone of his apparent snap in our powder-puff midfield, felt uneasy about having a former United, and therefore anti-Liverpool FC, player wearing the Liver bird.
Outside Selhurst Park, when Ince made his debut on the hottest day in history, you could buy poorly photoshopped T-shirts of him holding the Premiership trophy while wearing our shirt. I frowned at that. Well, both at the T-shirt and the signing. Yes, he could deliver the league but at what cost? Must we drop so low to climb so high? The good news and bad news was that he was mostly shite.
Further confessions? Well, okay.
I thought the sniping at Wayne Rooney's 50 goals for his second team was a bit uncalled for. I don't like the man, and I'm contractually obliged to dislike his former clubs but, well, I like that he's from Crocky. I know. I can feel your frowns.
It just gives me a nice feeling that those who tell me to back the national team and how I should sod off if I don't like it are represented by a man who lived less than half a mile from me. I like that I know the pubs where Rooney Sr used to drink.
It sort of made all those hours of playing shite on Dwerry House playing fields, as he did, somehow more romantic. I could never make it but a lad near me did. Maybe there's some mystical element in that soil that makes him the player he is and maybe I too share it.
Nah, maybe not.
There's just the tiniest bit of civic pride there. I know loads of Irish Reds who loved Paul McGrath for the same reason. I don't think Rooney is anything like as good as Clive Tyldesley thinks he is (Rew-NAY!!!!) but he's also nowhere as bad as many make out.
I don't care where he got his England goals, I just like that he probably went to Rodericks chippy when he was a kid.
Again, I would like to state for the record that I'd like him to end his career in ruin and shame. Goes without saying. Sorry Wayne. You know the rules.
So, it's okay to at least admire individual players from the other lot. It doesn't make you less of a Red. Graham Taylor (I like him, too. Always have done) once said that the people of Liverpool know their football so it's only right that we recognise talent when we see it, regardless of shirt colour.
I'm still not having Bryan Robson though.
[rpfc_recent_posts_from_category meta="true"]
Pics: David Rawcliffe-Propaganda Photo
Like The Anfield Wrap on Facebook