THE photographer's car keys lay hidden high on a ledge in a Melwood anteroom for most of the afternoon. I had long returned home when my mobile phone started buzzing.
"Where are they, lad?"
"What?" I asked.
"The keys, you've done something with them haven't you?"
With that, a realisation was swiftly replaced by mirth and the conversation tailed off to be replaced by laughter, although not so heartily from the photographer.
When interviewing Jon Flanagan during the 2013-14 season, a campaign when he became an important member of Brendan Rodgers's Liverpool team, the full back decided to play a prank. As he sourced a location for the shoot that followed elsewhere in the complex, the photographer left his keys on the table that separated Flanagan and I.
Flanagan, knowing the photographer well, immediately sensed an opportunity for a wind-up of the elementary kind. "They're his aren't they?" he smiled; pouncing instinctively before standing on a chair to reach for a place few might look. Five or six hours later, when everybody had forgotten about it, the ruse was finally revealed.
Flanagan's spirits were in the uppermost stratosphere. It was a fine period to be him: playing every week for the most enterprising side in the country; as Liverpool reached the summit of the Premier League, he was heralded by Cafu as the Scouse version of himself.
Manchester United had recently been trounced at Old Trafford 3-0 and, at the game's conclusion, after Flanagan finished celebrating in front of the away end where he once stood, I could see him from the press box clenching his fist at the United supporters amassed near the tunnel entrance. He was defiant. He was triumphant.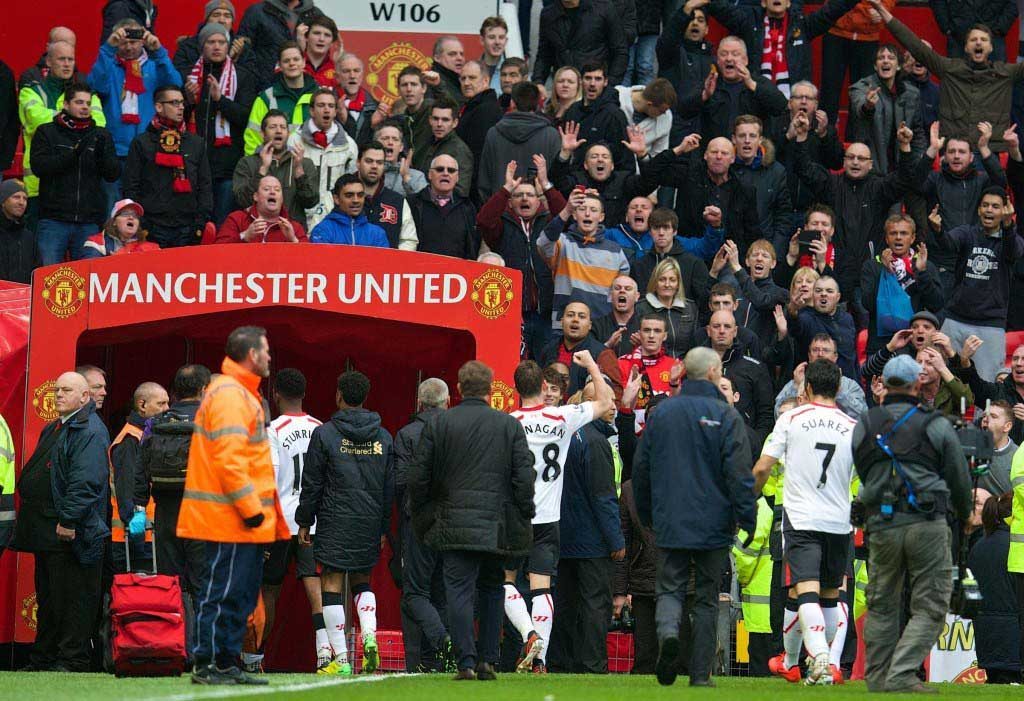 The image might get forgotten, as memories become sepia tinted. It felt then as though a baton had been dropped by one club and seized by a rival, just as it did at the beginning of the 1990s when Liverpool's domination of English football finished and United took control of the power vacuum at the top.
Flanagan was going to be a part of Liverpool's new order. But Liverpool did not win the title, faltering with three games to go. Although Flanagan got called up for England, through injury he has not since played a competitive second of football and is unlikely to return to Liverpool's squad before January.
If and when Flanagan reappears, the team around him will be very different to the one he last featured in. The mood has darkened. In his absence, Liverpool have sold Luis Suarez and they've missed him desperately. They will also miss Raheem Sterling now he's gone, as well as an ageing Steven Gerrard despite what the naysayers claim.
Yet they have missed Flanagan too: his diligence, his consistency and most of all, his aggression: his ability to raise a dormant stadium by crashing into opponents, though fairly. Anfield loves that and now, nobody seems capable of doing it. Flanagan is the type who might not suit playing for another club. He made his first steps as a footballer on the side streets around Arkles Lane. At Liverpool, he makes sense.
On Saturday, Liverpool face United at Old Trafford once more. For the first time in the fixture since an FA Cup semi-final replay in 1985, it is likely that no Liverpudlians will be in Liverpool's starting XI while United will be without Mancunians, depending on how you class Ryan Giggs considering he was born in Cardiff and grew up in Salford, which anyway, considers itself a very different city from Manchester indeed. In 1992, Giggs was the only player on show with local links, as Liverpool won 2-0 to deny United the championship.
So, as it was more than 30 years ago, on an occasion where Scouse managers in Joe Fagan and Ron Atkinson hollered from the dugouts, Wayne Rooney will probably be the only featuring Merseysider. Back then it was John Gidman pulling on a United shirt — Gidman being a Garston-raised right back who was released by Bill Shankly for his supposed irreverent behaviour as a teenager.
Minus an indigenous heartbeat, there was a grim vision of how the future might be for Liverpool in crucial games like these. In March, with Gerrard relegated to substitute, Anfield sat impatiently as Louis van Gaal's United of 2015 were made to look like Ajax, 1995: the visitors retaining possession, creating chances and scoring a beautifully crafted goal, while Liverpool's players chased around like silly idiots incapable of making a meaningful challenge.
Liverpool were pathetic. On the bench, Gerrard boiled. A half-time introduction was necessary and the 38 seconds that followed became a 21st century portrait of Liverpool's greatest modern player only without the equaliser: a majestic 40-yard pass that hit the target, a furious tackle, a guttural roar of approval from all four stands; then a stamp on Ander Herrera, who'd strolled around previously without being confronted at all, and an inevitable dismissal for Liverpool's captain.
https://www.youtube.com/watch?v=9pCoxRnPka0
When Liverpool meet United, the contest is a fever; encounters where red cards are likely and the winner is determined by which side controls its rage the better.
Presently, however, it is difficult to spot where Liverpool's rage comes from: which area of the team or which player is capable of harnessing the passion on the terraces.
For United, it's from Rooney.
For Liverpool, it won't be from Gerrard. Nor Flanagan.
[rpfc_recent_posts_from_category meta="true"]
Pics: David Rawcliffe-Propaganda Photo
Like The Anfield Wrap on Facebook