REMEMBER the Burnley game on Boxing Day? Remember when Simon Mignolet played chicken with a backpass heading out for a corner and lost? Remember how everyone's head exploded because the only other credible alternative for the position of Liverpool goalkeeper was a man whose chief attributes consisted of an admittedly impeccable coiffure and a propensity for diving in precisely the wrong direction at any given time?

If someone had said, at that exact point, that Liverpool would spend more than £75 million the following summer, yet only bring in Bolton's premier Ed Sheeran tribute act as competition for the blundering Belgian, you'd have literally spat in their stupid face. Literally spat.
It's been quite the turnaround.
The Mignolet of the first half of last season was painful to watch. Rooted to his line, bereft of confidence, spreading panic and uncertainty throughout the Liverpool defence like an old-time soothsayer proclaiming the end of the world to a village of toothless simpletons. His mediocrity was infectious.
The Mignolet of the second half of last season, so the story goes, was a man changed, a goalkeeper reborn. Eschewing the faint-heartedness that had come so readily to define him, he re-invented himself as a dominant, decisive figure, his acknowledged agility and shot-stopping expertise now allied to a sense that he finally understood what was required of a top class keeper. For a while, anyway.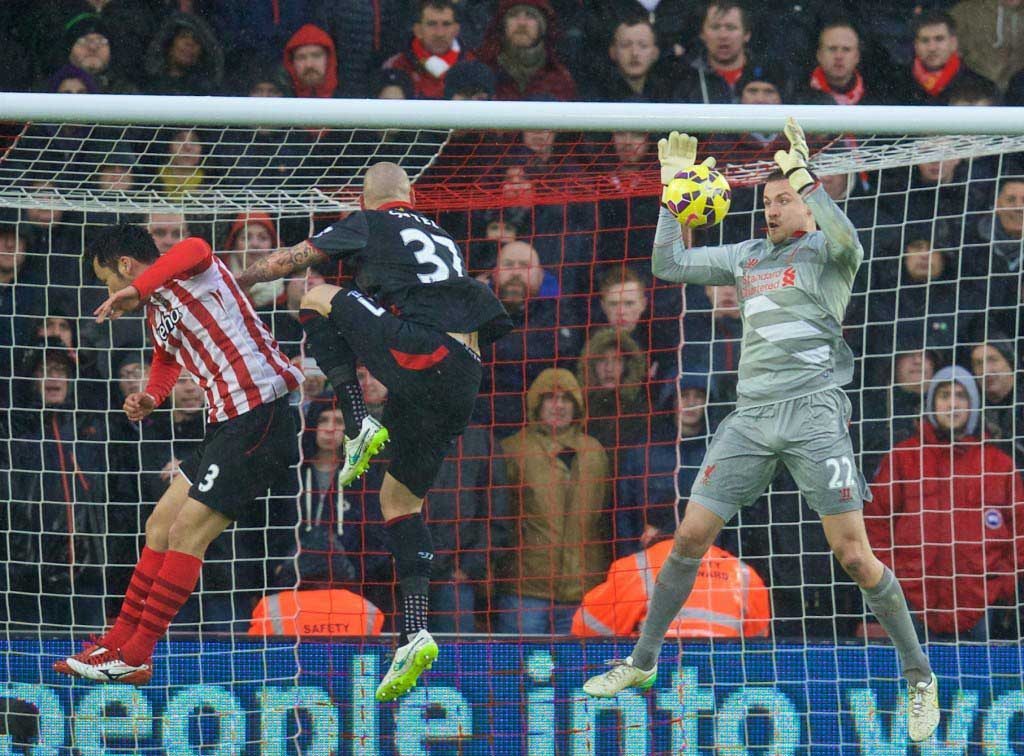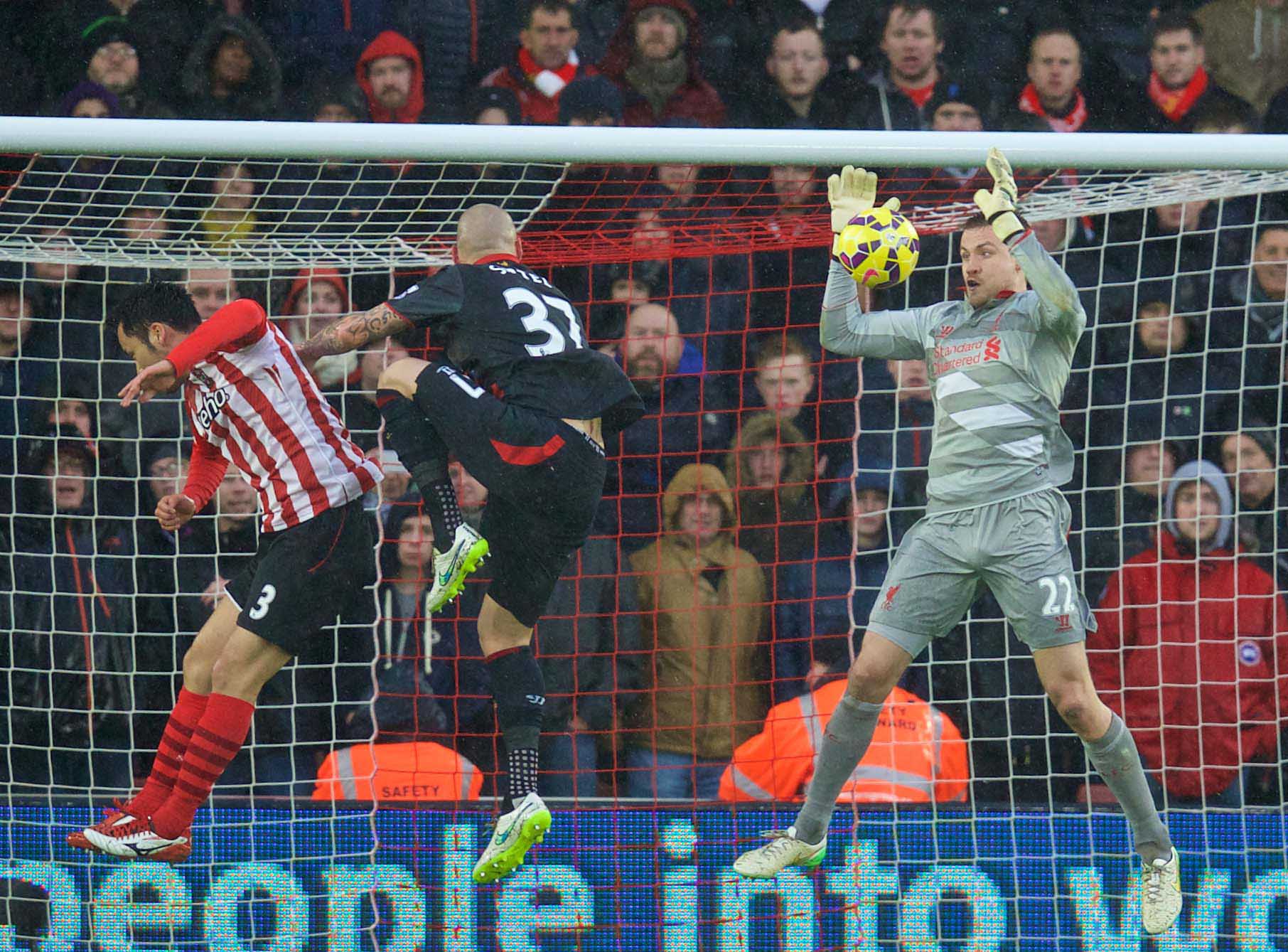 He ended the campaign badly, conceding nine goals in the final two games, and was last seen stumbling blindly amid the ruins of a team crumbling to dust before our very eyes in Stoke. Now, conceivably, he was no more guilty for the fiasco in the Potteries than anyone else, but Liverpool's capitulation painted a worrying picture of a back-line in turmoil and a goalkeeper unable to offer anything beyond the most flimsy resistance. It's fair to say I'm never going to find it easy to get past Stoke.
Which leaves Mignolet having to prove himself all over again. You don't have to be Stephen Hawking to conclude that this coming season is make-or-break in terms of his long-term future at Anfield. If he again fails to convince, it's hard to see any way that he will still be a first-team starter twelve months from now.
I should probably admit that I've never really been a huge fan of Simon Mignolet. That may sound overly harsh. At times he's shown himself to be a very good goalkeeper; at times he's earned Liverpool points with big saves at big moments. But his deficiencies have always been so entrenched and so vast they're observable from space.
https://www.youtube.com/watch?v=4RZ5AfzvDtg
Allow me to elaborate.
I spent well over 20 years playing in goal. I'm not going to pretend I got anywhere near the level that Mignolet has reached or I have any understanding of the acute pressures and demands that life as a professional footballer brings with it. Though I did, at various times, share a dressing room with a convicted money launderer, Norman Hunter's son and one of the lads from The Beautiful South, something Mignolet, to the best of my knowledge, has yet to accomplish. So, swings and roundabouts, really.
I bring this to your attention merely to provide some context to my views. Of course, I like to think it gives me an appreciation of the qualities that any successful keeper, specifically a successful Liverpool keeper, needs to possess. I also like to think I'd look better dressed as a pirate than Johnny Depp and could wrestle an angry bear, so I'm possibly not the best judge. But still.
Goalkeeping is a complex art, an amalgamation of natural ability, pure instinct and learned behaviours. It's not just about making saves, though that's essential. It's not just about dealing with crosses, though that's unavoidable. It's about the things that are harder to define, the things that are largely found inside the individual's head.
Principally it's about decision-making. Everything else stems from this. The instantaneous knowledge of when to stick and when to twist, when to advance, when to hold, when to commit, when to punch. It all comes down to decisions. Decisions, and the confidence to make them. It's always been my belief that the very best goalkeepers are those who make the best decisions. Because they tend to be the ones who make the fewest mistakes. It's why, for me, Clemence was infinitely superior to Grobbelaar. And, perhaps more contentiously, Seaman had the edge over Schmeichel.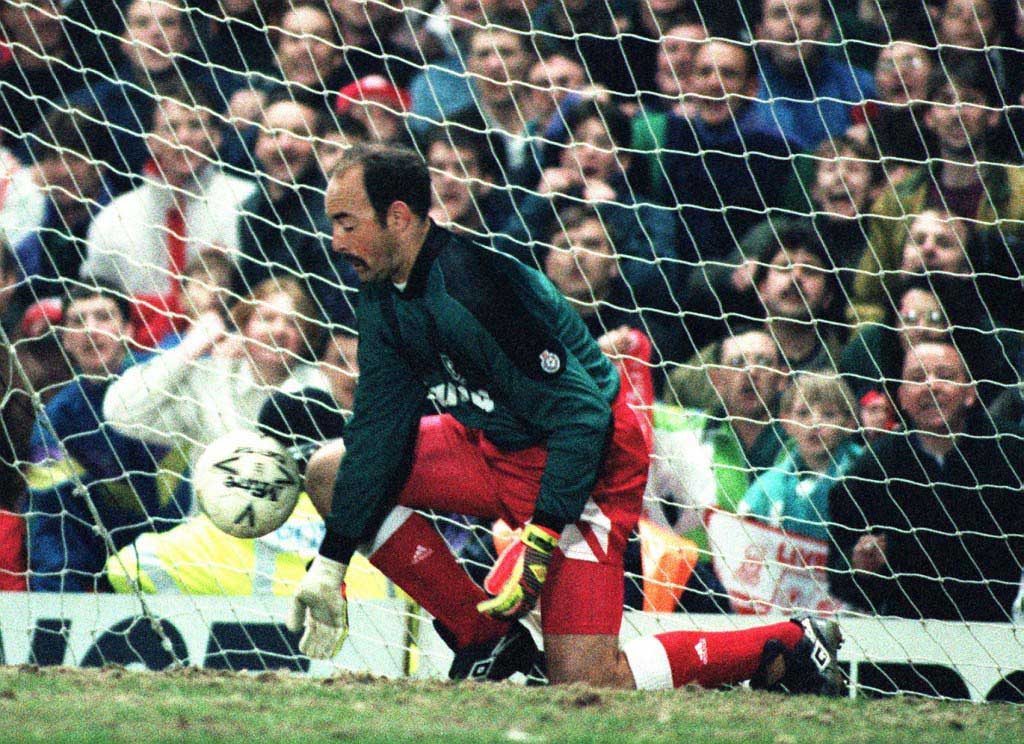 Too often, but most noticeably in the months leading up to the Burnley brouhaha, Mignolet wasn't just making the wrong decision. He wasn't making a decision at all. He'd remain glued to the spot as if weighed down by lead shinpads, content to let others take control. Reactive. Always reactive. Never proactive.
The signs had been there the previous season. For all the drama of the 13/14 title chase, the defence, including Mignolet, was too often the obvious weak link. For the most part, the cracks were papered over. But when they could no longer be papered over, when the team stopped functioning, stopped scoring, the cracks grew into chasms.
I remember the point at which my relationship with Mignolet became strained beyond repair. The League Cup tie with Middlesbrough at Anfield last September. It wasn't the first Boro goal, a set piece headed home from 6 yards out while the keeper walked the line like a Flemish Johnny Cash. Not that. Instead, my personal Waterloo came deep in the second half. The Teessiders on the attack, the ball slotted through from the corner of the penalty box. The runner, positioned on the edge of the area as the pass was played; Mignolet, inevitably, stationed on his goal-line. By the time the Middlesborough player latched on to the ball and clipped a shot against the near post, it had travelled as far as the six yard line. And Mignolet? Hadn't moved. No anticipation. No footwork. Despite having half the distance to cover. Despite the momentum of the ball taking it closer to him and further away from the attacker with every rotation. For me, there was no easy way back after that.
One of the first things impressed on any young goalkeeper is the need to command the penalty area, to make it their own personal domain, to dominate. I've always found it astonishing that Mignolet has advanced to the level he's at today, progressing up the football ladder, without ever having mastered this. I'm genuinely intrigued as to what coaching he received in his formative years, to build on his natural ability. Because the gaps should really have been addressed a long time ago.
In fairness, we saw a different side to Mignolet after the turn of the year. For the first time, he displayed some of the traits many had been crying out for him to develop. His undisputed strengths, the reflexes, the saves, the athleticism, were finally supported by a new-found confidence, a confidence that enabled him to make quicker, better decisions. That was at the heart of his improvement.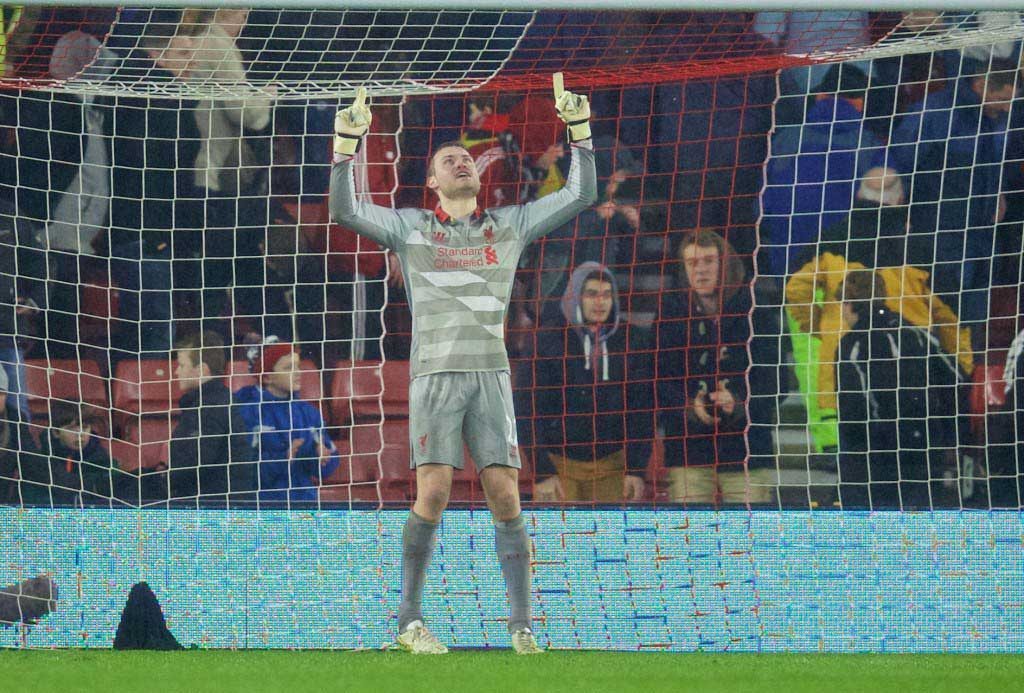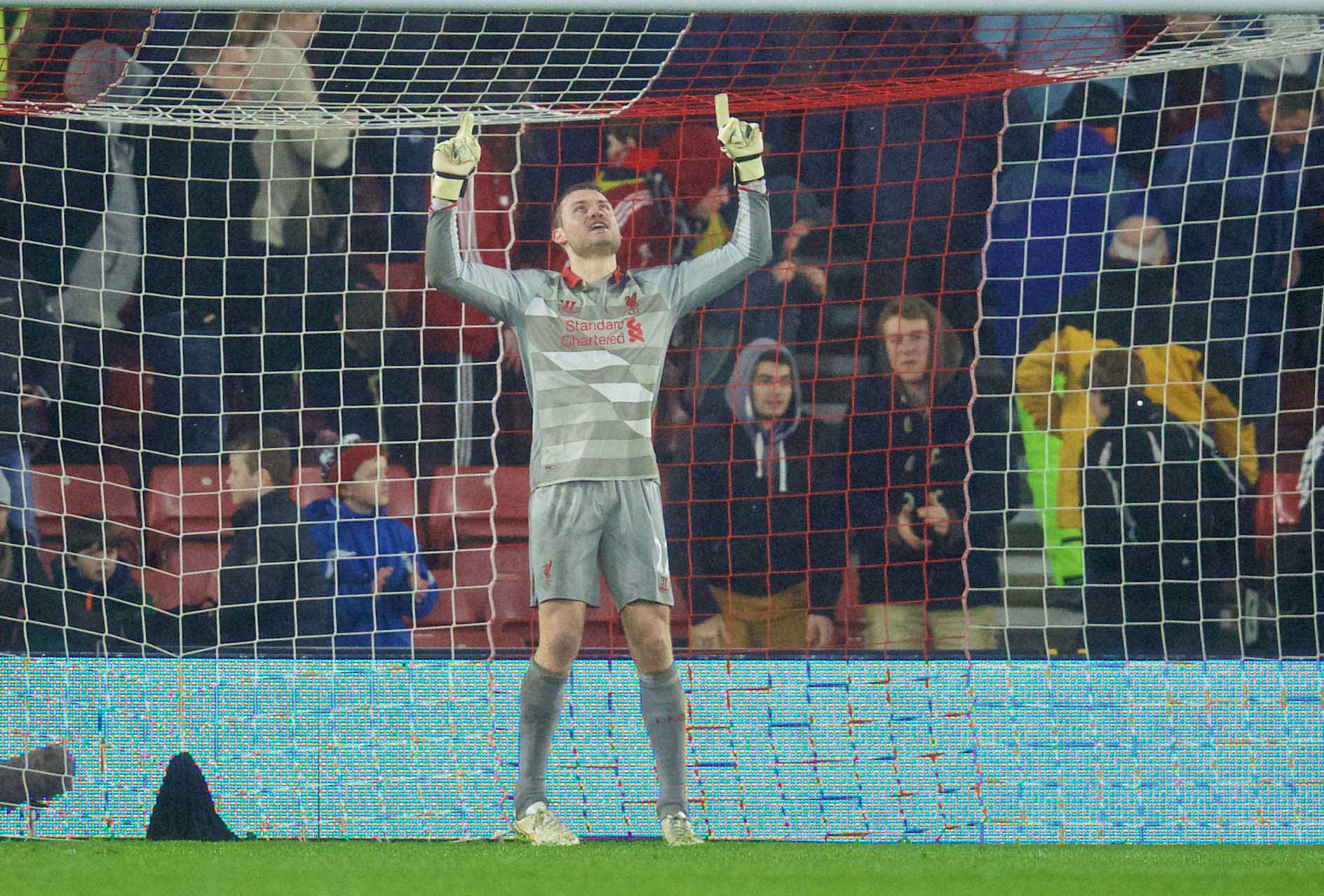 He admitted that he'd previously been guilty of over-analysis, which bred inaction. Quite why it took his fiancée to point this out, rather than, say, a goalkeeping coach who worked with him every day, remains a mystery. But it does provide a clue which perhaps strikes at the heart of the issue. This isn't a side of the game that comes naturally to him. His default persona is generally a passive one. And that can easily mutate into a lack of assertiveness, a fatal flaw in a goalkeeper.
He's 6 feet 4, Simon Mignolet. He's a unit. He needs to act like it. He needs to grow into himself. He's found a lifeline. It's up to him what happens now. Whether he becomes the long-term solution or a short-term problem begging to be fixed. Not for the first time, he needs to make the right decision.
Pics: David Rawcliffe-Propaganda Photo
Like The Anfield Wrap on Facebook