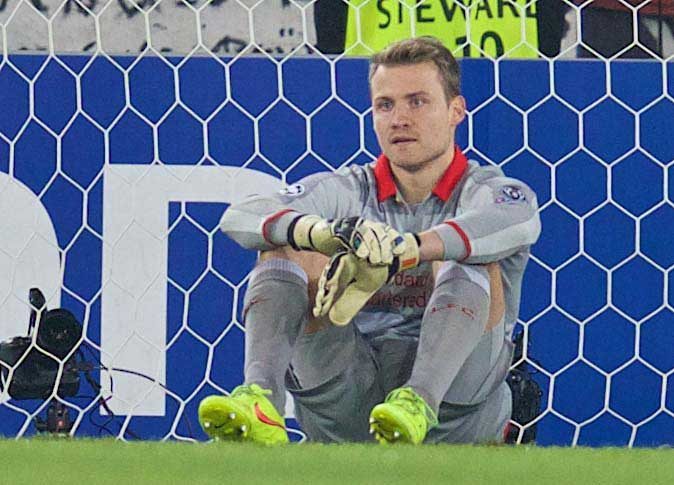 THE prevailing wisdom on Brad Jones right now might echo the coolly downbeat retort of John Lennon when asked about Ringo Starr: "He's not even the best drummer in The Beatles" – writes LIAM BLAKE.
Very droll but, like all the best quotes, it is in fact attributed to the wrong person. It was Jasper Carrot who, as late as 1983, landed Starr with the comic appraisal he'd never live down. Paul McCartney had a go on the skins here and there and musically could probably acquit himself well on a cardboard box, but only the least generous could deny Ringo his due. You would need to have overdosed on the spirit of Christmas, however, to claim Jones is the best keeper in Liverpool. And no, we're not including Tim Howard in the headcount.
Simon Mignolet's career, whatever its trajectory from now on, may never escape the epitaph 'good shot stopper.' Even last season, with the focus very much on events at the far end of the pitch, most evaluations of his stock began with the phrase 'he's a good shot stopper, but…' The 'but' invariably prefaced a list of shortcomings that his fine reflexes couldn't distract from, and were usually the type of failings most modern keepers are susceptible to in any case. He shone brightly at the outset of his career at Liverpool, a talismanic penalty save on opening day proving a harbinger for a high-flying season, and should he eventually find that epitaph does stick, he might justly consider it a little unfair.
It was a high-risk decision for Rodgers to drop Mignolet at Old Trafford, but one with no real consequence. He wasn't left exposed by a high cost error there or subsequently. Jones acquitted himself reasonably well, guilty only perhaps of misjudging the flight of the ball for the first goal conceded at United, thus ensuring that his manager didn't increase the already intensifying pressure he found himself under. But it's nevertheless a decision that could never be truly vindicated unless Jones excelled in stark contrast to his rival. Rodgers can't claim credit for what never happened, any more than Gordon Brown and Alastair Darling  could claim kudos for averting a financial catastrophe that never fully materialised, however much they had to do with that outcome.
Mignolet could easily feel himself to be unfairly singled out here. Rodgers has perhaps succumbed to the search for a patsy that has seen Lovren and Balotelli take more than their fair share of flak for their side's failings in defence and attack. Both have their failings but they've hardly been alone in that. But it's the goalkeeper's lot to find himself in the firing line. In a team game, he stands alone — 'The Outsider' as Jonathan Wilson has recently re-imagined him in his book of the same name.
It's rare to find a keeper who set out to wear the gloves. Most were happily banging in goals for the school or youth team before a sage coach or scout tapped them on the shoulder, had a word with dad and reshaped their destiny. Only managers will pay a higher price for their mistakes.
Strikers will always have another chance to score, midfielders and defenders will have ample opportunity to play themselves back into form, if only from the reserves, but what can a keeper hope to achieve from the bench? Once you've gone from hero to zero — a slight exaggeration maybe in Mignolet's case — only an injury to the lead and a simultaneous opportunity to save a potentially decisive penalty provides the understudy with a shot at redemption and a reboot for his esteem. Pro-activity is an luxury unknown to the man in gloves, he's defined by reaction — when he's benched, he's beached.
If a keeper is to flourish and stand firm in a top side's goal for many years — if he's to become more than just a shot stopper — then he needs the time and space that allows for failure and the lessons it brings. That now seems a fantastical indulgence, with short-term thinking governing the fate of keepers almost as much as managers. There's been a sea change in culture from which football remained immune for some while — now it's leading the way.
Just as there was a time when sitcom writers were allowed a series or two of low ratings and bad reviews while they learned their craft, so too could a keeper earn a reputation for clowning around on the edge of his box — and indeed beyond — while the hearts of every team-mate and supporter danced in its owner's mouth before the benefits of natural athleticism were judged to outweigh an unnatural and insatiable appetite for risk.
Which brings us to Bruce Grobbelaar, whose recent summary of Mignolet was as colourful as his style between the sticks and somewhat uncharitable to boot. He benefited from his manager Paisley's patience — in slower times — though he surely tested it too. He was also fortunate enough to spend a great deal of time as a virtual spectator, shielded as he was by record-breaking defences and back passes that allowed for breathing space.
No such good fortune for Mignolet. With Lovren's reputation decomposing game-by-game ahead of him, the charge of spreading panic cannot be levelled at him alone. In the chaos before Rodgers' recent tactical realignment, there had been no centre, no marshal, no organising voice, nothing had held. Mignolet's qualities were well known before his arrival, and it's hard to believe that bossing the defence was one of them. But to single him out as the root cause, when if anything he's spared his team even deeper blushes on occasion, was nonsensical. To assign the blame for 20 of 50 conceded last term to the keeper alone was to ignore the breadth of a problem that still plagues Liverpool under Rodgers. Scared of crosses Mignolet may be — he's earned a few ironic cheers when he has managed to claim them — but Dracula would have spread less panic than the Belgian in the limp back line of this vintage.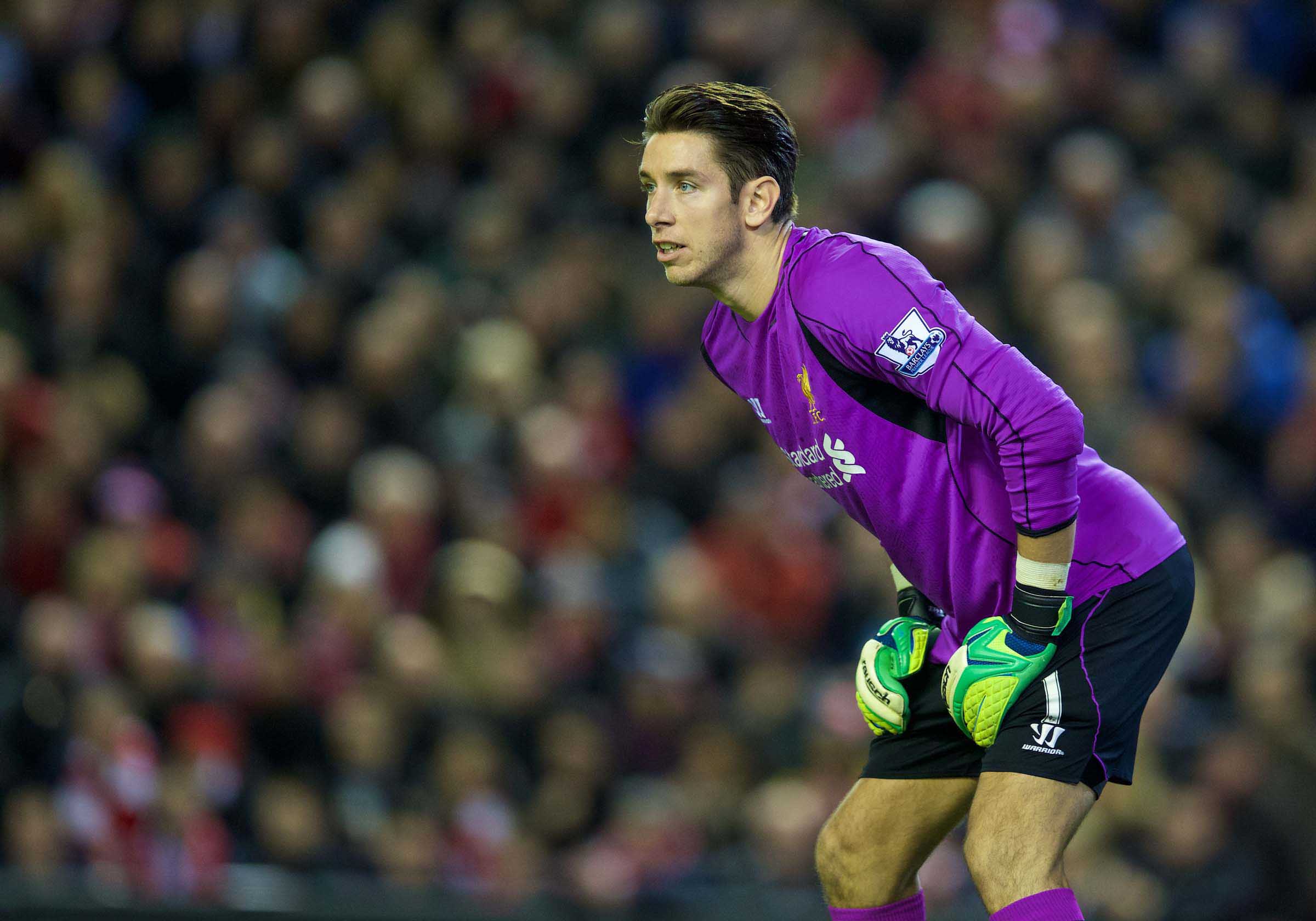 If Grobbelaar's analysis was scatter-gun, then Rodgers' solution to the problem has been questionable. If the problem was that Mignolet wasn't being pushed and — whether the manager acknowledged it or not — there was no-one to push him, then dropping him was an extreme measure; a last resort perhaps. There's a recent precedent, of course — it seemed to work for Joe Hart, after all. But there were key differences. Manuel Pellegrini had, arguably, a more able deputy in Costel Pantilimon at his disposal but, more importantly, Hart was dropped not on account of confidence but form. A succession of errors hadn't dented his confidence and it's to his credit that he was willing to put himself back in the firing line repeatedly — indeed it was in his nature to do so. But form betrayed him; the costly errors stacked up and, crucially, they couldn't be blamed on the back four.
Mignolet's confidence, meanwhile, has withered with the defence in front of him and his enforced return has showed  little sign of it coming back.
As for not being pushed, it's difficult to see that as the issue. The finest keepers, you imagine, push themselves — it's part and parcel of the job. The demands of the position — concentration, judgement, vigilance, self-reliance and decision making — all fit the self-motivating individual. Cech, and more recently De Gea, in the Premier League, elsewhere Buffon — if they require a push, then they do the pushing. There's an example in Liverpool's recent history of a failed experiment in two-keeper competition, with Dudek and Kirkland vying for the gloves. It was no more likely to work than Houllier and Evans managing in tandem — two into one doesn't go, and the one rose as the other fell to the vagaries of fitness and form. Competition had nothing to do with it.
While benching may have worked for Hart, it rarely does for most keepers, and there's little reason to think it will in this case. Jones' thigh strain gave an earlier-than-planned-for glimpse at the results of the experiment and it looks to have been counterproductive — Mignolet has hardly been galvanised. If anything his confidence has been damaged even further — his wait for, and late clearance of, a ball that had already crossed the line revealed a man who wasn't sure where he was, neither position-wise or within himself.
The plan, famously, was to bench him 'indefinitely.' In that one word lies another recent anomaly — Rodgers' sometimes curious approach to man-management. For one thing, it gave Mignolet's dropping the aspect of a punishment — as though he were consigned to detention until who knows when. It was hardly language to spur the reaction the manager was looking for. But, more to the point, why tell us that at all? And why tell us that Simon needs to keep it simple? Just as with Balotelli and Borini, better perhaps to chivvy them along by keeping the criticism — however justified — out of the public arena.
Mignolet in turn seems to have picked up his manager's unfortunate habit of dropping the occasional portentous and counterproductive soundbite, confirming that keeper and manager had indeed spoken but that he would "not discuss what we said". The implicit criticism of his boss points to another relationship suffered out of necessity.
And still we're left to wonder has the experiment made any difference? It's hard to tell, and if it's hard to tell then the answer must be 'no'. The recent upswing in form is due in the main to a tactical tweak but even the switch to three at the back seems to have helped the side when moving forward more than it's helped repel the opposition. Leads are still being surrendered; often quickly and almost always cheaply. Set pieces remain a bête noire for the backline regardless of its configuration; Jones dominated his area no more than Mignolet and Mignolet now imposes himself even less than he did before he was benched.
It may be that Mignolet, like Lovren ahead of him, has found himself exposed by the demands of Rodgers' style of play. A keeper able to command and with the requisite reflexes, but also comfortable as sweeper, at ease with the ball at his feet and with a keen eye for distribution would clearly be better suited. Wait a minute, that sounds suspiciously like Pepe Reina (at his best).
Mignolet may not be the answer in the long run; this experiment might at least have decided Rodgers on that. Maybe he's comfortable as a purely reflexive keeper and no more. Being reactive means you don't have to think, you just — with apologies to Nike — do it. It could be that the proactive edge required of a keeper to impose himself takes him too far out of his comfort zone to be reliably effective.
Against Wimbledon, despite the occasional confident claim, he wobbled when command was required. But perhaps more crucially, one excellent reflex save — no thought required — preserved the lead and prevented a possible replay. Not as Hollywood as Gerrard's already storied contribution, though equally as telling.
So for now, with a defence likely to invite problems upon itself for a while yet, the shot stopper ought to get the nod. Because there will be shots.