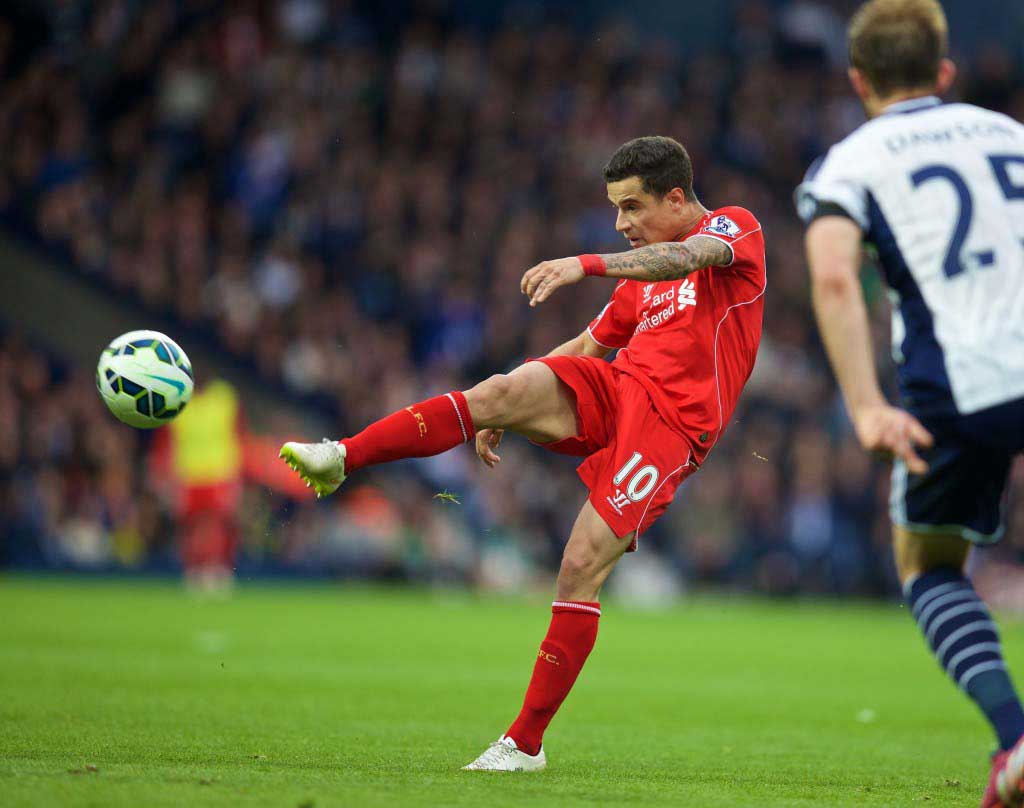 "COUTINHO is the future of Inter." Massimo Moratti said that. That's dangerous, isn't it?
The unnecessary risk of the bold statement that can be used out of context to embarrass later. Very dangerous indeed. Philippe Coutinho is the future of Inter. He wasn't and, let's face it, he isn't likely to be any time soon.
Career paths fascinate me. I often wonder who Martin Skrtel's next club will be. He's knocking on a bit now so I doubt it will be to a European heavyweight. Feyenoord, someone like that. I suspect Raheem Sterling will be back at QPR one day in the same way that I never doubted for a second that John Arne Riise would finally make it to Fulham 10 years after his mum said no. Mamadou Sakho will go up before he goes down. Joe Allen? Villa.
I just can't see little Phil having a Wikipedia page of Vasco de Gama, Inter, Liverpool, Inter. Massimo was wrong.
But, we're always wrong. Brash statements are great as they almost always are. Have a look at these beauties.
Crystal Palace were the 'Team of the Eighties' apparently. Talk about over-reaching. They'd been promoted in consecutive seasons and the London press took one look at a young Terry Venables and went big in their predictions. That majestic rise across the years lasted another four months. Then they got battered by everyone. Neville Southall smirked at that title and awarded it to Everton — seemingly with little irony. I mean, they were a good side but hardly the dominant force in the 80s. Then there's El Hadji Diouf having us on the edge of our seats and Bruno Cheyrou being the new Zidane. Raheem Sterling is, of course, the best young player in Europe. Bold words, lads. Bold words.
Sometimes you just have to be cautious.
https://www.youtube.com/watch?v=V1LmMuaJH4Y
I mention Coutinho's career as it worries me terribly. Since Luis Suarez beat the floor in frustration when we went out of the Europa League to Zenit, it's worried me. Luis has gone, Raheem has gone and, if it wasn't for his injury record, I'd be deeply worried about Daniel Sturridge too, but it's Phil's Wiki page that gets between me and my sleep.
It's the crime of having an incredible talent within an ordinary team. Like Gerrard staring down Philipp Degen across the pitch, there must have been times when Coutinho looked at the lack of movement in his forward line — or lack of forward line for that matter — and wondered just why the hell he bothers. Then, when he became the forward line, he didn't have another Coutinho behind him to play him in. That must have had him putting his hands on his hips and wondering how we'd got from there to here. What do you do when you're the best midfielder in the team and you're still not going winning things? You move to Manchester City, apparently.
But let's be positive. It's a new chapter after all. We can get around this worry by buying better, buying around him, buying to, and above, his level. We can do everything we can to make his CV end with the word 'Liverpool'. I quite like the arrivals this summer so I'm getting a bit more sleep. A bit more.
But I still worry.
I feel like a mother who has watched her children leave home, one by one. Little Luis and Raheem have upped and gone. Steven is gone. Fernando went ages ago and now there's only one little lad left so he's not going anywhere. I want to plough him with sweets and warn him off girls and other clubs and tie him tightly to the apron strings. We can't go through the trauma of losing yet another brilliant player.
Coutinho is the future of Inter.
It's not just the player. It's the attitude. Coutinho kicks advertising hoardings when his defence ships five goals in a half. He tries 30 yarders against the best English goalkeeper. He drags Liverpool past lower yet nuggety lower league opposition in the FA Cup. He tries…well…stuff. There's very little of the prosaic about the man. He's one of the few players who make the crowd sigh when he does something ridiculously great. The game is supposed to be beautiful. It's supposed to be a spectator sport and even though we would happily sacrifice the art for the points (well, I would) the odd moment when you have to rub your eyes are always the best. Southampton away last season. Moments like that. That's what Phillipe Coutinho gives us. Brilliance with a little cherry on top to those watching.
But I shouldn't be worried about him being the next one to go. I should be embracing the next chapter. There's now another Brazilian end in the dressing room so maybe he'll love us more for it. Him, Lucas and Firmino organising nights out in Slaters.
He's 23 now. Born on the same day that the Steve Martin and Goldie Hawn film Housesitter was released to a largely uninterested world. The same month that Denmark won the European Championships despite not having qualified. Anyway, 23 is still young but he's got his feet under the table and has been elevated to the level of 'best player in team/scaring the shit out of me in case he leaves'. It's a big year for him and he should flourish. We've bought actual strikers now. Real ones who can a) shoot and b) get on the pitch occasionally. If you're into that sort of thing he should be assist heaven.
But, I don't want him to be the future of Liverpool. I want him to be part of the future of Liverpool. We've done the stars thing and they end up going and being replaced by dimmer lights so I'd like little Phil to be a cog rather than a focal point. This is 1AS (After Steven) and it's new territory for us all, but I like the idea of him just being a midfield option rather than a 'For God's sake, don't get injured/look about you' player. Teams without stars can be great if they all work together. I'll never see Jordan Henderson pass a ball to a poorly placed Gerrard to fulfil the dream exit goal again and won't miss it. Fewer stars, better players.
The best thing about Coutinho? I've never heard him speak. I really like that.
Coutinho is not the future of Inter. He's not the future of Liverpool. He's just dead, dead important to us. Ten goals and 20 assists please, mate. Ta. Oh, and don't even think about leaving.
[rpfc_recent_posts_from_category meta="true"]
Pic: David Rawcliffe-Propaganda Photo
Like The Anfield Wrap on Facebook