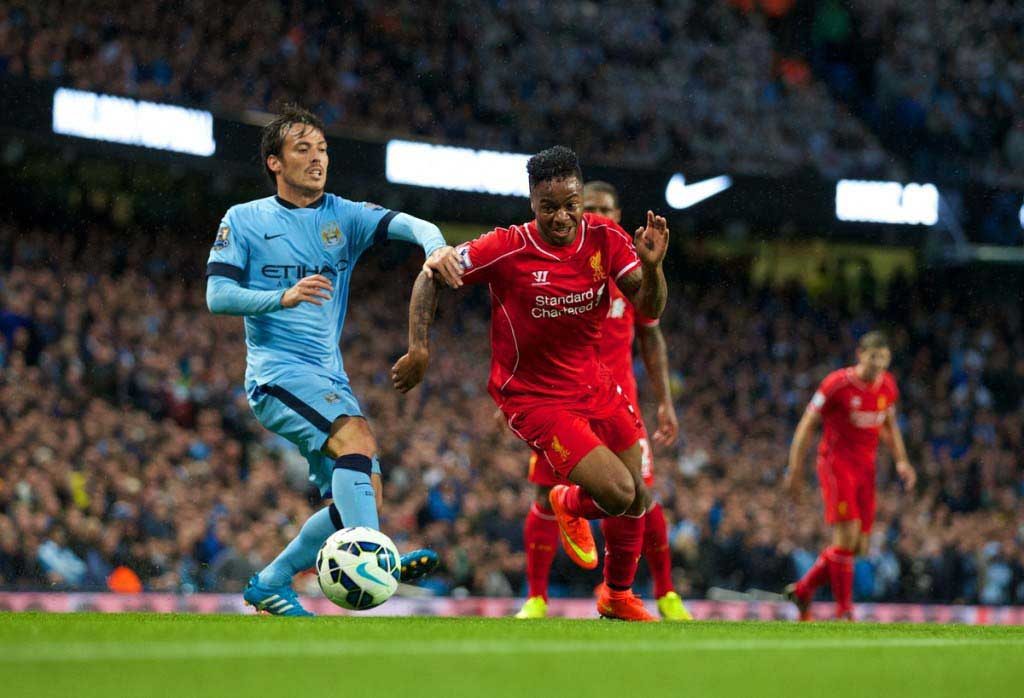 THERE has been a collective loss of heads in the response to Raheem Sterling's £49million move to Manchester City. Not at where the hell do Liverpool go from here after losing one of their brightest talents at the age of only 20, but with the idea that this is a brilliant deal  for the club; that is has extracted a poisonous toxin who was never any good anyway and received a bucketload of cash in return.
A coup! Liverpool have pulled Manchester City's pants down!
It's nonsense.
The divorce has felt inevitable since the first rumblings of contract disputes in the spring and the nauseating interview with the BBC. Brendan Rodgers' public announcement that contract talks had been suspended until the summer really set the alarm bells ringing and Aidy Ward's public campaigning set the mood firmly against the 20-year-old.
Last year, I could only make it to two Liverpool games and unfortunately they were both against Aston Villa. The first, the home defeat in September 2014, saw Sterling enter as a second-half substitute to a rapturous standing ovation. After flourishing in the title run-in, shining for an hour in the Amazon for England against Italy and then delivering an outstanding individual performance at White Hart Lane, the stage was set for his career's upward trajectory to sail ever higher.
Fast forward to April 2015 and the FA Cup semi-final at Wembley, the tide of public opinion had firmly swayed against him. Vilified for a sub-standard display, one of many as the season reached its laborious conclusion, the warmth and affection of last autumn was a world away. The Sterling revisionism of the past few months has airbrushed those halcyon days from memory.
And they were halcyon. Sterling's coming of age was the most enthralling sub-plot of Liverpool's 2013-14 season. Watching someone grow into his potential in front of your eyes, so quickly and so exponentially; from that demoralising, anonymous performance at Hull in December 2013 to the two goals that spearheaded victory over Norwich only four months later. Witnessing the moment that the lightbulb flashes inside a player, when potential becomes possibility, is a glorious thing in football; to see it happen in a title-chasing season, when the pressure to perform is at its most intense, is rare and all the more remarkable.
Sterling had to deal with great expectancy long before his debut in March 2012. The big money move from QPR, a £600,000 fee rising to £5million for a 15 year-old in February 2010. Five goals in a 9-0 FA Youth Cup win over Southend a year later, which prompted Kenny Dalglish to take him with the first-team squad to a Europa League clash with Sparta Prague. His eventual debut against Wigan 13 months later arrived to much fanfare and intrigue. Gone are the days of unknown academy prospects; in the age of YouTube and social media, everyone knew who he was.
To see him deliver on this promise so quickly, to overcome the early struggles and the stagnation that followed a spell of over-playing in Brendan Rodgers' first season, led many to dream. Here was the standard-bearer of the future, a footballer who was meant to grow with the club not abandon ship as the waves surged overboard.
The rights and wrongs of the PR struggle between club, player and representative have been debated to death. It has obscured the fact Liverpool are losing a prized asset, and allowed some fans to celebrate the end of an ugly affair. Joy at the price-tag measured in how the club can spend it — because Liverpool have such a great recent history in the transfer market…
The money should be spent because the club needs to regain some positivity ahead of the new campaign as much as it needs to replace Sterling. The inevitable bandwagon has built behind the more grounded Jordon Ibe, a year younger than his compatriot but nowhere near as developed as Sterling when he was 19. Yet there is Lazar Markovic, the forgotten man on Merseyside, ready to kick on. A year on from his arrival to a new country, a new culture, more settled and developed, and, as his goal in Thailand showed, fully capable when played in his best central attacking position.
https://www.youtube.com/watch?v=YT6pXuQJFlk
No matter Sterling's under-achievement in the second half of the 2014-15 season, Liverpool are poorer without him. He has much to learn and achieve, consistency — not least scoring when the goal's wide open — and a continual need to back himself. When he does so there are few young talents like him in European football for his direct nature, turn of foot, speed of thought, tactical flexibility and positional intelligence.
Harnessed properly the world is his oyster. At Manchester City he will given playing opportunities and give their attack an added dynamic, but he will not have the pressure of being the main man that weighed him down so heavily in his final months at Anfield. No 20 year-old needs that pressure.
When I look back at Raheem Sterling's Liverpool career in five years it will be with a tinge of regret, not good riddance. Regret that his Anfield career was fleeting and over before he turned 21. That we will never see the best of Raheem Sterling in a red shirt. I will remember the goal against Manchester City — the instinctive brilliance and simplicity of it — at a sun-drenched Anfield basking in the glow of the title rush. That precocious full-debut against the same opposition less than three years ago. That magnificent slalom through the Chelsea defence in January. That goal at Norwich.
It's a shame Raheem, it should have lasted longer, but that shouldn't be held against you forever. Liverpool fans should rejoice at what was, not resent how it ended.
RAHEEM STERLING DEAL: NOW LIVERPOOL SHOULD ACT FAST
[rpfc_recent_posts_from_category meta="true"]
Pics: David Rawcliffe-Propaganda Photo
Like The Anfield Wrap on Facebook