THE most protracted and public of departures is finally sealed then. The briefing, the bullshit, the leaks, the accusations will be no more and Aidy Ward's bull in a china shop approach to client representation will become Manchester City's problem to deal with.
Raheem Sterling will become the most expensive Englishman in football as Liverpool bank 80 per cent of the third highest fee for a player in the club's 123-year history with QPR trousering the other 20.
Behind the scenes Ian Ayre, Mike Gordon and the rest of the suits may well be high fiving each other for standing firm during the four-month saga and, at an eventual £49million, only deviating slightly (in relative terms) from the fee they publicly shared was acceptable for the 20-year-old.
But amid the champagne quaffing they should also consider that England's best youngster has left Anfield and the club now has one less game changer within its ranks. The behaviour of player and agent in this affair all too easily clouds the fact that a match-winner has departed from the first 11 for one of the world's richest clubs for the second season running. Discussions around how the situation was allowed to develop and what could have been done differently should be top of the agenda, not back slapping over money. That money can't win points for Liverpool where it counts — on the pitch. Sterling could do that. Any potential replacement carries the risk that any signing does.
That said, for all the inevitable "selling club" talk, when Barcelona, Real Madrid, Chelsea or City come calling (and they are the clubs we have been selling our stars to in recent years) and are willing to pay big for a player that desperately wants to leave there are few clubs that can resist. Not Arsenal. Not Manchester United. Not Liverpool.
Arsenal have fostered the feel-good for fans with the big money signings of Mesut Ozil and Alexis Sanchez in recent years but it's not long ago that they were selling Nasri, Adebayor, Toure and Clichy to City, Van Persie to United and Fabregas to Barcelona.
And all of that while being able to offer Champions League football.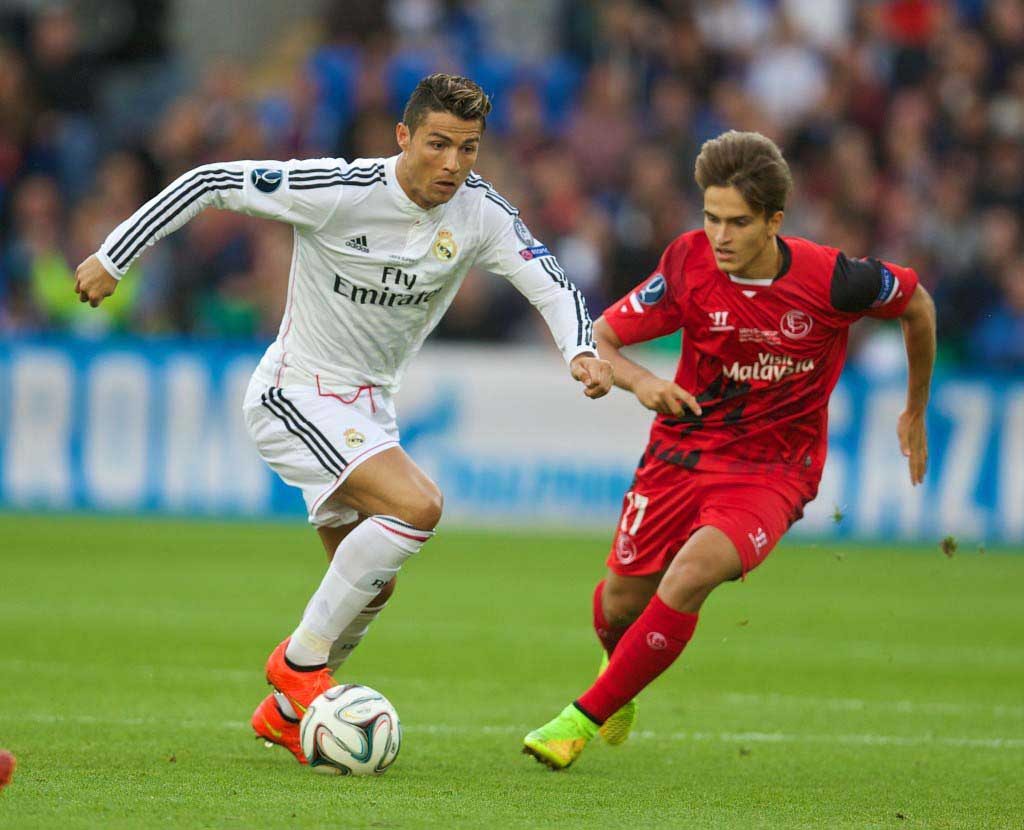 Manchester United sold Cristiano Ronaldo to Real Madrid and Carlos Tevez to Manchester City. They had to fight tooth and nail to keep Wayne Rooney from their clutches, too. Clubs sell players. Particularly ones whose attitude doesn't convince they would carry on regardless if made to stay against their wishes.
Of course underachievement and question marks around the direction of clubs long term facilitates the exits of stars as not only will a player think about his ambition but other clubs will see a chance to pounce, evidenced by the frequent attendance of scouts from Liverpool's rivals at Anfield last season.
Yet Sterling's performances for club and country elevated his status and Liverpool could and should have recognised that and acted accordingly at the time. Regardless of his tender years in football terms, Sterling's salary should have been elevated also. That it was left at the level of an average Premier League footballer while Mario Balotelli trousered £100,000 a week for doing very little clearly laid the foundations for the ugly episodes that followed and a departure that feels premature for both club and player.
At 20 years old Sterling — whose public image has taken a battering — will now shoulder the pressure of being a £49m player who is expected to produce week in week out. There will be little room for error and the failure to convert penalty box sitters is unlikely to be tolerated.
Nevertheless you can understand why he would want to go and why he became disillusioned at Anfield. Football may be a mad world that is like nothing else but players are still human and should be treated as such. In any walk of a life, if a worker felt they were being undervalued – and simultaneously felt colleagues were being unduly rewarded – would that feeling of unfairness grate and ultimately precipitate a move elsewhere? Probably.
Now Sterling has a rumoured £200,000 a week wage awaiting him at City underlining the disparity in valuations of worth that was central to his Anfield exit. Steven Gerrard and Jamie Carragher have both detailed in the past how players were rewarded financially when their progress warranted it and despite all the sighs of relief that have accompanied the end of the saga the fact Sterling didn't receive similar doesn't reflect well on the club.
FSG are determined to attempt to rip up some of the rules that resulted in the club haemorrhaging money in the past but this practice seems questionable. A contract worth £100,000 a week was eventually placed on the table by Liverpool but what took so long for the offer to arrive? It seemed that when it did come it was already too late and the player had had his head turned by City. The back and forth of briefings from both sides had already begun.
Now, with Sterling gone, all eyes will be on other aspects of FSG's often conservative approach. Liverpool need proven goalscorers. Fast. Not potential. Not gambles. Potentially not players with a sell-on value. Just the best available striker that Liverpool can get. Maybe even two with different attributes. The money is there and it is within Liverpool's power to go out and be decisive in the market. The club needs to be competitive on the pitch and too often last season it wasn't. Limiting the market with self-imposed rules seems counterproductive, particularly in this circumstance.
Some may celebrate the cash Liverpool have coaxed from City but time will judge that transaction by the success or failure of the player or players that are bought with it. As things stand, it's seen as "good business". The £50m deal for Fernando Torres was described as similar. Ditto the £75m for Luis Suarez, especially as he had recently bitten an opponent. Now those fees are framed by their replacements – Andy Carroll and Mario Balotelli. What could have been and how that money could have been spent differently are the prevailing thoughts.
As always, any transfer is a gamble but if there's one area where there are few secrets it's the players that can score goals. They cost. They're known. And Liverpool are unlikely to find a bargain when the football world knows there is a £40m booty in the coffers and a striker-shaped hole in the squad.
We've endured one saga this summer. Let's not make buying a striker another one.
[rpfc_recent_posts_from_category meta="true"]
Pics: David Rawcliffe-Propaganda Photo
Like The Anfield Wrap on Facebook