THERE are many things about at the moment that have this feeling of inevitability. The English moaning about the good weather, tennis players beating tennis players who aren't as good as them at tennis, and the transfer of Christian Benteke from Aston Villa to Liverpool.
I realise Benteke to Liverpool hasn't happened, and may never happen, which some would argue may render this article null and void. However, for me the deed is done. It's not whether the player will or won't sign that is bugging me. Unless every single journalist in the country is collectively wrong about the same thing, Liverpool, and in particular Brendan Rodgers, want to sign Christian Benteke. My question is… why?
A few weeks ago I sat here and read an article on this very website by Melissa Reddy that outlined her various concerns about the Benteke links, and I practically tore muscles in my neck with all the agreeing I was doing. It hit the nail on the head. I tweeted that I wouldn't bother writing what I had planned to on the matter as Melissa had not only covered it all, but varnished it and stuck a candle on top.
Then a few weeks went past and the signing still didn't happen, and still hasn't happened as of writing, but the daily stories that Benteke is still 'the man that Liverpool want' don't show any signs of fading.
As those of you with a Liverpool passion will know, or in fact any football fan will, when your team makes a big move like this for someone you're not all that keen on, you go through the football version of the Kübler-Ross model — the five stages of emotion more often associated with grief of losing a loved one. We do like to be dramatic don't we?
First there is denial: "We're not signing him. Rubbish source. That journo got a story wrong four years ago!" Then anger: "What we signing him for?! Sack everyone!" Then bargaining: "If we pull out of this deal I'll drive to Boston and give John Henry a big kiss!" Then depression: "Another sixth place for us, lads. Club's going nowhere" and of course the inevitable acceptance: "He might be good. He was good that one time I saw him. He will be good. He's dead good!"
If you want to see the clearest case of this in action, look no further than Mario Balotelli. I remember vividly at the start of last summer when the search for Luis Suarez's successor began that names were thrown from everywhere. So many names. Then Balotelli's came up. From where I was sitting, it seemed to be a resounding "No!" — even from Rodgers.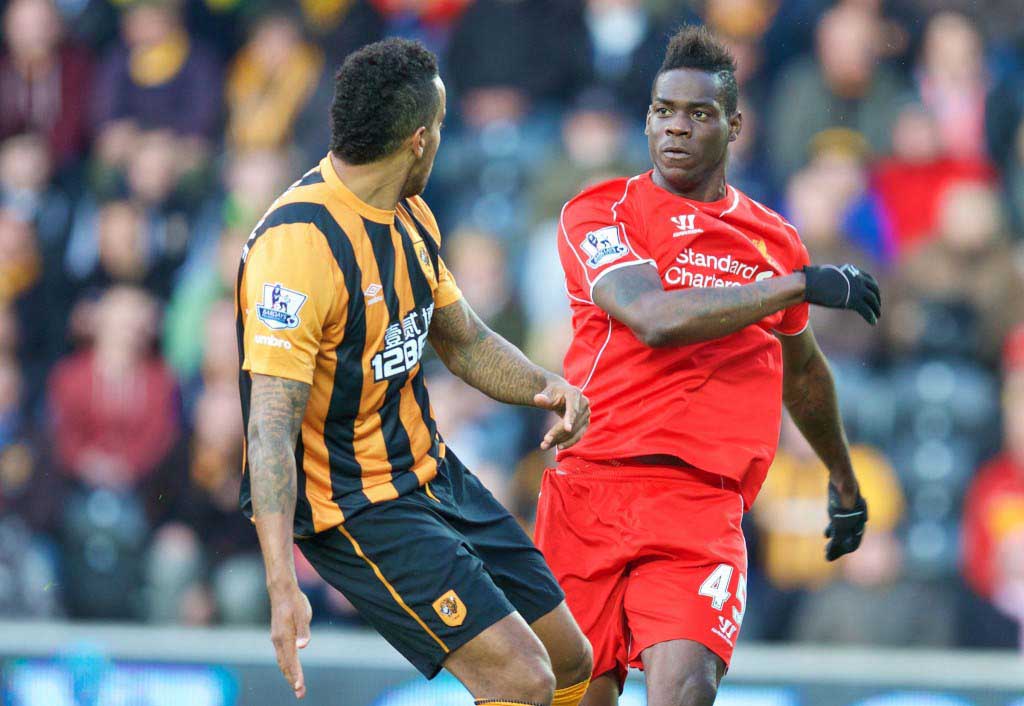 Fast forward past the Sanchez to Arsenal transfer and heading closer to the end of the window, all of a sudden that 'no' became a bunch of ecstatic Liverpool fans taking their tops off and dunking ice-buckets on their heads with excitement at the purchase of the Italian.
This is not me judging as I fell for it myself. The same with Dejan Lovren, Rickie Lambert and Adam Lallana. I didn't really want any of them, but once it became apparent that they were coming and Brendan hadn't got my letters, I thought: "Fine, they might be great." I'd soon convinced myself that Lovren and Sakho could be a league title-winning partnership, that Lallana could come away with 30 assists and that Lambert could score oodles of goals using only his heart.
However, I still haven't gone down that route with Benteke. It feels weird. I thought I was just stuck on stage four, but to be honest I think I've created another stage. Stage 4.5. Confusion.
I've gone over it and over it and think I've come up with the reason as to why I'm stuck. To achieve acceptance you first need to discover that modicum of logic that the manager has seen, or that you've convinced yourself the manager has seen. You might not agree with it, but you can see why the decision is being taken, the thinking behind it. I've looked high and low, but the logic in Liverpool making Christian Benteke their big money striker signing just isn't there to me.
Now to be clear, I know nothing that would get me anywhere near a training field. I haven't even read Inverting the Pyramid (nothing to do with Egyptian protesters apparently). Brendan Rodgers is a Premier League manager with years of coaching experience, badges coming out of his ears (a silly place to keep them really) and the resources to scout anyone and anything football related in the world. I have the internet and Sky+.
It therefore frustrates me no end that I can't see what Rodgers is seeing. No matter how many games I watch from his first and third seasons, or even his time at Swansea when he had Danny Graham up front, I can't see how a Benteke type fits in, or improves what's there.
All I ever keep coming back to is how we played when we were at our best under him, which obviously was the second half of the 2013-14 season, with a slight shout to the second half of the 2012-13 season. All I saw was pace. Searing pace. Scared opposing defenders. Creative midfielders who could pass through scared opposing defenders to pace. Pace who could finish.
LIVERPOOL GOALS SEASON 2013/14 | JUST LIVERPOOL FC from Melicher Laci on Vimeo.
The SAS partnership was a thing of beauty, but it's always remembered as just two quality players being quality to the individual extent that it can't be replicated. It wasn't.
That partnership worked well, partly due to individual quality, but largely because it was two quick devastating strikers who both played on the shoulder of the last defender and caused mayhem by their mere presence. They needed the individual quality to go with it, but it was that coupled with their pace and constant intent to run in behind that allowed us to play with so much intense freedom. The Arsenal demolition, the Everton demolition, near enough every demolition from 2013-14 featured through balls or long balls in behind a defence for a brilliant striker to run onto and score.
If it hadn't been made obvious enough by that season, then last season when Balotelli and Lambert had spent months taking turns at looking like a Fiat Multipla driving around Silverstone, only for Raheem Sterling to come in and change the entire effectiveness of the team just by being really quick, should surely have been a big enough slap in the face to emphasise that this Liverpool team thrives when it has pace up front willing to run off the last defender.
We all remember Sterling's finishing, and how often erratic and sometimes brilliant it was, but what I remember most was how many times he was given the chance to take those shots. Lambert and Balotelli could go weeks without touching the ball in the opposition penalty area. Sterling rarely went a full minute without running at the opposition goal in some way.
The reason why this is so effective is that it keeps the opposition pinned back. Even if your strikers are having an off day, the constant attitude of the opposition backline must be "Let's stay back here, otherwise they'll run in behind us." It allows extra space for the midfield, and to me a big underrated difference between last season and the season before was that our midfield had much less time on the ball. It became obvious as Sterling's appearances started to see Phil Coutinho and Adam Lallana start to enjoy more of the ball and not rush so many passes.
Next season our midfield is likely to mostly feature Coutinho, Lallana, Jordan Henderson and new boys Roberto Firmino and James Milner. Unless Milner gets pushed out wide against his will, the middle of the Anfield pitch may as well be renamed 'Through Ball City'. The potent crosses are unlikely to come from full-back either. Albi Moreno is terrible at them, and Nathaniel Clyne didn't register a single assist last season.
Now I know what some of you are thinking, especially those of you who have managed to reach stage five. "Benteke isn't a target man though."
https://www.youtube.com/watch?v=CVGxa8-SM3I
You're absolutely right, he isn't. However, my argument would be that neither are Lambert or Balotelli. It's not about the fear that Rodgers wants us to lump long balls up to a big man, and even if it were, there would still be that hint of logic there. A tactic that is intended, however silly, and it was the logic that made me and others reach stage five on the ludicrous Andy Carroll deal.
Benteke is not just a big man, and he certainly has more to his game than Rickie and Mario, but the fact is that he's a lot closer to a Lambert than he is to a Sturridge in terms of what he specialises in.
He's excellent at what he does. He can link play, he can lay the ball off to a runner, he can pull off defenders (grow up) to get on the end of a cut back, he can win headers, he can shoot from distance, he's got a pretty good package (grow up!). What of course is most important is that he can score goals. In the last three seasons he averages roughly a goal every other game. Impressive. Some would argue made all the more impressive by the fact he's done it at a team near the bottom of the table.
What especially concerns me though is that last season under Paul Lambert, he was a waste of space. He scored two wonderful goals against Manchester United and Crystal Palace, and did nothing else of note until March. Many argued that this was down to Lambert's negative tactics. Then Tim Sherwood came along.
Sherwood appeared to give Benteke, and the entire team, licence to do pretty much what they wanted, so Benteke decided to score lots of goals. He was imperious, very much the form striker in the Premier League. That was the part that gave me a glimmer of hope that I'd found the logic. I never ever want Brendan Rodgers to look at Tim Sherwood and think "Yeah, I'll do what he's doing.", but on a simpler scale, Rodgers does like to give his team freedom to play on instinct, especially in attack. However, I also don't want us to invest so heavily in a striker who only thrives in certain situations under certain instruction, or lack of. For that money and what we need, I'd want someone who will at least be a 7/10 even if the rest of the team is falling apart around him.
If there are any Aston Villa fans reading, first of all welcome, second of all stop beating us at Anfield you dicks, and third of all this is not me saying Benteke is not good enough for Liverpool, or just turning my nose up at him because he's not coming from a Real Madrid or a Hoffenheim. He's outstanding at what he does, it's just that to me, what he does is of no use to a Brendan Rodgers Liverpool team. I think he'd thrive at Chelsea or United, or probably even in a Jurgen Klopp Liverpool side.
Benteke 'can' run, he has 'decent' pace, he 'can' link up play, he 'can' press, he 'can' play off the shoulder if need be. However, I don't want our main striker to just be able to do those things. I want him to be the absolute boss at them. I don't want a man who just 'can', I want a man who is a specialist at everything we do best.
If I haven't made it clear enough already, I simply cannot understand how after the things he's seen and experienced in his time at Liverpool, Brendan Rodgers hasn't come to the conclusion that trying his hardest to replicate Suarez or Sturridge is the way forward. Of course you can't replicate Suarez, but I don't understand how the next solution is to go after someone who is nothing like him at all.
You look around and they are there. The obvious candidates have been mooted, Alexandre Lacazette, Pierre Emerick Aubameyang, even Carlos Bacca. Any one of those would make infinitely more sense to me than Benteke does. I read an interesting discussion on Twitter the other day that brought up Saido Berahino's name. It occurred to me that I'd even rather have him over Benteke. Overall the Belgian is a better player, but for what Liverpool need and how the team needs its strikers to play, Berahino would be far better suited. Just a shame he has an agent who is to football what Captain Hook is to rectal thermometry.
Rodgers is all in on this decision. It could make him or break him. Assuming this deal does happen, then for his sake, and mine, and ours, I really hope that the Premier League manager is right about this, and this simpleton with a keyboard is very wrong (it's been known to happen).
Don't worry, by the time the season starts, I'm sure I'll have found that logic. Keep an eye out for a tweet from me along the lines of 'The Kop has a new hero! #Benteke-taka'.
[rpfc_recent_posts_from_category meta="true"]
Pics: David Rawcliffe-Propaganda Photo
Like The Anfield Wrap on Facebook
Subscribe to TAW Player: https://www.theanfieldwrap.com/player/subscribe