Silly season. I detest it. Practically every little inch of it. The false links to leave publications sat back, feet up, feeling the clicks.
The faux outrage at anyone rumoured to be joining Liverpool who doesn't have some touch of the exotic. The opportunistic hordes who claim to know what's happening inside the confines of Melwood and Chapel Street only to be as right as a left foot. The Usain Bolt dash to YouTube to watch videos, which we know only showcase the beautiful bits, yet still leave people feeling like they've bedded Miss World when it's only Miss From The Hair Salon Down The Road with exceptional make-up application.
The expectation is as tall as Peter Crouch when the reality is as short as Michael Owen. The endless hope for a magic pill of a player who comes in, fixes all ills, and takes us to a whole new world. The incessant whining when a club targets X,Y,C instead of the A,B,C you wanted. The furore when a target there was no chance of landing, and of little interest to begin with, ends up at the destination they were always going to arrive at.
Perhaps, above all, the most annoying aspect of the transfer window is that it has this saviour air to it — your club can go from Clark Kent to Superman with some powerful recruitment, yet at the close of business, kryptonite always seems to win. Sorry lads and ladies, no superhero to see here.
The rinsing and repeating of mistakes can wrestle the most bullshitting of ITKs and win the annoyance stakes hands down.
So, then Christian Benteke. With Daniel Sturridge only expected on the field again around mid to late October, a premier forward is the priority for Liverpool. A lot is said of the club's transfer strategy, but can you term it that when the funds and willingness to buy Alexis Sanchez then becomes a punt on (he of medical-failing fame) Loic Remy, who is swerved because — surprise — he fails a medical, and ends with a gamble on Mario Balotelli who, given the football philosophy and the unwillingness to pair him with a partner, would have been better served as the club's social media manager, which then swings into town again and heads to Benteke?
https://www.youtube.com/watch?v=umN3XJrOgoQ
What exactly does the club want up front? A forward who makes intelligent runs, worries defenders with pace and movement, opens up spaces, links well with other technicians, presses incessantly, and is regularly on the scoresheet? Or a forward who heads well, bullies defenders with power, drops deeper to collect the ball — often in the space your technicians operate in — and can finish well?
The Belgian would represent a good buy for several Premier League sides, but not for Liverpool for a few reasons.
Benteke's injury record over the past two seasons reads: groin, knee, Achilles, hip. Given Daniel Sturridge's time on the treatment table, the Reds cannot afford to recruit another fragile striker — especially one that is priced in the region of £30million.
He is unplayable on his day, but his day doesn't happen often enough. Benteke netted in nine Premier League games for 2014-15 and in eight the season before. The club need to have a season-long threat, and while his numbers are not bad, he most certainly is not made for a marathon given recent history.
His playing style is at complete odds with the philosophy. One of Liverpool's core issues in the recently concluded campaign was the clash between personnel and the pillars of Brendan Rodgers' blueprint. Rickie Lambert and Balotelli both stifled and nullified the strengths of Philippe Coutinho, Liverpool's Player of the Season.
They had neither the appetite to press, nor the desire to be constantly on the move. The lack of choreography and pace up front did not just hurt the Brazilian; Raheem Sterling found himself ahead of play and isolated, Steven Gerrard was a quarterback with no receivers, Jordan Henderson's runs from deep were pointless without a buzz in front of him to occupy the opposition, Adam Lallana had to hold onto the ball longer than was ideal and Lazar Markovic got into the habit of passing backwards without decent forward options to feed. The disjointed nature of the attack was much more frightening and real than the Enfield Haunting.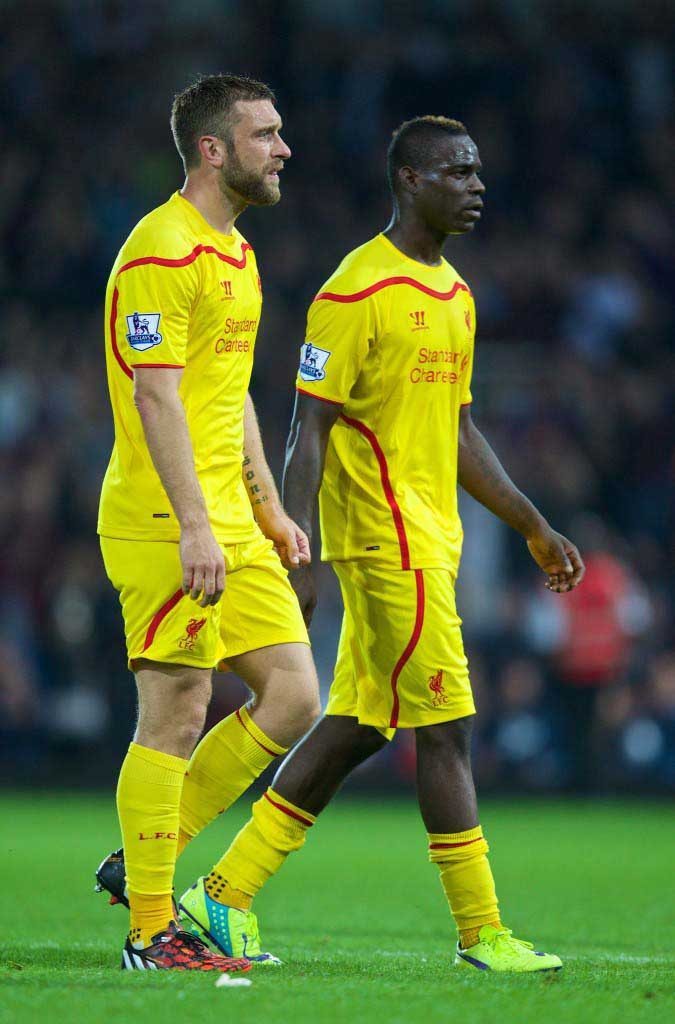 "If you cannot press, you cannot be in the team," was Rodgers' reason as to why Balotelli was on the bench, or updating his Instagram on match days. Keep that quote because Benteke does not defend from the front, it is not in his arsenal. Can you teach him to add it to his game? Why would you drop £30m on an answer you're not sure of, especially when you've had an entire season to see that when the philosophy and personnel are a Ferrari and a Fiat, you're going to have a car crash on the pitch.
The 24-year-old, like Balotelli, likes to drop deeper, take touches and have a crack from distance. The Aston Villa man will thus often want to operate in the space that sees Coutinho conjure his magic. Why would you copy and paste a situation that deters your best player? Another concern is Benteke's poor pass success — 66.7 per cent this season — one of his major weaknesses is being wasteful with the ball. For comparison purposes, Sanchez's is 76.8, Aguero's is 85.7 and Sturridge's is 79.2. He can also infuriate with his inability to stay onside.
Liverpool's frontline needs to be fluid and fluent: pressing, key passes, dribbles and through balls are important assets for a team intending to be aggressive in and out of possession. Benteke's greatest strengths is his aerial threat, direct free kicks and shots from distance. Chalk and cheese.
An argument can be made that perhaps Liverpool's attack needs some balance — a beast among the beauties. Well, that was the ideology with both Lambert and Balotelli and we know how that story ended. Before you point to the fact Benteke had a much better term than either, look at the goals both registered before joining a playing environment that doesn't suit them.
How many times this season has the sentence 'the difference Alexis Sanchez would've made to Liverpool' been delivered by the likes of Jamie Carragher and Gary Neville? Has anyone (aside from the transfer committee) thought that Benteke is an answer to the club's issues in attack? That he is exactly what is required?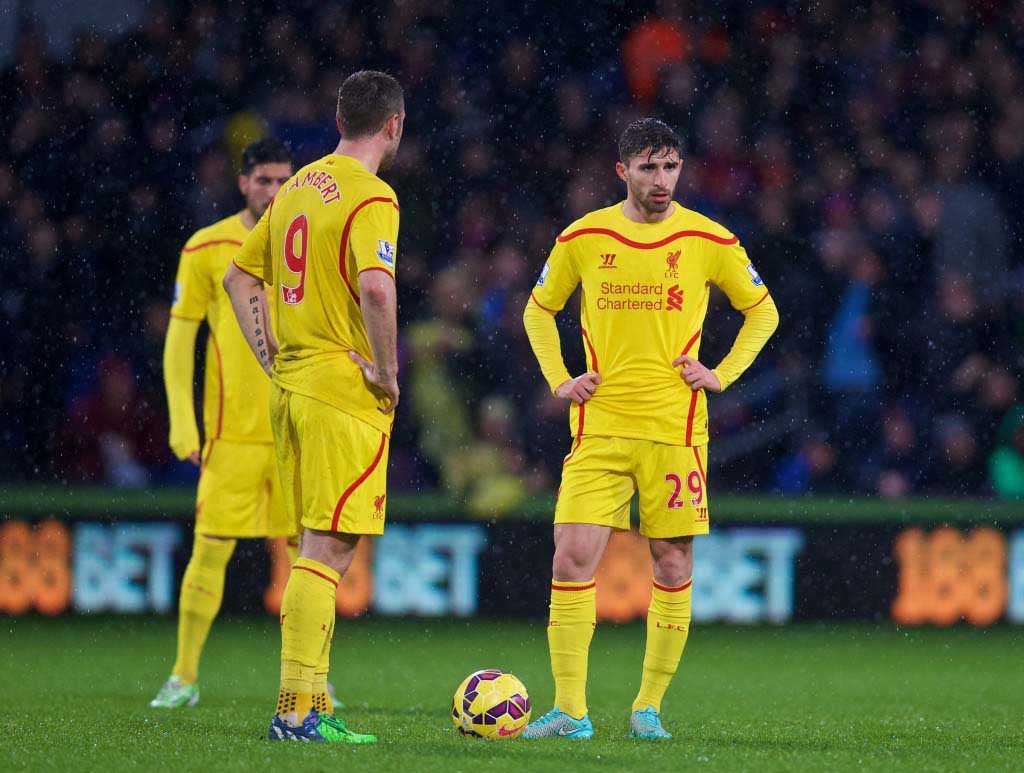 Liverpool's strike force 2014-15: Sturridge, Lambert, Balotelli, Borini. A grand total of eight league goals.
Liverpool's potential strike force next season: Sturridge, Benteke, Ings, Origi. Who do you put your house on here to hit 20 in the top flight? Who dominates throughout the campaign? What's the hierarchy? Is there one? Do Sturridge and Benteke dovetail? Who does the pressing between them then? What happens if Daniel and Christian are sidelined? Do you risk another situation when your three and four become your main 'threat'? What happens if some of the blanks don't shoot off elsewhere? Given the failings in front of goal, is this the strongest possible solution? Are the scouts exploring every possible avenue and advantage? Are we being smarter and bolder than those above us?
Smarter. And bolder. That is not an option for Liverpool, it is a requisite. Chelsea, United, City and Arsenal are in the plush seats. We have to see the space before them, play the passes quicker, anticipate better, shoot harder…
But 'it's not that simple', 'the wage bill' 'the odds are against us…' Those soundbites are for a club happy with sixth and seventh and who count Tottenham as peers not the Arsenals, let alone the Chelseas. This is the reality, but it can't continue to be or Liverpool should simply become bezzie mates with mediocrity.
For a second – scratch that – for as long as it takes, let this table of the club's league finish over the past six seasons sink in:
2009-10 | 7th | 63
2010-11 | 6th | 58
2011-12 | 8th | 52
2012-13 | 7th | 61
2013-14 | 2nd | 84
2014-15 | 6th | 62
Rewind to the balls of the 2013-14 season: showing and telling teams 'all the best'. It didn't bring a title, but it brought fearlessness and fun. It put a scare in Manchester, it spooked London. So close and now we're here again — so far. The club didn't replace Luis Suarez's footballing catalogue or adequately account for Sturridge's history with injuries, and it still doesn't look like they will.
That season was the exception, not the expectation. And it will remain as such until Liverpool decide if they exist to win trophies, or if they simply say they do.
Silly season. I detest it.