FRIDAY, May, 22 – until the club experienced "technical issues" and extended it until next Wednesday, today was the deadline for Liverpool FC season ticket renewals. The 2014-15 season not even finished yet and Liverpool fans are handing over oodles of cash today for next year's adventure.
My first season ticket, which cost just £45, aged 14, came back in 1982 and I've had one ever since.
Along with thousands of other diehards, I've renewed, and in my case, I'm handing over £735 x 2, so £1,470 for two adult tickets in the Spion Kop; one for me and one for my son, Sam who turned 17 years of during the current campaign. I did this with a heavy heart. Being a Liverpool fan isn't, or shouldn't be, a financial consideration. I can't really afford it, but we have to afford it if a part of our lives that means football, friends and family isn't to go by the wayside.
Early last month, on the announcement of next season's pricing, I wrote an open letter to John W Henry expressing my dismay and sadness at the absence of any concessions for young adults in the 17-21 age bracket — something that sees my son's ticket jump in cost by £535 from £200 as an under-16 to a full adult price. The same letter was sent directly to the ticket office at Liverpool FC requesting that they consider the introduction of an extra pricing tier to reflect the status of Sam, who is still at school, and other young people; either not yet in full-time employment or those unfortunate to be unemployed.
This was something promised at the Anfield ticket office window this time last year when Sam (pictured below), after paying a full adult price aged 14 and 15 after being on the waiting list since birth, was able to take advantage of newly-introduced junior pricing. The advent of a price for children was a welcome development, generating good PR, albeit one which cost the club very little in terms of revenue such is the minimal number of juniors who hold a cherished season ticket.
Despite my protestations, my plea has fallen on deaf ears.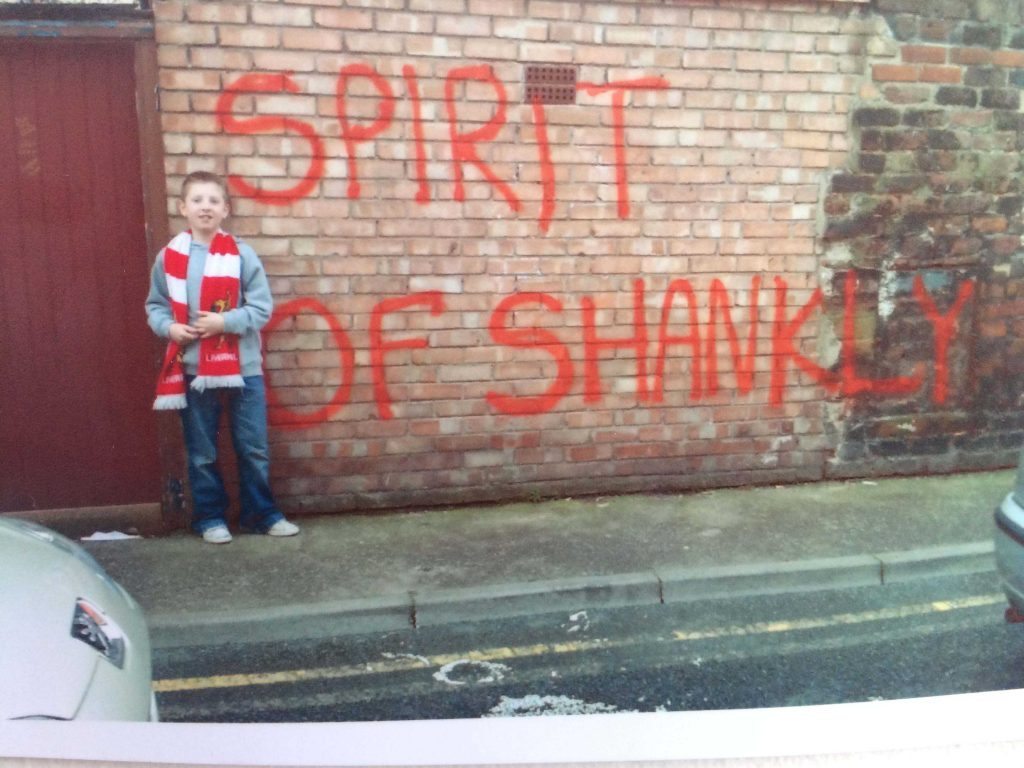 What I must put on record is that the person who handled a lengthy dialogue on this matter on behalf of the club displayed sensitivity and understanding, offered a willing ear and conducted themselves in a thoroughly professional and caring manner. This was not one of the ubiquitous "suits" — the incongruously placed club officials who saw fit to share the pitch with Steven Gerrard on his last Anfield hurrah a week ago, but instead, one of the good guys; definitely someone on our side who admits that pricing structures need further review.
The matter has been discussed already with the ticket working party group, which has representation for Spirit of Shankly and Spion Kop 1906.
However, despite the matter being raised at a higher executive level (and here we are to presume with FSG) the answer to my request was a polite, but firm "no".
Sam, and his fellow schoolboys, students and unemployed season ticket holders will stump up a full adult tariff of between £735 and £869 for season tickets or face the prospect of packing up watching Liverpool. Just have a think about that — giving up the match at 17. It's just plain wrong.
Once again, it is worth noting that very few young people make up the average Anfield crowd for league fixtures and even fewer hold season-tickets. They number in the hundreds, rather than the thousands. By my calculation, one not disputed by the club during a meeting with the working party, there are (and I'm being generous here) approximately 500 young people in this small cluster — a sad indictment of Anfield's rapidly ageing demographic.
So, why has my request to introduce a 17-21 season ticket price, a concession available at other clubs, Everton and Manchester United included, been rejected? To begin with, I've been advised that it is being looked at; a high priority on a long list of issues pertaining to ticket access, particularly for locals, and cost per se.
Fantastic. But I heard the same thing last year. Forgive me for being cynical but can I be confident that a price for young adults will definitely be available next May? I haven't been given any categorical assurances on that front, so read into that what you like.
The reasons given for the price charged to a 17 year-old schoolboy remaining set at £735 are as follows.
Ticket budgets for the upcoming financial year had already been set. Apparently "it is about finding the right time" to correct the wrongs of a previous regime; a convenient "not me, guv'nor" shift of the blame on to the ownership predecessors of FSG.
If we accept that a deliberate policy to exclude children and young adults was a plan hatched by "custodians" Hicks and Gillett (but let's not presume it doesn't predate that sorry period) then wouldn't it make sense to do the right thing and actually put it straight? A wonderful PR exercise perhaps — one which would convey a sense of understanding, long-term vision, a desire to re-connect with an increasingly disenfranchised local community?
No. It would seem that the bean counters are too concerned with counting every last English pound to care about all that. Which brings us back to budget. Let's have a look at the figures. Let's talk the accountant's language. What exactly is the price of doing the right thing and removing the risk of losing our remaining young fans before they've even left school or found work?
Creating a season-ticket price with a 50 per cent concession for 17-21s, based on my uncontested approximation of there being 500 in that category, would cost the club in the region of £150,000. Total season ticket revenue (which doesn't include single league match ticket purchases) brings the club in the region of £20million per season. This is a conservative estimate to hammer home the point — that the concession mooted above would require a piddling adjustment of 0.75 per cent to the revenue prediction relating to season ticket revenue.
But it's about "finding the right time" — despite the club being fully aware of this the moment they introduced the under-16 pricing last summer. I was perturbed to hear that this "difficulty" is weighed up amid "lots of noise around ticket prices" arising from the Hull City boycott, the Twenty's Plenty campaign and the "Black Flag" protest at Anfield earlier this season in response to the fact many of the young lads in the Spion Kop 1906 group — who provide the colour and visual backdrop the club markets so aggressively as the "Twelfth Man"–– have already been priced out.
If the club thinks the "noise" is going to abate, they can think again.
In the middle of my dialogue with Liverpool FC, Sam received a letter offering him concessionary prices for next season's cup ties. Reduced pricing to attend Capital One and FA Cup and Europa League ties but only if you first stump the adult price for your season ticket. The letter might have been headed, "Save yourself some money, young man, but pay an adult price for the privilege".
The depressing Anfield atmosphere is now almost a cliché; a symptom of an ageing and increasingly embittered local crowd. A generation of teenagers have already been priced out and follow the Reds on Sky at home or from the pub, joined by many of their dads. Thousands still swallow the bitter financial pill, but make no mistake thousands have already bitten the Anfield dust.
Cast your eye around Anfield and it is easy to see seats once filled by loyal supporters that now sit a legion of once-a-year customers with little appreciation of the notion of support or tradition and for whom an annual pilgrimage makes the cost of a single match ticket seem palatable.
Most of us have had enough. This is not about winning and losing. It's about reclaiming our birthright and watching Liverpool at Anfield. It's not yours, it's ours and we're not giving it up without a fight.
It's time for FSG to prove they care; to prove their words and promises aren't hollow. It's time for them go a step further than "recognising" issues and do something to address them. So, 17-21 season ticket pricing for next season? Greater access and fairer pricing for Liverpudlians and young people in general?
All these things are high on their list of priorities, or so we're told. My message, on the day when the lifeblood of this football club feels an enormous pain in the wallet, is that we're watching you closely. This can't go on. Prove that you care, or we will assume that you don't.
[rpfc_recent_posts_from_category meta="true"]
Pics: David Rawcliffe-Propaganda-Photo/Mike Nevin/80scasualsblog.blogspot.co.uk
Like The Anfield Wrap on Facebook