MANY of you will not like this, writes MELISSA REDDY.
Some will scoff and spit at it. Quite a few won't even finish reading it. These words won't be fashionable, but they're required at a stage when the vitriol coursing through popular opinion is continuously more venomous.
Brendan Rodgers. Type that name into your Twitter search bar and you'll trip into a pile of fresh, steaming dog poo. And that's underplaying it. The personal pellets hurled his way on a daily basis are utterly diseased. Mario Balotelli recently asked his social media attackers 'what is wrong in your lives?' in order to perpetuate this ugly cycle and it's a pertinent question with the manager as well — why do so many feel the need to be so malicious towards him? 'It's only the keyboard warriors who resort to that,' would probably be your likely response, but unfortunately you'd be wrong.
In the Paddock at Anfield, directly behind the dugout, I've heard shouts of: "Brendan, change it. And I don't mean your wife." It was followed by howls of: "Brendan, change it. And I don't mean your teeth." No way that escaped the manager's ears. You know, the manager who will tell anyone that will listen how much of a privilege it is to work for this esteemed club with its esteemed support. Those aren't empty, PR words either — the evidence is there for those who choose not to ignore it.
Elsewhere in the Main Stand, ahead of the game against Arsenal in December, two lads were discussing how "we'll probably lose today, but we'll be closer to seeing the back of that twat. That's still a win". Gobsmacked. That statement floored me like I was Jerome Boateng falling to worship at Leo Messi's altar. Problematically, that kind of talk is not in isolation.
Nothing on this subject knocked me sicker though, than a conversation I walked past outside the Paisley Gates. It centered around how the only reason the captain of Liverpool, you know the one whose given 17 years of service and has often carried the club and city on his shoulders, was still being selected is because he rents his house out to the tactician.
Grown men with the filthiest garbage gargling in their mouths.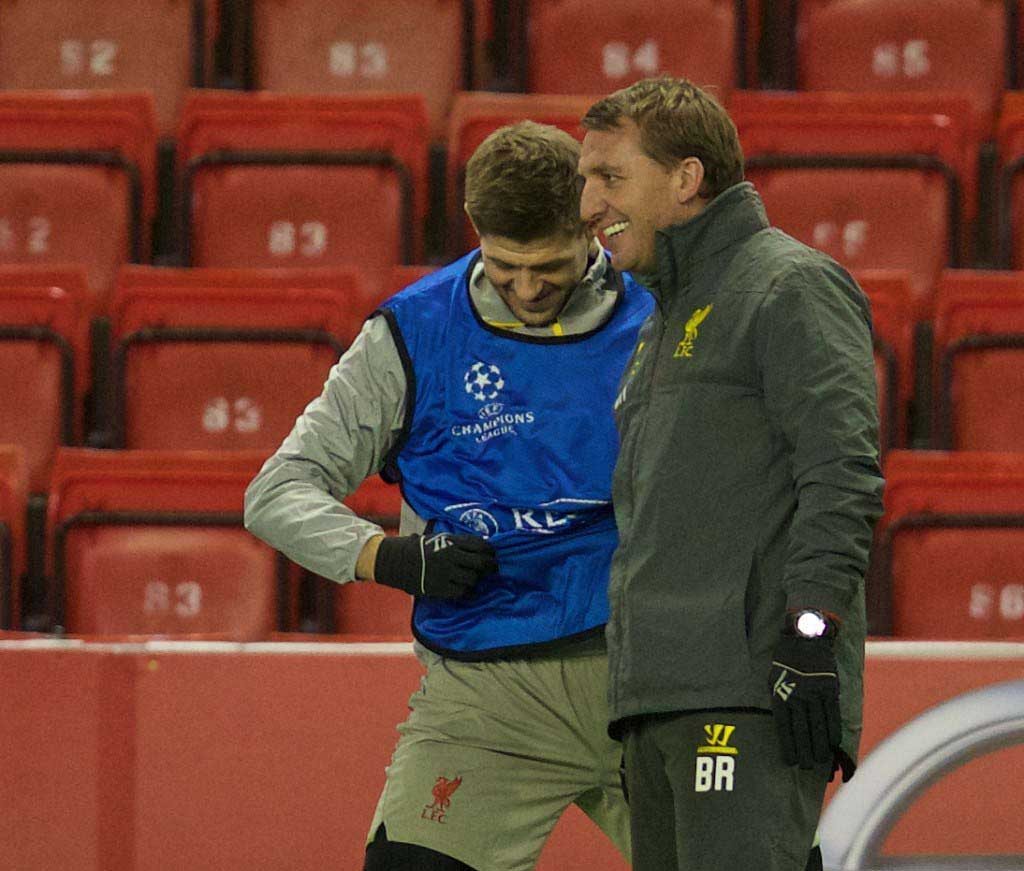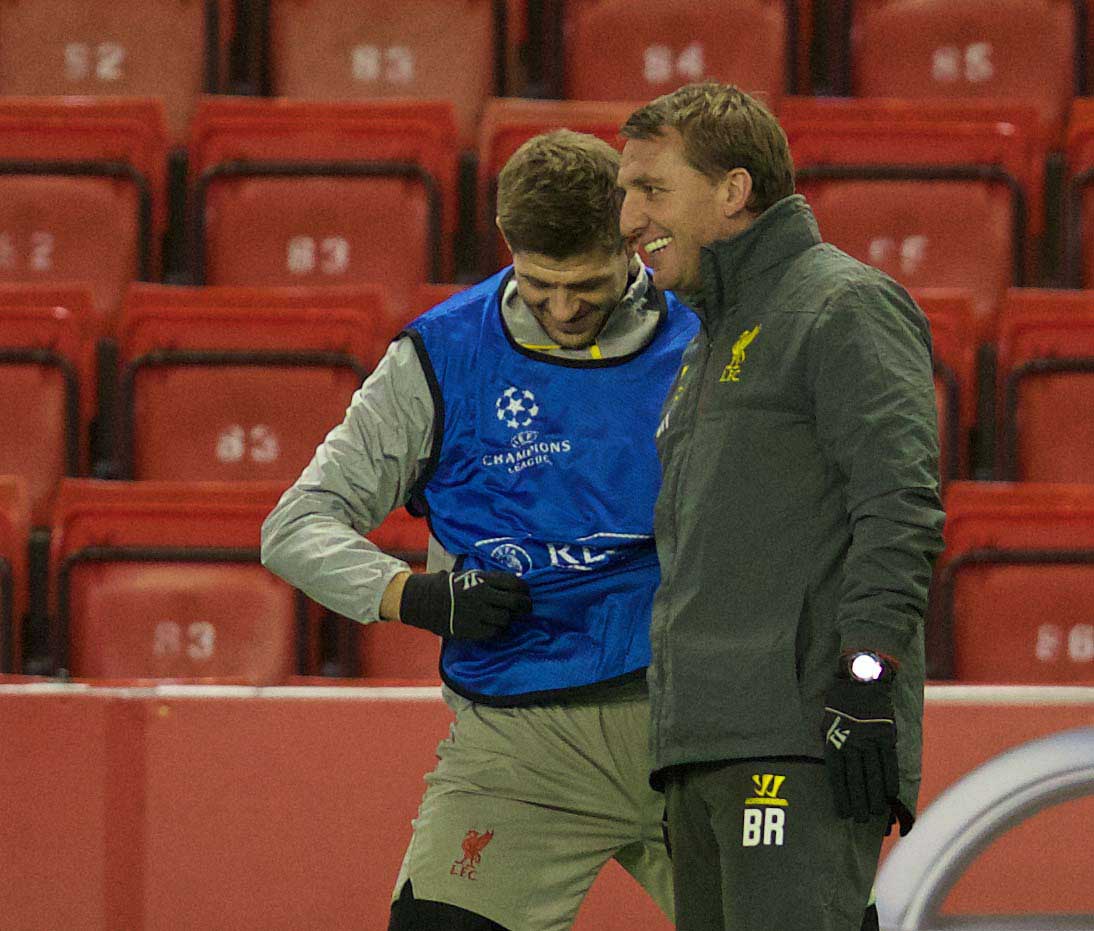 That is a shameful accusation to level at Rodgers, and how dare Steven Gerrard be insulted with such gutter speak? The outgoing skipper may no longer be the all-action hero, but honestly, that is a car crash of a opinion passed as fact. One which casually just slaughters one man's principles and completely defaces the other's contributions. Pull yourselves towards yourselves, please.
At a trendy Berry Street hangout in the city centre came another punchline: "Brendan can't even manage his marriage, how can he manage this football club?"
DISGUST in Caps Lock.
Then, there was that embarrassing banner flown over Anfield. There's not enough Fs, Bs, Ps, and Cs in my vocabulary for that.
You do not have to like Brendan Rodgers, you do not have to agree with every tactic he employs or the 'outstanding' term he chooses to use post-match. You should, however, have the decency to treat him in a manner that doesn't mirror the droppings from an animal's backside.
Too many people have made it personal, and so, I'm going to do the same.
Last year, the manager heard that a young employee at the club — not one in his sphere of Melwood — was undergoing life-changing surgery. The night before the patient-to-be was due into hospital to prepare for the operation, he received a phone call off Rodgers, who encouraged him to be brave and think not of the procedure, but of the betterment that would follow it. It touched him, and even now, the lad cannot fully articulate how much that gesture from the boss meant to him.
When Jordan Henderson's dad was diagnosed with cancer before Christmas in 2013, he agonised for ages about how to break the news to the midfielder, eventually telling him shortly before starting treatment on his throat and tongue. After the emotional reveal to his son, Brian wanted to meet with the manager. "I went to speak to Brendan Rodgers at Liverpool, who was very understanding. He gave Jordan time off, and the people at Liverpool were amazing," he explained.
Henderson too was appreciative of the support he received from the gaffer, telling the Independent: "He was so good to me and my family when my dad was having surgery and he doesn't just manage players in a football sense, it's more than that."
Throwback to the times Raheem Sterling spent splashed across newspapers over accusations of assault rather than contract negotiations, and one of the primary people ensuring those indiscretions didn't become a regular theme was Rodgers. "He helps me a lot with not just my football but if I need someone to talk to about off the field then he's there for me. He's helped me massively, especially on the pitch as well, so I have to give credit to him and thank him a lot," admitted the attacker.
In Luis Suarez's autobiography, Crossing the Line, the striker revealed how the 42-year-old inspired the squad during their title tilt last season by speaking to them in a language they all understood — the love of their mums. "Brendan Rodgers had been delivering very special team talks. He had contacted our mothers, one by one, and asked them to write something about their son. Before every game as we went on the run which saw us come so close to winning the title, he would spend the final few minutes before we went out reading what one of them had said in front of the whole team. The final word came not from the manager but a player's mum."
Philippe Coutinho detailed how that unconventional approach, both emotional and encouraging, fired himself and the team up.
In January this year, Rodgers sent a personal letter of condolence to a supporter whose grandfather had recently passed away. Joe, the recipient of the note, explained: "I couldn't believe it at first. I took it straight to my dad to show him.
"We were both absolutely made up that such an important person for the club had thought about the family at this sad time. It was a great gesture on behalf of the manager and club that they took the time to write a letter at this busy period for the club.
"I'd like to thank them on behalf of the family as it means a lot to us. I would love to get the chance to personally thank Brendan Rodgers for making a hard time a little more bearable."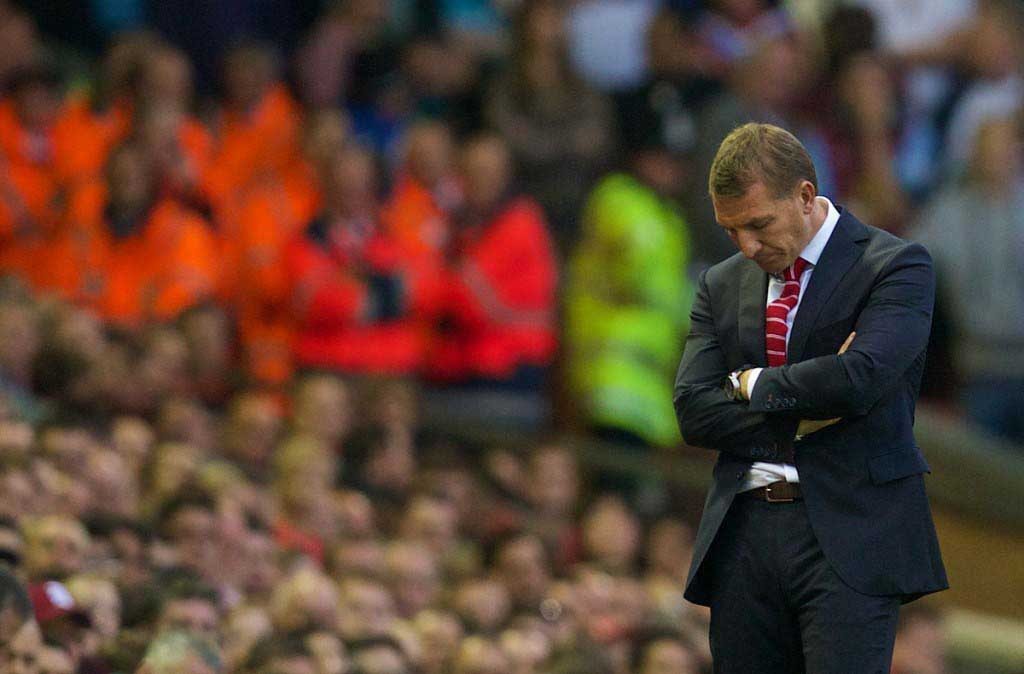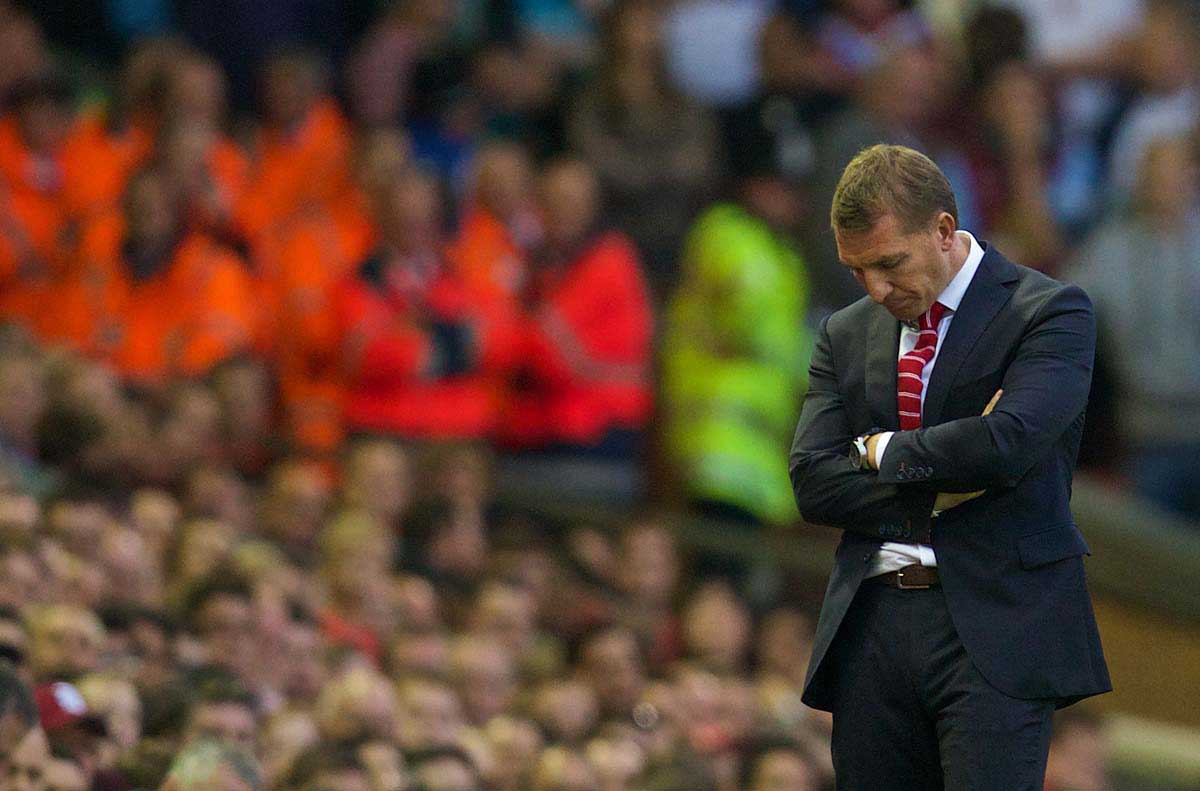 Also at the start of the year, the manager read that Doncaster's Dean Furman, whom he coached at Chelsea's youth set-up, would be captaining South Africa at the Nations Cup. He asked me to pass on a message of congratulations to the midfielder, and spoke about how proud he was of his persistence.
Furman was in camp ahead of the tournament when I texted him to relay Rodgers' support, and he said such words were both unexpected and the exact kind of affirmation and encouragement he was in need of.
Meanwhile, the manager has not forgotten the misery of being out of work — those seven months after being dismissed by Reading in 2009 ranking as one of the most painful experiences of his life, and so he makes a point of contacting every sacked boss to extend an invitation to Melwood as there are few things as depressing as being denied the thing your life revolves around.
Such examples are plentiful, and you probably want to know what they have to do with football, and that's precisely the point — THERE IS NO NEED TO GET PERSONAL.
He may not be your cup of tea, or shot of Sambuca, but he's a man who is the manager of the football club you purportedly support, and he's determined to do his very best for Liverpool. Whether or not you feel his best is good enough for LFC, your argument should never descend into malicious attacks.
Brendan's acts of kindness may not win points or trophies, but neither does the constant slander.
With all the point-and-laugh hysteria at Chelsea supporters for their laminated Gerrard posters, it's just as plastic the way some of our own treat one of our own.
Stop it. Play the ball, not the manager.
[rpfc_recent_posts_from_category meta="true"]
Pics: David Rawcliffe-Propaganda-Photo
Like The Anfield Wrap on Facebook