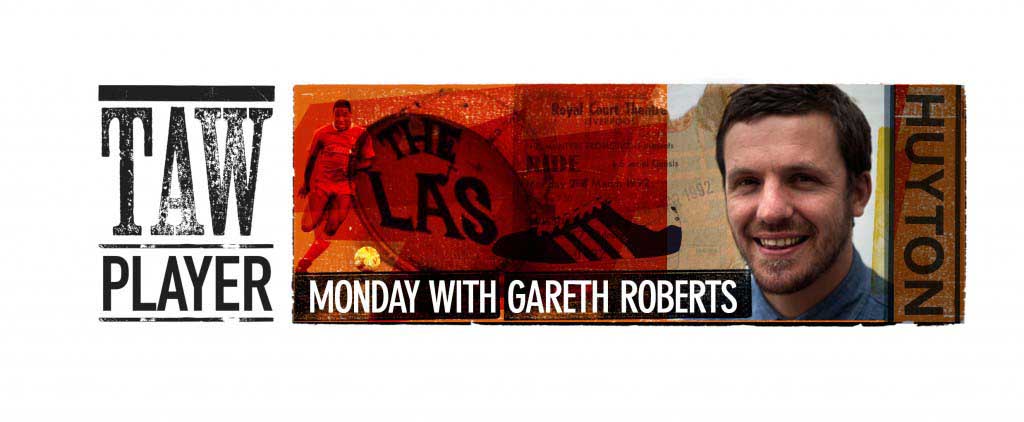 THE breath drawn to blow the final whistle had barely been exhaled when it began: a cyberspace rubbing of hands. A virtual crack of the fingers. The post-match interview was awaited by some with the glee reserved for Christmas Day unwrapping. Time to dig at the manager again, folks. Yiiiiirse.
The 1-1 draw at Stamford Bridge brought with it confirmation, barring a mathematical miracle of water into wine standards, that Liverpool have finished outside the top four and will again be a face at the window when teams get stuck into the Champions League feast come season 2015-6.
That's tough to take. Disappointing. A kick in the teeth. Not what we wanted, not what we expected. Not the target for Brendan Rodgers set by FSG. Not good enough for Liverpool Football Club. Also not that uncommon in recent history.
The Reds will most likely now finish fifth — higher (7th, 8th, 6th, 7th) than the previous four seasons that preceded last year's unlikely and unexpected title challenge. The point in west London also gives Liverpool 62 points for the season so far — more than the whole of 2012-13 (61), 2011-12 (52), 2010-11 (58), 2004-5 (58) and 2003-4 (60). With victories against Crystal Palace and Stoke — not beyond the realms even with the paucity of striking options — the Reds could finish on 68 — topping 2009-10 (63) and matching 2006-7.
Last season was the outlier in Liverpool's recent history, not this. But no matter, there's a manager to get stuck into here. And did you hear what he just SAID?
Steven Gerrard, aside from handing Chelsea fans their collective arse on a plate, appealed to FSG to "dig deep" in his comments after the match and suggested the Premier League is becoming harder and harder to compete in. When you look back to see that Liverpool finished fourth with 60 points in 2004 and third with 69 in 2001 yet could rack up 68 only to finish fifth this time around, it's an argument that seems to hold some weight. The leagues within the league are becoming increasingly well defined. It's harder to gatecrash the party.
The financials are another aspect — who can Liverpool (realistically) buy, afford and attract? Should the attacking options to replace Luis Suarez have come down to more than Mario Balotelli v Samuel Eto'o last summer? This summer, what happens given Mario's misadventures, Lambert's limitations and Borini's bankruptcy? Ings and Origi? I imagine Klopp and Ancelotti must be banging down doors in Boston as I write at the very prospect of such firepower.
Yet all this is forgotten week by week by so many Liverpool fans, who prefer instead to engage in a bizarre social media undressing of the current manager instead. Over and over again. Couple that with those that spit and froth about the boss at the match and the message seems to be that one man will make a miracle. I'm not sure that man exists. "That's the squad. That's the budget. That's the wage structure. These are our player targets and this is the transfer committee. No pressure, mate — win the league."
Competing at the very top of the Premier League is not an easy job for Liverpool, far from it, as an average finish of between fourth and fifth across 24 full seasons since the Reds last lifted the title suggests. Another failed campaign in the chase for the Holy Grail is never easy to take, particularly on the back of last season's rollercoaster ride, this season's return — and embarrassing collapse — in the Champions League, the FA Cup semi defeat and the big summer spend on players that has been far from a roaring success.
Yet, judging by some fans' reaction online in the immediate aftermath of a draw at Chelsea the top four farewell was a moment to rejoice; to celebrate; to lift the one we all wanted: the I-Told-You-So Trophy.
In 'normal' circumstances, a 1-1 draw at Stamford Bridge against the Premier League champions would be a decent enough result. Four wins in 16 league visits to Stamford Bridge for Liverpool since 2000 suggests as much. But yesterday wasn't normal because Chelsea 'were on the beach', Chelsea had rested players and Liverpool needed to win to keep the by now far-fetched top four dream alive.
Raheem Sterling's ankle will show little evidence today of a sun-soaked kickabout on the sand. Instead it will bear the mark of a Chelsea team sent out to get stuck in, to be aggressive, to face up to any attempts to 'fly out the traps'. Not trying? Not arsed? Going through the motions? Could have fooled me.
But no matter. Liverpool should just win. Context, consideration, balance? No. A draw? Well, what's Rodgers going to say now? That's what it's all about. Get ready, Twitter, I'm gonna do him again. Fabregas style.
There are good cases for Liverpool to attempt to upgrade on Brendan Rodgers; he's made mistakes and maybe another manager makes less. A truly world-class manager walks in and he unites an increasingly fractious fan base. Maybe he is a better lure for potential signings. Maybe he announces Liverpool's ambition. He also, in all likelihood, demands a truly world-class salary and a truly world-class transfer budget.
Things Liverpool either don't have or aren't prepared to offer.
But whatever you're going to judge the current manager on, what he says? Every. Fucking. Word? Every. Fucking. Week?
I understand the broader point that Rodgers has at times talked too much. I found his discussion of Mario Balotelli at times unpalatable and thought it should have stayed behind closed doors. The public sales pitches around his own ability are not something I particularly enjoyed. Dressing up the West Brom performance also grated.
But ALL managers talk bollocks to a greater or lesser degree. And when the walls are closing, the fingers pointing and the pressure building, how easy is it to dream up a Shankly-esque soundbite every week?
Ultimately, Brendan Rodgers is, until it is announced otherwise, the manager of Liverpool FC. So why the nit-picking at EVERYTHING he says from some? He called the second half yesterday "outstanding" sparking fury via keyboard for some. Well you know what, lads? The second half was alright.
Ah, but the Gerrard substitution and the explanation of that. Yeah, OK, admittedly, a bit weird. Who's arsed about him getting clapped off by Chelsea fans, Brendan? But equally, faced by cameras moments after the match, what *should* Rodgers say? That Gerrard hasn't got the legs? OK, but maybe they've fell out because look at this two-second clip. Maybe they have. It happens in football. Gerrard is a huge personality, a legend, a superstar — a lad with a status and a standing bigger than his boss. His powers are on the wane and he doesn't have to answer to anyone anymore. After all, what are they going to do — sack him? Is that easy to manage?
Rodgers sometimes talks nonsense, probably more than most. Should he lose his job for that? Is that part of the final analysis when pros (sorry those who hate him, there are some) are weighed against cons?
I don't know how things will turn out this summer regarding the manager but the desperation to shout black or white when there are clearly shades of grey is a bit strange. Personally, I'll pass on the 'being right on Twitter 2014/15' crown. If that's your bag, good luck — it's a hotly-contested prize.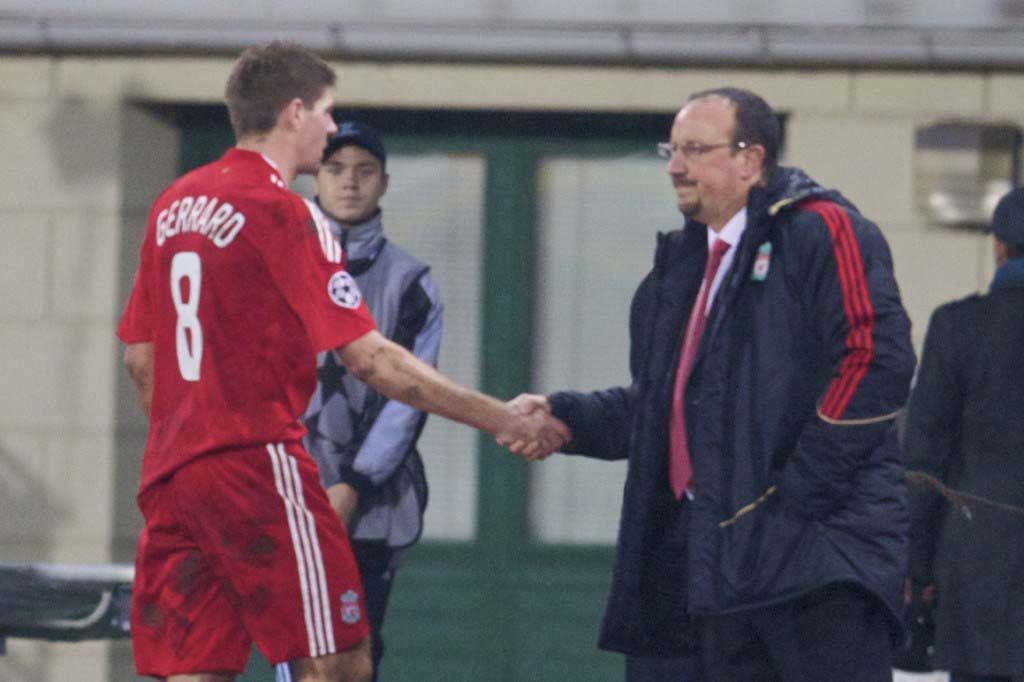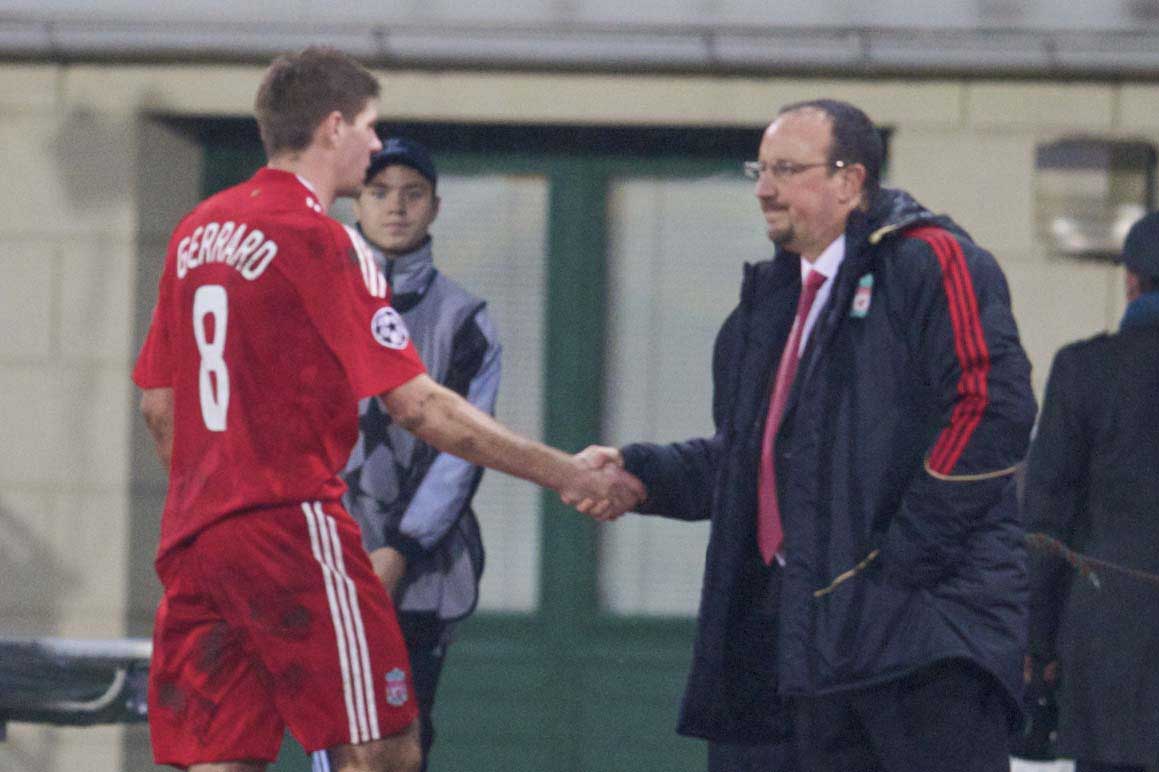 Some Reds who denounced other fans of Liverpool for their abuse of Rafa "white liquid in a bottle has to be milk" Benitez are now the very same people doing it to Rodgers for displaying similar traits to the Spaniard. Any analysis of Roy Hodgson doesn't count. He deserved it. He played prehistoric football, criticised the fans for protesting and did absolutely nothing to warrant any faith or fairness.
Does the same apply to Rodgers? Absolutely no goodwill from last season remains? No credit for that?
And does much of what Rodgers says, or doesn't say, make the crucial difference? In the other dug out yesterday was a man who will never be matched for public bullshit. He has a greater football pedigree. He has a better track record. The self-proclaimed 'Special One' has also had amazing resources at his disposal for many years and yet has played some of the most boring football you'll ever see in the name of a result.
Judging by a CV, judging by results — fair game. But a continual, match by match, word by word analysis of your own manager? It's an "outstanding" level of effort to go to just to prove a point, particularly when all indications so far say Rodgers is staying put. Isn't it counterproductive? Especially, you know, if you intend to enjoy a Liverpool match again sometime soon.
If it is same again next season, what then? The "fraud" shout? The "David Brent" shout? The obsessive examination of Brendan Rodgers' every move — how he sits, where he sits, how he celebrates, what he wears, how white his teeth are, how dark his skin is, who he lives with, who rents his house, what his son does, where he worked once….
Don't we all just want Liverpool to win?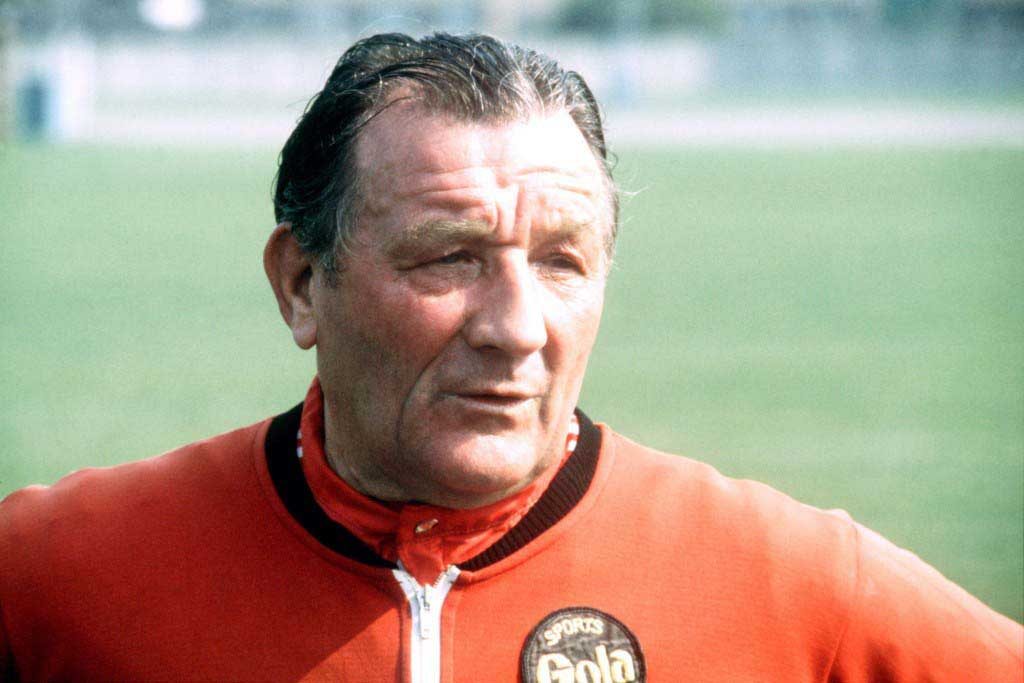 How would Bob Paisley get on in this 24-7 goldfish bowl and its penchant for forensic examination? "Fucking hell, lads, he's got SLIPPERS on! #PaisleyOut"
"Have you seen his hair? Cardigans? Gola? LOL."
On Friday Mike Nevin lamented the loss of wacker – the spirit of Scouse. Equally bizarre — to my mind at least — is the desperation to denigrate a man that took us so close to what we all wanted last season. It hasn't worked out this season but that man is our manager right now. Flying planes, holding A4 placards, the social media snide — can't we leave this cringe-inducing behaviour to other clubs?
Brendan Rodgers might not be the new Bill Shankly but he's not the new Roy Hodgson either.
FSG have let it be known they are standing by their man. For now. The case of Kenny Dalglish suggests a u-turn is not beyond the realms. A better gettable manager might exist. If discreet conversations to that end haven't taken place already that would be a surprise. But then the names many want in the dug out might not be sold on Liverpool's position in the food chain or the club's philosophies behind the scenes.
That being the case, perhaps sticking makes more sense than twisting? Perhaps there is instead a tweaking of the transfer policy. Perhaps Liverpool buy few and big instead of many and small. Or does the club just make change for the sake of change? What's the point in sacking Brendan Rodgers simply to employ another Brendan Rodgers (young coach, relatively inexperienced etc etc)?
But then some people can't see a priest on a mountain of sugar.
In fact: "It's like you wanting to marry Miss World and she doesn't want you, what can I do about it?"
Arsene Wenger said that by the way. Managers sometimes talk shit. Managers sometimes have a good season followed by a bad one. Managers sometimes ride the storm.
[rpfc_recent_posts_from_category meta="true"]
Pics: PA Images/David Rawcliffe-Propaganda-Photo
Like The Anfield Wrap on Facebook