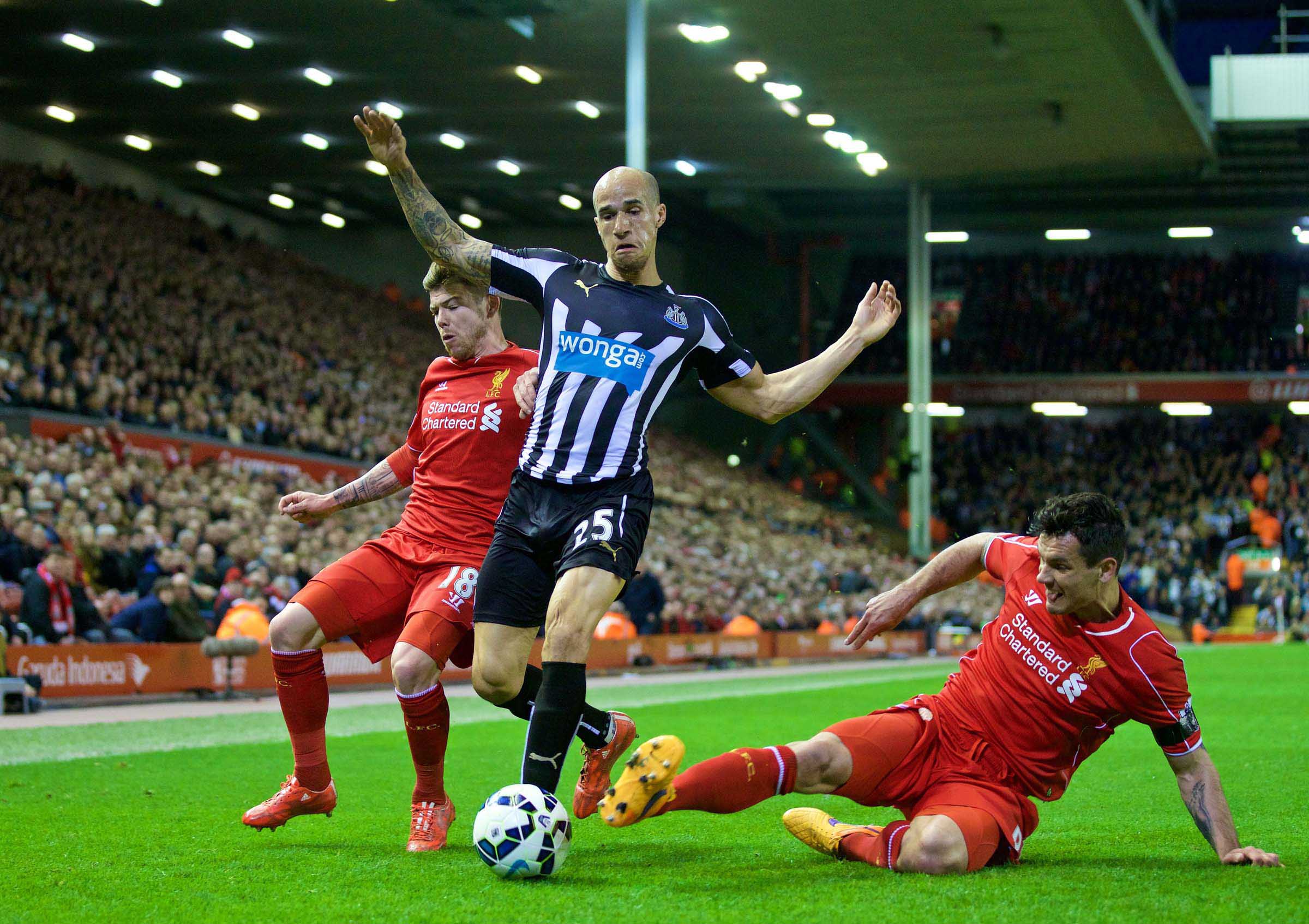 AS a contest it was hard to know to expect from Liverpool vs Newcastle. One side which has been inconsistent and a little impotent against poorer opposition at home and the other side one which appears to have downed tools for the campaign insofar as they ever had bothered upping them. It wasn't one which was easy to call other than the fact Liverpool should win. Shoulds have been broadly speaking meaningless both this and last season for Liverpool. So much they should have done. So much they shouldn't have been able to do. Oh when the shoulds go marching in.
After 30 minutes of Liverpool versus Newcastle there is such a level superiority from The Reds it is frightening. In every department, their set up, their technical ability, their adventure, their workrate, in every department that makes a football team a football team Liverpool are oceans ahead of Newcastle United. They should be three or four goals ahead. They are one.
After 40 minutes the football match is a contest. From nowhere there are two sides on the pitch and Newcastle are able to put Liverpool under real pressure. Having only been one ahead on 20 there is a coherent argument that Liverpool should find themselves level going in at half time. Not least because they should have conceded a penalty. It's a wild swing from Lovren, summing up a wild period of play from Liverpool. From domination to this; a bunch of lads determined to make it miserable through carelessness and anxiety. They should be further ahead than they are but they shouldn't defend like fifth columnists either.
https://twitter.com/OptaJoe/status/587695856079544320
Liverpool reach 80 minutes two up and are by far the better side, Newcastle vanquished to all intents and purposes. They built through the half, earning the right to play again as Newcastle flurried and looked to block Liverpool in for the first 15 minutes of the second period. It's odd that Newcastle's best period coincides with Liverpool's best chance, Sterling spurning the opportunity. This is a side which creates its best chances being quick and direct but which too often gets itself bogged down in combining the worst of the direct with the most self-indulgent of the subtle at times. To then spurn opportunities forced by shifting too quickly to let opposition players settle is incredibly frustrating.
There was a lot to get through in the end, Liverpool built the pressure, Allen got the goal he has perhaps deserved and Sissoko got a red card he undoubtedly deserved for a wild challenge on Lucas Leiva. Borini should do better when in on goal, the Italian repacing Jordon Ibe who looked like he was struggling on his return from injury and ahead of a Glen Johnson whose performance was fractured like a dream sequence in an avant-garde film. Kicking the ball into touch one second, sumptuously controlling it smoothly into the path of a teammate the next, it was classic Johnson. It was too easy for him so he decided to make it remarkably difficult. Like Liverpool but in one corner of the pitch — fundamentally frustrating and needs to stop.
https://twitter.com/OptaJoe/status/587694524408930304
During the second half Newcastle had penned Liverpool in while punching themselves out. Liverpool, you suspected, always had another gear. Liverpool, you suspected, could find themselves with a flat battery at any given moment. There isn't the credit in the bank for a side which has tonight registered its third victory from eight against the current bottom 10 at home.
Football is an aesthetic pursuit, the gasps and cheers directed towards Coutinho's staggering skill tell you that, but it is one which simultaneously in its essence is nothing but a cold measurement of one specific achievement — the round thing between the wooden things. It is defined by those outcomes. Tonight Liverpool are successful as per those outcomes. They haven't been often enough this season. Given how exceptionally good Liverpool were in patches, how few victories we've seen in games like this this season, all this may sound churlish, but even in victory tonight, Liverpool's primary shortcoming shone through.
[yop_poll id="43″]
Listen: The Pink: Immediate post-match reaction after Newcastle
Read: Rodgers' race isn't run yet
Read: Monday column: What's the deal with the contracts, Liverpool?
[rpfc_recent_posts_from_category meta="true"]
Pics: David Rawcliffe-Propaganda-Photo
Like The Anfield Wrap on Facebook