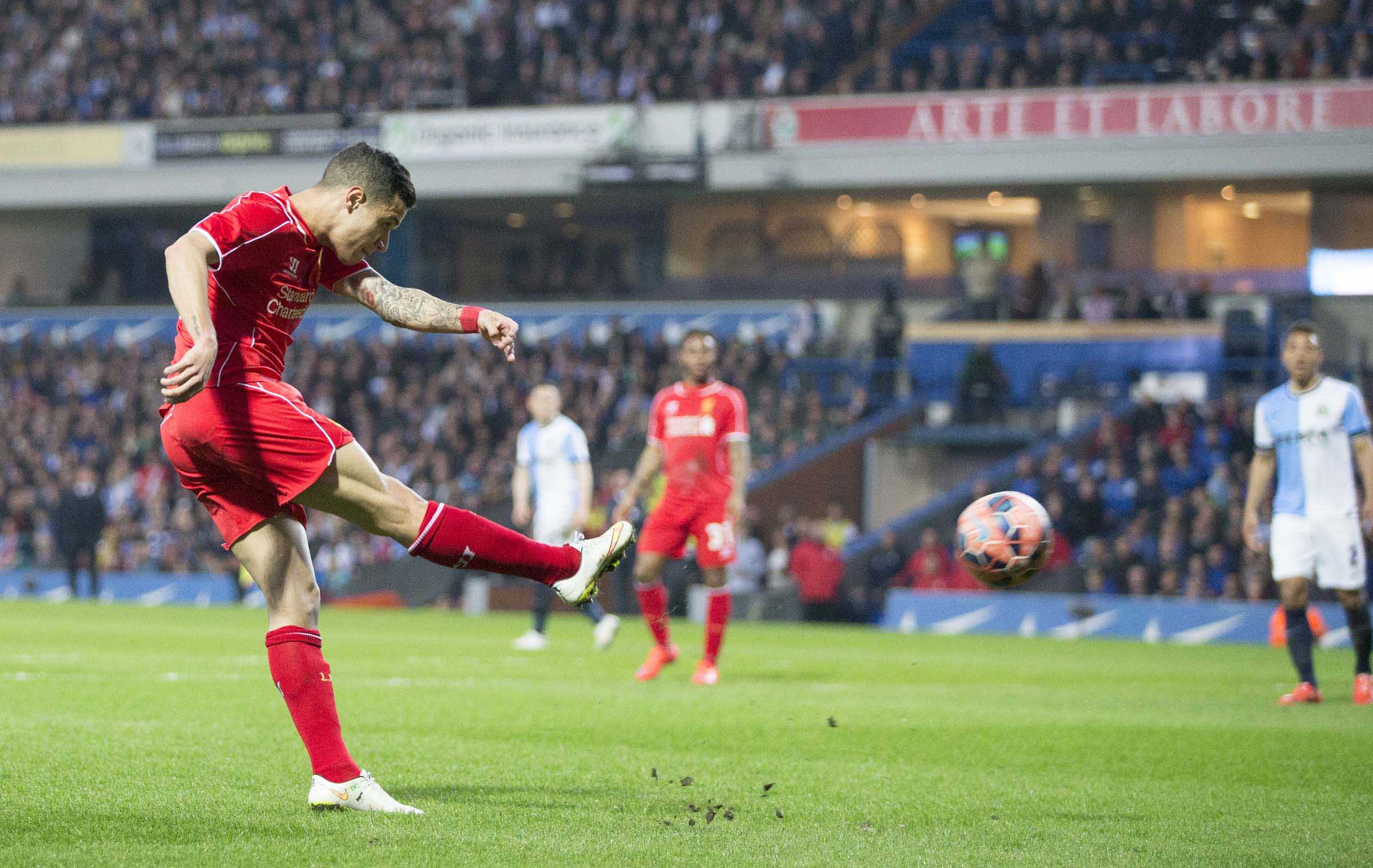 IT wasn't the best Liverpool performance you've ever seen. No DVDs will be burned and few will seek out the 'highlights' today. There were 7,000 souls in Blackburn, Lancashire, but it wasn't the best support from those congregated in the Darwen End either.
There was good reason for both. Rightly or wrongly, Liverpool had the feel of a club with the wheels falling off going into the match. The game was the epitome of the clichéd 'potential banana skin' and a nation tuned in to witness any slip. Add a sandpit of a pitch to the mix and it was hardly the stage for a Wednesday night recreation of the best of Brazil 1970.
Judging by the mood of many fans before kick off it was duty, habit and escape that had lured them north east of Merseyside rather than a licking of the lips and rubbing of the hands in expectation of a classic match.
Liverpool's fairytale recovery in the second half of the season has been ripped up and replaced by reality in recent weeks and that was a tale written on many a face.
All the talk this week of fifth place being 'Liverpool's level' based on recent history and financial muscle does little to sate the appetite for success that will always exist from a support that has gorged on trophies and forks out a fortune to follow the team wherever it goes.
Finger pointing detailing supporters as being responsible for unrealistic expectations has been rife but it's worth remembering that the manager himself predicted a title challenge this season. He's also on record as predicting one for next season, too, and he talked in August of "wanting a trophy this year".
You also have Ian Ayre saying "This is our competition" at the Champions League draw while John Henry has told the world: "Our No.1 priority is to win the Premier League."
Expectations should be high. The best should be demanded. And fans shouldn't be blamed for throwing big claims back at the bosses when things go wrong. The tale of the balance sheet isn't bedtime reading for many of those that follow Liverpool. And the only time the calculator comes out for lots of supporters is when the demand comes for season ticket money three months before a ball is kicked on a new campaign.
Two defeats to two big hitters in the league shouldn't feel like the end of the world. But it wasn't just those poor results, and poor performances, in isolation that fed the recent outpouring of frustration. Hearing Brendan Rodgers essentially concede defeat in the race for a Champions League place simply brought to light a first half of the season that was unacceptable however you judge Liverpool's stock.
The 13-game unbeaten run in the league plastered a lot of sores. Two league defeats in succession pulled away the bandages and left questions being asked about the manager, the quality of players at the club, the owners' ambition, the transfer committee and the rest.
Meanwhile, tales of dressing room unrest seeped into the public domain as the tabloid vultures began to circle. Throw in suspensions, illness, injuries and the rest and dark thoughts were inevitably wrestled with pre-match as to whether this was a tie that could suck in a young promising manager and spit him out on to the Lancashire hills leaving his Anfield future in doubt.
Today none of that matters. Football is fickle. Moods quickly change. Facts of life. Those conversations now can wait. Dressing room meetings/bust ups/fights/whatever they were; they seemed to work. We're all going to Wembley (if I get a ticket, like).
It was only Blackburn. Only a team in 10th place in the Championship. But think for a minute of the alternative reality today. If Rovers had claimed their third Premier League scalp of the season, if Gary Bowyer's plan to close out the majority of the game and win it late — or win it on penalties — had worked, it wouldn't be fun right now, would it? Spare tickets all over the show. Half arsed performances for the rest of the season. Shrugging your way through seven league games and dreaming of the summer. And you know what the conversations would be. You know what the mood would be. You know John W Henry's Twitter notifications would be buzzing like a hornet's nest.
Instead now Reds are reflecting on a much-needed demonstration of grit, determination and fight from a side that looked to be lacking all of those qualities when they meekly surrendered to Manchester United and Arsenal. The nous, the will to win; the desire to keep on going — all evident as Liverpool eventually prevailed against a team determined to spoil, battle and bite.
Now we're talking about Jordan Henderson's admirable personal sacrifice, about Kolo Toure's character after his unexpected recall following a nightmare in North London. About Phil Coutinho's craft, Simon Mignolet's character and maybe even a second coming for Dejan Lovren.
Liverpool will face better quality opposition in a season that will now hopefully stretch 51 days to a date at Wembley on May 30. And the Reds still have questions to answer, not least where the goals will come from.
But this was a match to get through. To endure. To win. It didn't look like a group of players that has given up and put its sandals on. They're not on the beach yet.
The last time Liverpool played at Blackburn I somehow ended up with my hand in some bloke's mouth as I tumbled over seats to celebrate Andy Carroll's last-minute winner. This time I watched five grown fellas end up in a pile at a bottom of a staircase when the shot from the No.10 from Rio nestled in the net after a lovely one-two with Henderson from the corner (hope the knee's baring up, Johnny…).
On the way out of Ewood Park all the smiles from the travelling Kop were as wide as the toothy grin from Mignolet when he put paid to Simon Eastwood's attempts to channel Jimmy Glass. A moment as mad as claims from one national newspaper's website that Mamadou Sakho's injury is "a blessing in disguise". Just when you thought sniffing glue wasn't a thing any more.
Coaches were bouncing as they ate up the 40 miles back to Liverpool. The FA Cup doesn't matter? Behave. Brendan Rodgers' face said different. Dejan Lovren's celebration said different. The 100-miles-an-hour chatter about tickets for Wembley said different.
Any spares?
Listen: The Pink – immediate post-match reaction from Blackburn Rovers v Liverpool
Read: Neil Atkinson's player ratings
Read: John Gibbons' match review
[yop_poll id="42″]
[rpfc_recent_posts_from_category meta="true"]
Pics: David Rawcliffe-Propaganda
Like The Anfield Wrap on Facebook