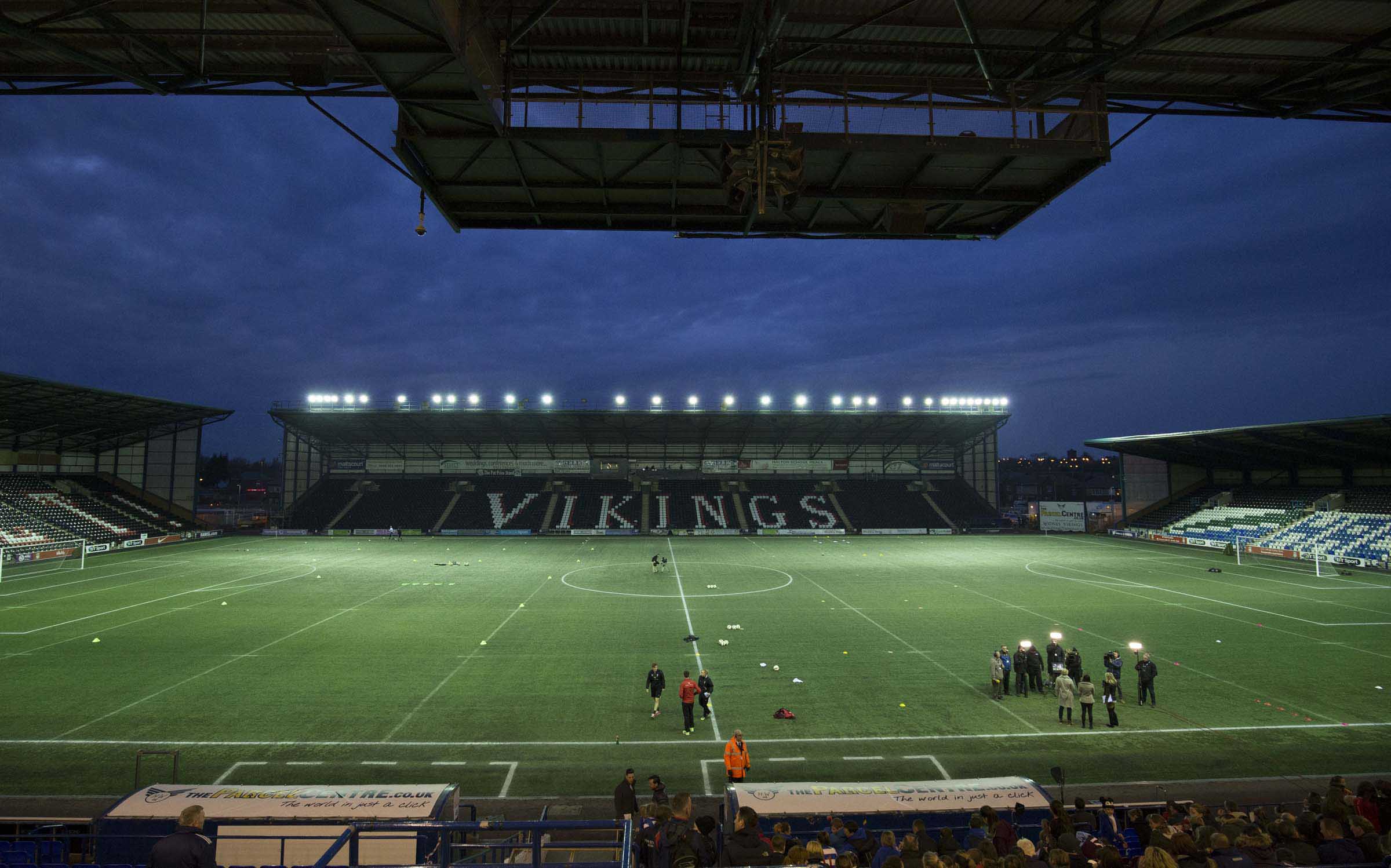 YOU might have noticed that we've started carrying Liverpool Ladies' match reports from Heather Carroll on the site. Good enough reason in my book to go to watch the team myself.
My knowledge of Liverpool Ladies prior to reading Heather's reports comprised of this: I knew they won the league last season. I knew Natasha Dowie played for them.
That's it.
That's no slight on the team, their ability, or anything else. I've just found that with watching Liverpool, working, family and the rest, I've never had the time for anything else.
I'm not a footie snob. I've written on here before about how I used to watch Knowsley United regularly before their demise (and by the way, Liverpool Ladies used to be Knowsley United WFC #justsaying). I also made semi-regular trips to Prenton Park back in the day when Tranmere Rovers played on a Friday and had John Aldridge up front. I even gegged in when they got to Wembley to face Leicester in the League Cup final. In more recent times, I've dragged the kids to watch non-league Marine on Liverpool-free weekends.
In short, I'll watch footie. Any footie. But women's football?
It's just never really come up as an option. Until Neil asked the very question this week, no one has ever said to me, "Fancy going to watch Liverpool Ladies?" The last time I watched 90 minutes of women's football was on the telly during a World Cup. I couldn't tell you the year but it's safe to say it wasn't recent.
I haven't actively avoided it since, just never had cause to watch it. My abiding memory of that World Cup was that while the players were clearly technically competent, the skill level of the outfield players wasn't matched by those between the sticks.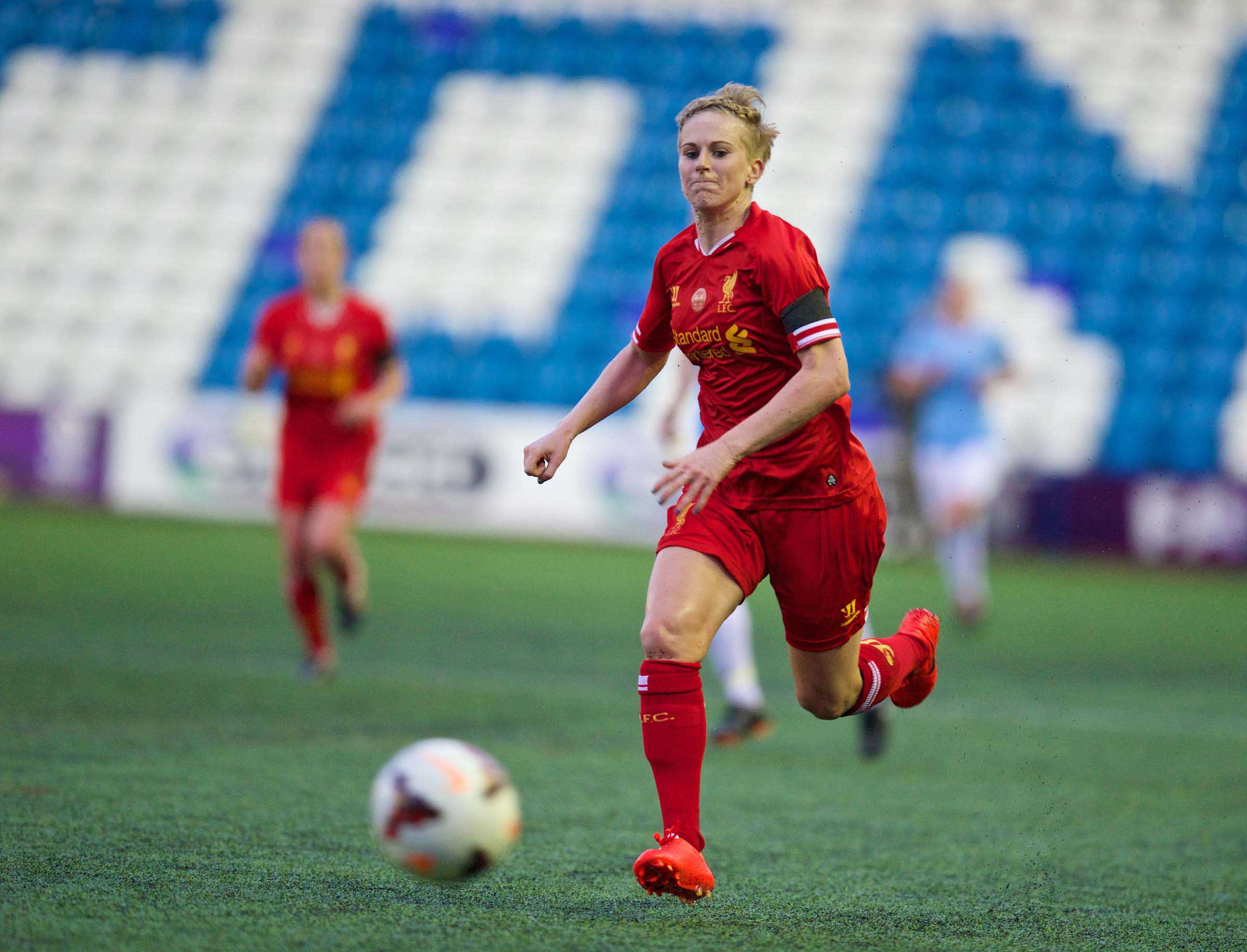 In other words, there were a lot of 20 yarders flying in that had me, who can't save a pound, shouting: "Come on, 'ey, you should have had that!"
Other than that, my preparation for last night — my first experience of women's football LIVE — was to watch Jacqui Oatley's Women's Football Show on Monday on BBC2. It was good — and there was even a big ruck in one of the games, which I didn't expect to see to be honest.
So, aside from that pre-programmed bias about the goalies, minimal telly watching and reading Heather's reports, the trip to Widnes was breaking new ground.
Ah Widnes. I've got an issue with Widnes. Maybe it's a grudge because the bouncer at the Richmond Square pub butted me for no good reason when I was 17 and at college there. The massive shithouse.
Or maybe it's just that it doesn't make very much sense to hold a football match there, particularly one you are trying to get people involved with.
Even with my limited knowledge of it, I know the women's game has struggled for recognition and for media coverage. It was part-time, poorly paid and dedicated facilities were few and far between not so long ago. Now more players are turning pro and taking home a decent wage.
According to The Guardian in November, in 1993 there were just 80 registered girls' teams; now there are 5,143, with 1,437 registered adult sides. They just need more supporters.
Widnes, for the uninitiated, is a rugby town 15 miles away from Liverpool. The Select Security Stadium (snappy) is the home of Widnes Vikings and has a capacity of 13,350. It also has an 'i-pitch' — artificial grass. Or a plazzy pitch, in traditional parlance.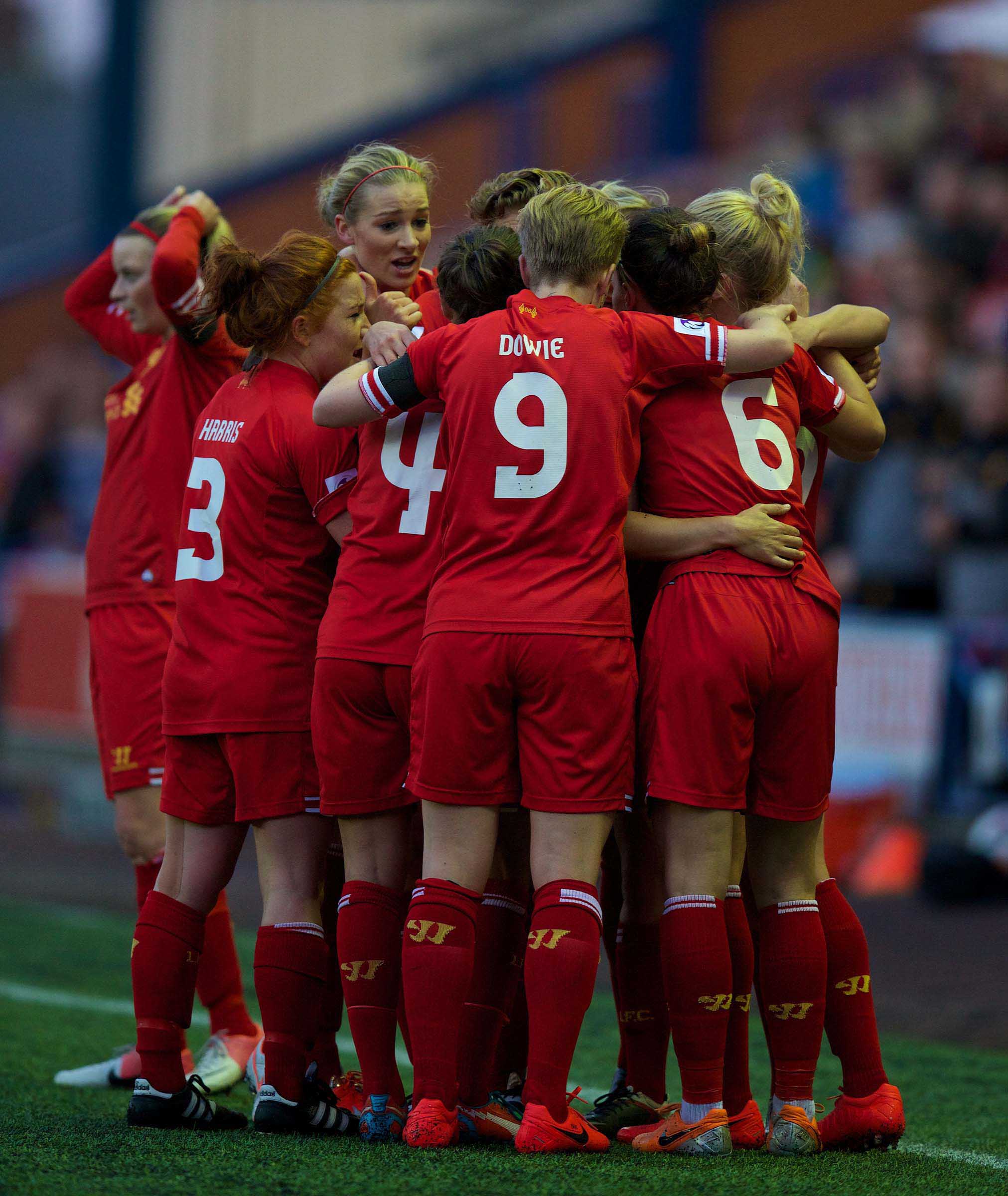 For a stuck in his ways traditionalist grump like me, it's not a selling point. It's a bit out the way, requires a bit of planning to get to and once there the bounce of the ball looks a bit mad on that pitch. The floodlights aren't great either.
Then there's the massive empty ground. There are 421 here tonight — more than the aforementioned Marine get for most home games. But in terms of generating an atmosphere, a big rugby ground isn't helping matters. A smaller ground, grass, in, or closer to, Liverpool — it would all help, particularly as there are people here singing songs, banging out You'll Never Walk Alone and generally having a go.
Not having the drum though, mate. Football is no place for drums.
And so to the game. I'm not whacking out a match report, that's Heather's department. But I got into it. Bit of stick for the ref. Made up when they score. Lame attempt at needle with a badly-dressed Brummie. I'll support anything in red that bears the name Liverpool FC to be fair. Except Mighty Red. That thing was here prancing around. No one was arsed. And it can still do one.
The last game I watched at this ground was a Liverpool ressies match maybe five years ago. Danny Wilson was playing and I thought he looked a player. He didn't really get a sniff and he's captain of Hearts now. On 'spotting a player' boasts that doesn't rank highly, but I'm claiming some lost face back for telling Neil last night that Asisat Oshoala looked good in the highlights of an earlier game I'd watched.
Scored the first and set up the second, didn't she?
I was also impressed with Satara Murray at the back, Rebecca Easton in front of the defence and Fara Williams in midfield. I'm sure they're all made up.
Seriously though, it was a good game, the goalies made me shelve my concerns on that score and if there was one thing that was disappointing on the night it was the refereeing.
It looked clear that after Liverpool had taken the lead, a few of Birmingham Ladies' number decided sticking one on their opponents was the way forward. A few naughty challenges followed, an elbow here, an OTT tackle there, an off-the-ball nudge for good measure — a situation you've seen many times. But there was no word to stop it before it started from the ref. No calling together of the captains. Instead it went on.
Birmingham's Remi Allen in particular seemed on a mission to injure. Yellow cards were issued after one spicy clash that threatened to break into a mass brawl and shortly after Kate Longhurst left the action on a stretcher after another meaty challenge.
Slow handclap for the man in the middle.
As I say, I got into it.
Our ladies won 2-1, their first win of the season. They deserved it, too. Bit more nous. Bit more skill. Worked hard, battled. Showed their quality when it mattered.
I'd go again. It was free in with a LFC season ticket (£5 without). The next home game though isn't for 24 days and it's on a Sunday. At 6pm. In a rugby stadium. In Widnes.
Liverpool Ladies are a good side. They deserve a better stage, more frequent games and kick offs at a family friendly time. If we're going to give it a chance it should give itself a chance first.
And women's football? Worth a watch.
[rpfc_recent_posts_from_category meta="true"]
Pic: David Rawcliffe-Propaganda-Photo.
Like The Anfield Wrap on Facebook