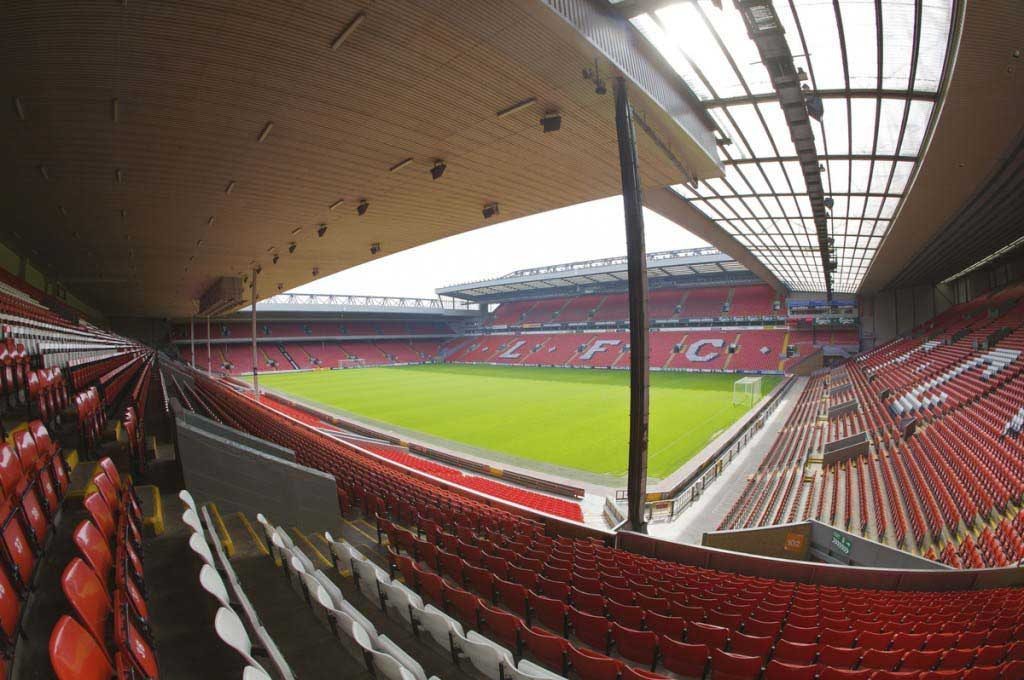 I was 14 when I first found myself within the confines of Anfield, one of just 17,228 souls present to watch the Reds dismantle Crewe Alexandra 5-1 in the Rumblelows Cup in 1990. Twenty four years later, it's not the goals or the goalscorers that jump immediately to mind from that night. It's the sights, the sounds, the smells and the people.The greenest most pristine rectangle of grass you ever did see perfectly illuminated by the Anfield floodlights. A brilliant bright red kit on the backs of men I'd only ever watched on TV, heard about on radio or read about in the Echo. Funny shouts, dodgy farts, but above all, a sense of belonging. The certainty that comes from standing alongside like-minded people.
Unfortunately for me, it was a long time after that game before I could be described as a Liverpool match-going regular. Don't get me wrong, I went to as many games as I could at Anfield. But away trips? Cup semi-finals and finals? Finances and circumstances meant it was a good while before I was in control of my match-day destiny.
I still watched football though. And I don't just mean on the box. I prefer being there. Always have, always will. I used to watch Tranmere Rovers a lot when Aldo played for them. Friday nights under the lights. They had a good side and a good crowd that made it worth the trip to the dark side on an all-zone Saveaway.
While I was at university, I watched Sheffield United and Sheffield Wednesday on cheapo student tickets. During a short spell working in North Yorkshire, I watched Selby.
And the point of this self-indulgent meander down my football memory lane? It's that watching football, in person, at the ground, is a brilliantly addictive experience. No amount of money can change that. No Sky gadget can replace it.
Liverpool will always be my first love; the team I most want to watch; the place I most want to be. But another team, another ground on a different day can be wonderfully refreshing. Sometimes it's nice to not be so emotionally sewn up in the action; to just appreciate the game for what it is, enjoy some people watching and feel good about yourself for chipping in to keep football alive at the end of the sport where salaries aren't in six figures and the clothing choice of a sports channel presenter matters not a jot.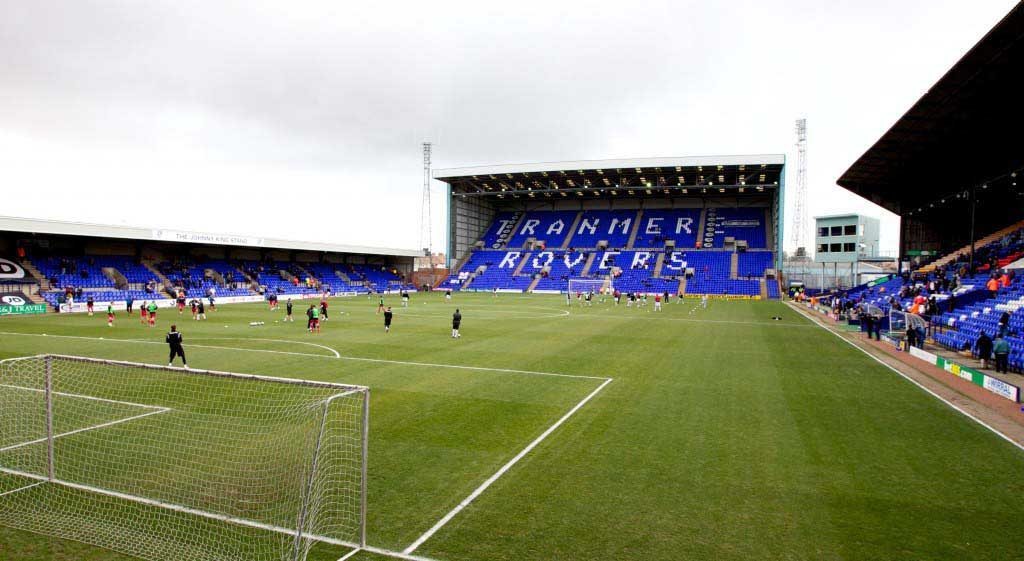 As for Anfield, well absence makes the heart grow fonder or should it be familiarity breeds contempt?
But back to the long gone days of the footie-mad teenager with endless enthusiasm and an empty moneybox watching the floodlights of Anfield glow tantalisingly in the distance.
It was a frustrating time – before and after popping my LFC cherry. Before, wondering what it was like. After, wanting more.
My pre-Anfield frustration was temporarily tempered the day I looked from the bedroom window and saw an organised game of football taking place at the previously deserted rugby club just a stone's throw away from my front door.
It was called 'the rugby club' but it was very much the former home of Huyton RLFC. Apparently they played at Alt Park – two minutes from my mum's house – until 1985. I've no recollection of it. But then I've never been to a rugby match or had any interest in the sport.
Football though is a different matter. And here it was – around 1988 – men in red shirts running around a pitch of a ground that, to put it mildly, had seen better days. Who were they? Why were they there? And were they any good?
The Pink Echo had told me nothing of this. Shoot and Match were no good either. And it wasn't like I could Google it.
So I climbed a wall and watched. A man tried to move me on and was ignored. Polite request turned to surly order. Ignored.
"Anyway mate, who's this team?"
"Knowsley United."
"Who?"
"Knowsley United."
"WHO?!"
"Get down off there lad and do one. I'm not saying it again."
Ignored. We're going back a while here, but as I quizzed this bloke about the team, the players, the club and what was happening, I think he realised I was genuinely interested and not just a scally looking for a rise. A common bond was established. They used to be Kirkby Town. No, they didn't play rugby. And, yes, they were a real team with real players and they would be competing in a real league. Yes, they played in red. Yes, more people involved supported Liverpool rather than Everton. That'll do.
This team was setting up home on my doorstep, I was always going to give them a chance. I'm still fiercely defensive about Huyton now and I don't live there anymore. Home is where the heart is (and where my ma is) so if there was something to get tribal about then it was good by me.
I could afford to watch this team and I didn't have to worry about getting there and back. As a cheap taster of real football it did very nicely. Not that many listened at school. They didn't get it. I wonder if they are the same people now that say things like "I'm not paying to watch glorified Sunday League". Their loss.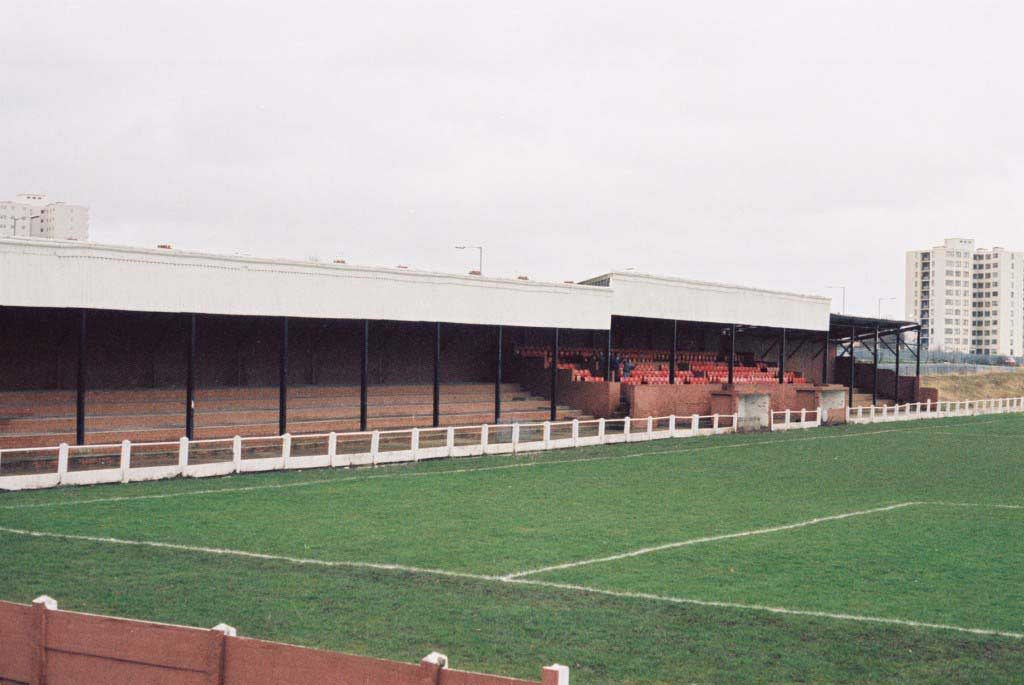 From where I was standing, Knowsley United – relatively speaking – were a damn good side. A potted history plucked from the broken synapses of my brain says they soon got a proper fence, floodlights, seats in the stand and a presentable clubhouse. They also played for some time in an old Liverpool kit. I loved that.
The floodlights, seats and the kit were all paid for by the transfer of Mike Marsh to Liverpool. They even named the stand after him.
Joey Barton's dad – also Joey – played for Knowsley, as did a brilliant forward pairing of Jimmy Bell and Dave Siddell and Steve McMahon's brother, John.
There were many more, notably (to my mind at least) the non-league Sami Hyypia, Steve Thompson, an unflappable centre half who played on into his forties. The squad – like many at this level – was a combination of young lads on their way up, older fellas on their way down and blokes who were quite happy to play part time while earning a living elsewhere.
Knowsley didn't just make up the numbers despite their nomadic beginnings. They won the Liverpool Senior Cup. They won the Raab Karcher Cup. I legged over the road with my mum's camera to capture the moment. I've still got the pictures somewhere.
League-wise, Knowsley United won the North West Counties and finished runners-up in the Northern Premier Division One. There are long-established non-league clubs that would kill for that success.
They even made it on to Match of the Day. In 1993-94, after two replays, they put Vauxhall Conference side Stafford Rangers to the sword in the FA Cup at their Huyton home ground and set up a first round proper match with Carlisle. Fireworks were set off during a pitch invasion after that Stafford win. No pyro, no party.
The next game was – perhaps unsurprisingly but somewhat unromantically –  switched to Goodison – the only time I've turned up and cheered on the 'home' team there – and the Beeb cameras came out to record the moment. Unfortunately, Knowsley lost 4-1. Given where the club had come from in such a short space of time, no one was complaining.
I can't verify it now, but I remember people saying at the time that Knowsley were rising faster through the non-league pyramid than the original Wimbledon. If true, no mean feat. They scored loads of goals, played decent football and had a few lads who weren't shy of a tackle or two. The cause was also aided by an army of little scallies who liked to put off the opposition goalie – just for that little bit of a home advantage.
Ok, it wasn't Liverpool and it wasn't the Premier League. But it was a group of committed lads who loved the game – backed by people giving up their own time and money – all from the immediate community. No one was in it for phone number wages, endorsements or fame. They were just in it for the football. And they were pretty good at it, too.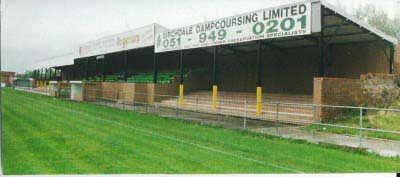 Paul Orr, the manager, told The Independent at the time: "It was like Beirut when we came here. There wasn't a roof or a solid wall in the place, it was burnt out.
"We've managed to build superb social facilities and keep pace on the playing field. We won all three divisions in the North West Counties League and last season we won promotion to the Premier Division of the Northern Premier League. Now we're only two successful seasons away from the Football League."
Just three years later, Knowsley United ceased to exist. Again from my admittedly poor memory, I think the reason given was the end of a lease on the land and the council calling it in. There was little uproar, although I do recall an angry letter in the Echo. For all Knowsley's success, attendances were poor – barely over a hundred at times.
These days, the site of the clubhouse is home to the River Alt resource centre and an associated children's playground. The land where the pitch resided is open space.
Like any non-league club, Knowsley at its best worked when it had the backing of the community. For that Stafford game, a big crowd spurred the side on and intimidated the opposition. At Goodison Park, 4,800 turned up.
But most of the time, Knowsley fought a losing battle to engage football fans. Perhaps if Huyton had wanted a football team that bit more it would still be here today. Perhaps not. Now we'll never know.
I later covered Marine for the Crosby Herald and apart from some 'interesting' phone conversations with Roly Howard, I enjoyed it. For me, it was hard not to get drawn in. I saw people giving up their personal time to make something happen on a Saturday for little financial reward and liked it. Still do. And that's why I'll be there tomorrow, with my kids, watching them play.
And so to the inspiration for this ramble. Tomorrow is Non-League Day. The Reds are rested up and you're at a loose end so why not back your local club? Perhaps you could give your young one a taste of football minus the millions. Point out the volunteers that make it happen, speak to a fellow fan, enjoy a pint and a pie without getting ripped off or waiting too long for the privilege.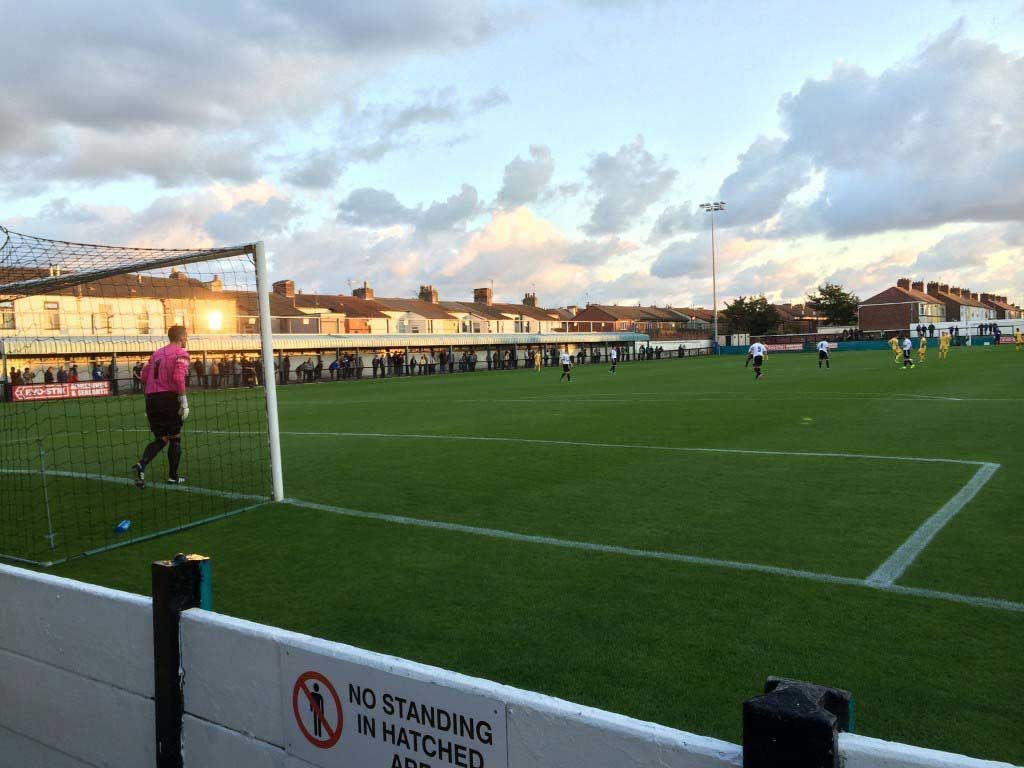 There's an awful lot to be said for non-league football. For mums and dads it's the game minus made-up memes and 24/7 controversy. For sons and daughters it's an experience that might help to reverse the growing trend of empty parks, deserted football pitches and streets loaded with cars and lacking in balls.
We played the game in the road, on the park until dark, in the playground before, during and after school. Too many now watch football on a telly and play it on a PlayStation. They hardly ever get their knees dirty or see football in the flesh so how are they supposed to fall in love with the game?
Get them to a match and get them enjoying it.
Knowsley United is a long time ago now, but in more recent times Formby FC folded after 94 years despite winning their league. Earlier this year, Vauxhall Motors resigned from the Conference North – step two of the non-league pyramid – and now play in the West Cheshire League – step seven. The drastic decision was purely a financial one.
That these clubs and more like them survive in the face of the all-consuming Premier League, football on the telly almost every day and the move to top flight fixtures being played across the whole weekend (and even Monday) which affects attendances and player availability, is a miracle in itself.
If you can, support them. Even if it's now and then, or even just tomorrow. You can bank on it that your support will be appreciated. You're not just a part of a procession of bums on seats and pounds in tills, you count, you matter. And as for the club that you've drove past and ignored so many times. Well you don't know what you've got until it's gone.
Saturday. 3pm. Like it should be. Why don't you?
Pics: Propaganda (LFC & TRFC), Andy Heaton (Marine) and Knowsley United pic Andy Dakin, FlickR
Marine v FC United of Manchester
Arriva Stadium, College Road, Crosby L23 3AS
Adults: £10, Senior Citizens & Children: £5. Under 11s free with paying adult
Cammel Laird 1907 v Litherland REMYCA
St Peters Road, Rock Ferry, CH42 1PY
Adults: £4, Concessions: £2
Vauxhall Motors v Rochdale Town
Motassist Arena, Rivacre Road, Hooton, CH66 1NJ
Adults: £5, Concessions/students: £3, Under 16s: £1.
Widnes v Atherton LR
Select Security Stadium, Widnes, WA8 7DZ
Liverpool season ticket holders' admission £3. Adults: £5, Concessions: £3, Under 16s: Free
Runcorn Town v Glasshoughton Welfare
Pavilions Sandy Lane, Weston Point, Runcorn, WA7 4EX
Adults: £5, Concessions (Under 16 / Over 65 / Students): £3, Accompanied Under 16s: Free
Burscough v Harrogate Railway Athletic
Victoria Park, Bobby Langton Way, Burscough, L40 0SD
Chester FC v Macclesfield Town
Exacta Deva Stadium, Bumpers Lane, Chester, CH1 4LT
Adults £15-18 (terrace/stand), Concessions £12-£10, Under 21s £10, 5-15 year olds £3, under-5s Free
Warrington Town v Padiham
Common Lane Latchford Warrington WA4 2RS
Adults: £8, Concessions: £5, Under 16s: £2: Under 12s: Free