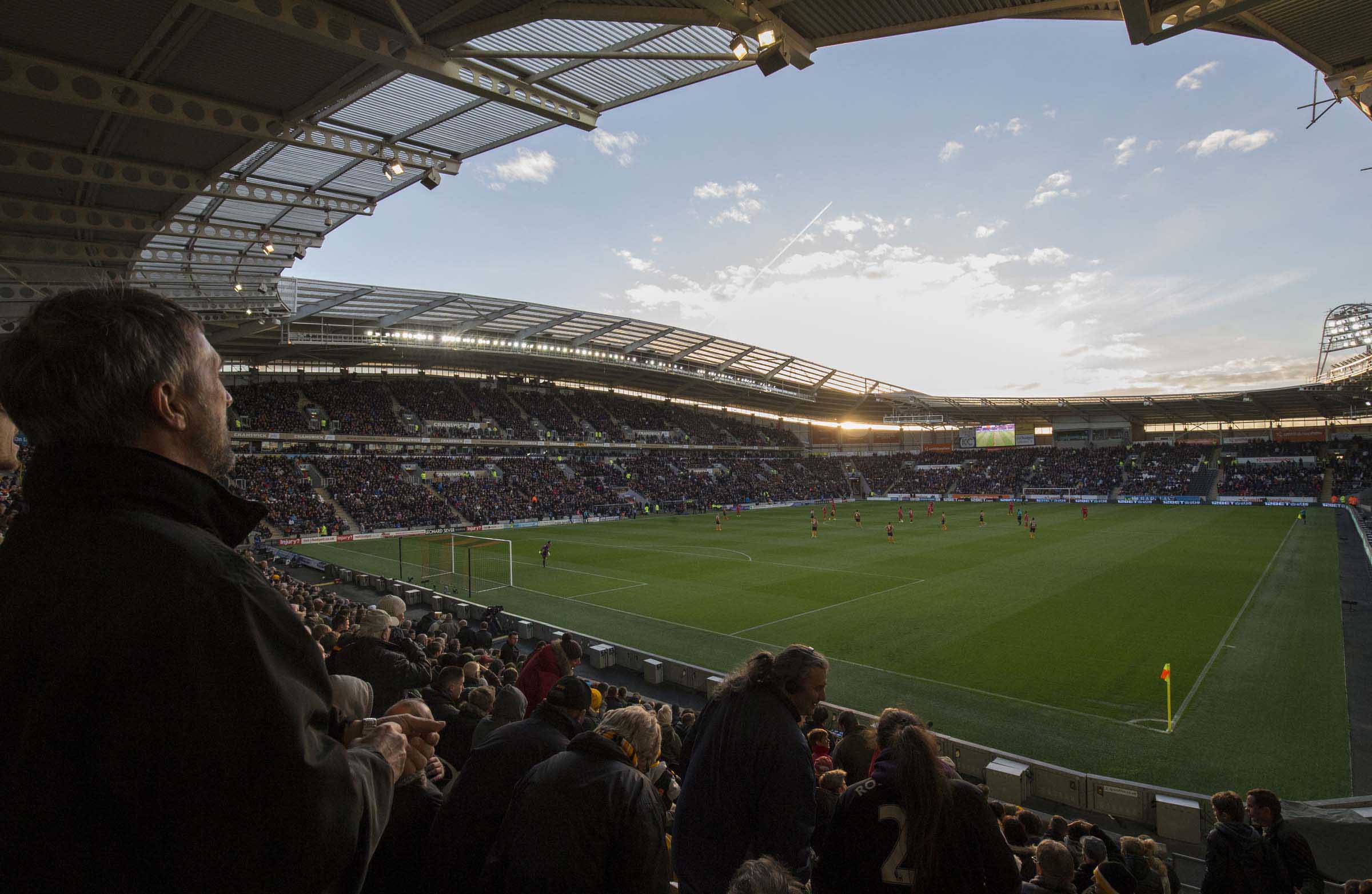 IT OCCURS to me that this is an example of a game where a match review might need to be that bit more of a match report. We have a non-televised game in the UK where around half of Liverpool's travelling support have chosen to stay away in protest at ticket prices.  
Of course, there's no such thing as a non-televised game any more and so I'm writing this having watched the first half in a Liverpool bar. Worldwide television rights and the money they generate are one of the reasons it is a genuine shame the Liverpool end is half empty tonight. Worldwide television rights is one the reasons why the powers that should be terrified by that end being half empty. The product suffers and simultaneously you can't put the streaming genie back in its lamp. Football is a communal experience done right and we shouldn't be losing that to needless greed.
The result of the game itself means we need a review as much as a report. Another unsquarable circle. Let's have a go.
Liverpool's first half had a load more incident than many of their recent games. There were two or three excellent saves from Mignolet at one end, the second save in a double especially agile and leading to Johnson clearing acrobatically off the line.
It wasn't Johnson's best contribution in a typically Curate's Egg of a half. It was the most Curate's Egg half ever. More a tray of 12 Curate's Eggs. His best contribution came when he burst down the left linking with two Liverpool players before he hit the byline, held it up and rolled it across the box. Either a lack of physics or footballing common sense meant it wasn't forced over the line and Liverpool were to go into the half-time interval one behind.
Balotelli's first half was full of curious movement, much of it unnecessary, spiralling away from dangerous areas between the sticks and instead showing, showing, showing. Too much showing but he lacked urgency in the defending which led to Hull's opener. Liverpool pushed out aggressively in a very un-Liverpool manner only for Balotelli to dawdle and play Michael Dawson onside. From 10 yards he made no mistake. You've probably seen that goal by now. Balotelli didn't last into the game's final quarter and yet again he failed to be effective and Liverpool failed to give him the opportunity to be effective.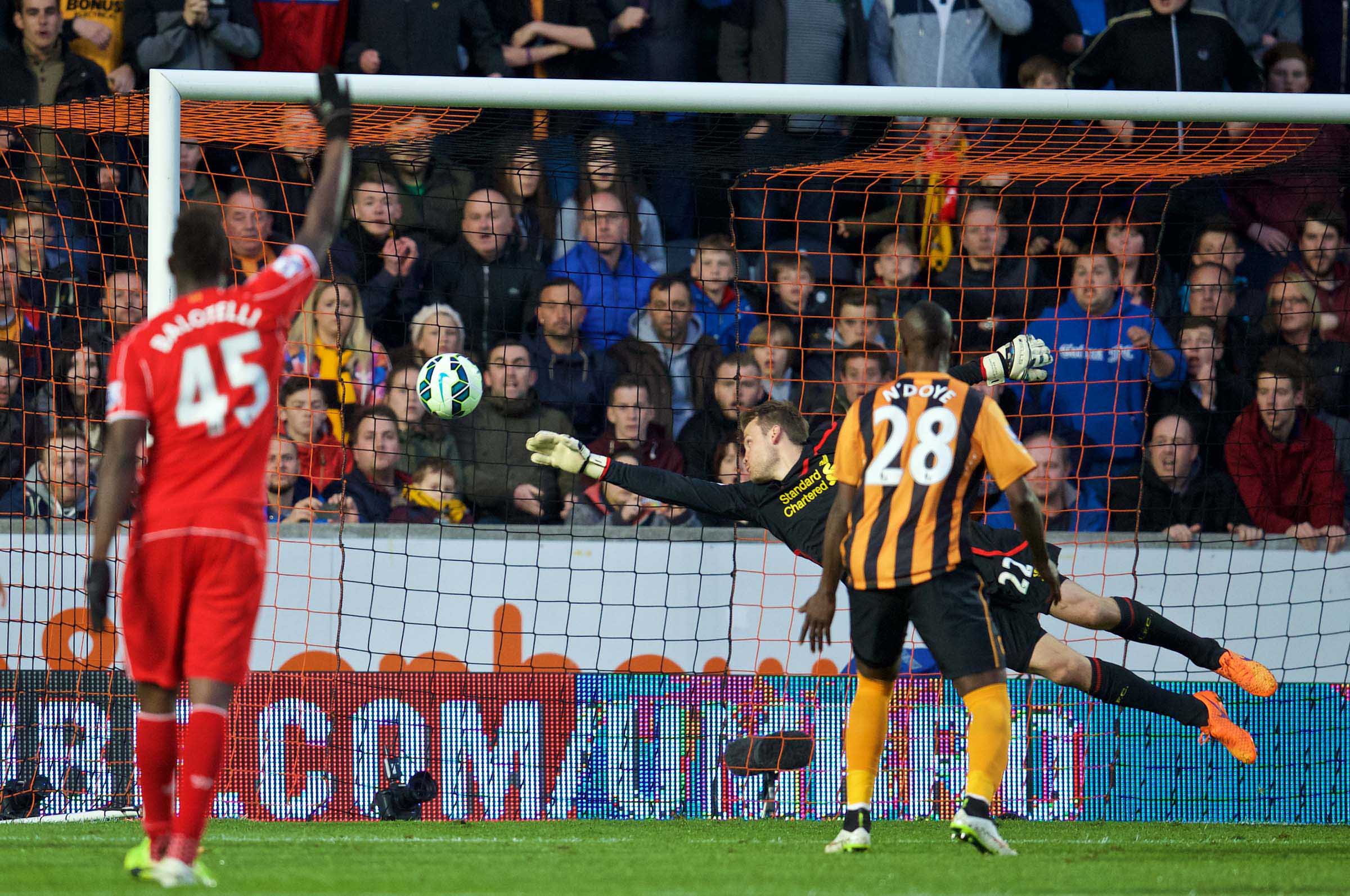 There is an issue around who your best player, your main man, is in a football team. Your main man dictates how the football is to be played and if your main man isn't your striker — and Balotelli is a long way from Liverpool's best player — then the side needs your striker to be a natural foil for your main man. All football teams have a focal point, someone they play towards and it tends to be the best player. Liverpool's currently is Coutinho and the issue around Balotelli, Lambert and Borini isn't so much exactly how limited they are, more that they and Coutinho are not suited to each other and Coutinho, perhaps not rightly but definitely understandably, doesn't want to defer to them. He doesn't want to tailor his game to their shortcomings. Your number nine doesn't just need a massive ego, he needs everyone to tug their forelock accordingly. Does Coutinho (and Sterling and Henderson) look at any of Liverpool's centre forward options and feel that is an adequate response? What? I serve you? No. You serve me.
This leads to Coutinho and his sidekick Sterling growing increasingly frustrated with what is around them. At least Henderson tends to have forward passes to this pair to play. These two look up and have nothing. Balls are played that don't take into account the limitations in front of them. The game takes place too much between the two of them and it leads to both taking pot shots as they did often in the second half. The one good piece of genuine quality from Liverpool second half which led to a chance — Coutinho feeding not Balotelli or Lambert but Henderson whose pivot and shot was excellently saved by Harper — was indicative of the football Liverpool's best players want to play but the football their cast of supporting characters cannot play.
Further, your best player being an attacking midfielder who likes to drop deep and get his hands dirty — a false 10 if you want nonsense — is an issue if nothing is ahead of him. That we haven't seen Coutinho as a false nine since Newcastle is puzzling. He showed discipline there and was high enough up the pitch where taking three players out made a bigger difference. Had we, in lieu of that, seen Sterling lead the line with Coutinho off then that would have made greater sense, though neither has the goals we need for either of those roles. Being honest though, Coutinho is a midfielder. But the only way it makes sense to play him as a midfielder is if he has at least one striker and one other forward/attacking midfielder ahead of him demonstrably in his class. Him having footballers strikingly inferior ahead of him isn't going to end well.
Emre Can toiled again in a role which is exceptionally unorthodox. A full back who tucks into centre midfield. He's in a little trough where he isn't good enough in either capacity. First half he got caught the most square on I have ever seen any footballer. He seems happier at centre back where he has the whole pitch in front of him. It may be worth popping him there from now until the end of the season.
Until the end of the season. Five games suddenly feels like a lot of games. Can we play them all in five days? It's such a turnaround from last season. Last season was the most excited me and almost everyone I know had ever been watching The Reds. To go back to what starts this piece, watching The Reds felt like a communal enterprise — we were working together building cathedrals in the sky. It was exactly what supporting Liverpool was meant to be. Dramatic, dynamic and fundamentally heart warming. It was what you got on the tin, something that had looked exceptionally unlikely for the longest time. For arguably the first time since the arrival of Hicks and Gillet, the football club had a thumping forward looking identity and unity of purpose. As this season has taken its toll, that's dissipated in every sense, on and off the field, amongst the club's employees and its supporters. And all are downright unacceptable, verging on keeping me up at night.
On the field, the reversion is almost complete. In the three seasons — Benitez's final, Hodgson/Dalglish's split season and Daliglish's full season — before Rodgers's arrival, Liverpool had lost on average one in every three league games. They are likely to be around that this season (though have already surpassed the points totals of 2010-12 and are more likely to surpass 2009/10 than not).
Rodgers had created the side he'd said he would. Whether it seemed wise or not — how I scoffed at him saying he'd return Liverpool to their history of attacking football, we're the arch-pragmatists you know, son — he worshipped at the altar of goals. Little did I know that goals, goals, goals are as much about pragmatism as clean sheets. I was blind, but now I see. We were moving on up the table and doing so with an exuberant panache I'd never seen from any Liverpool side when I could have a pint to toast it. Having craved a brutal, mechanical Liverpool there was the great leap forward of the antithesis of that. Being able to put the ball in the back of the net is the most pragmatic thing in football. Almost everything else (wilfully) misunderstands the word. And now on the other side of that Damascene conversion, it's horrific to see that bright light extinguished to just a flicker, Liverpool reduced to a side without a Plan A, just constant, whirling Plan Bs.
https://www.youtube.com/watch?v=LMcliwvvfsc
The constant remark from the curmudgeonly has been that it was Suarez not Rodgers. It would be naive not to take the Uruguayan's ability into account . This would count for more had he scored more than 11 league goals in 31 games under Dalglish in Kenny's only full league season (he gets 23 in 33 and 31 in 33 under Rodgers) and had he been firing Rodgers to the heights from the manager's arrival.
The reality is Liverpool were toiling during the first half of 2012/13. Liverpool surpassing two points per game stems from the arrival of Sturridge (and Coutinho), January 2013 to September 2014. Having two genuine quality forward options in the squad, to dovetail, to alternate when injured or banned, having that weight of attacking class meant Liverpool were able to take regular points off the poorer sides.
That Suarez was capable of greatness doesn't mean Liverpool and Rodgers were reliant on it. What they were reliant on, like most sides capable of going at two points per game, was constant threat. You don't need genuine world shaking greatness for constant threat in this mediocre league, but you do need two or three very good striking options. This season Liverpool have had a snifter of Sturridge and a smattering of Sterling, but nowhere near the weight of numbers required. Liverpool are a dreadful fifth and I've no real idea how they are a dreadful fifth.
But worse is off the field. A supporter base which had unified like we'd never seen before inside the ground on league match days, truly great league match days, and off it around the world has become fundamentally ratty and nasty in less that 12 months. Less than 12 months ago North John Street was getting closed down because of The Reds. This was the night the season finished. Less than 12 months on we appear to have fallen back to what perhaps we might just have to accept is our default position of dreadful, belligerent snides.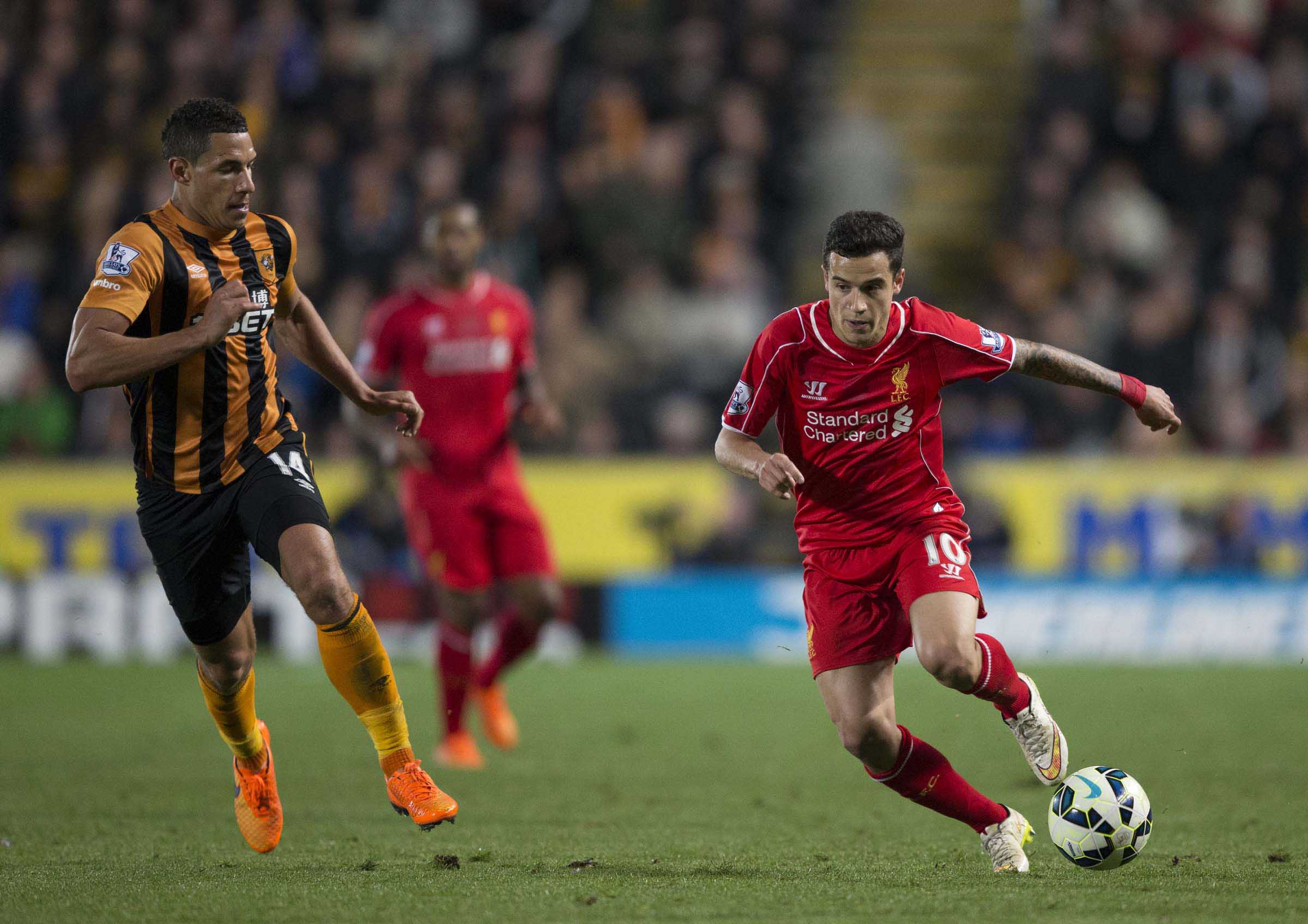 This is not just to the manager but to a number of his best players, who haven't shirked at any stage however bad it has got. The unpleasantness is everywhere.
To focus on the manager, though, thinking there might need to be a change of manager is completely understandable. I don't think there should be a change, I think I'd much rather see goals bought than anything else change at Anfield and regardless who is in charge Liverpool need to completely renovate their four centre forwards.
However, wanting there to be a change, deciding that the Liverpool manager who brought that unity and sheer delirious joy should go is something which should bring about sadness, not snide and yet this seems to verge on the impossible for too many of our supporters. I've only ever wanted two Liverpool managers sacked (Hodgson aside as he doesn't deserve the job title) and when that feeling descended for both Houllier and Dalglish I was melancholic. Two men who had given us great days. The former was also subject to horrible abuse and he had nearly died on the touchline. Why should it be any different, I suppose.
The good news from the game is off the pitch. The Reds might have missed out on all three points but the chink of light is what we are, as a group of supporters, able to do when we act with thought and as a collective. The boycott is quite an achievement and those involved can feel rightfully proud of themselves.
Groups such as Spion Kop 1906 who want to enjoy their football and have us enjoy ours and the wonder of this football club without being charged the earth for it are worth their weight in gold. On the pitch and off the pitch, we are, as ever, an unsquareable circle here in Liverpool. Tra-la-la-la-la.
Boycotts, protests, snides and good managers under massive pressure. Let's party like it's 2009.
We're the maddest football team in the land. Yes we are.
[rpfc_recent_posts_from_category meta="true"]
Pics: Propaganda-Photo
Like The Anfield Wrap on Facebook