IT'S felt like a season like no other for contract talks dominating back pages. No sooner was the Gerrard saga 'resolved' than attentions were turned to other players who needed to be signed up, with fans screaming for updates and journalists happy to oblige.
In his press conference before the Manchester United game Brendan Rodgers tried to take the current contract talk discussions off the agenda, saying nothing will be sorted until the summer as players want to concentrate on their football. Nice try, Brendan. We'll tell our footballers what to concentrate on thank you very much.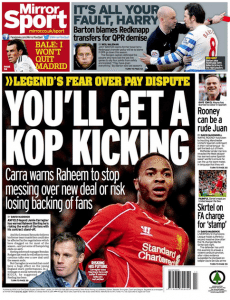 On Sunday Raheem Sterling was reminded of his contract negotiations at every turn (or lack of) by Liverpool supporters not much keen on the word support. He became a 'you' — the worst thing that can happen to a Liverpool player. You know, when the fans won't even dirty their mouths with your name. It's just, "do something, you."
Raheem Sterling probably was trying to do something on Sunday, but that didn't seem to matter. Nor the fact that he has played an astonishing amount of minutes for Liverpool this season for a player who has just turned 20, in about 17 different positions. "You want £150,000 a week, lad? Learn how to cross a fucking ball."
He may not want £150,000 a week, of course. That may just be the opening negotiation of an agent simply doing his job. Or it may be a number someone, somewhere has made up. There are rumours newspapers have done this sort of thing before — ask Steve McManaman.
Never mind though. Battle lines have been drawn now. Sides picked. And there aren't seemingly many on the side of the young lad who is really good at football and Liverpool's joint top scorer this season with 10 goals. He hasn't even got a song that has been widely adopted. Balotelli has. Can has. A Sakho one has started. But Sterling? No song, just stick.
11 – Raheem Sterling has been involved in 11 PL Goals this season (6 goals, 5 assists), 3 more than any other Liverpool player. Spearhead.

— OptaJoe (@OptaJoe) March 1, 2015
There are interesting comparisons being made between the differing crowd treatment of Raheem Sterling and Jordan Henderson — and some uncomfortable questions being asked in relation to race. I think, even if race does have a part to play here, there is much more to it than that: we seem ready to turn on ANY footballer given half an excuse at the moment.
And don't let anyone tell you this isn't more than half an excuse. Raheem Sterling has over two years left on his contract. That's an age. If he genuinely doesn't see the rush to get it sorted, or Brendan Rodgers, then he is quite correct. He has the whole summer to talk numbers, clauses and KPIs (unless of course someone tries to do something daft like send him to the UEFA U21 Championships).
Right now he would be right to concentrate on his football. It's a sensible move with eight games left to play in the league and an FA Cup sixth round replay on the horizon. Far more sensible, I'd suggest, than screaming at a footballer you are supposed to be encouraging just because deep down you are angry at footballers.
Because that's what I think many are. Angry with the lot of them. Angry because so many have left us recently at their peak — Alonso, Mascherano, Suarez. Angry at them for earning too much money (which is essentially blaming a 20-year-old lad for capitalism, by the way). Like a love-struck teenager who's had their heart broken one too many times, we're lashing out at the first sign of infidelity. We're stalking his Facebook. Going through his phone. Acting like mentalists.
7 – Raheem Sterling has now assisted as many PL goals this season as the previous three campaigns combined. Blooming.

— OptaJoe (@OptaJoe) March 1, 2015
Of course some players get this worse than others. We don't think Jordan Henderson will go. Not nice Jordan — he wouldn't do that to us. He's a throwback to past times when players were loyal and turned out for £5 a week and no-one ever asked for any more money….
We collectively, rightly or wrongly, suspect he won't do any better and so we're less worried. But flash Raheem with the world at his feet? He did it to QPR of course (although that was to us, so that's fine). He just might. So let's get angry with him now, so we don't end up looking silly again like we did with all the others.
For what it's worth I think both players will sign new contracts in the summer.
And both will earn more than nurses and teachers and soldiers. If they don't? Then we can have a big chat about player loyalty and how much they owe the club. Or we can have a chat about ownership and whether they are prepared to pay the going rate for elite young players. Or we can even have a chat about both.
But until then we'd be much better supporting them on the pitch rather than lashing out because the gap between poor and rich is widening in this country and Fernando Torres went to Chelsea.
It might not make them sign a new contract. But it will be much easier for them to play football between now and the end of the season. And isn't that what we want?
[rpfc_recent_posts_from_category meta="true"]
Pics: David Rawcliffe-Propaganda
Like The Anfield Wrap on Facebook