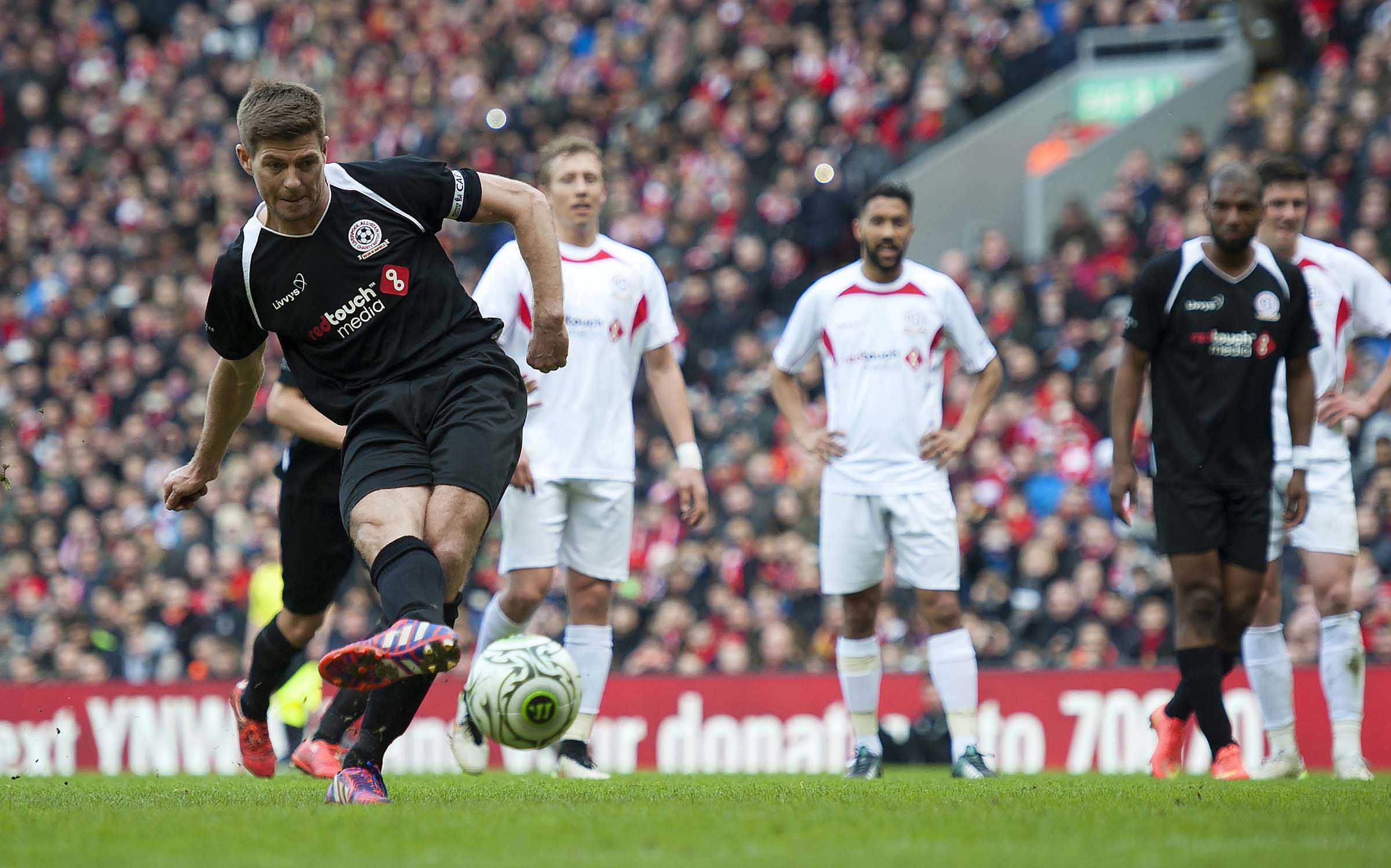 I'M not sure why I'm here today. What exactly is this game? I'm broadly aware there's a charity involved. Hasn't Gerrard already had a testimonial? I've heard some people refer to it as "the Gerrard memorial game", but I'm pretty sure he's not dead although he would have been if I'd been able to get my hands on him last Sunday.
Normally I avoid these lifeless occasions — testimonials, charity matches, pre-season friendlies —  like the plague and leave them to Anfield first-timers; kids brought to Anfield for a debut that's designed to whet the appetite for the real thing. In fact I'm sure an entire generation of Kopites took their first matchday steps at Ray Clemence's testimonial when Liverpool lost a clearly hard-fought affair 8-6 to Anderlecht.
My daughter Carla is football fanatic so I'm bringing her today. She's 14. By comparison with most Merseyside kids she's a regular. She's been to about 20 games in seven years since a remarkable, traumatic sequence which saw home cup defeats (Barnsley, Reading and Marseille) in her first three games. Christ, there were tears. We've turned it round together though. A carefully selected Oldham Athletic tie cast off the monkey and last season she was at Man U, Arsenal and Everton for epic wins courtesy of season ticket holders who can't plan holidays for toffee.
She'd like to go more. To every match in fact and I'd like to take her. Out of the question though with no season ticket and not a hope in hell of getting one in this cramped stadium capacity. However, I doubt I could afford it anyway, added to the cost of my home tickets alone which have cost over £1,000 this season, and subsidising my lad's cup tickets. He pays his own way for league games through a Saturday job. Good on him. He's one of the select few teenagers with an Anfield season ticket for which, after being on the waiting list since birth, he paid full adult price of over £700 at the age of 14 and 15 before Liverpool FC finally took pity on the handful of juniors to give him one sole year at an under 16s price.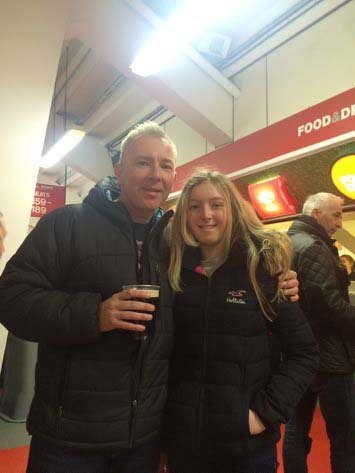 My kids are very lucky. By comparison with other locals, they get to watch Liverpool a lot. An entire Merseyside generation is growing up without that privilege, something that was passed down by father to son or daughter for as long as the Reds have been around. No longer. This generation of Liverpudlians — and most of their parents — watch us on TV. Knowledge is gleaned from playing FIFA and passion from watching Sky.
There's a message that's getting louder. It's too expensive. Ticket availability is at a premium, especially in terms of cost. 60,000 isn't big enough for Liverpool but maybe it is if you still want to charge £50-60 and make it a once-a-year treat for the well-heeled. The well-heeled part-timers don't scream and shout though and the more they infiltrate Anfield the less it becomes the 12th man the club are at pains to use in marketing their "brand".
At the Manchester United game last week there was no 12th man (actually an 11th man would have done after 45 mins 48 seconds), only silence from the first-timers in the ground on tickets bought from touts, disinterest from a growing number of Premier League neutrals, and angry whining from those who weigh up players' wage demands with the "fifty quid I'm paying to watch you, you lazy twat". It's sold as the best atmosphere in the league, when believe me, it rivals the worst. Anfield has big, big problems.
Against modern football rant over. It's obvious stuff but it still needs saying.
Today, it's £20 for me, and £5 for Carla. As it should be. A fair price which props up the billions from TV. That sounds alright doesn't it, Mr Ayre? Are you listening JWH? Yes, we know all clubs charge high prices, so why not take the lead on this? Be seen to be doing something for your community. We lead on driving down prices for people who want to come every week and force — no, shame — the hand of others to follow. Maybe it's just a pipe dream. The AMF rant wasn't quite over was it?
So, again, why am I here today, other than the fact that it's a chance to spend time with my daughter and it's reasonably priced? There were other options. A lazy day, some TV sport, cook a roast or a walk with the Mrs.
I think I'm here to see Suarez. And to tell Carla about Thierry Henry. Carla's here "to boo Terry and Drogba".
To see Xabi Alonso, Garcia and Reina (and Arbelooooaaaaaaa, as the song used to go). To drool over Luis Garcia and the brilliant Fernando Torres. Hang on, that reminds me. Why's Rafa not here? I'm mischief making here but I doubt he was invited (texts wife to say we'll have paella tonight).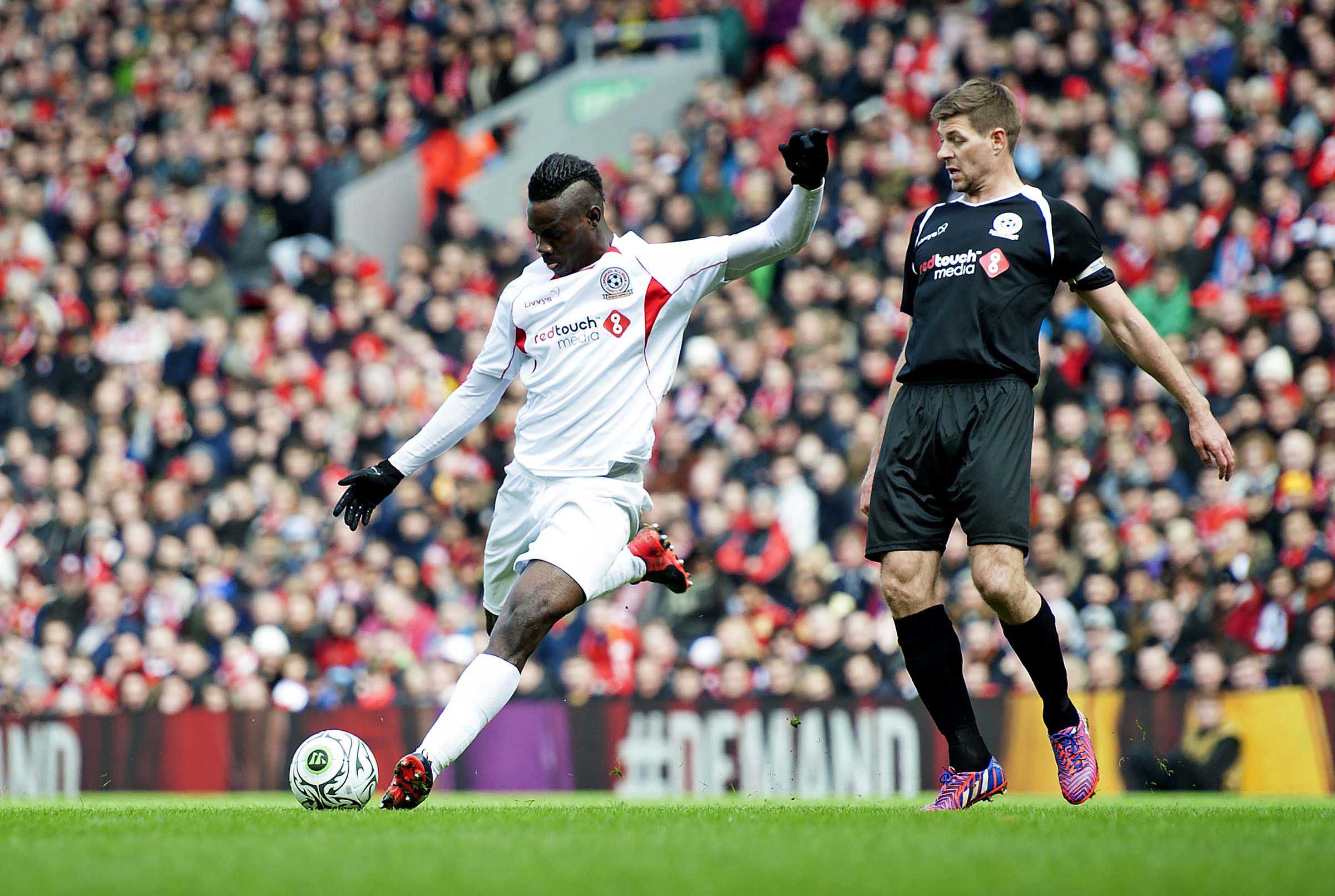 Imagine if it was Rafa in the dug-out today and not lovely old Roy Evans. You would see Torres taken off on 83 mins — in a friendly — replaced by Kevin Nolan, and Stevie would be there (anchored to centre mid) scratching his head and pulling funny faces at Carragher. For once though, Carra wouldn't back him up because he's still in major trauma at the sight of an ageing Thierry Henry. Sorry, Carra.
I'm being mean on Gerrard here. I'll say it again, he's got his flaws but he's still in the top five Liverpool players I've seen. With Barnes, Dalglish, Rush and Souness. Fucking hell, I forgot Suarez. Let's call it a top six.
It's a shame the shadow cast by that red card last week hangs over this "farewell"; this tribute. It's tragic that this season has been a "Slippy G" tour at the mercy of the nation's dickhead fans. He deserved that fucking league title. I'm still not over it and I'm sure it will haunt him to his dying day.
I hope to God he gets to exorcise this by lifting the FA Cup at Wembley on his birthday. If you're going to Blackburn, get right behind them. It's symbolic this. Gerrard needs that day in May, and so does this current Liverpool crop. Coutinho, Sturridge, Sterling deserve a coronation of sorts with Brenno wearing a button-hole and Gerrard wearing the lid of the FA Cup on his swede.
I've dreamed this already. We beat Arsenal in the final on pens. Gerro slots the last one in blazing sunshine. We're in away strip yellow and we change into white suits –with number 8s on the back — to go up the Wembley steps. Gerro, angelic, perhaps, in a white suit, or like God, wearing a beard, lifting English football's most iconic trophy. We're a replay win, a semi and a drawn final away from this in real life. Now, that would usurp 2006 as The Gerrard Final, and would kick old Stanley Matthews firmly into touch. Make it happen, Reds.
You might sense I'm schizo over Gerro. I am. He's fascinating. I hope he enjoys today. He's given us a lot.
Back to today, then. I've got tickets for my old seat in the Kemlyn (Centenary) Stand where I watched Liverpool from 1987-2007. Row 10 seat 180. Whenever I come back here — my dad and sister still sit here to this day — I'm always in mind of Barnes, no more than 10 yards away, flying down the left wing attacking the Kop to the roar of the crowd. If I'd had an iPhone then I'd have taken pictures aplenty. Maybe even the odd selfie with me in the foreground against a blur of Digger in red behind. I doubt I'd have used a selfie stick though.
Outside I'm intrigued to see what the street sellers have on offer for this game. Maybe a Rafa-Hodgson half 'n half scarf? It's a bit of a whopperfest around the ground. Some dickhead will buy one, I'm telling you.
Calm down. Calm down. I'm joking. In all seriousness, how about a Torres-Suarez scarf? Well, sadly we never saw that axis on the pitch as the toothy grin replaced the peroxide blonde. Who do we blame for that? Torres? I know plenty do and that will affect his ovation today, no doubt. Personally, I blame Purslow, Hicks and Gillett for false promises that took the smile from Torres' lips and Hodgson for emptying the remaining joy from his heart.
Some will never forgive, and leaving for Chelsea is a cardinal sin, but I understood. I spent three months hoping we'd lose, such was my loathing for Mr London, Roy Hodgson. And I'm from Liverpool, not Spain. I support Liverpool, not Atletico Madrid. Welcome back, Fernando.
With me today, dodging the rain under grey skies is my good friend Phil, who is giving his boys, Jack and Robbie, their Anfield debut in good old fashioned testimonial fashion; the first step on the road to being a time-served Red. They're in the Main Stand. Let's hope they don't develop a fixation with pillars and obstructed views and develop a later fancy for Goodison. They'll be educated into being great supporters for years to come — as long as they can afford it and as long as they can get in. Welcome aboard, lads. YNWA.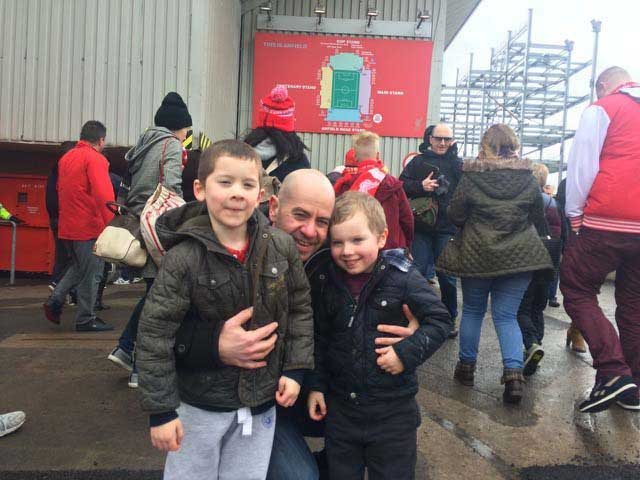 It's a nice, if rather sedate atmosphere inside the ground. The anthem plays. Too many hold up scarves but remain purse-lipped. It's not a crime to learn and actually sing it, lads and lasses. In fact, leave the scarf round your neck and just sing. Far better. Old Gerry's getting too long in the tooth to carry you.
Who the fuck am I supporting here? Carra's lot or Stevie's. Evo's managing one team; I'm not sure who is prepping the other. Where's Gerard Houllier, the man who Stevie connected with like a father and led us to a treble and reclaimed our European heritage? Maybe he'll just appear, like he did back in 2002, gaunt and hollow-cheeked after heart surgery on that epic night against AS Roma. Allez, Allez.
Here are the teams:
Gerro XI: Jones, Johnson, Terry, Anthony Gerrard, Riise, Nolan, Babel, Henry, Sinclair, Alonso, Gerrard.
Carra XI: Reina, Arbeloa, Carragher, Kelly, Flanagan, Lucas, Shelvey, Downing, Kewell, Drogba, Balotelli.
So, no Suarez and Torres to begin with. Both on the bench. Perhaps Rafa is here after all. Balotelli starts, which has to be deemed a slap in the face as the only other current first teamers in today are merely searching for fitness. The pre-match YNWA is different; not so many flags but loads of scarves. It looks brilliant. Round me in the Kemlyn it's mainly Scouse and there are lots of proud dads with their lads enjoying a day out — perhaps that first magical sight of the green Anfield turf.
Weirdly, no-one's playing in red, which is a dilemma for those who must nail colours to their football mast. It's Carragher's whites — and he looks svelte in his kit; not a scrap of fat on him despite hanging round with a thickening Gary Neville — versus Gerro's blacks.
Garcia gets the first chant, followed by the benched Suarez, then Alonso, Riise and Reina. All acknowledge the crowd who clap back in return. In Istanbul we won it five times.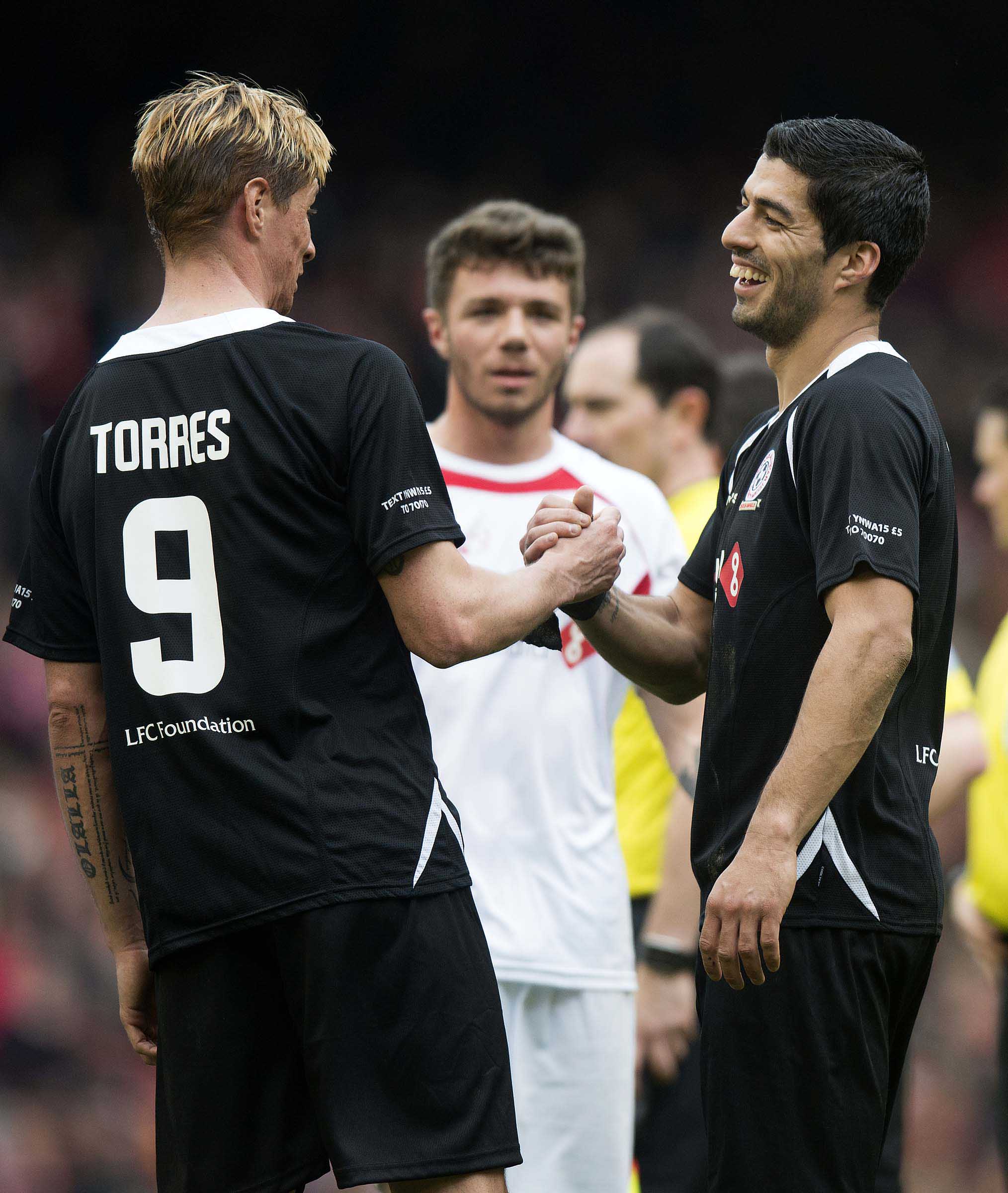 Then it goes deathly quiet, as per for these banal occasions. The silence is pierced by my Chelsea-hating Carla who screams "who's tracking Drogba?", before Brad Jones saves well from the Ivorian. It's a funny moment. I'd hate to sit with her at a proper game. I'd be having kittens.
Balotelli scores an opening beauty for the whites and looks good. Playing at a snail's pace seems to suit and he sprays it about as well. He looks a player….in a charity game. Carla's worst nightmare is realised when another fine Balotelli ball puts Drogba through and he rounds Jones for 2-0. I taunt her by saying I've got a pic of the goal for her bedroom wall.
For the blacks, young Jerome Sinclair shows pace and promise but is a tad erratic. The only player keeping him company with misplaced passes and skewed shots is Xabi Alonso who has a 'mare and goes off on 30 minutes. The slow pace though allows these lads to show how good they are; it is literally an exhibition with loads to admire.
The blacks rally and Carragher, who could still teach Lovren a trick or two, heads away a Gerrard blockbuster. Smiles are exchanged. Soon after the blacks win a pen and Gerrard converts unerringly for 1-2 to make a game of it in the second half.
A lot of good memories on my return to Anfield! Thank you all @LFC #LFCAllStars pic.twitter.com/t5BSLwQxhl

— Fernando Torres (@Torres) March 29, 2015
There's no need for Peter McDowall's team sheet pantomime — but we get it anyway; twice in one afternoon, just to announce in the most self-indulgent fashion possible that Torres and Suarez are coming on, along with Garcia and Bellamy.
Torres and Suarez enter the fray together, after everyone else, and line up in black to attack the Kop. There are cheers to the rafters. Predictably, the "Just can't get enough chant" pipes up for El Pistolero. Then what follows really gladdens the heart. Bygones are let as "Fernando Torres, Libpool's number 9" booms out from the Kop. He looks really surprised; delighted but surprised, but always just a little sad. It's a lovely moment and to be honest it makes my day.
There's a generosity to this crowd that was absent last week against United. People are here today to have fun, and not enough of our league crowd are signed up for "any of that shite".
The crowd aches for a Suarez goal, but more so for a Torres goal. There's another pen and Gerrard casts an eye around for any takers before netting again and making it 2-2 at the end.
It ends with a lap of honour, applause, hugs, smiles and an overall sense that to be a Liverpool fans is a massive privilege, but one that is being denied to far too many.
[rpfc_recent_posts_from_category meta="true"]
Pics: Richard Martin-Roberts/Propaganda & Mike Nevin
Like The Anfield Wrap on Facebook