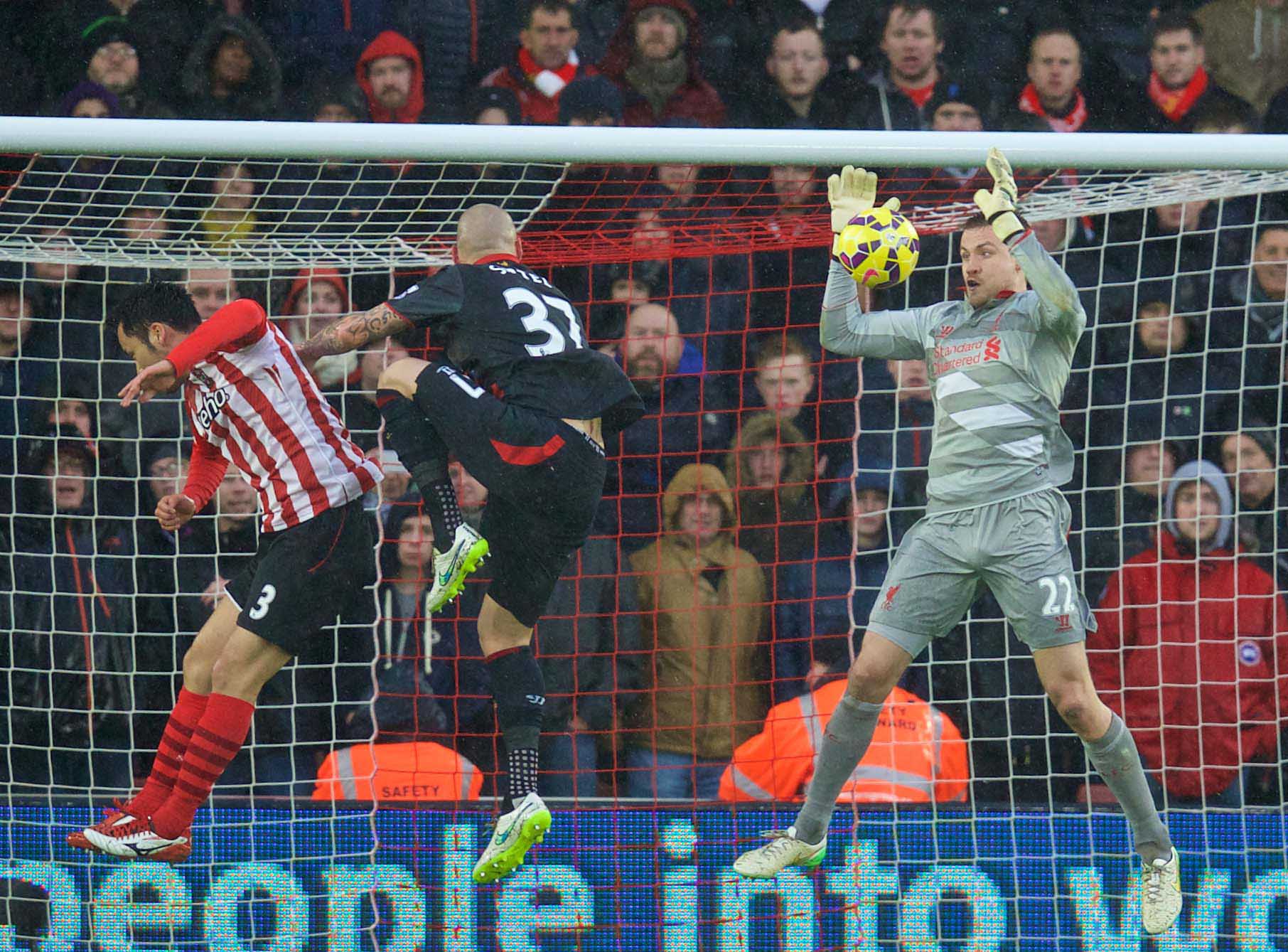 SIMON Mignolet almost handled the ball outside his penalty area against Southampton. If you'd suggested such a thing a few weeks ago then you'd have been laughed out of town.
One of the most enjoyable things about being a Liverpool supporter for me is the concept of the ludicrous — those instances and occurrences that are ludicrous in nature but in a positive way; the things that you can't help but smile about. Mignolet provoked one of those smiles for me against Southampton and it's showing no signs of fading.
The turnaround in the fortunes of Mignolet go hand-in-hand with the turnaround in the fortunes of the team as a whole. It's all so ludicrous and I can't help but smile. He's coming for balls he wouldn't have dreamed of  just a few short weeks ago. His shot-stopping is still exemplary. He's shouting the odds at his defenders and they are listening. Martin Skrtel hasn't snarled at him for ages and when the play is at the other end of the pitch Mignolet is positioned 15 to 20 yards outside his penalty area. It's almost as if someone has slipped him a few DVDs of Liverpool keepers past with the remit of 'watch and replicate'. Simon Mignolet is all of a sudden symbolic of the rebirth of the beautifully ludicrous personality of Liverpool FC.
I'm starting to fall for this evolving version of Liverpool FC in a big, big way. It hasn't been an easy task for it to emerge from the pyro-clouds of last season. This is a new Liverpool that is very much detached from the 2013-14 variation. This is a new Liverpool that isn't just finding its feet and blinking in the early morning sunlight, it's a new Liverpool that is beginning to kick over chairs and turn over tables like a trainee Gene Hunt trying to extract a confession from someone that has the word 'fingers' for a middle name. This new version of Liverpool is starting to upset people and it's gloriously ludicrous after what we witnessed earlier this season.
So 12 games to go and we sit 10 points behind second-placed Manchester City. So let's be ludicrous and aim higher than we probably should. Let's beat Manchester City on Sunday and draw to within seven points. Let's make more than one or two teams above us think and worry about us. Let's make all of them sweat that little bit more.
We weren't all that great at St Mary's on Sunday, but it was my favourite three points of the season so far. Philippe Coutinho thundered another jaw-dropper in from distance and Raheem Sterling guided one in that Fraser Forster probably should have kept out. An array of penalties could or couldn't have been given. Each shout was 'debateable' at best. There was a bit of Keystone Kop defending that we weren't punished for, which seems par for the course when Dejan Lovren is involved. But that's the same Dejan Lovren who I still believe can be another 'lost cause' to be transformed from round peg for square hole to round peg for round hole.
I wrote earlier in the season about my Southampton-supporting mate Doo and how he was angry with Liverpool. How he was sad to see him go, but was ultimately pleased for Rickie Lambert to win his dream move to Anfield, yet was apoplectic about Adam Lallana and Lovren ditching the club he loves for the same destination. Anger doesn't suit Doo as he's a great fella, but I can't blame him for still being a bit 'uppity' about the whole thing, especially given how all three of the players we took from Southampton just seem to float around the periphery at Liverpool.
I admire the way Southampton have bounced back from the loss of so many key players from their progression last season, from the loss of their manager to a Tottenham Hotspur side that might well walk out at Wembley for Sunday's League Cup Final, but also still sit behind them in the league table with just a dozen games to go.
I can't help but like Ronald Koeman, even if he does look like a man that should be a professional darts player rather than the manager of an English top-flight football club. I'd quite happily see Southampton and ourselves oust Arsenal and Manchester United from the top four places where they currently lie. Essentially I want Doo to like us again, as I feel like we are a football club that is about to dance its way to mid-May in that 'nothing is impossible' frame of mind that so nearly won us the title nine months ago.
Football that makes people smile in a mandatory manner really should be liked by everyone. Doo, and you, should embrace the ludicrous.
[yop_poll id="32″]
[rpfc_recent_posts_from_category meta="true"]
Pics: David Rawcliffe-Propaganda
Like The Anfield Wrap on Facebook