Brendan,
First of all, I'm a big fan. Let me put that front and centre. I think what you did with Liverpool Football Club last season was close to miraculous, and that the people who think it was all down to Luis Suarez don't have a clue how football actually works.
This isn't an attack letter, far from it. Look upon it more as something someone's popped into the Anfield suggestion box.
Because, in truth, there are a couple of things that need to be said — starting with the Scouse elephant in the room.
I'm 32. I've grown up with Steven Gerrard as my idol. My abiding memories of life as a Liverpool fan are so entwined with our captain that I sometimes imagine I can feel his pain as well as share his glory.
The screamer against Olympiakos; the twirling arms of Istanbul, begging the Reds in the Attaturk to hold on to their belief; the kissing of the European Cup; the tears of joy and hope in the aftermath of the Manchester City game last season.
My point is that you cannot possibly hold Steven Gerrard in the same regard that I do. He has been Liverpool's captain, saviour and my hero for the duration of my formative years.
So if your decision to play him come hell or high water is based on some misguided sense that it will prove to Liverpool fans you understand how important he is to them, you're wasting your time.
Your insistence on playing Gerrard as a defensive midfielder is breaking my heart. Those glorious images of Steven Gerrard are being replaced. The last-minute equaliser he scored against West Ham in the FA Cup is fading. Instead I see him being bossed by Stewart fucking Downing. The shoulders that once carried Liverpool Football Club through tough times are now slumped, defeated and confused.
Steven Gerrard is not a defensive midfielder. If you want him on the pitch that's understandable; he's still one of the best players we've got. But please, please stop playing him in a position that seems to be slowly destroying him.
Gerrard isn't solely responsibly for Liverpool's woes, of course, and that brings me on to my second point: it's ok to admit you've got weaknesses.
As much as I despise Alex Ferguson, there's no question that he's probably the second best manager in British history. His number one strength? Knowing his own weaknesses.
Liverpool have conceded 143 goals in all competitions under your management, Brendan. Perhaps it's time to admit that you're not great at organising a defence? Your declaration that you won't be bringing in a defensive coach is…worrying.
Those two points can also be tied in with my next one: it's ok to buy a defensive midfielder. I know you don't seem to want to, but maybe you'll do yourself and the team a favour if you just put the word out that you'd like a specialist player who can protect the defence and link with the attack?
Next up: it's ok to drop players that aren't performing. Seriously. Maybe you're a massive fan of the way that Glen Johnson controls the ball beautifully before turning and running into a group of opposition players, or having a shot that goes nowhere near, you know, the target. But most people would consider that perhaps it's time to put him out to pasture.
In a similar vain, it's also not a problem if you want to substitute off the lads that seem to be struggling. Ok, so sometimes this would mean needing 11 substitutes, but work with me. The captain shouldn't be above reproach. Surely it would be better to use him flat out for 60 than run him into the ground by playing him for every single 90, ever?
The defence is, whichever way you look at it, a problem. Why not explore the idea of playing the same players for a few games in a row? They're struggling to communicate, so maybe a chance to get to know each other may not be a complete waste of time?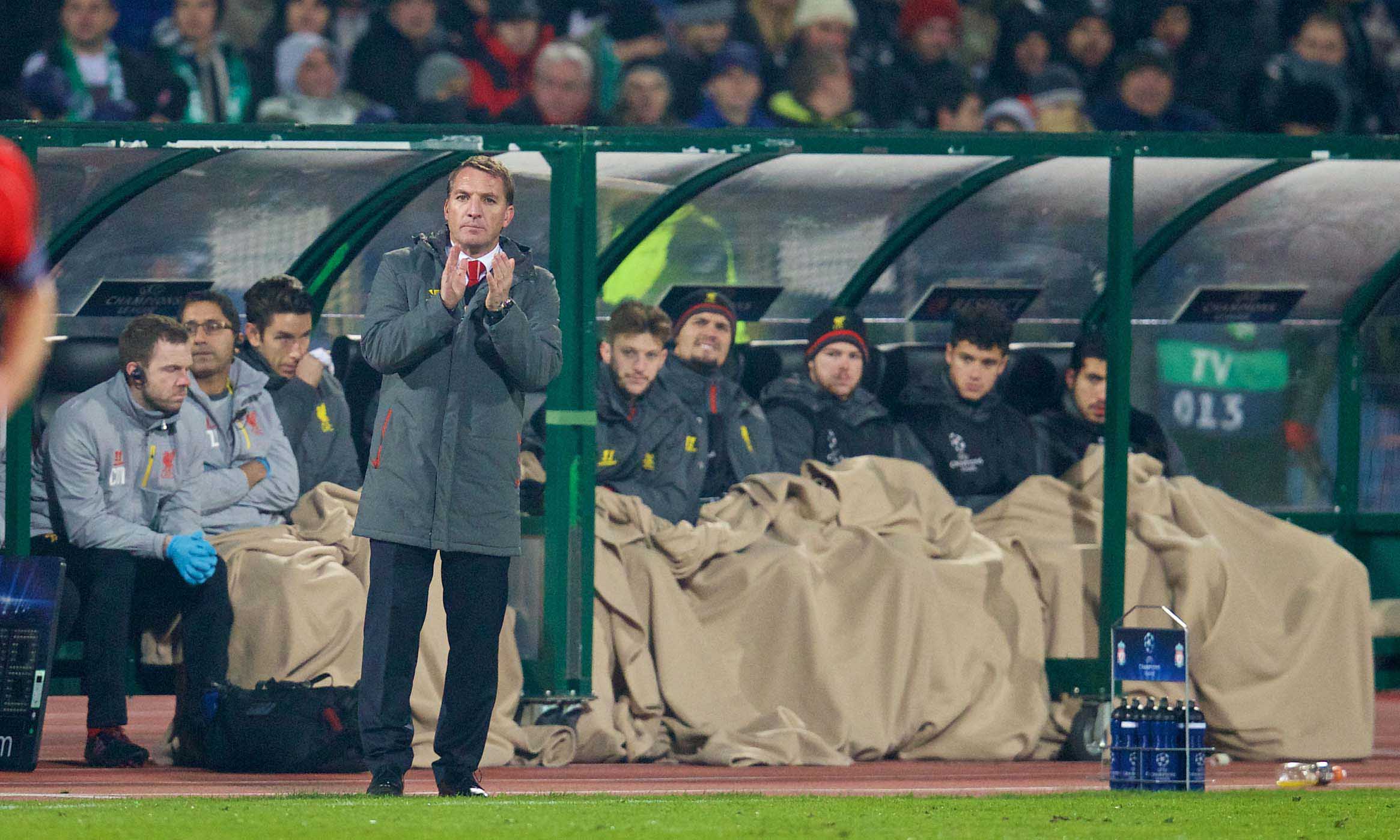 All of that links in with the notion that you might also want to reward players who do well. Can, for example, looked one of our best players against Real Madrid away and Chelsea at home. Moreno has been reasonably solid at left back — certainly better than GlenJo at any rate — and Toure has looked the business when he's come in. Why not let them keep their place? Give them a sense that there's something worth playing for.
I'll tell you what else might be helpful too. Remembering who you are. Suarez was the best player in the world on form last season. Of course losing him and Daniel Sturridge is a big blow. But he wasn't the man choosing different formations. He didn't move from a 4-3-3 to a diamond, or get Raheem Sterling to be one of the best young players in Europe. That was you! You were an exciting, attacking and intelligent manager last season, always trying new things to outfox the opposition. You worked with what you had and did it incredibly successfully — you were the definition of pragmatism.
Remember the laughs? Remember the joking around? Where's all that gone? You look tense, mate. You look like you've got the weight of the world on your shoulders. I know it must be difficult, but you've got to try to get the fun back.
To phrase it another way, rediscover the pragmatism. The majority of intelligent football fans know that all managers will go through tough spots. They aren't going to want their manager sacked at the first sign of trouble. Unless they're Chelsea fans. But fans do want to see the manager trying different things to get out of the slump.
I sometimes play Scrabble with my girlfriend. I'll get letters like Q I R and S. There'll be a cracking place to put it on the board, with the Q on a triple letter score. The problem is that QIRS isn't a word. Neither is any other combination of those letters. Yet still I play them, over and over again, in the hope that at some point it will magically work and I'll have a cracking score.
The issue, of course, is that it's never going to work. Really I should just move on and try something different. Like not playing Balotelli up front on his own.
Last season, as well as the fun, you were also all about looking at things just one game at a time. Win the game in front of you and then worry about the next one. What's happened to that this season? I know there are more games to worry about, but you've got a squad! That's what they're there for! Figure out your best team and stick to it. Then when someone gets injured or fatigued, bring in a replacement. Perhaps you don't trust your squad?
Which brings me on to what I think will be my final point, Brendan. Fans don't give a shit who signed which player. We really don't care. Maybe there's a power struggle going on behind the scenes at Anfield. Maybe you feel you've got something to prove to John W Henry and the big boys at the top. But as fans we just want to see the team win. If the transfer committee suggested Alberto Moreno and you don't want to play him as a gesture of your power to them, you're cutting off your nose to spite your face. You'll win no respect from the fanbase that way.
Arrogance can be a good thing. Fergie had it in bagfuls. Mourinho's got so much it flows out of his eyes and straight into the brain of any journalist who writes about him. But arrogance can also be misplaced. If you think continually refusing to give players a chance just because you didn't sign them is the right kind of arrogance, you're dead wrong.
You're the man to take us forward. But you need to remember what it was that made us so successful last season. Suarez? Sturridge? Of course they made a big difference. But they weren't the key ingredient. That was you.
You can carry on doing the same thing over and over again if you'd like, but the result will be similar to sleeping with a foot outside of duvet. It might seem ok to begin with, but after a while you'll start to feel bizarrely unsettled and eventually a monster will grab your foot and drag you away.
So mix things up! Try something new! Admit your own weaknesses and lose the worst side of your arrogance. At the moment we're only going backward, so surely things won't get any worse?
Oh, and for the love of all things holy will you get Colin Pascoe to put on some bloody trousers? It was -2 degrees in Sofia and he was sat there with a pair of shorts on like he was about to take a stroll down Bondi Beach! He's nearly 50 for Christ's sake, he'll catch his death!
I think that's it. I might have missed something, but I reckon there's plenty there for you to crack on with. When all's said and done we all want the same thing – success for Liverpool Football Club. You won't earn bonus points if we're successful because you stuck stubbornly to your guns over issues that seemed relatively simple to fix for most. You'll only win the plaudits if you adapt and change.
Something you showed last season that you're eminently good at.
Pics: David Rawcliffe