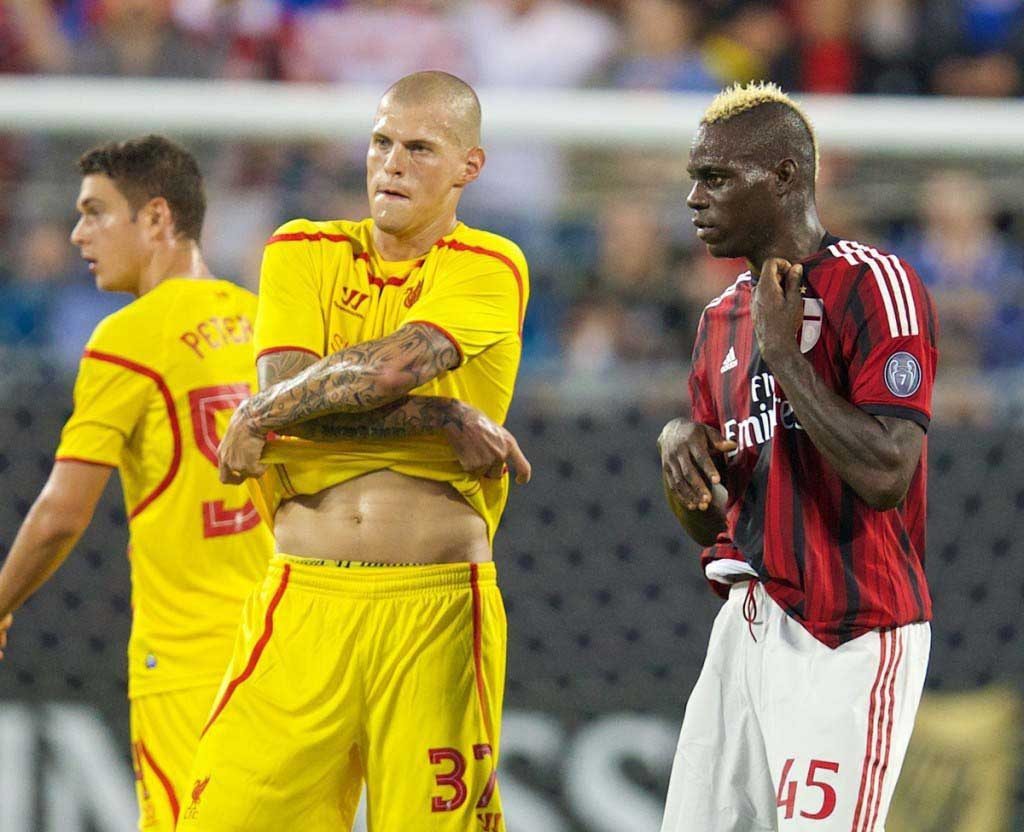 MARIO Balotelli then. Bit out of left field, wasn't it? What with the categorical denial of interest 18 days ago and all that. And it appears, to say the least, to have divided opinion among Reds. After missing out on Alexis Sanchez, the collapse of the Loic Remy deal, Wilfried Bony and Swansea wanting too much money and Radamel Falcao,  Edinson Cavani and Karim Benzema showing no interest in coming to Anfield, attention has turned to the former Man City striker. The AC Milan player – who has won the Premier League, Serie A four times and the Champions League – looks a snip at the reported £16m but he's clearly had his problems and was once branded "unmanageable" by Jose Mourinho. He scored 30 in 80 for City, but was sent off four times. At AC, his record reads 30 goals in 54 games (10 of them penalties). At 24, has the time arrived for him to mature and show the world what he is really about? Are Liverpool and Brendan Rodgers the club and the manager to finally get the best of Balotelli? We asked two regular Anfield Wrap contributors to argue why we should – and shouldn't – sign the Italian striker.
YES, WE SHOULD SIGN MARIO BALOTELLI – SAYS PHIL BLUNDELL
IF you're on board with Mario Balotelli, you don't really need to read this. Mainly because you're right about him. He's great. It will be fun, and he's actually pretty good at football.
"He does loads of mad things and he's really disruptive." Yeah, and what?  We've just sold someone who picked up the best part of a season's worth of suspensions for deciding to bite people so you can keep the madness line – it's daft. What was the last mad thing he did? You don't actually remember do you? And you know what, so what? I'd have a fight with Roberto Mancini as well because he's a bit of a d***head if truth be told.
Loads of the stuff that Balotelli is (in)famous for has absolutely no bearing on him actually being any use to Liverpool on a football pitch, so why does it matter?
It doesn't.
The other part of that sentence was 'He's disruptive'. The easiest way to realise how utterly irrelevant that is, is to go on his Wikipedia page and check his honours.
He's that disruptive that he's 24 years of age and has four League titles and a Champions League medal in his possession. Who is he disrupting exactly? He isn't Carlos Tevez who just fancied playing golf for six months, so went and played golf.
He gets frustrated from time to time and does something mad. We've got a manager who should manage him better than previous, bosses and I'd like to think our dressing room togetherness that is so evident would be really helpful for him. Maybe it won't be. Maybe Rodgers won't do better with him. Is it a gamble? Absolutely. But take it from me everyone, he's a gamble worth taking.
From a football point of view, I honestly really rate him. I think he's got the lot, he's physically fantastic, technically brilliant, and boy can he finish. I defy anyone to go back and watch the Germany Italy semi final from Euro 2012 and try and form a logical football argument as to how on earth anyone has decided that the centre forward who should score both goals and send Italy to the final, and was so obviously brilliant, can move clubs for £4m more than Shane Long.
You simply cannot. And that is the reason why this is a brilliant transfer.
It's a risk, of course. Every transfer is a gamble, particularly Balotelli – there's no argument that it isn't. But with talent like that it would be negligent to just let him pass. Even if you think he's bad news, surely there is a part of you that thinks we simply have to have a look. £16m in this day and age isn't much money. Go and look where he'll fit in around other players who've moved clubs this summer in terms of cost. Some of them aren't fit to clean his bots.
Oh, and ignore anything anyone has said about AC Milan. He scored a goal and got congratulated by Sulley Muntari – they were atrocious and are an absolute mess of a football club.
One final reason? This is a statement. He's a big-name player, a player that you can hang your hat on.
While I'm happy with what we've done business-wise this summer and think we're maybe another goalkeeper away from having got everything we need, there still isn't a signing that gets people talking, that excites; a signing that makes the world sit up and take notice.
I was of the opinion that our business this summer was about stability, and next summer we can go out, buy two or three top-class players, good season assumed, and really kick on as a force. This further enables that. He's a big player. He's high profile.
Don't like him? Fine. Don't rate him? Fine. We aren't going to be worse off by signing him. The potential upside is far, far greater than any downside.
NO, WE SHOULDN'T SIGN MARIO BALOTELLI – SAYS NEIL SCOTT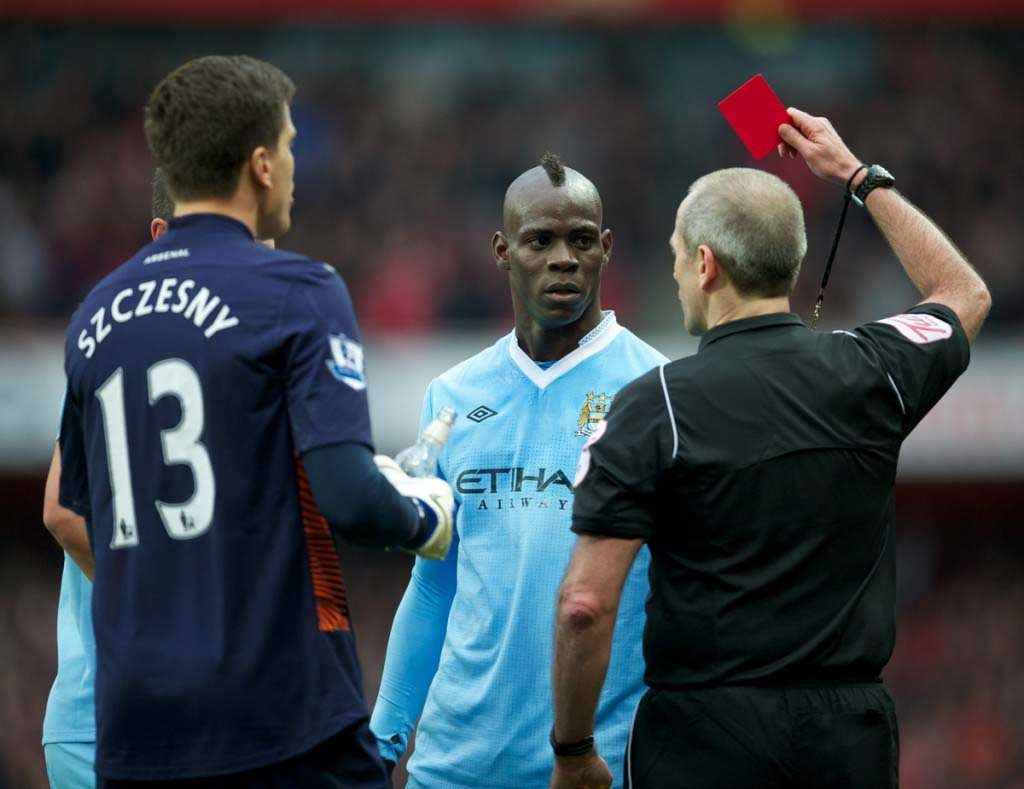 First things first, Mario Balotelli is not mental. He's not mad, he's not crazy and he's not a nutter. Neither was Luis Suarez, for that matter. Throwing around such heavily loaded terms is neither helpful nor empathetic. It just serves as a means to avoid addressing the cause of individual actions and reinforces a stigmatising culture.  You become quite sensitive to these things when your wife manages a mental health charity.
Yet, as news of Balotelli's move to Liverpool spreads like wildfire, it seems that this, this proclivity for behavioural quirks, is the thing people are most enraptured by. Balotelli the Madman. Balotelli the Headcase. Go on Mario, do something outrageous. Go on.
The response to the signing has been overwhelmingly positive. He'll be a right laugh. He'll wear stupid hats and talk to ducks and build a castle and everything. He'll ride down Church Street on a unicycle with his top off. Ace.
Obviously, anyone going against the accepted narrative is a joyless, self-loathing enemy of fun. Someone with no soul, someone who hates football and who probably lives in a shed.
Not for the first time, I am that man and I've come to p*ss in your Shreddies.
I have concerns about the whole thing. Massive, skyscraper-sized concerns. Concerns so vast they are probably visible from space.
For starters, you don't just sign Mario Balotelli. You sign the Cult of Mario. You sign everything that goes with him; the tantrums, the sulks, the fireworks in the bathroom, the trampoline, the Lamborghinis and Ferraris, the stamping on opponents, the bib wrestling, the red cards, the club fines. Baggage. More baggage than Mariah Carey takes on a weekend break to Skegness.
It's naivety bordering on denial to presume that we'll be able to control him, to manage his behavioural issues. Inter have tried. City have tried. AC Milan have tried. It's not happening. If Steve Peters thought Suarez was a challenge, he's seen nothing yet.
Talking of Suarez, we became conditioned to accept the unpredictable last season. It was our modus operandi. On the whole, it worked in our favour. But it's not sustainable. It's not something you can build a foundation on, nor adopt as a model for success.  To quote Bill Shankly: "They said we were predictable. Well, I think anybody who is unpredictable is a waste of time."  Are you saying Shankly was wrong? I'm not. Ever.
It's noticeable that, for all the euphoria and the anticipation of japes a-plenty, not too many people have mentioned the actual football. What Balotelli can bring to the team. His strengths and flaws. I find that odd. It's as if the only thing that matters is the LOL-quotient, that it's enough to be 'a bit of a character' and everything else will fall into place.
I've never been convinced by Balotelli the footballer. At City he was wildly inconsistent, veering between moments of genuine class and jaw-dropping inadequacy. At turns uninterested, isolated, incisive, temperamental, threatening, wasteful, frustrating. Get him on the ball in the opposition penalty box and he could be devastating. Too often he remained sidelined, unable to grasp exactly what was required of him, with a tendency for making absolutely the worst decision at any given time.
In many ways, he is the antithesis of Suarez, the player he has been brought in to nominally replace. Think of the Uruguayan's work-rate, his team ethic and his fierce will-to-win. All traits that have never been associated with Balotelli. Rightly or wrongly, Suarez was excused his faults (and he had plenty) because when he was on the pitch he could do things that no-one else could dream of and he would sweat blood for the cause. That's why Barcelona were prepared to pay £75 million for him. Because in football, ultimately all that matters is winning football matches. Suarez gives you a better chance of doing that. Does Balotelli? I'm not sure.
He's been at three big clubs now. None have been too sorry to see him leave. He wouldn't be available for a fee of £16 million if Milan were desperate to keep hold of him. I understand the 'restoring damaged goods' argument, the belief that Brendan Rodgers can take players who have failed to fulfil their potential and coax the maximum out of them. He did it with Sturridge, and with Coutinho. And I think Rodgers has enough belief in his methods to feel he can work the same trick with Balotelli. But it's a huge gamble.
The question is, how does he fit in to Rodgers' vision?  Not long ago, the thinking was that Daniel Sturridge would now ascend to the position of attacking focal point, the main man, the arrowhead, supplemented by a supporting cast of fleet-footed accomplices.  It was felt that the Suarez – Sturridge partnership was an unnatural one, a consequence of personnel rather than design. But does the acquisition of Balotelli not commit you to a two man front-line once again? As it happens, I'm a big fan of playing with two strikers, so that, if nothing else, I can get behind. You have to wonder, though, how this affects Sturridge and how a player who is the very definition of 'an individual' will be incorporated within the team aesthetic.
Look, I could go on all day like this. I'd say why I think he might well turn out to be a liability. You'd show me a picture of him skateboarding with a wok on his head. I'd say we'll be lucky to get two seasons out of him. You'd show me a clip of him lashing one home from 30 yards then standing impassive, awaiting the acclaim. We go round in circles, we get nowhere.
Ultimately, I don't think he's a bad lad. He endured a troubled start in life and has stood up to the most appalling racism. His behavioural issues are complex and deep-rooted. But it goes without saying that if he does well, and if Liverpool do well, everyone will be happy. Even me.
I see Mario Balotelli as a vulnerable manchild prone to acts of unspeakable stupidity. I also see him as a footballer with multiple defects, but with a definite spark of something that could, could, elevate him to greatness.
It's in his hands now.
One thing though. He doesn't need egging on.  He doesn't need to have people hanging on his every ill-advised action, eager for more. He doesn't need to live up to a reputation that, at every step, undermines his latent ability.
This could be his last chance. He'd be an idiot to waste it.
Mario. Don't be an idiot. Not again.
Pics: David Rawcliffe
[rpfc_recent_posts_from_category category="1″ meta="true"]
[yop_poll id="7″]