QUESTION : WHEN IS A £50MILLION STRIKER NOT A £50MILLION STRIKER
Answer : when he has scored just one solitary half arsed goal in a competitive club match in nearly 10 injury and goal free months. That is Fernando Torres and his current employer's stark reality. There are few crumbs of a comfort or allowances that can be made for that most lamentable and melancholy of beasts, a misfiring forward.
David De Gea, Manchester United's latest 'dodgy keeper', repairs a questioned reputation with each passing game where he doesn't, to use a technical term, fuck-up. An expensive playmaker like David Silva had the time and space to bed in at Manchester City last year. He did not hit any ground running, and was often left kicking his heals on the substitute's bench last season.
Silva benefitted from the patience a player of his type can be afforded, and now both he and club are reaping those big wished for rewards.
Jordan Henderson, at 21, and with a £16m plus price on his youthful bonce, is a kid under pressure. Yet, he will be given months, maybe a year or two, to show that the punt Liverpool took on his potential was worth it.
For a striker with a reputation and a transfer fee to match there are no hiding places. The brief for the target man, is very simple – hit the target. Hit it properly too.  Lots and lots of times. Score goals. Bucket loads of them.
Fernando Torres may be a goal away, against his once traditional victims at Old Trafford, this weekend from the re-igniting a Chelsea career that has thus seen his status as 'world's best striker' plunge into freefall. A high profile strike could begin the process of change that he and Chelsea so crave.
However, Manchester United are unlikely to want to be cast again as minor actors in the next chapter of the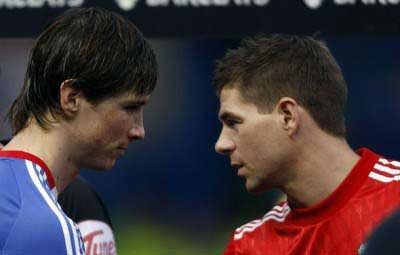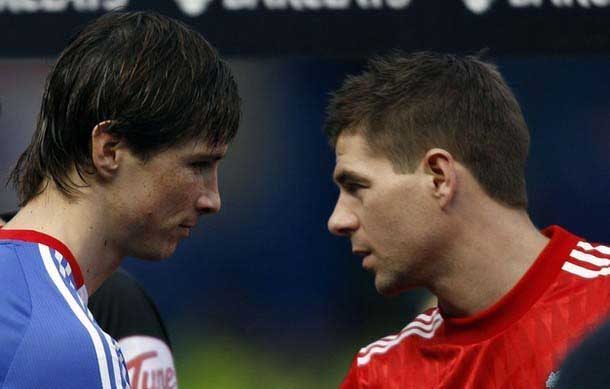 Fernando Torres story. They are in fact  likelier to become the umpteenth side since January to happily contain him and send him scuttling back to the dubious comfort of the subs bench after about an hour of Sunday's game (and that's if  Nando is even lucky enough to make the first 11 cut in the first instance).
This week, confused murmurings and retorts, pinging between the player, his employer, and the sports columnists have served to bring a deteriorating situation towards something of a head. Fernando is now beginning to blame Chelsea for his demise, just as he once blamed Liverpool.
Chelsea, perhaps like Liverpool,  are not showing signs of taking these hints of disrespect lightly. There are now suggestions that they may too take the LFC approach that 'if the player isn't happy',  that they may 'permit his agent to commence negotiations with interested parties'.
Chelsea (and Torres) however, face a very different landscape to the one Liverpool's grandees addressed back in January of this year. The Fenway Sports Group possessed then, in Torres, a player still widely regarded as one of the very best forwards in the modern game. A forward comfortably worth a £50m transfer fee and a £10m a year pay packet.
The Moneyballistas may have said then, and will certainly say now, that Torres was clearly not worth that combined £100m investment, and that the smarter move made in January was by the buyer not the seller. The stats students will have noted that Fernando was not ageing in any way like a fine claret. More in fact like a cheap supermarket Antipodean white.
Torres star, though consistently bright to the naked eye, had for keen observers (Liverpool fans) been in subtle decline since peaking between 2007 and 2009. The goals still flowed, just not as fluidly. The swagger and class retained, just not as consistently. The lightening acceleration still a possibility, but increasingly less a probability. He could run, but he would also hide.
So, thus far, Liverpool FC can feel smug that  £100m has been brought in and saved by relinquishing Torres. Abrahmovich's Chelsea, on the other hand,  are left scratching their heads as to how the signing that was going to propel them finally to Champions League glory has left them facing possibly the mightiest dilemma of the Abramovich era.
The reality for Chelsea,  if Torres barely adds to his meagre goal tally between now and Christmas, is this – do they persevere  indefinitely with the non scoring sulky one and in clinging onto the vain hope that he'll 'do a Dzeko' and start actually scoring, continue to delude themselves that have not all but pissed away a £100m ? Or….or, do they accept theirs and Fernando's fate must be apart ? Do they start to whisper in the gilded corridors of the Bridge of 'cutting losses' ?
There's losses, of course, and then there are losses – big, mad, jaw dropping, 'holy fuck, how much?' losses. Chelsea are looking into the 'cutting losses' abyss because of Fernando. Ultimately only he can mitigate those losses, either by starting to score some (not the best bet thus far) or by showing real courage in his desire to resurrect his career, and take the mother of all pay cuts to get a rejuvenating move.
Poor tortured Fernando has a contract with Chelsea that will pay him a grand total of £50m, whether or not he scores record quantities of goals, or sits on a beach somewhere nursing a hamstring or two, and a battered ego. The apocryphal tale of fast living media hounded George Best springs to mind  – the one in which he was supposedly surprised in a 5 star hotel room, wrapped to the waist only in a towel, with the Miss world of the day half clothed on the bed behind him, writhing on a mattress of money and sipping champagne. Upon regarding the bacchanalian scene, the hotel porter is moved to enquire 'so George, where did it all go wrong ?'.
For Fernando there are still wrongs he could yet right. He could yet accept that sometimes success and achievement are not owned simply by the individual upon whose name the approbation is heaped. He could recognise, as perhaps Steven Gerrard did when faced with similar life choices, that maybe, just maybe, there is magic Mersey stardust in the air at Melwood and in its famed boot room. He might acknowledge that perhaps the glory was always truly entrenched in that field of Anfield Road.
If he heeds life's lesson, he may take that mighty leap of a pay cut that he will surely have to take to make him a man again. A football man at any rate. If he doesn't, then pity one fool more than any other – Roman Abramovich.
Roman's vanity purchase of Torres may lead him to the following possible conclusion. That is, if the player won't take a pay cut, and also won't score goals, then who on God's earth will rid him of the troublesome Spaniard. A non scoring striker, as well all football folk know, ain't worth £50m. They aren't worth £30m either. At £20m some schmuck of a club (Spurs ?) may be persuaded to pay for memories and dreams of resurrection.
At £20m a few suitors would stump up for the gamble on Torres. However, and this is the big however, who is going to pay the £40m left on what remains of his contract ? Who is going to gamble a total of about £60m on the poor striker who couldn't score ?
Malaga or Paris St Germain, fuelled with new sugar daddyfied millions, might. At £60m though it remains a stretch. For packages worth that you get the choice of a number of the world's finest attackers. The ones that score too. Those guys. The club to which Torres used to belong.
If the Spanish and the French turn their fancy nouveau riche noses up at Torres come January, is it then too intriguingly perverse to consider that a deal with Liverpool could be struck ? Even if the fans could be united in forgiving the undeserving Nando, and even if Kenny Dalglish can be convinced that Torres still has 'a magic wand', it is hard to imagine how financially such a deal could be structured.
It is a sign of these times that the following may have to come to pass to free Fernando from his mental and contractual shackles . It will not be enough for Chelsea to simply accept the humiliation of a selling price south of £20m. That gesture of surrender will have to come gift wrapped with a similar scale of concession from the player himself.
Surely if Liverpool (or Tottenham, or Malaga, or PSG, or an Italian club) were to find it in their hearts to give Torres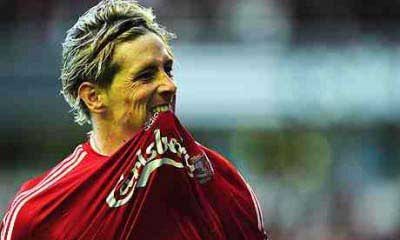 a new home, then they would be doing so on terms that one could imagine being upper limited to about £120k a week's worth of wages. If Nando eschewed the notion of the pay cut, that would leave Chelsea to effectively having to bridge (no pun intended)  any wage gap, by paying Torres off. In a big way.
For Torres to be compensated for the loss of £80k a week in wages in taking a lower paid move elsewhere, it would, theoretically, require Chelsea to find £16m ( £80k a week over his remaining 4 years) to pay off the remainder of his contract. That's the sort of sum that makes the possible £20m fee they might receive not really worth the effort of the haggle.
Of course, all this remains highly speculative stuff.  What seems clear enough though, is that if the player continues to flounder that his value will decimate, and that both parties will at some point have to take some real pain.
A not entirely dissimilar situation is emerging at Manchester City too, where Carlos Tevez  has had his bags and home packed up for months. He has not been AWOL on the pitch like Torres but has made himself persona non grata off it, to such an extent, that City, like Chelsea, are going to have to face up to the need to seriously compromise financially.
As Alex Ferguson recently observed, there are not the clubs out there that can afford the nigh on £120m that  5 years worth of Tevez (£50m fee + £250k per week wages) will set them back. City nearly took the generous spirited Corinthians of Brazil for £45m back in July, but may do well to get £20-25m for him from any January 2012 suitors (given Tevez's minimum wage requirements).
The new wave of soccer Sabrematricians and Moneyball men saw all this coming. The likes of John Henry and Damien Comolli know that when you are paying individuals in a team game upwards of £10m per annum, on top of record breaking transfer fees, that you are not going to be the outfit engineering the maximum 'value' from your investment fund.
The winners in the Moneyball game, they believe, will be those that buy clever, with re-saleability never far from the top of their agenda. That is why John Henry was being cunningly disingenuous in stating that he was prepared to go as high as 'within £15m of the Torres fee', in committing £35m to the purchase of Andy Carroll, back in January.
The Torres package didn't cost Chelsea £50m. It cost them double that. The Carroll package was a £35m fee plus a wage commitment of something probably less than about £18m over 5 years. Carroll's cost is half of Fernando's. Moreover, the relative paucity of Andy's wage package means that he can be sold-on without regard to having to give the buying club an effective discount because of the scale of the salary burden.
If Liverpool became wearisome of Carroll by early next year, there would be suitors, given his age (and therefore potential) and pay level. LFC may have to take a hit and let the big man go for as little as £20m (worst case scenario), but the crystallised loss of about £15m, if that occurred, pales by comparison to the degree of loss Chelsea could face on Torres.
The reverse side of the moneyball 'sell 'em at the peak of their value before they tail off' maxim may yet come enticingly into view where Liverpool and Torres are concerned. There's a price at which Torres actually becomes a Moneyball signing. There's a level of wages he may have to accept, and a fee Chelsea may be grateful for (however paltry) that could still make the Torres glass appear half full.
There's surely a romantic in all LFC supporters that can yet imagine the scene where Torres faces the flashing bulbs, from behind a desk in a packed press conference room at Melwood and reads, head bowed, in humble broken English, a prepared statement of contrition to Liverpool fans.  He looks so very sad, and so very very sorry. He also looks a bargain at £15m (plus pretend add ons so that Chelsea can make it look like they've got nearer £22m) and on a modest (cough) wage of about £100k a week.
He also might just smell the green green grass of his Liverpool home, see Stevie G's red jersey again on the peg next to his, see Suarez's pearly gleaming white toothy smile as he arrives for training, and something might just click in him. He may yet prove himself worthy. Maybe.