The Anfield Wrap's match preview before Liverpool v Aston Villa in the 2022-2023 Premier League at Anfield…
SEVEN wins and three (deserved) clean sheets in a row.
With the side finally looking confident and self-assured, The Reds appear to have learned how to control a game of football.
The reverse fixture of this game was a perfect example of Liverpool struggling to control a game, when after gaining a healthy 2-0 lead, The Reds allowed Villa to pile pressure on, get a goal back, and for a while, it looked like they could blow the lead all together.
Darwin Nunez missed about 12 one on ones, but then found Stefan Bajcetic brilliantly, who sealed the victory in style. Nunez was then awarded man of the match, probably justifiably. An unorthodox footballer to say the least.
But having recently been 2-0 (then shortly 3-0) up against Leicester, 1-0 up against Fulham and Brentford, the feel of those games was completely different. It was more or less relaxed (albeit frustrating against Brentford to say the least, with Anthony Taylor performing a masterclass in gaslight refereeing), and Leicester was genuinely enjoyable — it was a dominant display that included three superb goals.
Aston Villa are a far superior side to Leicester though, it has to be said. They are fighting for Europe and have been on great form since their defeat to Arsenal in mid-February. Ollie Watkins is on fire and loves a goal or, at the very least, a great performance against Liverpool.
But Villa's last few away performances haven't been convincing: two 1-0 defeats against Wolves and Manchester United, a 1-1 draw with Brentford, and they scraped a late 2-1 victory at the King Power. In all honesty, the only game out of those that I watched was United, and they looked mediocre.
This season has been a repeat of 2020-21 in many ways (I doubt we will see another winner from Alisson, but you never know), and going on a crazy end of season winning streak only adds to that narrative.
If we do win the next two games, it would be an even better finish than 2020-21, but it also may well result in a fifth-place finish rather than top four.
You can't help but feel a team that wins nine games in a row (which The Reds would have to, to stand a chance), a team that did the double over one of the competitors this season, and beat the other 7-0 a few weeks ago, in a way, deserves it.
And it's not like we just want to get in for the sake of it — we are in to win it. When we scraped a top four spot in 2020-21, we went on to reach the Champions League final, and deserved to win that final. It may sound arrogant, but we genuinely are in it to win it — if Arsenal, Newcastle, and United are being honest with themselves, they are not.
But it's all well and good saying these things, we have to actually earn it. Liverpool can pray for Newcastle and United to blow it, but The Reds have to win their own games — the only way I could feel properly disappointed in the team come the end of this season is if they could have made it had they won these next two games. And I expect Saturday to be a tight contest.
It's great that there is a general excitement to watch Liverpool at the moment — an excitement that's been lacking all season. I'm seeing smiles on the faces of fans before and after the game, not death stares. I remember thinking I just wanted the season to end after we lost to Bournemouth. The same feeling was there after City. Then Chelsea. I doubt I was the only one.
But the re-introduction of Curtis Jones, the return of Luis Diaz, Cody Gakpo finding his groove, pivoting Trent Alexander-Arnold into midfield, and Diogo Jota finding his form, have all made Liverpool brilliant to watch again. Or maybe a large part of this is that Jürgen Klopp's Reds always finish strong, always have something to play for, no matter what.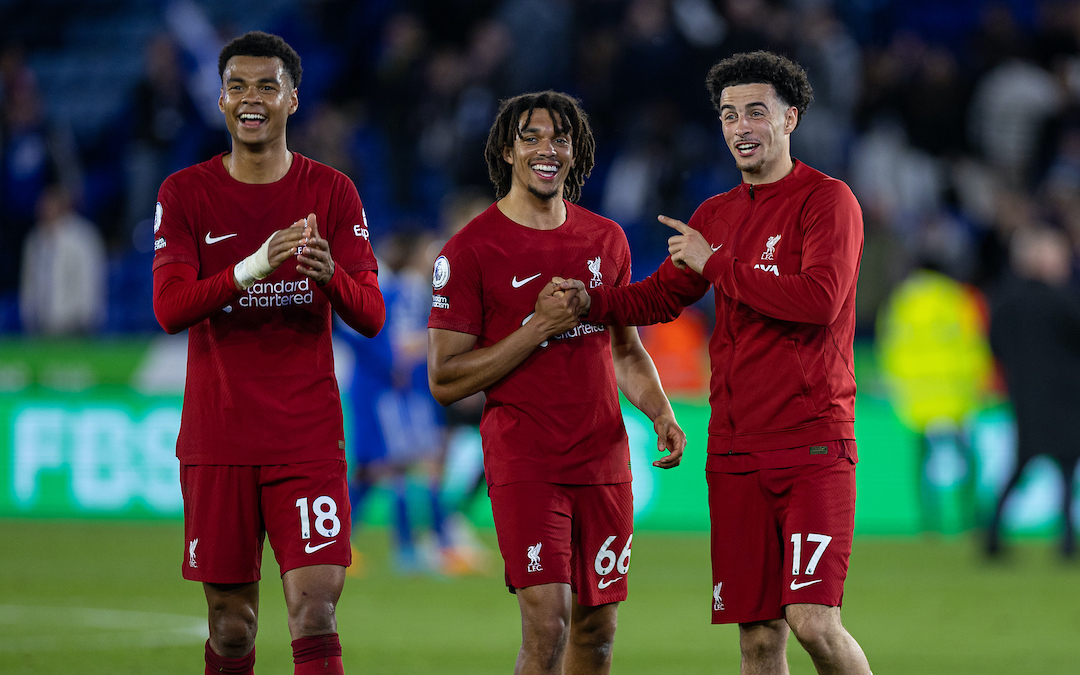 It might be too little too late for this season, but it's quite clear that Liverpool aren't just doing this to end this campaign on a high — for Liverpool, next season has already started.
I don't see why you would want to change much after such a great performance against Leicester, but I thought Luis Diaz didn't have his best game. Often too predictable, cutting in too regularly; the one time he went outside he nearly created a goal; and he should have squared it to Salah in the first half. It is understandable given he is trying to regain full match fitness.
I would like to see Diogo Jota start, and that's what I think Klopp will choose to do, even just for the sake of rotation. But I expect the rest to stay the same.
Firmino should come off the bench, and get the chance walk onto Anfield's green grass in Liverpool red for the very last time. He will get quite the send off, and rightly so. A Liverpool legend.
Weirdly, he has never scored against Aston Villa. Could it yet be the perfect Anfield send off?
Predicted 11: Alisson; Alexander-Arnold, Van Dijk, Konate, Robertson; Fabinho, Henderson, Jones; Salah, Gakpo, Jota
---
Recent Posts: