Liverpool fans may be questioning whether the win over Fulham was what we needed or another worrying sign, but the win could yet be crucial…
AND so the revival continues.
In a season where joy has been more fleeting than fixed, Liverpool are at the very least intent on ending things in the right way. They are at the very least intent on creating an approach for next season.
While Spurs was an all-action, daren't take your eyes off the screen affair, last night against Fulham was distinctly more dozy.
There are chances for both teams, arguably more so for them, but nothing particularly pulsating. And yet maybe that's just what Liverpool needed? Sometimes you need a bit of calm in the chaos and while Liverpool didn't always maintain the degree of control you'd like, a 1-0 win at this stage will do me just fine.
The result means it's now five wins on the bounce and seven without defeat. Suddenly a team that has looked too predictable too often this season has rediscovered the varying ways you can win.
Too often this season, when things haven't quite clicked or games are in the balance, they've not fallen in our favour. Bournemouth was an embarrassment of a performance, Forest a fight no-one seemed to want to win. Last night's Liverpool, though, were about substance over style.
Mohamed Salah just about keeps the Champions League quest alive with the only goal of the game and when it becomes about graft, Liverpool show theirs. Players press in packs and force mistakes and there was a unity in the approach that wasn't evident a few weeks ago.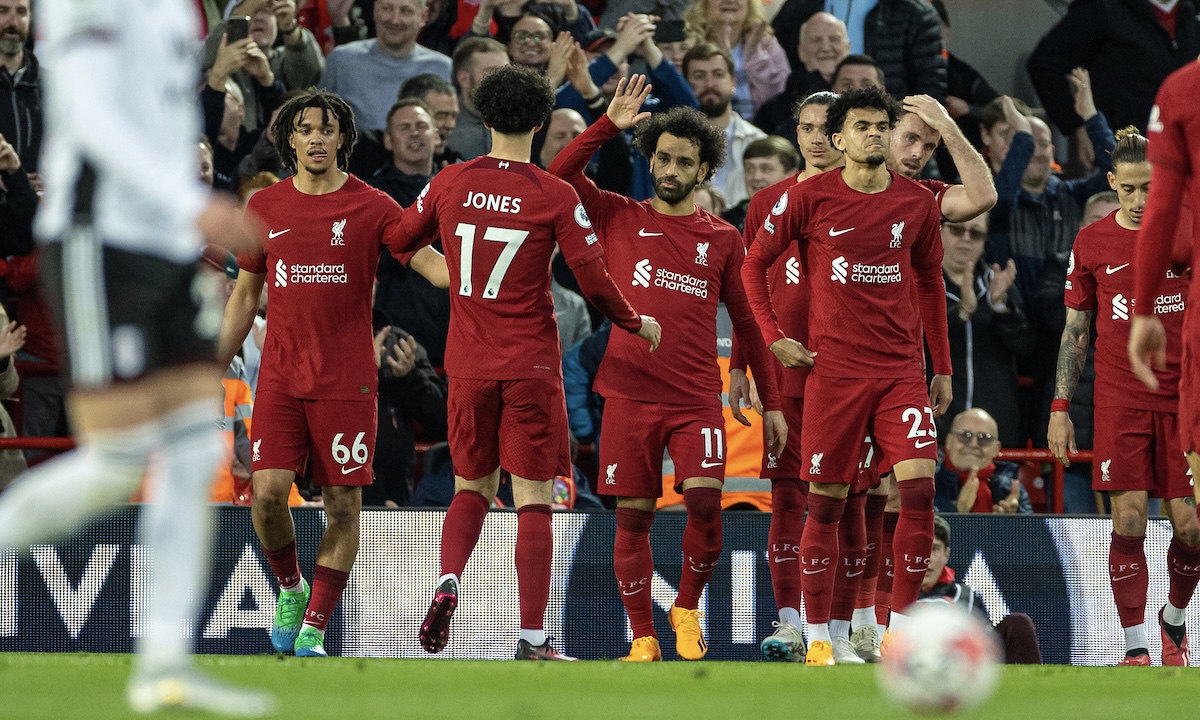 There are questions to ponder, of course – Darwin Nunez's role being one – but The Reds do enough to win without ever playing particularly well and sometimes that's exactly what's needed. Having that stubborn streak is key in football and slowly, Liverpool are showing glimpses of a return to theirs. Keeping hold of it ahead of next season will be key to our chances of success.
Crucially, it marked Liverpool's first clean sheet in five games having conceded an average of two in their previous three games and you could see just what it meant to Alisson at full time. Just where would we be without him?
It was by no means a game that will feature heavily on the end of season highlight reel, but one that underlines a team back on the right track all the same.
Having conceded chance after chance through sloppy defending and individual errors this season, the result was a clear step in the right direction and a platform to build from as Klopp's experiment continues to pay dividends. Whether it's pretty, possession-based football or a 90-minute slog, Liverpool continue to get the job done.
Five on the spin now and a quick nod to the teams around us that we are still here and kicking. Top four remains unlikely, but this Liverpool team are doing all they can. They are at the very least giving us all some joy again and in doing so, making the foundations for next season look an awful lot rosier than they were mere weeks ago.
To Saturday, Brentford and some more hard graft. This season has been full of it.
Who knows what could happen from here?
---
Recent Posts: