Thiago Alcantara was meant to be the cherry on top of Liverpool's cake when he signed, but instead he's proving to be a man for all seasons…
HAVE Liverpool ever operated a transfer window from a position of strength?
In the midst of madness, I keep thinking about the summer of 2020. A team and manager curtailed by a global pandemic yet operating at the absolute peak of their powers.
They'd won the Premier League at a canter. A European Cup had come the summer before. We've all seen the movie. That summer, they lose Adam Lallana and Dejan Lovren, and sign Thiago Alcantara and Diogo Jota.
It's easy to forget the turmoil caused by Thiago's transfer. A true summer saga for the ages. Weeks of stories proclaiming disinterest, an outcry about why Liverpool don't recruit players of such calibre as the Spaniard.
And then, bang. There he is, resplendent in red. Done out of nowhere with the air of competence we'd come to expect. Thiago Thursday; how are we indeed.
Wayne Rooney said at the time Liverpool signing Thiago was more impactful than Manchester City potentially signing Lionel Messi. He'd conceded the league before a ball was kicked.
When they were at the absolute top they added one of Europe's best, and also added a data-driven forward who was hiding in plain sight at Wolverhampton Wanderers.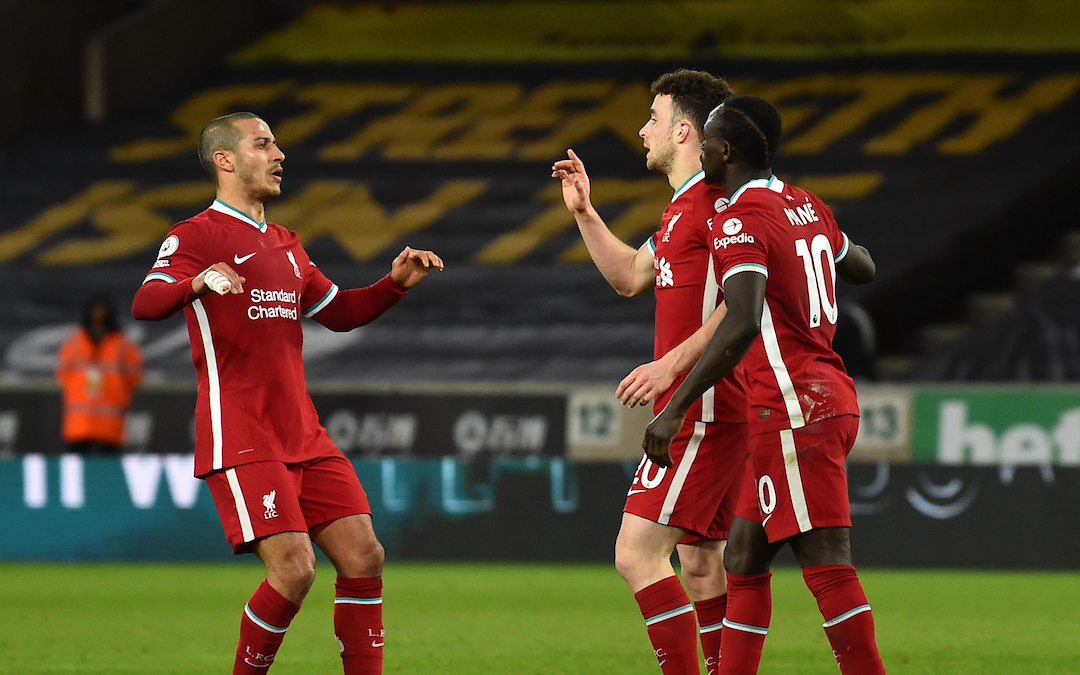 We should have gone one more, maybe even two, but what they did worked.
Right now, Liverpool are pining for Jota's return in a manner akin to 2014-15 Daniel Sturridge. Thiago, meanwhile, has been the club's outstanding performer, less due to panache and razzmatazz and more that he's got in the trenches of this turgid start to the campaign.
He leads Liverpool's tackle and interception rate this season (79). He's the only midfielder to remain ever-present despite the constant rotation in search of a solution. He's operated at number six, eight and 10 all since the return from the World Cup.
Last season, Thiago played at times next to Fabinho in a midfield two. He was arguably most at home in a midfield where the load was shared and in a team which controlled narratives. We saw graft but also incredible beauty. It looked like it all made sense.
Thiago remains far away from what many expected two years ago. He was a garnish, a signature on an already complete team.
We've seen the sublime, but as he said himself after last season's FA Cup final, Jürgen Klopp and Liverpool taught him how to run. For every Porto home strike there's been endless shuttles, tackles and interceptions.
The arguments around the functionality of Liverpool's midfield will themselves run and run. While there are opportunities for talented players to display their abilities, they will invariably have to graft.
Regardless of Liverpool's transition with personnel and style, this principle will continue to apply. It will apply to Jude Bellingham, Matheus Nunes or whoever comes in.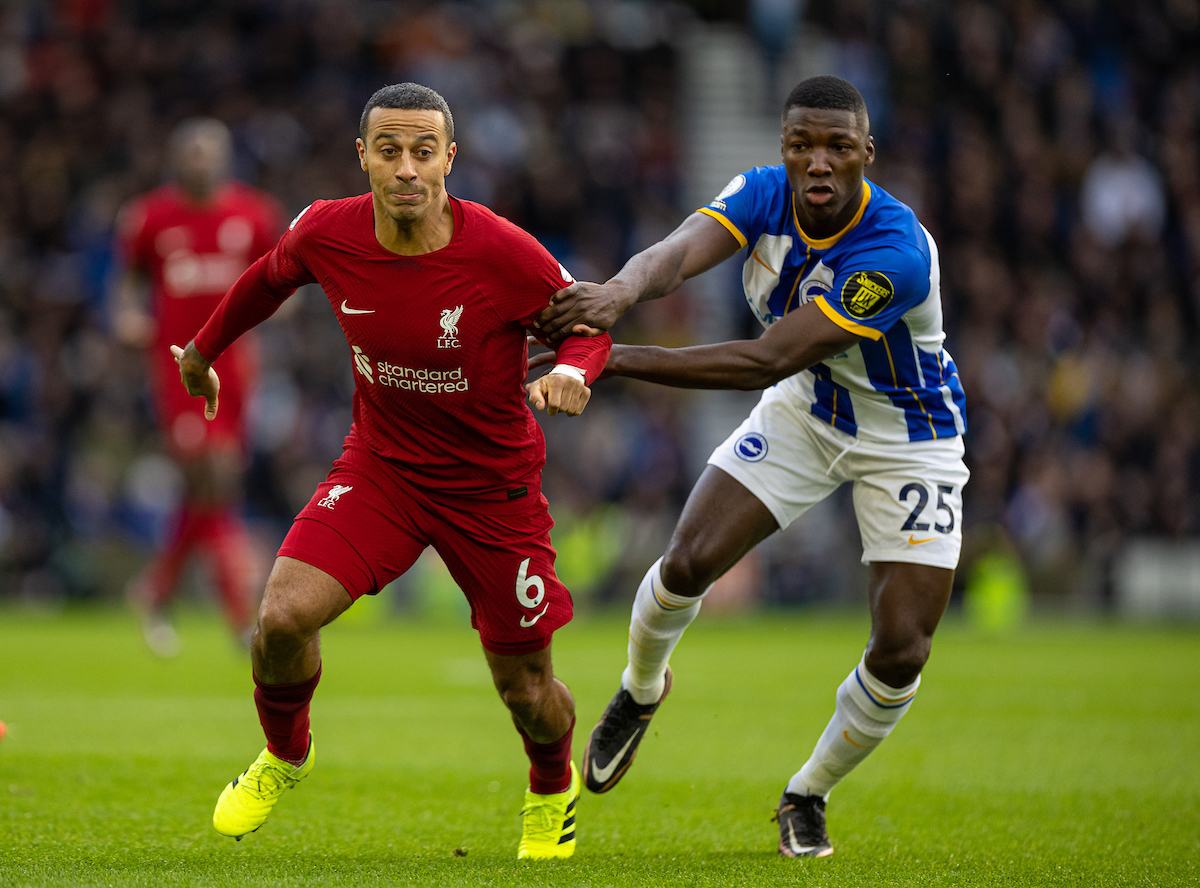 Thiago should be one who sticks around beyond this summer when he will enter the final year of his deal. What happens after that remains unknown.
If he moves on, maybe then he can have the conversation around what he expected and what transpired.
Not that his attitude and application will ever be questioned. He is currently Liverpool's outstanding player and at a time when everything is anything but easy.
If we're searching for positives, Thiago can be held up as one who has surprised many in a way they didn't want to be surprised.
Given that we've watched players in Liverpool's history disappear when it's time to front the struggle — including a Liverpool captain from the 1990s once subbed himself off because he didn't fancy it at Old Trafford — this shouldn't be taken for granted.
The hope remains that success will reappear soon. If it does, we'll undoubtedly see the Thiago who is an aesthetically joyous sight to behold.
Until then, we can be in no doubt that he is up for every challenge.
---
"If everyone was fit, I think he'd be playing four of his six forwards."

"He'd have two really responsible deep sitting, and them looking to shuttle up and down the pitch in quite a compact way."

"In the long run, I think that's what he's wanted to do."

🗣 The Big Question pic.twitter.com/MOBikN3T55

— The Anfield Wrap (@TheAnfieldWrap) February 2, 2023
Recent Posts: