The Anfield Wrap's match preview before Crystal Palace v Liverpool in the Premier League at Selhurst Park…
"I LOVE when you count me out."
I find I go completely the other way in the face of irrational hatred. Is irrational love a thing? It is in this world, especially. How else do you explain football fans putting themselves through torture over and over again?
I've been through some torture at Anfield this season. I seemed to be sat in the centre of a circle of irrational hatred for Trent Alexander-Arnold when Brighton came to town earlier this season, his every move was vocally criticised as I became more irate with the critics and more in love with our right back.
Tuesday was a similar experience. At 2-0 up when The Reds are flying there's not a face that wasn't smiling, why would there be? It was just mad how quickly that changed to personal insults about footballers who have given us everything. How did we get here? What happened to these lads being ours? Oh come let us adore them, no?
Irrational love can't always be expected, of course — that would be irrational. They say there's a thin line between love and hate too. They're both strong emotions and sometimes we say things we don't mean about the people we love.
My biggest problem comes when it feels a bit like people are just waiting for their loved ones to slip up. I don't know whether that's an unresolved issue for the few fans I've sat around this season, and it wouldn't be fair to speculate as such, but it feels a bit like they were getting more out of the hatred than the love.
We're all irrational, though. Because I still woke up the next morning and imagined us scoring three at the Bernabeu. "Win the next four in the league and see what happens," I texted a friend today. This game makes us believe the impossible is still possible, because we're always seconds away from seeing it flip — for better or worse.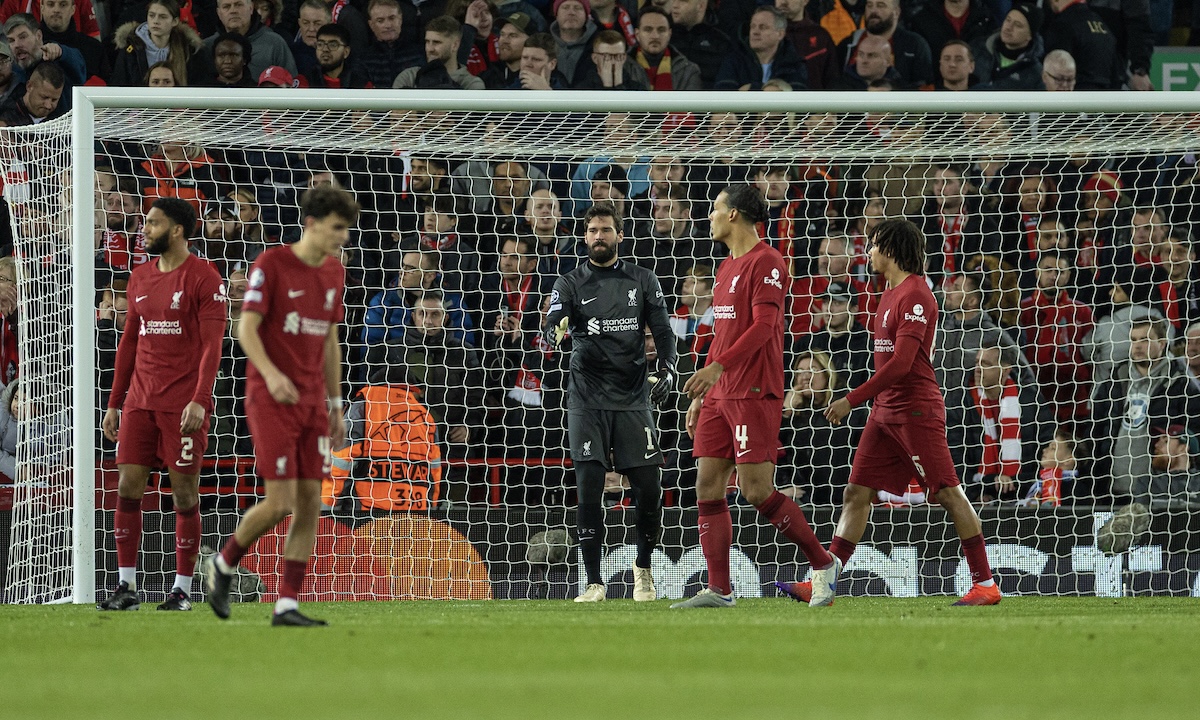 The optimistic route will always be for me, though. My irrational love knows no bounds, so I'm ready to go again on Saturday night.
Joe Gomez was pulled from the firing line against Real Madrid, and I suspect the manager will go with Joel Matip against Crystal Palace unless Ibrahima Konate's return to training indicates a return to action sooner rather than later — in which case he might persist with Gomez until that day comes.
In midfield, a defeat does provide the manager a chance to drop one of a midfield that had played its way into relative form. I suspect it will be Jordan Henderson that he replaces with Naby Keita, while we may see Fabinho and Stefan Bajcetic get some rest when Thiago Alcantara comes back into the fold.
The front three have made themselves all but undroppable, and it may take a goal from either Diogo Jota or Roberto Firmino to give the manager something different to think about. Regular minutes off the bench may even be just the tonic they need to get themselves back into rhythm.
Whatever is left to play for this season, my irrational love will go on for these lads. I'm probably not done experiencing the torture doled out by my fellow fans this season, but I'll hopefully grow more understanding with each passing moment.
Failing that, Liverpool, we might just all need four wins in a row to bring us to the most irrational thought of all.
They love when you count them out.
Predicted 11: Alisson; Trent, Matip, Van Dijk, Robertson; Keita, Fabinho, Bajcetic; Salah, Gakpo, Nunez
---
Recent Posts: