Liverpool went into the New Year with a run of wins and a new signing to boot, but that goodwill evaporated after the Brentford disappointment…
WELL then. That New Year positivity didn't last long, did it?
Top four is a battle and Liverpool find themselves immersed in it.
This season has been tale after tale of poor decision making, bad finishing and wavering spirit. I didn't think it could get worse after Nottingham Forest but then Leeds came to Anfield. Neither were supposed to be in doubt and yet The Reds were routinely swept aside.
Fast forward to Monday night and it was an all too familiar story. Brentford are now very much an established Premier League side. They've shown they can cause problems and offered Liverpool ample warning in the past. We knew it wouldn't be an easy game, but you hope and somewhat expect them to come through unscathed. At the very least, you expect to see some fight.
What they delivered was anything but. We were abject, predictable, a shell of our old selves and not for the first time this season. Conceding first is just par for the course now, and the reaction too often absent. There is no sense of logic nor anticipation of danger. A team built on intensity has become the advert for futility. Where are the leaders? Where is the response?
Go a goal down, get yourself back into it and then turn on the style. That was the script, but recently Liverpool have had other ideas.
Too often this Liverpool side gives themselves too much to do. The structure is unclear and the very things that made them what they were are noticeable in their absence. This is a Jürgen Klopp team, renowned for its Gegenpressing, sleepwalking while the opposition runs. A team devoid of confidence and identity struggling to stem the tide.
At times, it has felt like they are the easiest team in the league to play against.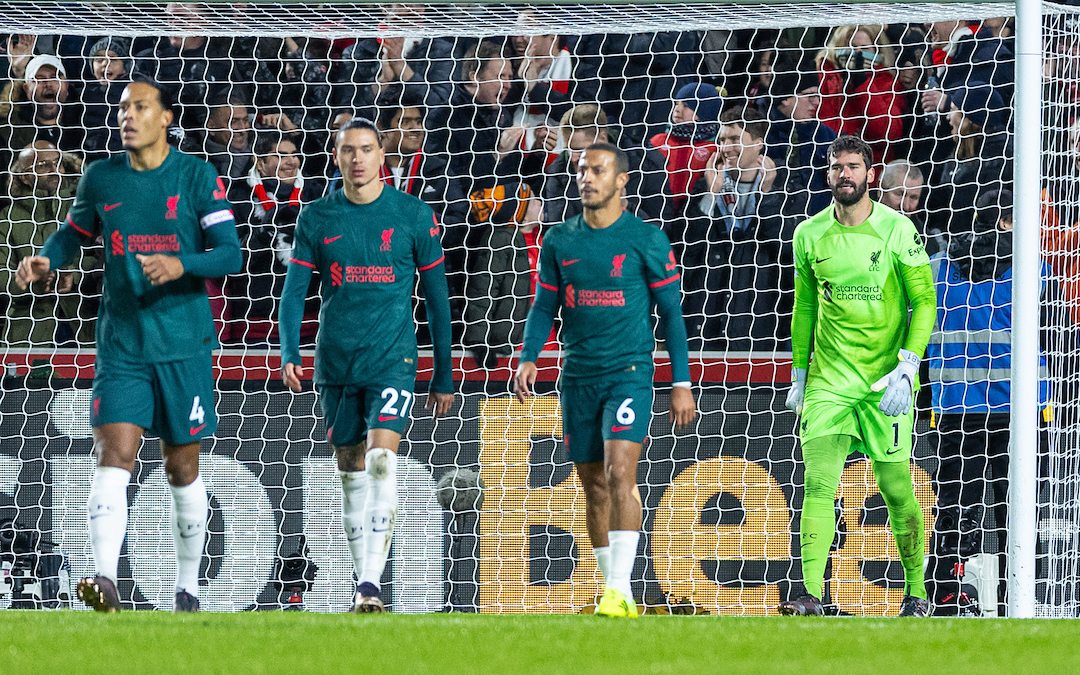 More often than not we're talking about basic fundamentals being done poorly. Get back and stay in shape. Pressure the ball and pass to a teammate. Give yourself a chance.
Part of the blame falls with the manager. That isn't to question his ability to get us out of this rut, but rather highlight that he isn't immune from criticism either. Playing a high line without the press is defensive suicide and the selections haven't always paid dividends.
Naby Keita has divided opinion over the years, but made a difference in 45 minutes on Monday and should've started. Kostas Tsimikas looked like a deer in headlights.
There are mitigating circumstances, of course. Having such a rigid transfer policy despite an ageing squad isn't doing anybody any favours. Cody Gakpo will add further cavalry to the attack, but the lack of intent to sign a midfielder this month is alarming.

Starting Harvey Elliott in midfield hasn't yet borne fruit and the side look unbalanced as a result. I have no doubts he will be a big part of the future, but what Liverpool need is established talent. Whether Jude Bellingham makes the switch in the summer or not, there is a need for reinforcements now.

Right now it's an uphill battle. They are making the same errors, they have drifted from their identity and we are all suffering as a result.
Wolves in the cup next and a chance to put things right.
The Liverpool of today isn't the Liverpool of tomorrow or yesterday, but they've got to be better than this.
---
"With Caicedo, I suspect that if we overpaid, we could get him now; and I think the player would help with the agitation of that…"

🗣 The Gutter

1️⃣ Download our app
2️⃣ Get FREE tokens
3️⃣ Watch

📱👉https://t.co/eNpQIJSgGi👈📱 pic.twitter.com/opapoySdIT

— The Anfield Wrap (@TheAnfieldWrap) January 5, 2023
Recent Posts: