Some Liverpool fans are pining for a more workman-like midfield, like the much-maligned 2019-20 version that apparently needed creativity…
LIVERPOOL'S midfield.
It has been a topic of conversation for many for quite some time and now, more than ever, with Liverpool going through a difficult period, understandably, it's an area of much focus.
Now it's clear for all to see that Liverpool are in need of investment in this area of the pitch, with many of the current options either ageing or being susceptible to injury.
However, despite this, the club have surprisingly only brought in one new midfield player across the last four-and-a-half years, with the line often being peddled that the club are waiting for the "right player".
The question is what type of midfielder is the right type of player, given where we are as a club currently and where we are trying to get to?
I want to start by going back to what many consider to be the prototype of a Jürgen Klopp side; the 2019-20 season where not only did we win lots of trophies, but we were also the envy of sides across Europe for our style of play and the way the club operated.
During this period of success, many rightly lauded the brilliance of our front three players, Mohamad Salah, Sadio Mane and Roberto Firmino, who consistently brought a flexibility, work rate and creativity not seen in many front threes.
They were supported and supplied by our flying and aggressive full backs, Trent Alexander-Arnold and Andy Robertson, who when added to the equation made Liverpool an offensive juggernaut.
The truth, though, is that this full throttle style of play was only allowed to happen and be so successful because of one thing… The composition of the midfield.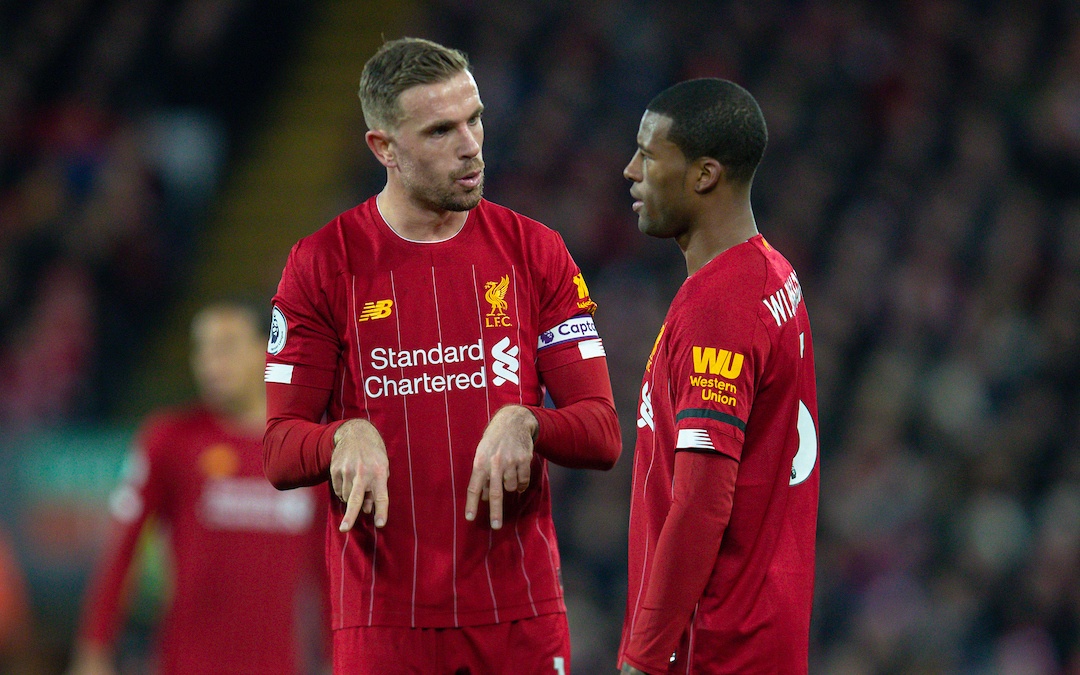 Look at the type of midfield players we had at the time, Fabinho, Jordan Henderson and Gini Wijnaldum. They would hunt you down, suffocate you and most importantly, cover the spaces vacated by the offensive players. That then allowed them to attack with freedom in the knowledge that, if the ball was turned over, we were always protected from the counter attack.
It sounds perfect, right? Offensively aggressive, scoring lots of goals, but with the right protection to help become one of the best defences in Europe.
Unfortunately, that wasn't enough for some, with a number of fans and media outlets preferring to talk about the lack of creativity provided by Liverpool's midfield three, rather than how their work rate and defensive awareness gave us the stability to mount attacks.
Wijnaldum and Henderson especially were often the target for some supporters who questioned what they brought to the team. With that in mind, and the talk currently about our midfield and how vulnerable we are in transition, it appears many fans are now starting to revisit history and talk more positively about these players after realising just what a brilliant job they did for the team.
Now to the 'evolution' of Liverpool's midfield where we seem to have shifted from a high press, 'workman-like' midfield who excelled in doing the less sexy side of midfield work, to more technical players such as, Thiago Alcantara and youngster, Harvey Elliott.
Thiago was brought in to compliment the legs of the players next to him in midfield, and give us the guile and technical ability to play passes through the lines from central areas into our strikers.
Thiago is a magician, we are blessed to watch him do his work. However, I'd argue that for him to flourish, he needs to do his work alongside two willing runners in the ilk of the 2019-20 versions of Henderson and Wijnaldum.
Elliott, on the other hand, is a young talent trying to learn his trade in a struggling team with much expectation. In recent times he has faced criticism as he has often been part of a midfield three that appears to be very open in transition, leaving Trent badly exposed with a lack of cover on his right-hand side.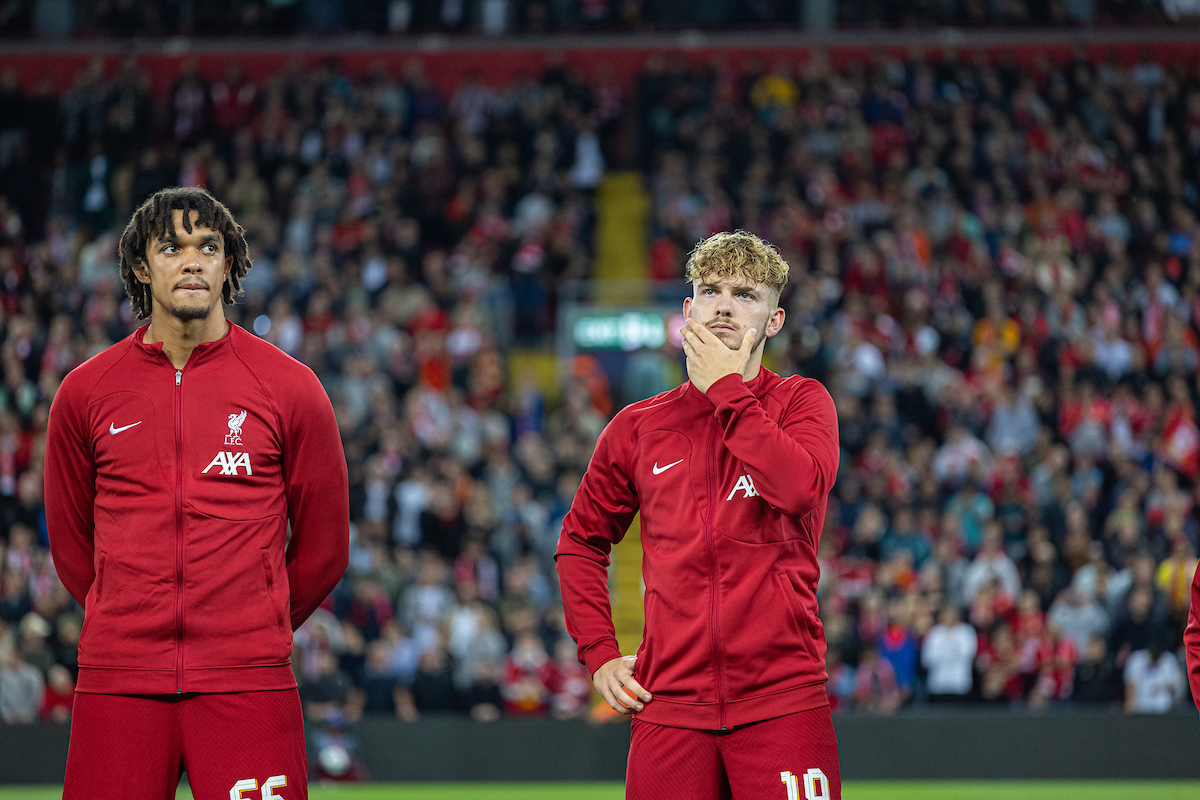 Context is needed, though, when talking about Elliott. I personally think for now, he would be more suited to a role higher up the pitch where less of a demand is put on him to be defensively minded.
It hasn't helped him that he has been next in line to Henderson, who has done such an effective job of dovetailing and covering for Trent over the years. The contrasting styles of the two midfielders could not be more apparent.
Henderson's first thought is often 'how can I cover the spaces vacated by the offensive players?', whereas Elliott would prefer to find offensive pockets higher up the pitch where he can influence and be involved in our attacking play.
The key to all of this is finding the balance. In 2019-20 we had powerful runners who wanted to facilitate rather than dictate. Now, we have the reverse with more players that want to dictate possession rather than facilitate.
With Henderson and Fabinho racking up lots of miles in the legs, we don't have the ability to suffocate teams like we used to. The knock-on effect is that if we can't press properly, it becomes ever more difficult to carry players such as Elliott or Thiago, particularly when they are played together.
One thing is for sure, Liverpool need willing runners and energy in their midfield badly. This injection of energy should see a return of the famed pressing that is synonymous with Klopp's teams.
It will stop the constant threat of being countered, as it will allow us to put more pressure on the ball. Plus it will help to get the best out of some of our more creative midfielders, who desperately need facilitators alongside them to give them the platform to perform.
After all, you can't build anything great on a weak foundation.
---
"Ultimately it comes down to the fact that Liverpool are a midfielder short."

"We know the one we want, but there has to be a stopgap signing we should be looking to make…"

🎥 Post Match Pint

1️⃣ Download our app
2️⃣ Get FREE tokens
3️⃣ Watch

📱👉https://t.co/eNpQIJSgGi👈📱 pic.twitter.com/yj2etNdCs5

— The Anfield Wrap (@TheAnfieldWrap) January 3, 2023
Recent Posts: