As injury issues grow once again at Liverpool, fans are questioning what the club could be doing differently to stop such crises developing…
DANIEL Agger was a divisive footballer.
To some, he was the second coming of Hansen. To others including myself, he was a decent centre-back who suffered from inconsistency in every form and probably wasn't really at the level for Liverpool. To others he was massively overrated.
Agger turned 38 on Thursday, his well wishes from the club was met with hoards of adoring supporters quoting about how we need someone like him now. Read the injury-prone waiting room, lads.
Liverpool have historically bemoaned great players suffering a seemingly injury prone career. Those who had worldly talent their bodies couldn't carry or maintain. Rob Jones, Fabio Aurelio, Harry Kewell and Daniel Sturridge all come to mind.
Under Jürgen Klopp, it's become so severe that we're no longer defining individual legacy by fitness and availability, but an entire team.
The 2020-21 season has come to be viewed retrospectively as the year of no centre-backs, a crisis which eventually led to a limping third place finish everyone hoped would exist in a vacuum along with pandemic football.
Despite the pitchforks and fire around midfield, injury has once again come to define the club's fortunes. The question of why this is remains largely absent.
Klopp sounded far from positive on Roberto Firmino in the press conference today. He also all but confirmed that Darwin Nunez is out against Brighton.
That means four forwards are currently injured, earlier in the season we were missing around the same number of midfielders. Virgil van Dijk is indefinitely absent with no return date.
It's easy to put this down to misfortune, but it's Liverpool's job to control risk in this sense. They hire the best medical staff, sports scientists and conditioning coaches they can to ensure this is managed.
They can't control the amount of games played and the steady increase to muscle injuries as a result, but at times this season, too much has felt muddled around Klopp's decision making. Deciding players can't start games but then introducing them at an interval when chasing a game has become a recurring theme (eight occasions over the course of this campaign).
It could suggest a lack of harmony behind the scenes. In September, Simon Hughes wrote a piece for The Athletic looking into some of the politics around Liverpool's backroom staff, particularly the influence of head of conditioning, Andreas Kornmayer…
"At the beginning of his time at Liverpool, Klopp had wanted his players to be able to run long distances and Kornmayer was prepared to push them to their limits," the piece reads.
"This led to friction with sectors within the club that were more process driven. With Kornmayer at the seat of power, the gap between sports scientists' thinking and the physios' widened.
"With Klopp's support, indeed, Kornmayer seemed untouchable but his approach did not bring cooperation between each of the medically related departments.
"Some staff feared a lack of accountability in the system could potentially impact player availability further down the line and at that point threaten results on the pitch. This environment is thought to have contributed to more than one person's decision to move on."
Indeed, there has been a high turnover of backroom staff at Liverpool. The club finally appointed a new club doctor, Jonathan Power, in December (although his profile is yet to show on the club website) after a four-month search.
Whether or not there has been some inner quarrel around how players are training and recovering we won't know. Klopp continues the bang the drum of working with what he has available, and in this sense I have some sympathy.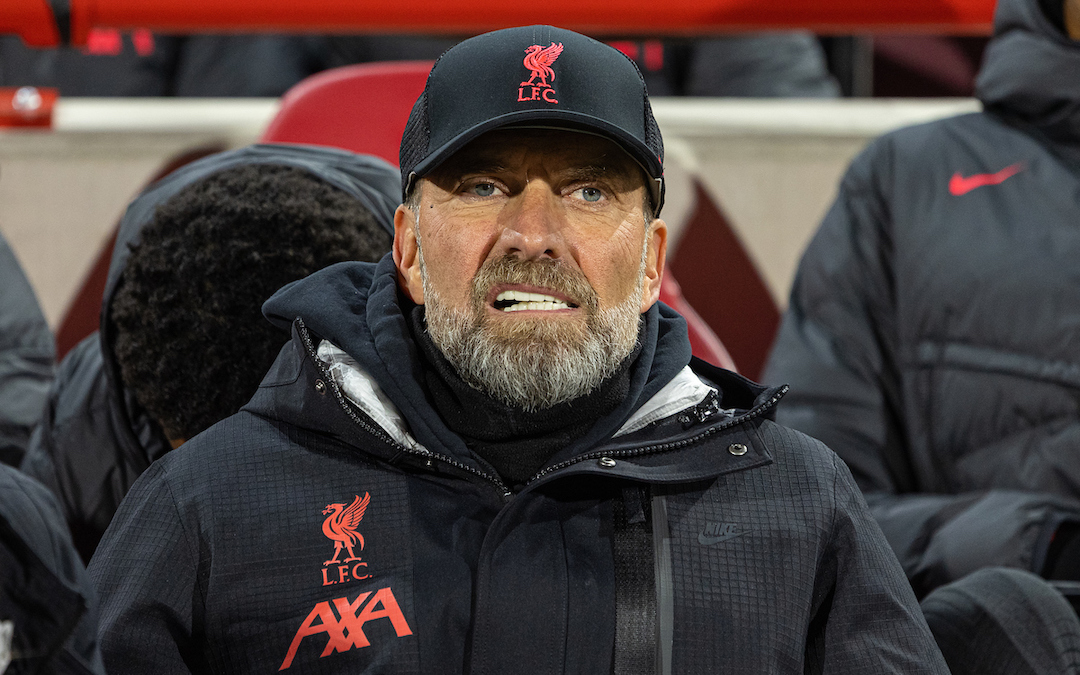 Prior to the Christmas break, he'd seemingly found a workaround with Firmino operating at the top of a diamond and Nunez and Mohamed Salah operating more as a front two. The results and performances against Napoli, Tottenham and Southampton suggested Liverpool had a way home until some players returned.
The loss of Luis Diaz in Dubai alongside Firmino and now Van Dijk means he's had to turn over the flipchart and start again. We're also about to feel the full wrath of the schedule curtailed by Qatar and can only hope the bleeding is stemmed here.
The manager has recently spoken of needing a bigger squad to manage fixture demands in future, but he's also insisted he won't buy his way out of the problem this winter. Carl Markham was the latest journalist to be on the receiving end of this particular bollocking in today's press conference.
Transfers can't always dictate injury risk. As Hughes piece indicates, Naby Keita had played 78.7 percent of games for Red Bull Leipzig in the season before Liverpool had agreed to sign him. Liverpool can ill-afford any future mistakes in this sense, and therefore you'd be surprised if they moved for someone with lots of miles on the clock like Youri Tielemans, say.
Another divisive Liverpool centre-back of around Agger's time was Martin Skrtel. It was said that Skrtel would alternate every good season with a horrific one in terms of form.
Perhaps the club's injury record and subsequent success with Klopp is following a similar pattern. In 2019-20, Liverpool won the title with minimum injury disruption. The following season, chaos ensued.
In getting to within touching distance of a quadruple with Klopp again being able to call on the bulk of his squad, fortunes have reverted to a chaotic situation which is leaving results and performances suffering.
The manager needs to find a new formula and hope everything holds. Fragility reigns supreme for his previously lauded physicality and mentality monsters.
Sympathy or none, right now it's all about getting through the next game with bodies and results intact.
---
🗣 Liverpool Faltering After The World Cup Break: The Overview | #NewPodcast | #LFC

Assessing Liverpool's current state of play. @RobGutmann hosts @The_Mighty_Mojo, @jsexton24 and @Fuad058…

1️⃣ Download our app
2️⃣ Get FREE tokens
3️⃣ Listen

📱👉 https://t.co/eNpQIJSgGi 👈📱 pic.twitter.com/nA4QvPnSP6

— The Anfield Wrap (@TheAnfieldWrap) January 12, 2023
Recent Posts: